Project Runway All Stars: Season 5, Episode 5 – "Birthday Suits"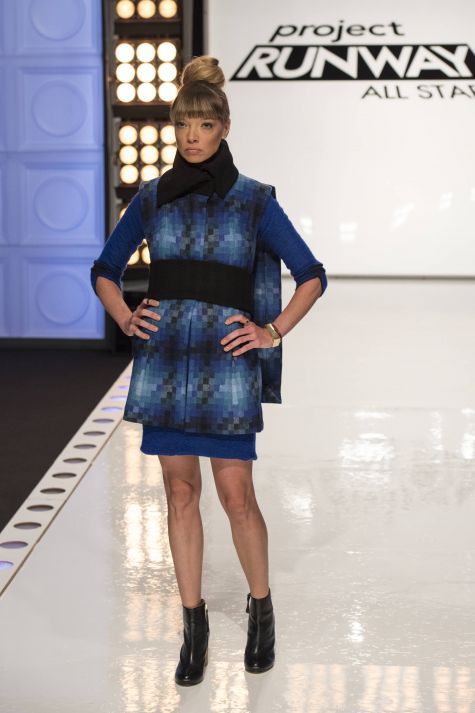 After last week's "Unconventional Challenge," the designers were faced with what might be the most unconventional challenge to date. Host Alyssa Milano greeted the designers after the runway show with a seemingly odd entourage: selected members of Young Naturists America. With a chorus of gasps from the designers, men and women paraded down the runway completely nude.
After the initial shock dissipated, Alyssa tasked the contestants with creating fashionable winter outerwear for the naturists. Half the designers would be designing for men and the other half for women.
Mitchell immediately started to worry: As a native of Florida, he was feeling the stress of never having worn–let alone having made–winter clothing. While designing, he began to freak out and second-guess himself. Sam questioned his own style and fabric choices after meeting with mentor Zanna Roberts Rassi. His model's reaction to his jacket drove him to scrap it completely. He explained that the idea behind the challenge was to make the model feel confident and good about herself, so he refused to send her down the runway in something she didn't like. I'm not Sam's biggest fan, but that was a stand-up move on his part.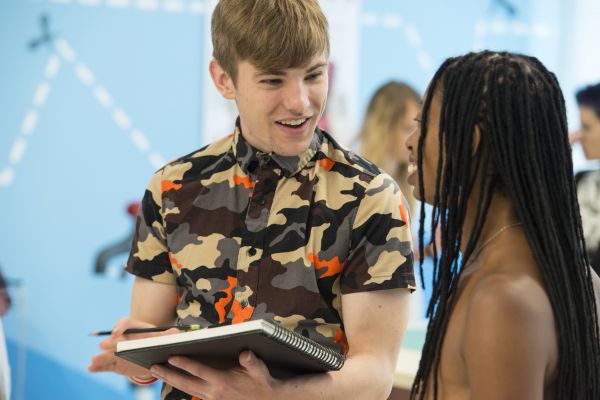 Valerie also struggled with her design. She used camouflage fabric for a jumpsuit under a gray hooded jacket with a neon green hood lining. Zanna encouraged Valerie to ditch the fabric (which I agreed with), but Valerie said that she had to go with her gut feeling. She decided to keep it.
The winner: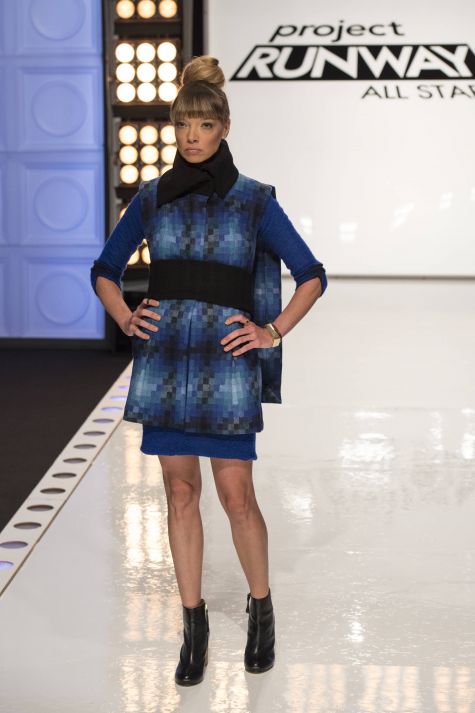 Emily produced a chic, creative design. It always impresses me how quickly the contestants whip up these designs. This looks high-end and sophisticated. I haven't been paying close attention to Emily's designs, but maybe I should.
The Top Three: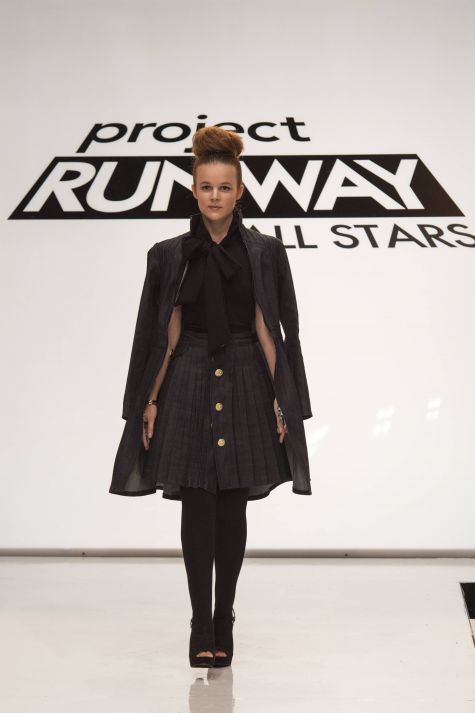 Kini's design was my favorite. I was sad to see that he did not win this challenge, and the reason may be because the coat was ill-fitting. The design looked like something that could be bought in a store and reminded me of something you would see worn in New York City.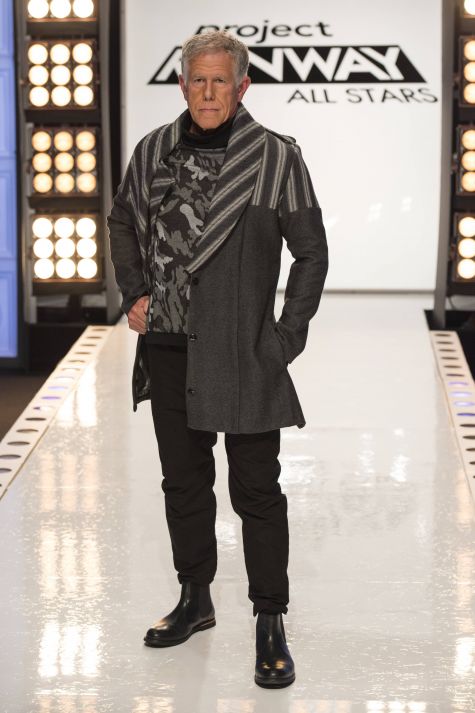 Dom's model loved this look, and so did the judges. Dom took her model from looking raggedy to looking ruggedly handsome. The judges loved the stripes and the camo print together. The transformation Dom was able to create amazed me.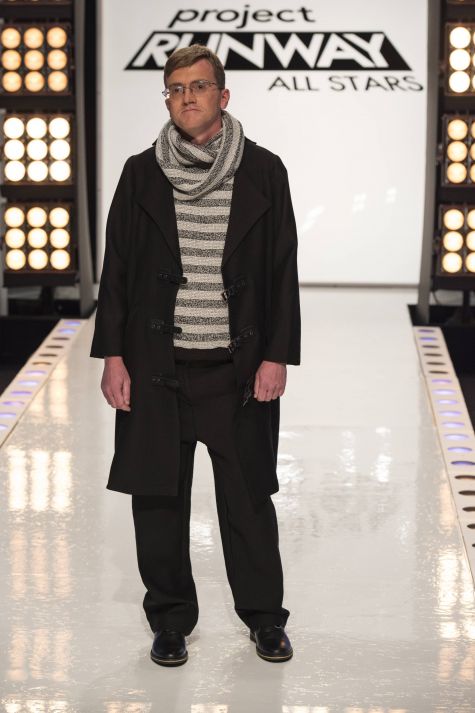 The judges praised the fit of this ensemble created by Mitchell. It was casual and smart. Mitchell's model looked like a different person and seemed comfortable in his outfit.

The Bottom two: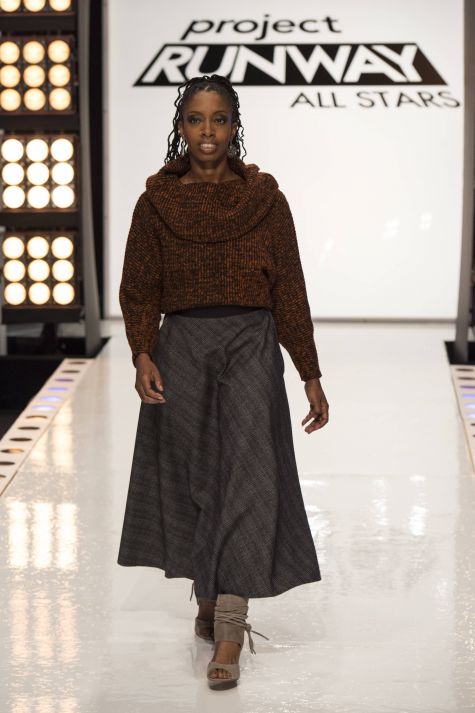 Sam's design was made fairly last minute, and it shows. Because Sam won two consecutive challenges, the judges expected a lot more than mediocre work. As Alyssa noted on the runway, his color scheme was "drab." The design is not terrible, but it is not anything to write home about, either.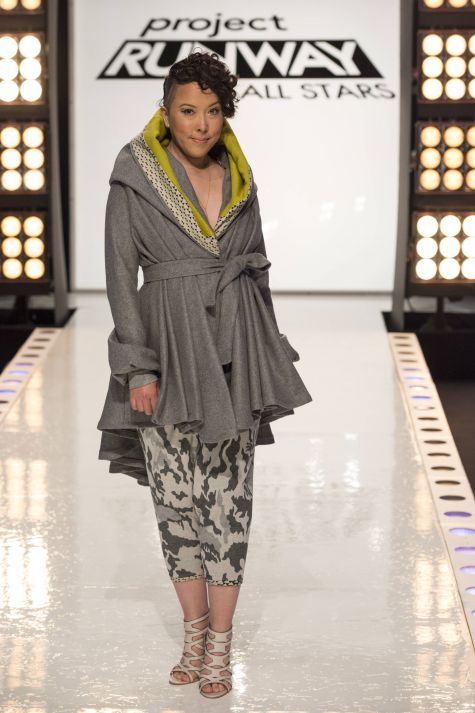 Valerie was told that she covered up her naturist too much. The design looked frumpy. I was disappointed, too. I'm not sure if it is her personality or her designs, or a mixture of the two, but I have really grown to like Valerie. She may not be the front-runner, but she creates some sweet and unique designs. This outfit, however, missed the mark. 
The Remaining: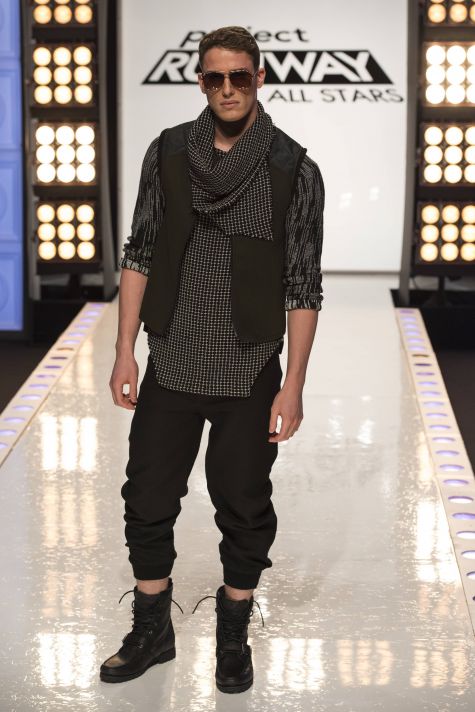 Asha got very lucky with the naturist she was assigned: He was very sporty and looked like a model. I'm not a huge fan of this look, but I won't deny that it is a well-constructed, good design. Asha achieved what she wanted, but there just was no "wow" factor.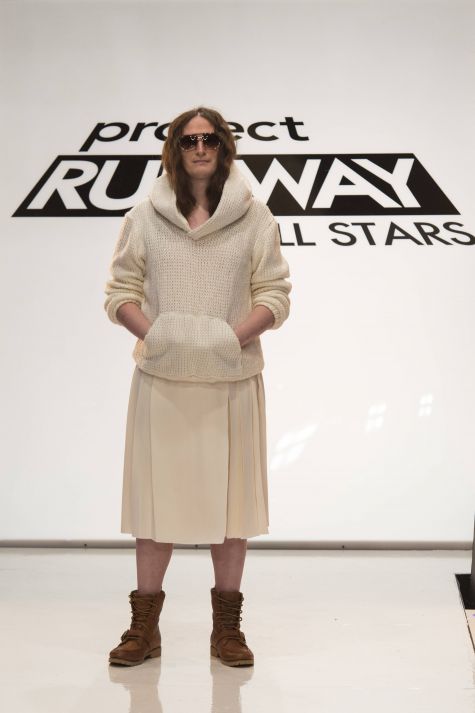 Ken's outfit was, uh, unique. If he had designed this outfit for a woman, he most likely would have been eliminated, but because he put a skirt on a man, the judges loved it. I'm not entirely sure why this design was not in the bottom. If Ken was going to make a skirt for his male naturist, he could have made something really fun. The off-white color scheme was unimpressive. I think he relied too much on the novelty factor to keep him safe.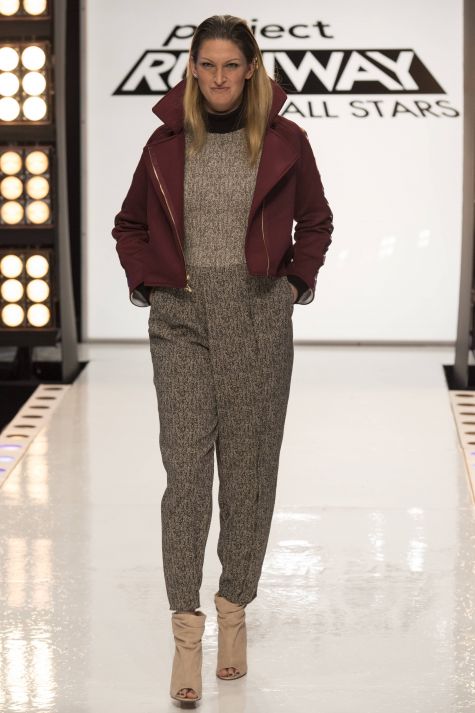 Layana's design was cute and casual, and her color choices were wonderful. I look forward to her future designs.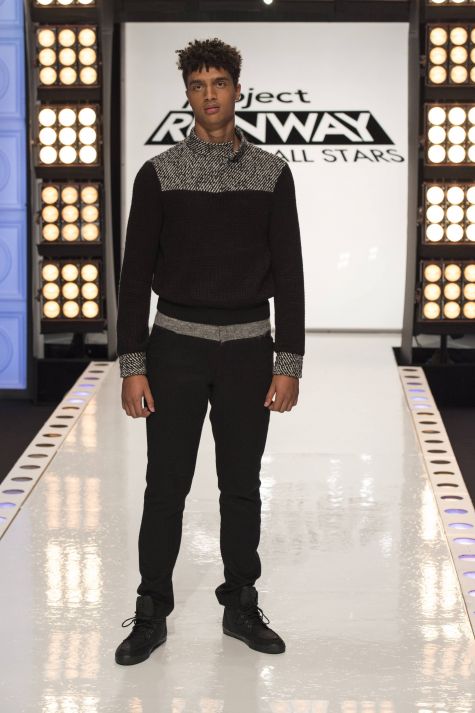 Alexander's design looks like something I can envision a man with a good fashion sense wearing. The tweed on the sweater was a a great touch, and the fit of the pants was great. He did an amazing job with this challenge. Although he may need a filter when it comes to fellow contestant Sam, Alexander has proven to be a formidable contestant.
The loser: Due to the clients' overall positive responses to their outfits, the judges did not send anyone home. They decided that, if the client was satisfied, it would be unfair of them to eliminate a designer. Part of the challenge was to make the client feel confident, and the judges determined that Valerie and Sam had achieved that important goal.
Do you agree with the judges' decision to not eliminate anyone this week? Leave us a comment, and let us know. Make sure to tune into Project Runway All Stars every Thursday on Lifetime at 9/8 central time.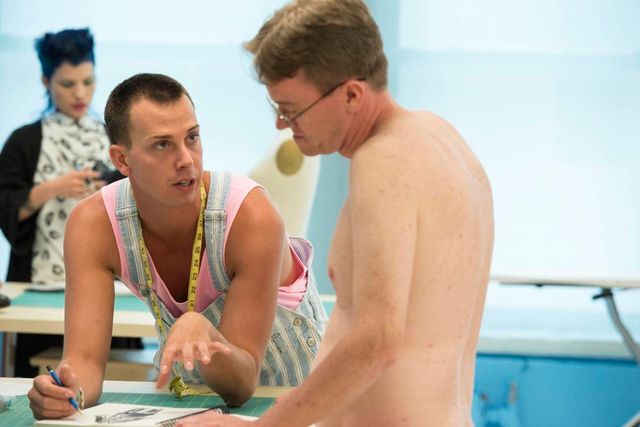 Contestant Mitchell Perry and his naturist client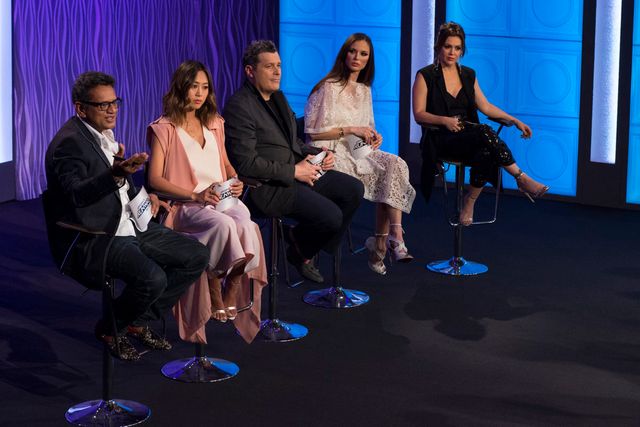 Guest judges Naeem Khan and Aimee Song, along with the regular show judges Isaac Mizrahi, Georgina Chapman, and Alyssa Milano