Project Runway All Stars: Season 5, Episode 6 – "Going for Baroque"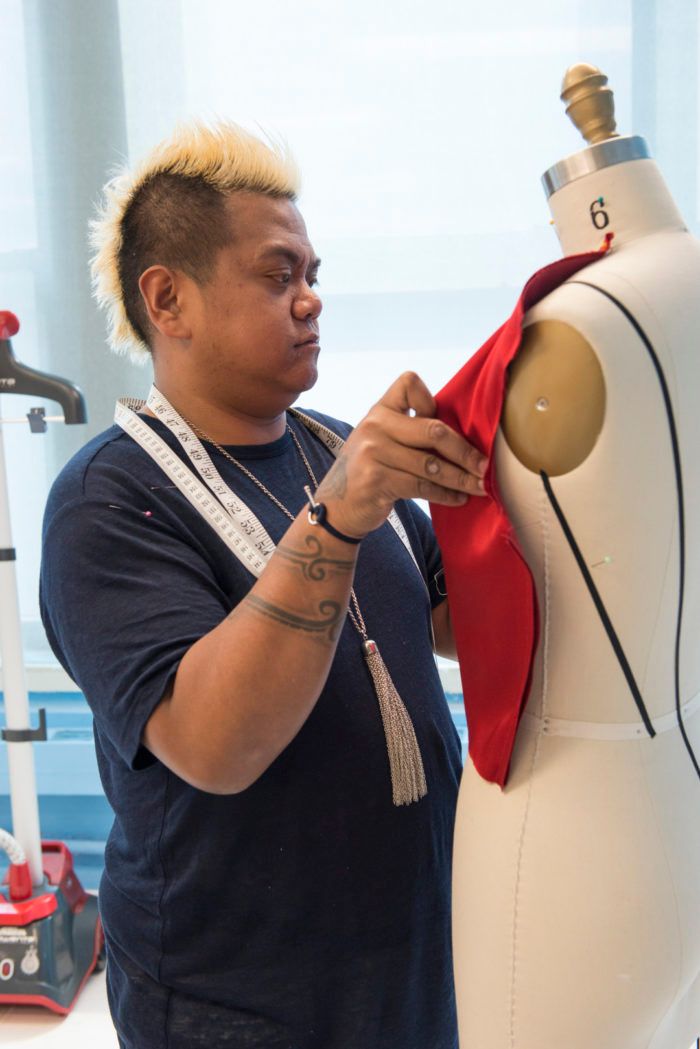 After a tense ending to last week's episode, the start of this one seemed quite lighthearted. Alyssa, once again, kept with the trend of big entrances by arriving on horseback amid a parade of medieval reenactors.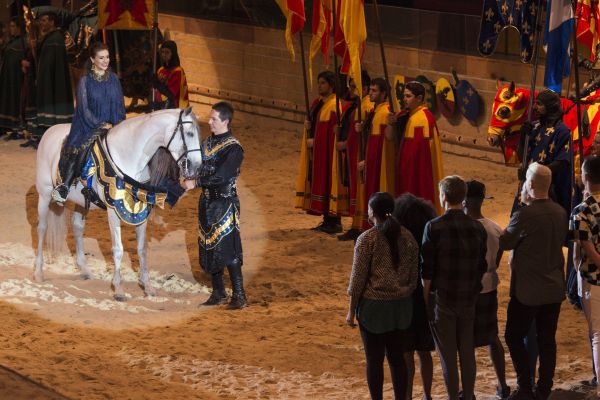 Before continuing, there is something I should mention, because it did not come across well in the episode: The baroque and medieval periods were two very different times. The medieval period began in 500 and ended in the 1400s. Meanwhile, the baroque period did not start until the 1600s. My understanding was that Project Runway was stating that the medieval period "ushered" in the baroque period, yet the fashions in the two periods were very different–not to mention separated by a century or two, including a period known as the Renaissance. Baroque fashion was very frou-frou and fluffy: Big skirts and wigs were all the rage. In medieval fashion, layered A-line dresses and fashionable hats were popular. I will admit, the idea of mixing historical fashion with modern-day fashion was definitely cool. Alright, rant over.
The designers were charged with creating couture clothing while channeling today's fashion and fashion from the baroque period. They were excited but worried, because they knew how time-consuming the two-day challenge would be. Regardless, the Project Runway All Stars got straight to work with their imaginative and ambitious designs. While sketching, they were able to watch knights reenacting a jousting match, which, I'm sure only few knighted subjects today can say they have done.
The drama began as soon as the designers got to the workroom. As usual, Sam came under attack for his cockiness. His flirting with the judges and in-it-to-win-it attitude has made Sam the enemy of just about every designer in the competition. Since the group challenge, even Kini has been unhappy with Sam: When complimented on a jumpsuit that Kini made, Sam took all the credit. I'm not a Sam fan, but mostly, I miss the congeniality and respect that Project Runway: Junior contestants showed each other. Sometimes, the arguing among the adults gets old. It's fun to see the designers getting along.
The winner:


Ken was viewed as an underdog in this challenge. From the start, a couple of the other designers were turning up their noses at his design. In fact, designer Mitchell told him the fabric looked like bark. The structured design and mixture of old and new is what really won Ken his first challenge this season. On top of this being his first win, he is getting the oppurtunity to design for judge Georgina Chapman's renowned Marchesa brand.
The loser: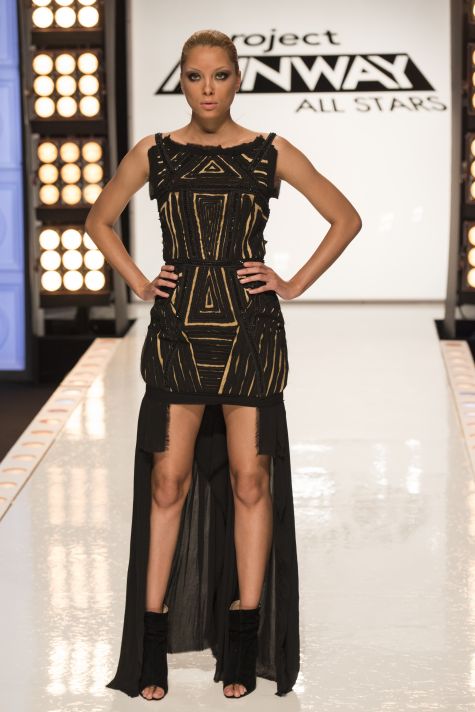 Mitchell's loss was unsurprising but still sad. Mitchell always displayed an in-your-face onscreen persona: He was never afraid to speak his mind and, sometimes, he should have kept quiet. He was often at the center of any drama, but, unlike Sam, he had something relatable and human about him. This design was a huge miss for Mitchell. From the accessories to the ill-fitting high-low bottom, this dress was just a mess. Judges noted that the top was great, but from the waist down, the dress lost its flair. Mitchell seemed to have crumpled under the pressure. Although I never expected to, I think I will miss Mitchell's quirky personality.
The remaining top two: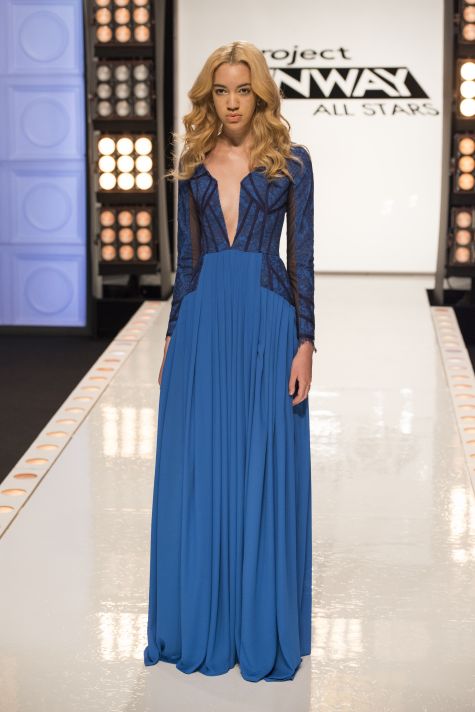 Valerie has once again impressed me, and I'm glad the judges are finally seeing that she is an excellent designer. Her dress was absolutely gorgeous and unique. After being told last week that she needed to do less with her designs, Valerie took a simpler route, and it paid off.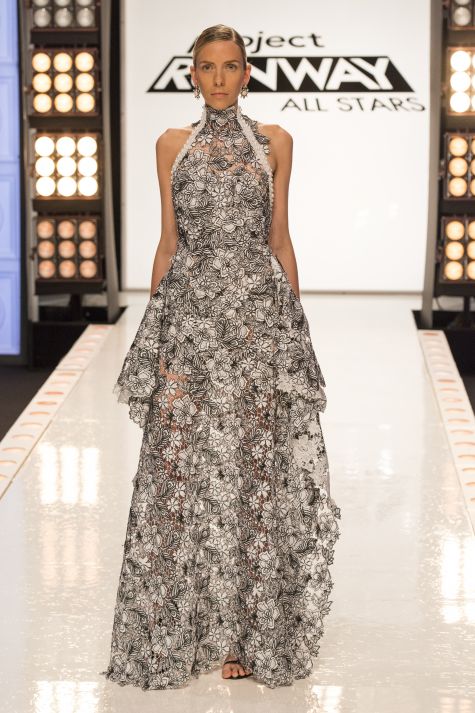 Sam is a wonderful designer, but it is the stunning fabric that made his dress successful. As the judges stated, Sam relied too heavily on the expensive fabric. Without it, the design would have been bland. Overall, Sam's finished product was ravishing. He took credit for handling the lace masterfully, but he was able to do so only after Dom told him how to piece and appliqué the motifs to reduce the fabric's sheerness. It will be interesting to see if failing, once again, to acknowledge his fellow contestants' input comes back to haunt Sam in the coming weeks.
The Bottom Two: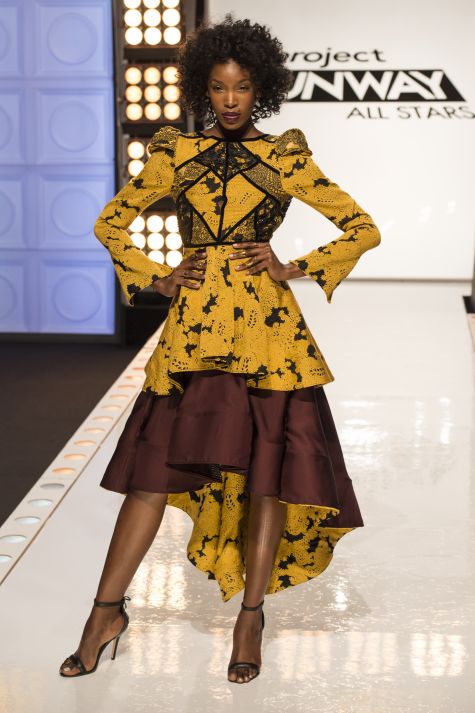 Layana seemed to have channeled a matador in this design. The brown with the yellow and black overlay was not the best color combination, though. The judges criticized this and told Layana the ensemble was trying too hard without actually being couture. Regardless, I thought it was a great design.

Alexander is a talented designer, and this dress shows it. The problem is that the design was far too modern looking for the challenge. Several designers and even the judges noted that it wastoo reminiscent of the 1961 film Breakfast at Tiffany's. Alexander missed the time period by hundreds of years. It is a nice design, though, and it is obvious he put a lot of time into it.

The Remaining: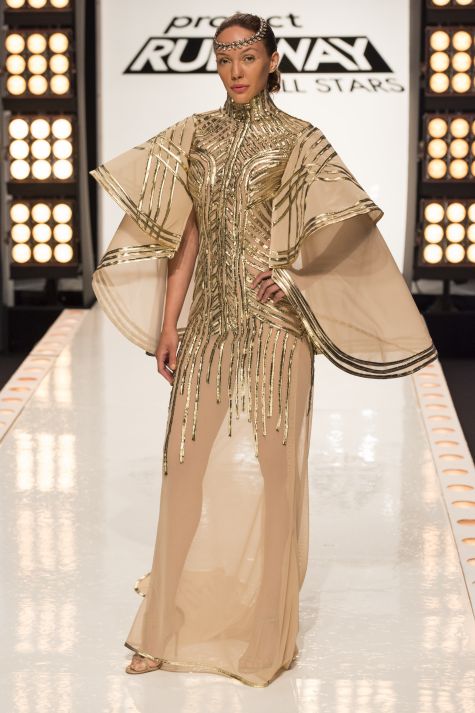 Dom's creation was beyond unique. The other dresses took a more traditional route, while Dom tried hard to do something that would stand out. It really did, and it's a cool design.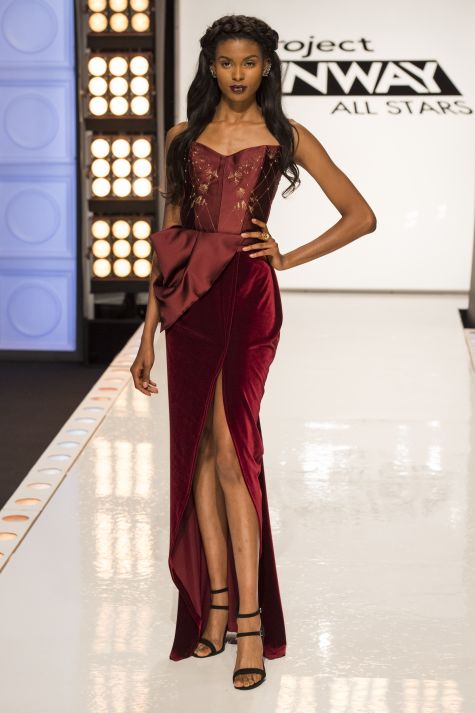 Asha created something that Zanna Roberts Rassi called "costumey." I think it ended up looking fabulous, and I wouldn't have been upset if she had been in the top two. The color was regal, while the design was a more modern take on a historic look.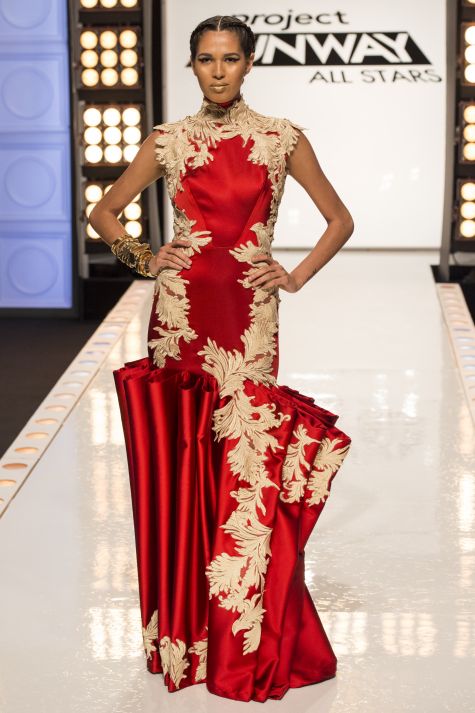 Kini is always one to take risks, and this challenge wasn't any different. In any other circumstance, that accordion-style skirt would not work. Somehow, Kini made it work. Although it went with the rest of Kini's dress, I'm still not a fan of that style.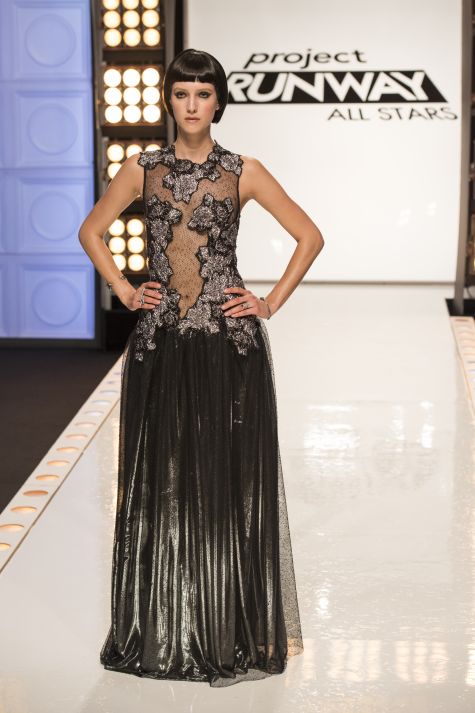 Emily's design was underwhelming. I'm surprised it didn't get the bottom ranking, rather than Layana's design. Something about this dress looks odd to me. I really want to see Emily to leave her goth-vibe comfort zone in upcoming episodes. I think she is a good designer, but this dress did not showcase that.
Do you agree with the judges choice to send Mitchell home? Will you miss him? Leave us a comment letting us know what you thought about this episode and don't forget to tune into Project Runway All Stars every Thursday on Lifetime at 9/8 central time!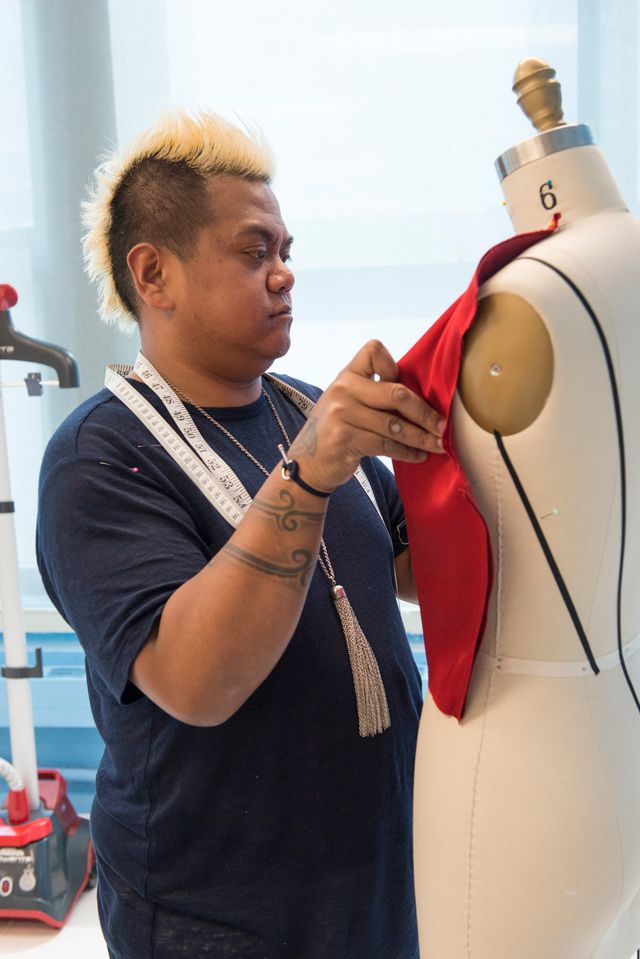 Contestant Kini works on his red dress.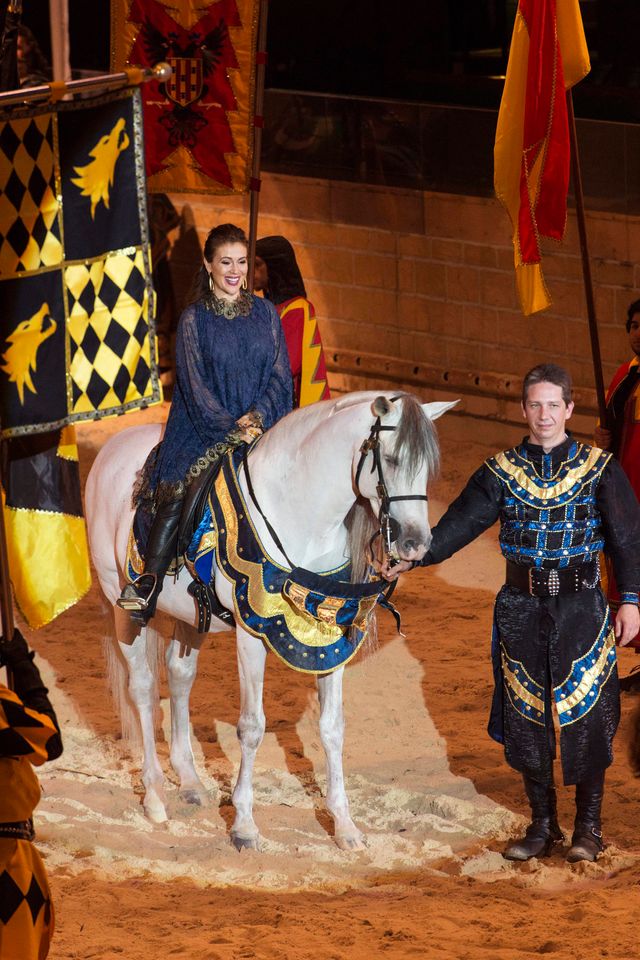 Host Alyssa Milano arrives via horseback to introduce the next design challenge.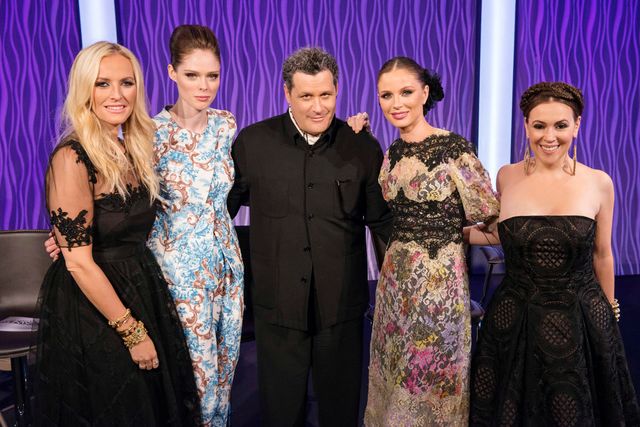 From left are judges Keren Craig, Coco Rocha, Isaac Mizrahi, Georgina Chapman, and Alyssa Milano.