Project Runway All Stars: Season 5, Episode 9 – "A Touch of Style"
This week, the designer contestants were asked to create a high-end "athleisure" look that would be re-created and sold as part of host Alyssa Milano's Touch collection. Athleisure seems an ill-defined genre to me, but Alyssa clarified by telling the designers that the look should be right for a fashion runway, a baseball game, and dinner at a restaurant. The designers were generally comfortable with the idea, and, for a change, we didn't see the anxiety provoked by challenges involving unconventional materials, couture, or "real person" models. Sam and Layana in particular embraced the challenge, as this type of clothing is what they design regularly. (I never like to see this sort of confidence onscreen, as it's usually part of a "loser's edit.")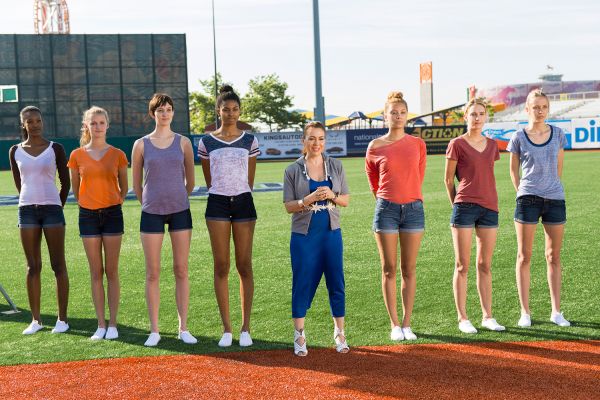 The winner:
Kini's sporty coat and jeans look. This was Kini's first win of the season, and it was well deserved. Many would argue that he was cheated of wins several times before, so he was justifiably delighted to hear his name called. I was a little nervous when he defaulted to denim, as he's done repeatedly this season, but his choice of textile was perfect for this challenge. His riff on a letterman jacket was beautifully made and had a witty elegance. The fact that he sewed that coat and a complete pair of jeans in a day was amazing.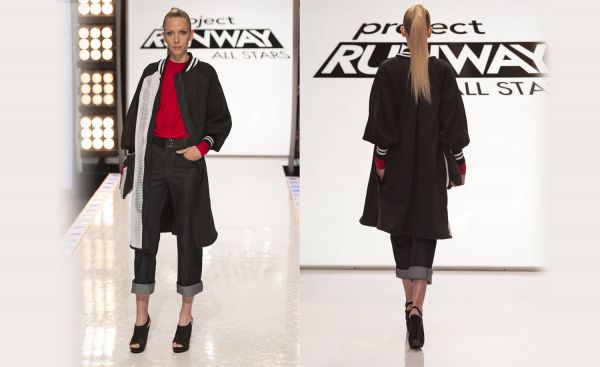 The loser:
Layana's textured leggings and complicated bra-top. So the loser's edit was real, and Layana's supposed experience with athleisure didn't help her. She spent most of her time pin-tucking and piecing the blue leggings, and finished with an interestingly layered top, but the judges felt the look was too sporty and not "gamewear." Layana has been among the bottom three designers several times, so it was expected that she would go. I have liked her positive attitude. Her designs–though not as cutting-edge as others on the show–were always interesting, pretty, and wearable. There were a other designs this week that were, in my opinion, inferior to this one.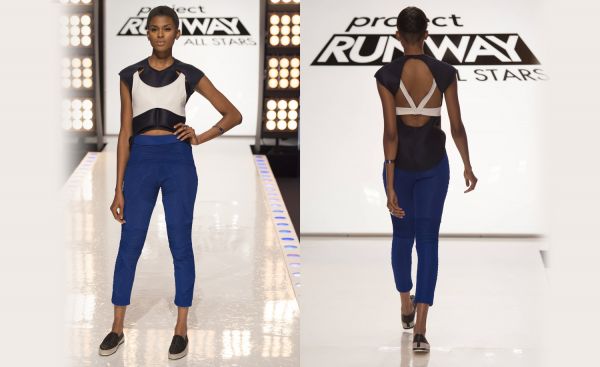 Remaining looks:
Asha's clever baseball jersey-inspired outfit. This sassy skirt and crop top included lots of details derived from baseball uniforms, such as piped bands along the skirt edge, the curved hemline and waistband and buttoned front, and the striped trim on the sports-bra top. Although I thought this was cute, I have a hard time imagining it at a restaurant, except maybe at a sports bar. And you'd need a lot of sunscreen to wear this to a game.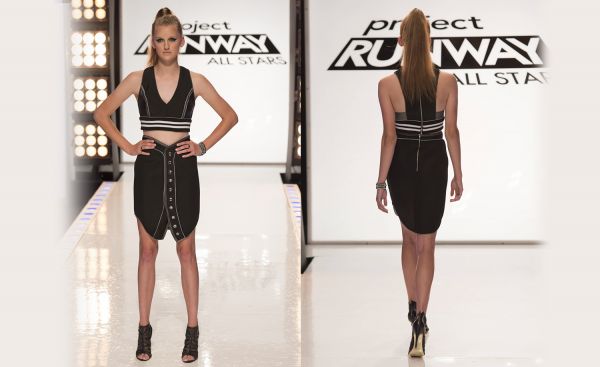 Dom's convertible dress. There are certainly many intriguing features in this dress, with its black front and striped back, and zip-off hem band. Dom always mixes textiles successfully, and this was no exception. I suppose the dress would be practical at some baseball games, though if it's cool enough to warrant a solid black, long-sleeved dress, you might not want a sheer back.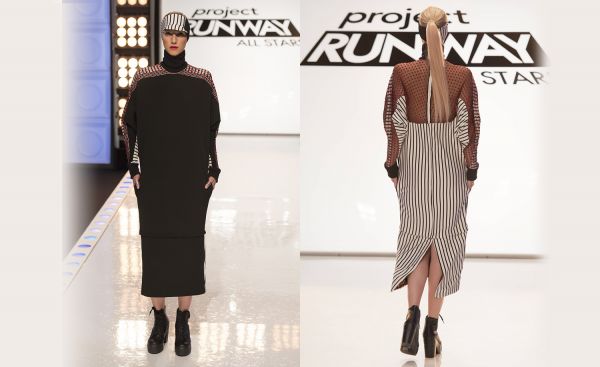 Emily's version of the classic white T-shirt. The judges and mentor Zanna Roberts Rassi thought it had too much of a "ladies who lunch" look, which seems to mean safe and not sporty enough. It is a good-looking ensemble, though perhaps not well suited to hot dogs and beer.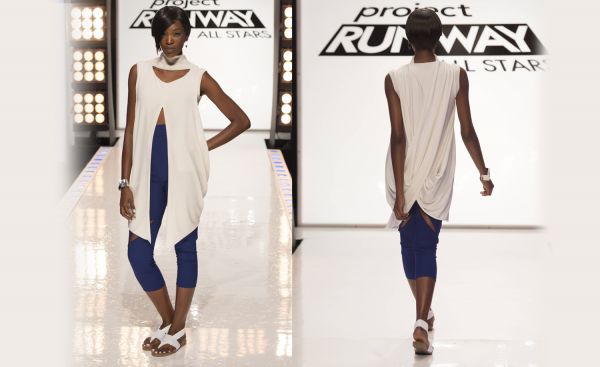 Ken's lace hoodie and red dress. Ken had some trouble with this challenge, though I didn't understand exactly what his problem was. He seemed overtired and frustrated, and he left the workroom for several hours. He turned up the next morning in good spirits, put the finishing touches on his look, and survived another week. This is a perfectly acceptable look for the challenge, though it lacks the skill Ken is known for. I would have scored this lower than Layana's look.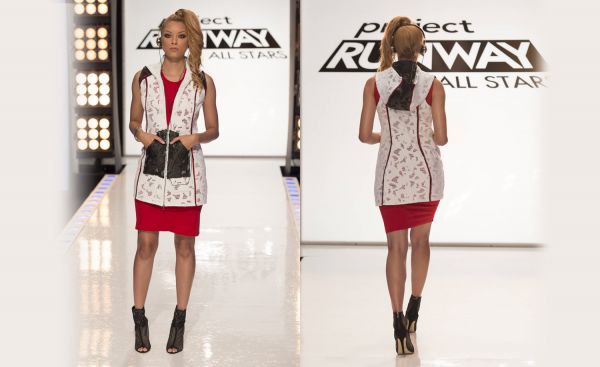 Sam's neoprene, mesh, and lace dress. This cute frock isn't even remotely suitable for a baseball game. As has become his habit, Sam relied entirely on the fabrics to make this look. He created a very basic dress design. Most of the major pattern companies have designs similar enough to this that you could easily make your own version. Like Ken's look, Sam's design was less interesting and further from the notion of athleisure than Layana's, in my view. I would have voted Sam off.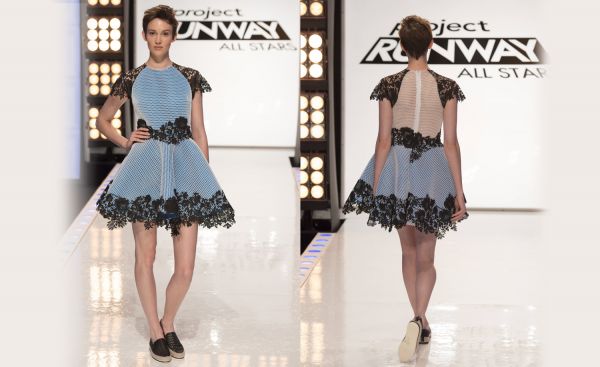 Did you agree with the judges' assessments this week? What do you think of "athleisure"? Do you wear clothes in this category? Let us know in the comments section below.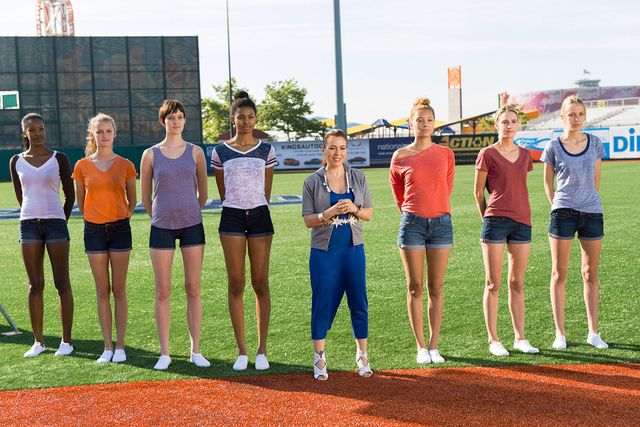 Host Alyssa Milano with models dressed in garments from Alyssa's Touch line of athleisure clothing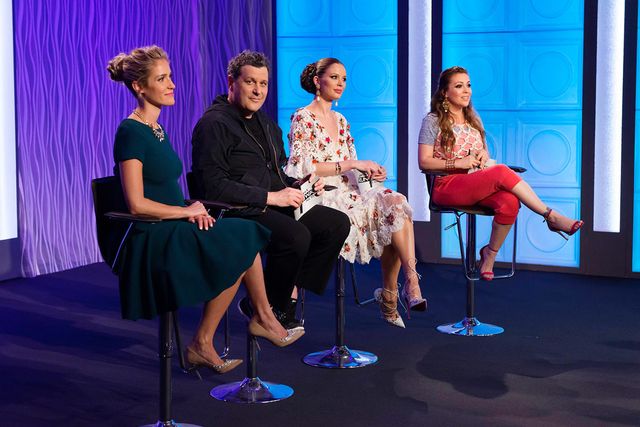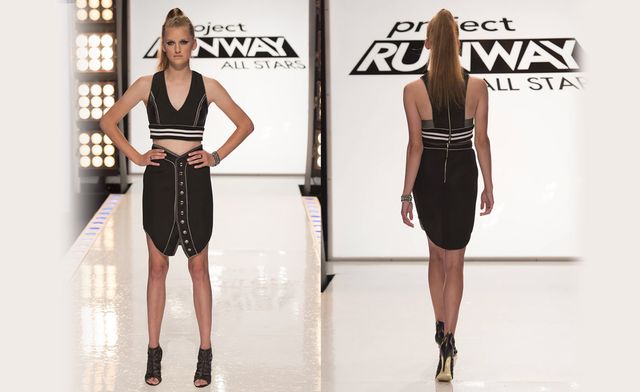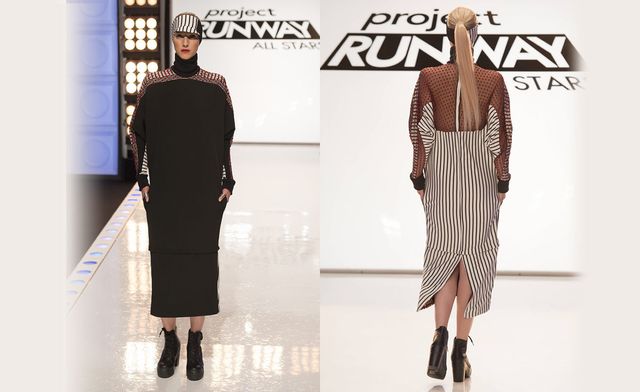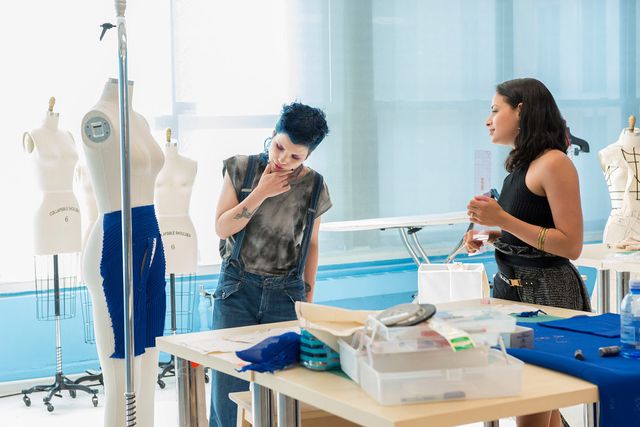 Emily and Layana in the workroom