Investigating a Mystery Luxury Fabric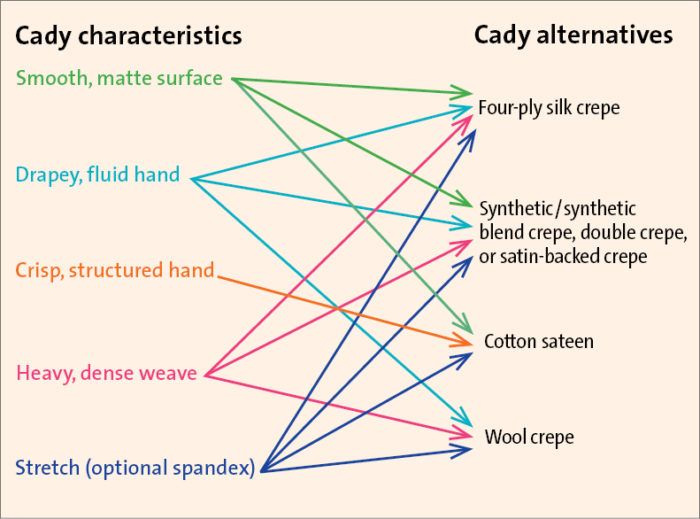 READERS' QUESTIONS – EXPERT ANSWERS
Q: Lately, I've seen a lot of high-end ready-to-wear clothes online and in catalogs that are described as being made of "cady." I have never seen fabric sold under this name and would like to learn about its characteristics. Can I purchase it anywhere?
-Leslie Cohen, Upper Saddle River, New Jersey
A: Textile expert Julianne Bramson did some sleuthing and reports the following:
"Cady" is defined variously. I've found it described as a two- or three-ply, slightly fulled silk fabric used for couture and evening gowns; it was produced originally in southern France. I've also seen it described as a smooth, eight-ply woven Italian silk, wonderful for structured suits, skirts, and jackets.
However, like you, I have never seen a textile called cady for sale in the United States, so I visited a couple of department stores to investigate the garments that claim to be made of it. At Neiman Marcus and Nordstrom, I found blouses, skirts, pants, and evening gowns that were described online as being made of cady. The term wasn't listed on the garment labels or tags. The store staff surmised that cady is used to denote a fabric exclusive to luxury garments.
From looking at and feeling the garments, I would describe the textile as similar to a woven double crepe. It is heavy, soft, and stable. Most of the fabrics contain spandex and have a matte finish. Some variations have what looks like a diagonal twill weave pattern.
Labels such as Marni, St. John, Armani, Stella McCartney, and Gucci use this fabric in their lines. The Marfy pattern company lists cady as a suggested fabric for many of its dress and gown patterns.
The most useful understanding of cady for a home sewer is that it's a woven fabric that has the look and hand of two-, three-, or four-ply silk crepe with a bit of stretch. It can be made from fibers such as silk, cotton, rayon, wool, polyester, and acetate-often combined with some spandex. It is smooth, holds its shape well, and has minimal sheen. When you're shopping for fabric that is similar to the cady used in top-tier ready-to-wear collections, look for heavy crepe weaves that drape luxuriously and have a hint of stretch.
Threads Technical Editor Carol Fresia adds:
I made further inquiries to experts in the fabric and apparel trade. Only two shed any light. Lori Hill at Banksville Designer Fabrics in Norwalk, Connecticut, describes silk cady as heavier than four-ply silk crepe, with a soft drape and matte surface. Jodi Hartmann, lecturer in the Fashion Program at Marist College, Poughkeepsie, New York, is familiar only with cotton cady, which she says is densely woven with a crisp hand. She says she has seen cady from Italy but never found it for sale in the United States.
This post was originally featured in the Q&A department of Threads #185 (June/July 2016).
---
Have a Question? Send it to us and we'll find an expert's answer.
via mail: Threads Q&A, PO Box 5506, Newtown, CT 06470-5506
via email: ThreadsQ&[email protected]
via the Contact the staff page to submit your entry