An Inside Look at the Exhibition Manus x Machina: Fashion in an Age of Technology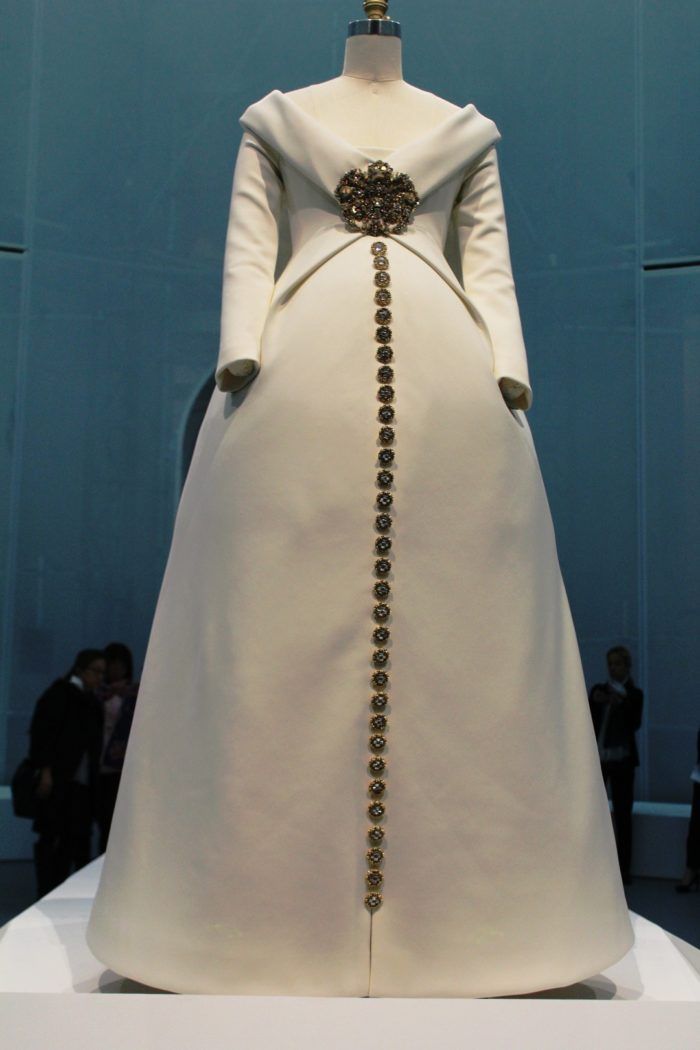 Manus x Machina: Fashion in an Age of Technology
Manus x Machina: Fashion in an Age of Technology opened May 5, 2016 at the Metropolitan Museum of Art Costume Institute. According to Andrew Bolton, curator of the Costume Institute, the exhibition was inspired by this wedding gown by Karl Lagerfeld for Chanel's autumn/winter 2014-15 haute couture collection.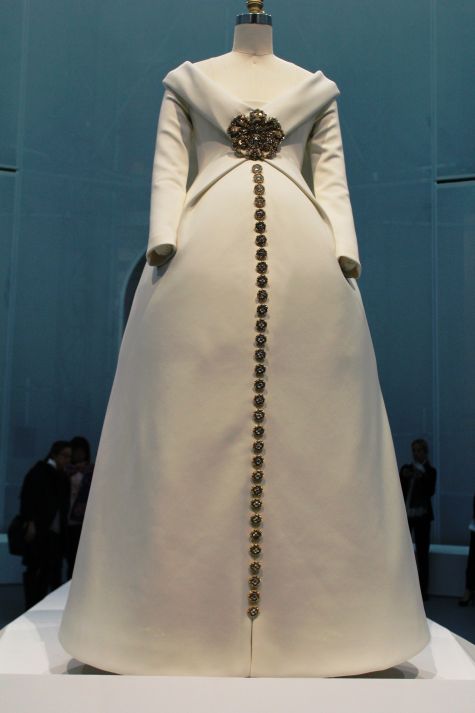 Fabricated in scuba knit, the wedding ensemble is an example of the confluence of the hand and machine. The dress was hand molded, machine sewn, and hand finished. The train's design was drawn by hand, digitally manipulated to give it the appearance of a randomized, pixilated baroque pattern, and finally executed through a complex process of hand and machine techniques, including hand painting with gold metallic pigment, machine printing with rhinestones, and hand embroidering to apply pearls and gemstones. The train required 450 hours of workmanship.
Manus x Machina opens with a duplicate of the Chanel dress and a 20-foot train; details of the train's embroidery are projected onto the ceiling. The exhibition is structured around the traditional métiers of the haute couture: embroidery, featherwork and artificial flowers, pleating, lacework, and leatherwork. Traditional hand techniques are described as well as innovative technologies such as 3-D printing, computer modeling, bonding and laminating, laser cutting, and ultrasonic welding.
The designs are presented so they can be seen easily by large groups of visitors. The variety of designs ranges from stunningly beautiful ensembles, to looks with amazing craftsmanship, to unwearable art pieces. Here are those I found most interesting.
Some of the Featured Garments
Designed in 1928, this court presentation ensemble was created by Boué Soeurs, active in Paris between 1899 and 1957. The hand-sewn ivory silk tulle is machine-embroidered with couched silver cord in a foliate and vermicelli pattern. There are insets of silver-blue silk and metal lamé with machine-picot edging. The appliqués are hand-embroidered white silk tulle and artificial flowers in pink, purple, green, yellow, and blue silk ribbon and floss. (Gift of Mrs. George Henry O'Neil, 1968 (C.I.68.48a–d)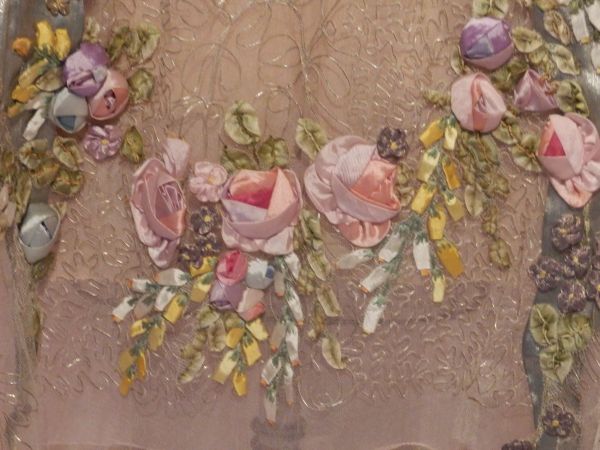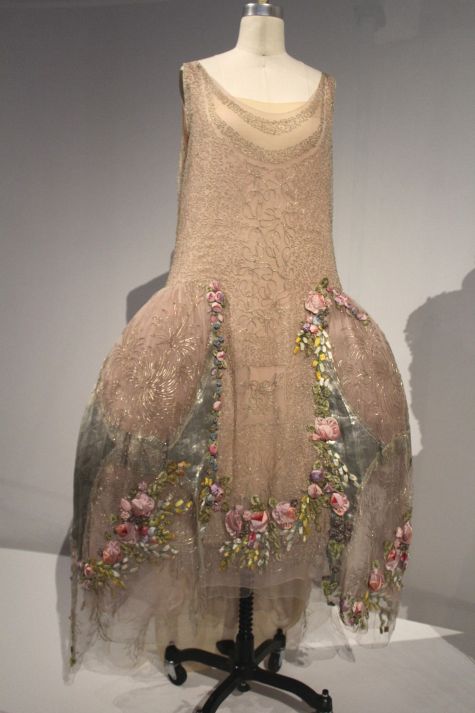 Designed by Christian Dior for the spring/summer 1953 haute couture collection, this dress is fabricated in white silk organza and net. The flower, clover, and grass motifs are hand embroidered with green, pink, and purple silk floss.
(Gift of mrs. David Kluger, 1960 ( C.I. 60.21.1a,b)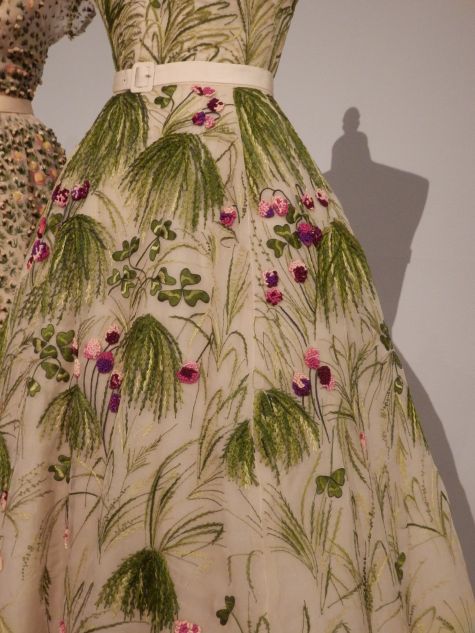 This beautiful evening gown, circa 1920, is attributed to Callot Soeurs (French, active 1895–1937). Fabricated in black silk chiffon, the dress is trimmed with inserts of antique ivory bobbin-made tape lace and handmade gold metallic braided passementerie.
Brooklyn Museum Costume Collection at The Metropolitan Museum of Art, Gift of the Brooklyn Museum, 2009; Gift of Mercedes de Acosta, 1955 (2009.300.1240)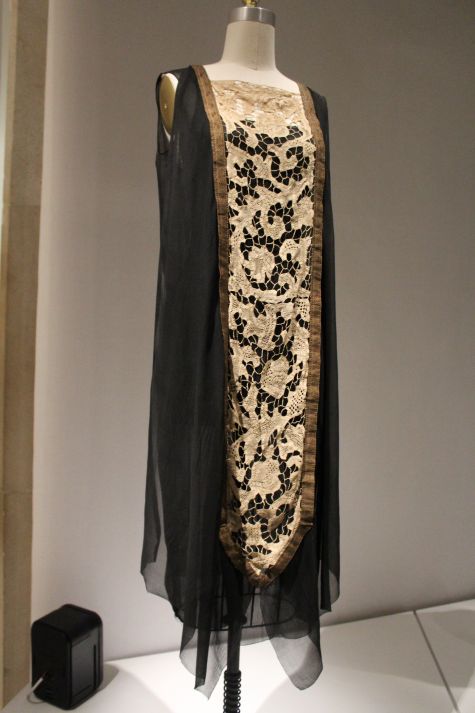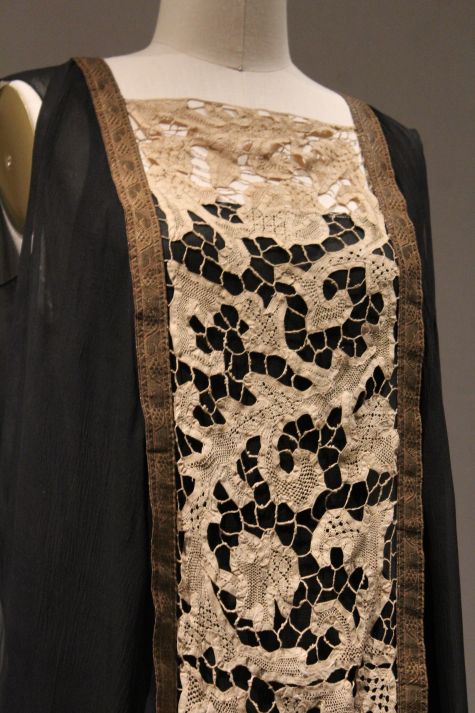 This circa 1919 Paul Poiret couture coat is one of my all-time favorites. The black wool rep (a woven fabric with horizontal ribs) is trimmed with a white fur collar and hand-appliquéd with white kidskin cutwork.
Gift of Mrs. David J. Colton, 1961 (C.I.61.40.4)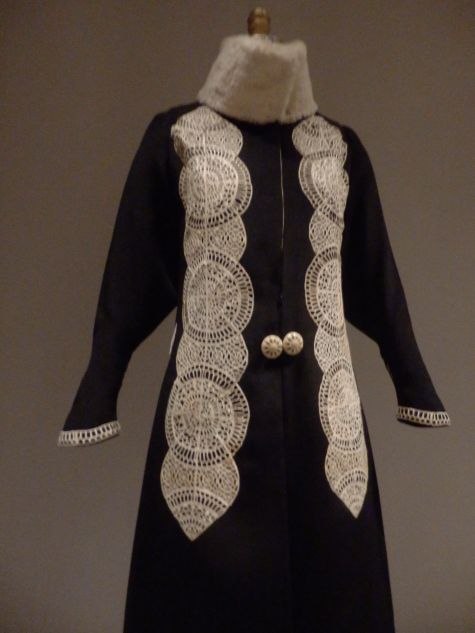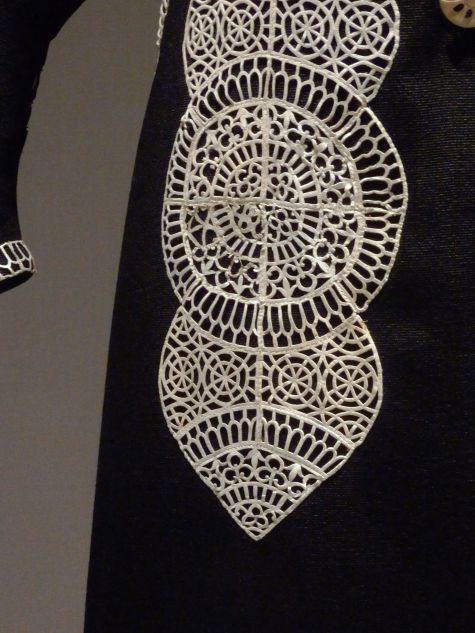 [[[PAG]]]
Designed by Sarah Burton for Alexander McQueen, this ensemble is from the autumn/winter 2012–13 prêt-à-porter collection. The jacket is made of laser-cut white pony skin bonded to black leather and trimmed with Mongolian wool.
Courtesy of Alexander McQueen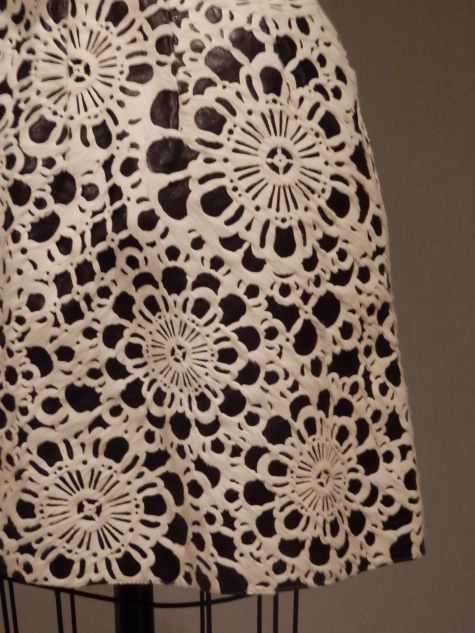 I particularly liked the comparison of the pleated designs from Dior and the Miyake Design Studio. In addition to the dresses, there was a video for each to show how the fabric had been pleated.
The Dior ensemble was designed by Raf Simons for the spring/summer 2015 haute couture collection. The silk organdy was first trimmed with silk grosgrain ribbons, then the skirt was hand-pleated.
Courtesy of Christian Dior Haute Couture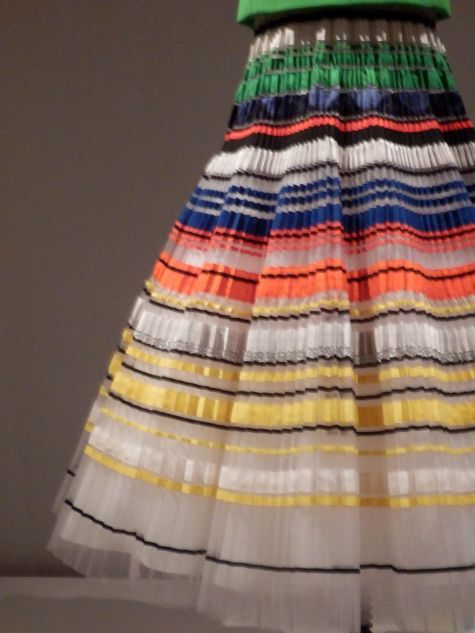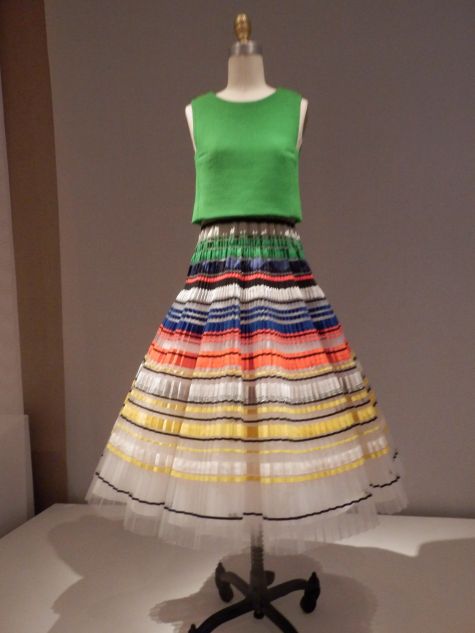 From the spring/summer 1994 prêt-à-porter collection for the Miyake Design Studio, Issey Miyake's "Flying Saucer" dress was machine-garment-pleated in polychrome polyester plain-weave fabric. The dress was one of several that collapsed into a flat design.
Courtesy of The Miyake Issey Foundation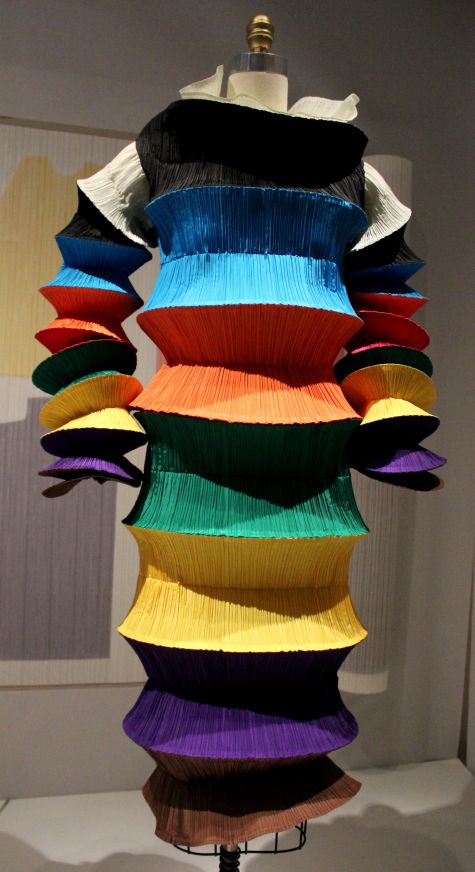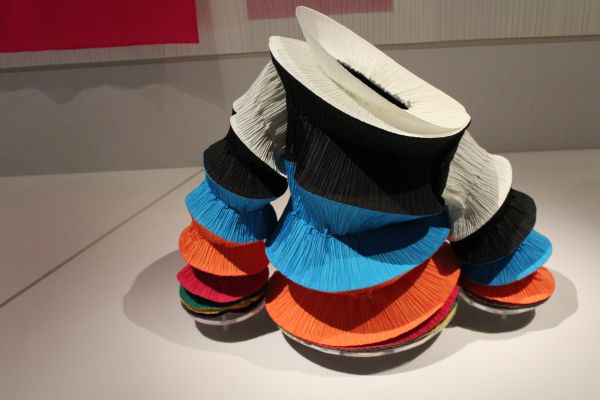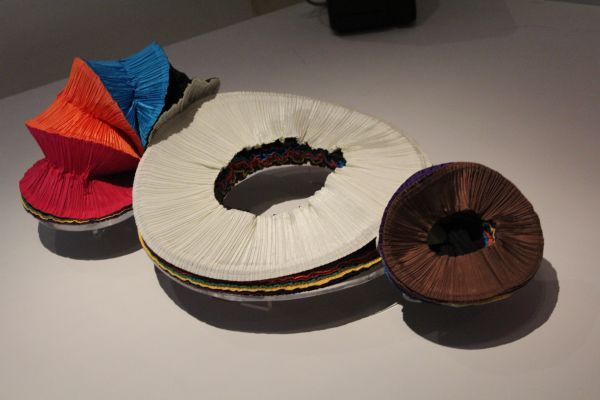 This unusual dress from Hussein Chalayan's spring/summer 2009 prêt-à-porter collection was fabricated in bonded pale gray viscose jersey and polyurethane foam, The seam allowances are glued.
Courtesy of Hussein Chalayan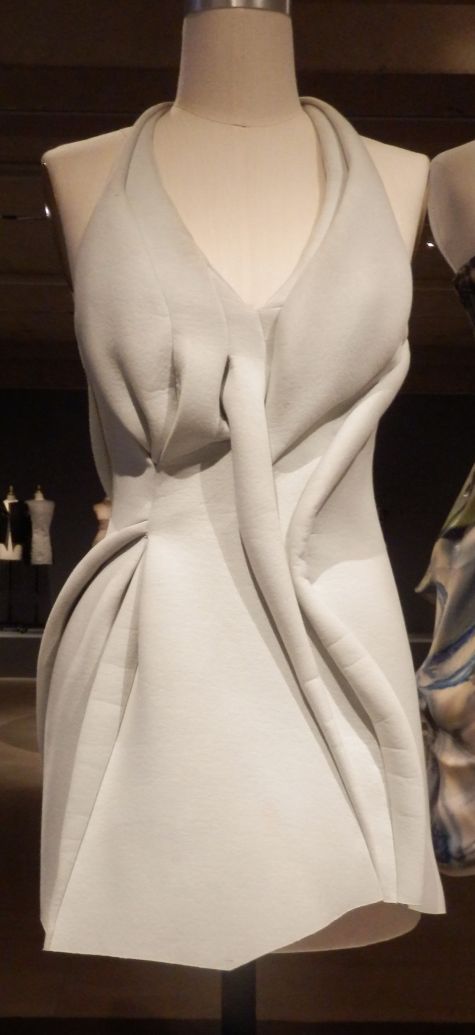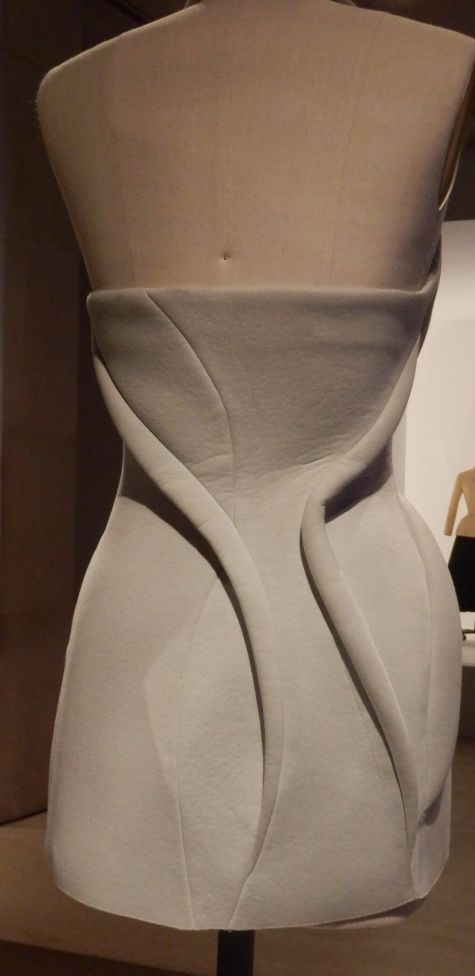 Designed by Sarah Burton for Alexander McQueen's spring/summer 2012 prêt-à-porter collection, this evening gown is fabricated in white silk organza; hand-sewn to nude silk mesh; and hand-embroidered with silver beads, clear crystals, and silver plastic feather-shaped paillettes. The appliqués include silver silk and metallic hand-shredded petals that had been hand-embroidered with silver beads, clear crystals, and silver plastic feather-shaped paillettes.
Courtesy of Alexander McQueen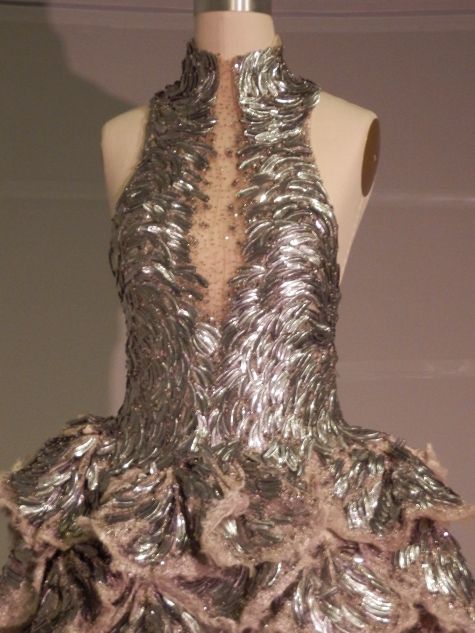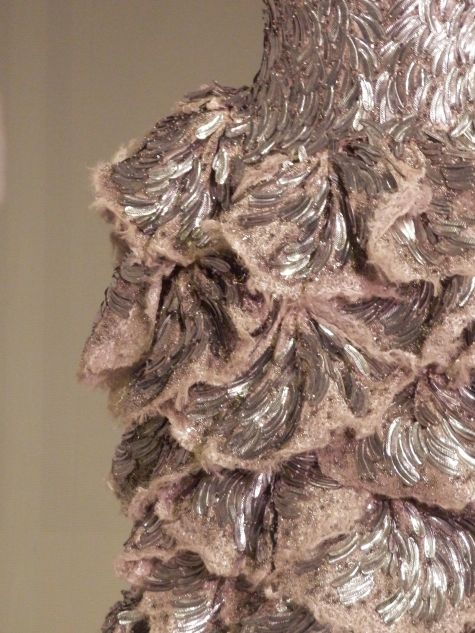 Manus x Maxima will be on view until August 14th, 2016. For more information about the exhibition, visit metmuseum.org/ManusxMachina.
What impact do you think technology has had on the fashion industry? What do you see as the future for fashion?