Book Review: Mademoiselle: Coco Chanel and the Pulse of History, by Rhonda K. Garelick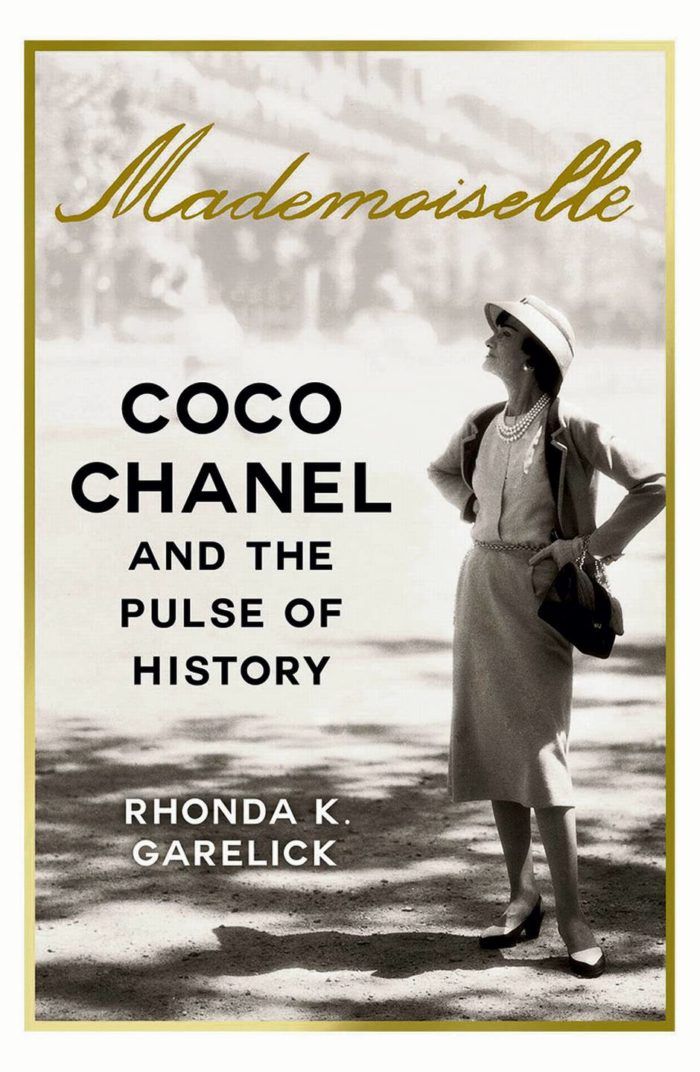 Coco Chanel wasn't just a fashion designer who revolutionized the way women dressed in the 20th century. She also was a fascinating example of the classic rags-to-riches story: She grew up impoverished and essentially orphaned, and she sought stability and status for the rest of her life. She was successful financially, in large part from international sales of her perfume, Chanel No.5, and her influence on women's dress continues to this day. Despite her achievements, she never seemed able to enjoy her fame and fortune … and Rhonda K. Garelick's biography of the designer (Random House, 2014) explores why this was the case.
Chanel's biography has been written many times, so the outline of her life–including her collaborationist behavior during World War II–is well known. This version attempts to understand how the designer's difficult upbringing, plus the volatile historical period in which she was active, combined to produce an individual who was creative, charismatic, dynamic, and in some ways visionary, but who was also insecure, unreliable, and occasionally self-sabotaging.
Garelick is a professor of English with a background in French and comparative literature, and her research is solid and deep. The book is filled with details about every aspect of Chanel's background and does an admirable job of placing the designer within the cultural context of Paris in the first half of the 20th century. As a fashion innovator, Chanel was a natural fit within the avant-garde. She had an impressive ability to figure out who the cool kids were, and, more importantly, to invent herself as the coolest kid of them all. Her clothes sold well, but women didn't just wear Chanel dresses and suits: They mimicked her look entirely, copying her hairstyle and dieting to emulate her birdlike body type. It was Chanel who made suntans desirable and eyeglasses acceptable.
With all this social and aesthetic clout, you'd think Chanel would have been on top of the world, but Garelick shows that she was not. She had many lovers, often rich, always intelligent and powerful, and sometimes married, yet she never married and was thrown over several times for richer, more socially "appropriate" women. She lied consistently about her life story and took pains to hide her humble origins. She seems to have had few close women friends. She also reinvented herself repeatedly, staging an impressive comeback even after the war. She claims to have valued her independence more than anything–and said that her entire fashion enterprise was in service of ensuring that independence–yet she never stopped using others to achieve it.
As a symbol of French modernity, and as an individual of great magnetism and ambition, Chanel may have seduced a generation of French men and women. However, it's impossible to view Chanel as a pleasant person, and given her opportunistic ways, it's even difficult to admire her creativity and business acumen. Garelick's goal, stated in the book's introduction, was to provide an objective account of the designer's life, free of encomium and uncolored by the glamourous image she created. Oddly, while the author shares the least pleasant aspects of Chanel's character and actions, she still seems entranced. Such is the power of Chanel.
I enjoyed reading this biography, in particular the chapters on Chanel and the French avant-garde. There was not nearly enough information about her fashion designs for my taste, though. I came away feeling sorry for the driven, unhappy woman Garelick describes, rather than in awe of a designer who changed the course of women's fashion. For real inspiration, I'd recommend reading this in conjunction with the Metropolitan Museum's 2005 exhibition catalogue, Chanel (Metropolitan Museum of Art, 2005), which includes many photographs of her work. This is the treasure that will fascinate a sewer.
---
In addition to this wonderful book, if you are looking for Great Sewing Books, we have a collection of our favorites!