Q&A: Proper Sequence for Pattern Adjustments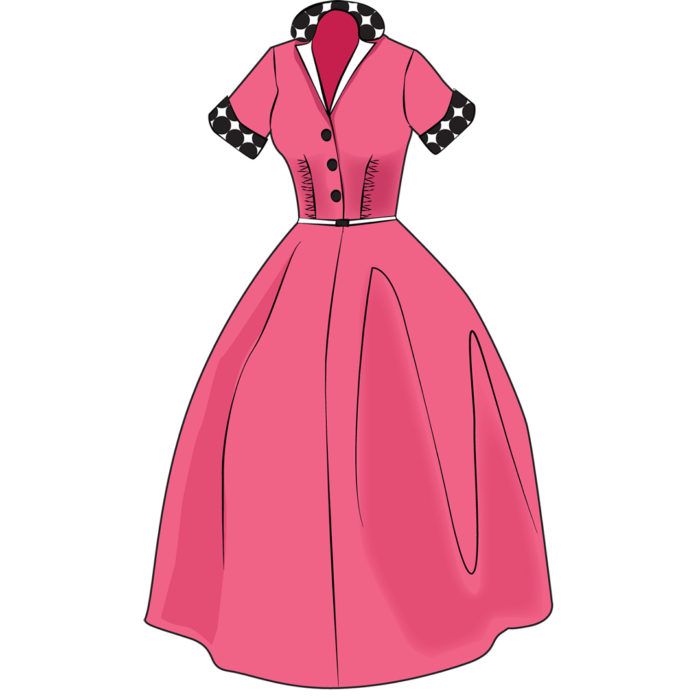 READERS' QUESTIONS – EXPERT ANSWERS
Q: I need to adjust a dress pattern that's too large. It's a vintage shirtwaist style with an interesting shirred feature at the front vertical darts. It fits at the waist and below, but the bodice needs to be reduced. It's too wide in the shoulders, too big around the bust and across the back, and it is too long from the shoulder to the waist because I am small-busted. What is the correct sequence of adjustments?
-Jeannette Reginald, Fishkill, New York
A: Threads contributing editor Judith Neukam sets our reader on the right track for fitting her charming retro pattern.
The sequence of steps is always the same. First, correct the shoulder slope, then adjust the length before adjusting the circumference. In this example, the waist and sleeve circumferences remain the same. The front bodice dart's shirred section is cut on the bias. In this example, the bodice is shortened above the dart point so it does not influence the shirring. The sleeves don't need alteration because the bodice changes make only minimal changes, if any, to the armscye.
1. Adjust the shoulder slope. Vintage patterns usually have a greater slope than today's patterns, so you may need to raise the shoulder point. To do this, follow the instructions in "Prepare Patterns for Fit," Threads #178 (April/May 2015). Adjust the pattern, and trace a copy of the adjusted front and back necklines and shoulder seams; you will use these as templates later.
2. Adjust the bodice length. Measure well-fitting clothes to determine the desired length from shoulder to waistline. On the front and back bodice patterns, cut a line perpendicular to the grainline between the waist-dart point and the base of the armhole. Place this line at the same level on the front and back. Overlap the cut edges to establish the desired bodice length. Tape the pieces together, and true the side seams.
3. Copy the revised patterns onto fresh paper. They now have the correct shoulder slope and bodice length.
4. Adjust the front width. The alteration shown narrows the shoulder and reduces fullness in the bust, without changing the dart size or waist circumference. Again, measure the shoulder seam on a well-fitting garment to determine the desired length. Cut a straight line from about halfway along the curved dart leg to the center of the shoulder seam. Pivot the side shoulder toward the center front until the space between the shoulder point and the neck point is the desired shoulder length. Tape the pattern together, and use the shoulder slope template you made in step 1 to true the shoulder seam to the correct slope. Extend the lower grainline through the upper section, and cross out the original upper grainline.
5. Adjust the back width. Cut a straight line from the base of the outside dart leg to the center of the shoulder seam. Pivot the side pattern piece toward the center back until the shoulder length is correct. Tape the pattern sections together, and true the shoulder seam with the template.
This article was originally featured in the Q&A department of Threads #186 (August/September 2016).
---
Have a Question? Send it to us and we'll find an expert's answer.
via mail: Threads Q&A, PO Box 5506, Newtown, CT 06470-5506
via email: ThreadsQ&[email protected]
via the Contact the staff page to submit your entry