Notions: Lilliput Caddy Pad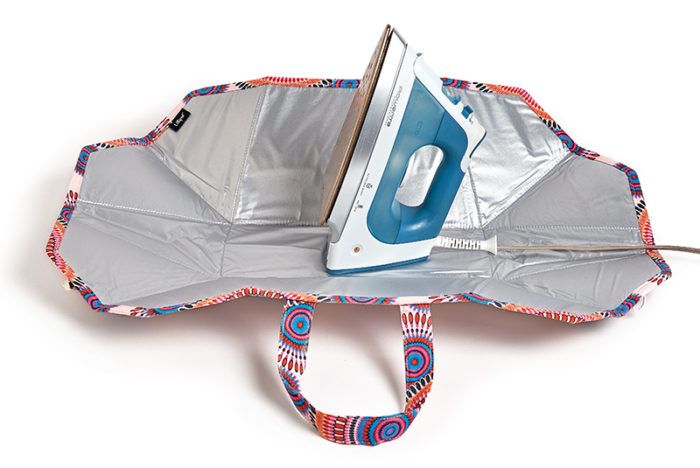 This was originally featured in the Notions department of Threads #189 (February/March 2017).
It's always great when an invention comes along to solve a problem. It's even better when the invention is cute. 
The Lilliput Caddy Pad is a folding ironing mat that doubles as an iron carrier. The Caddy Pad has been available as a pattern design from Sisters' Common Thread. Now it's also available as a finished product in bright canvas prints.
I teach sewing classes occasionally, and it was always a problem getting home with the hot iron. You want to help enthusiastic students until the very end of class, but then you have a steaming iron that takes forever to cool. I resorted to putting it on a cookie sheet on the car floor, but I worried about melting my floor mats.
Now I use the portable ironing mat, which is heat resistant to 390 degrees and is waterproof. It works as a pressing surface during class, then folds into a carrying bag around the iron when it's time to go. The Caddy Pad has two loop-and-button closures to keep it shut when folded into a bag.
There are stitching lines and creases in the pressing surface, along which the pad folds into the carrying bag. I think that is an unavoidable characteristic of the design. I only rely on the pad as an ironing surface when I don't have an ironing board nearby.
Also, although the lining is heat resistant, that doesn't mean it doesn't get hot, so you should be careful to avoid touching the lining after applying the hot iron.
I've found the Lilliput Caddy Pad a convenient and attractive solution to the problem of how to transport an iron.
Available from Amazon.com for $21.99.