58th Inaugural Ball Fashion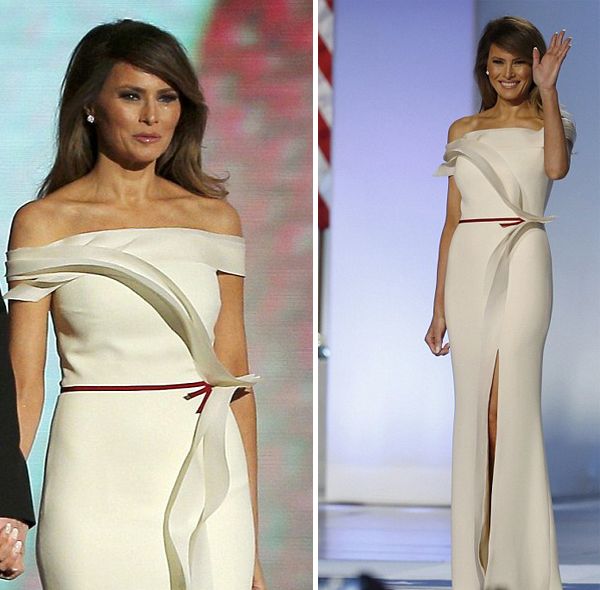 First Lady Melania Trump's Inaugural Ball Gown
First Lady Melania Trump collaborated with designer Hervé Pierre for her inaugural evening attire. According to a recent interview with WWD (Women's Wear Daily), Mrs. Trump codesigned her off-the-shoulder ivory gown made of "six-ply crepe [and featuring] a full-length gazar arc opening into a deep side slit." A thin red silk faille ribbon completed the look. It should come of no surprise that the First Lady had a hand in the design. After all, she is a former fashion model and even launched a (now discontinued) jewelry collection with digital retailer QVC six years ago.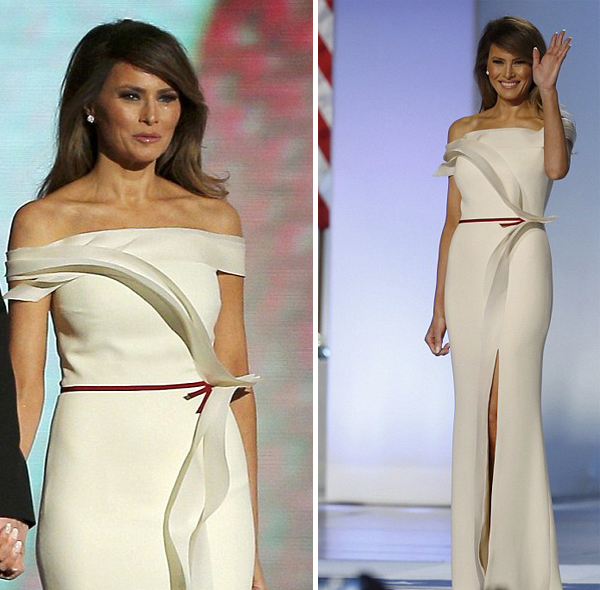 Second Lady Karen Pence's Inaugural Ball Gown
Karen Pence wore a cobalt blue chiffon gown. The former First Lady of Indiana had commissioned six members of the Association of Sewing and Design Professionals Indiana chapter to make it. ASDP members Ellen Blacketer, Donna Christian, Joyce Hittesdorf, Sarah Knochel, Whitney Luckenbill, and Cathy Runion also made inaugural ball dresses for Mrs. Pence's two daughters and daughter-in-law. In all, the six dressmakers spent about 470 hours creating eight dresses.
The cobalt blue dress used nearly 40 yards of silk chiffon, the dressmakers told an Indianapolis news station. Its softly flowing skirt was created by "sewing together 13 half-circles that [allowed the dress to] gently float across the floor [and] ripple when twirled on the dance floor," they explained to WTHR. As for the hem, it measured 57 yards around. The ruched bodice featured a modest V-neckline neckline with spaghetti straps and off-the-shoulder sleeves.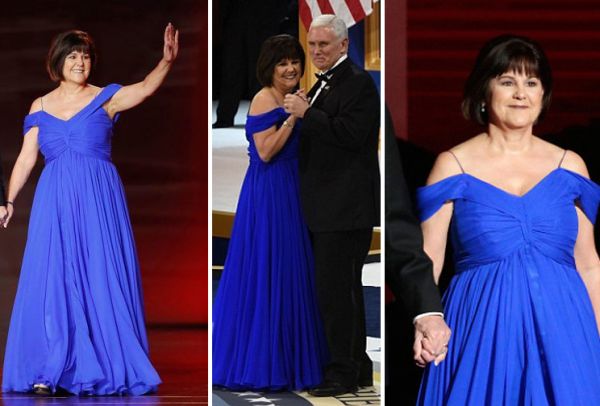 Karen Pence and Vice President Mike Pence attended three inaugural balls on January 20th, 2017.
Watch this video to learn more about the seamstresses and how the dress was created.
First Daughters Ivanka and Tiffany Trump
Although Ivanka and Tiffany Trump opted for shine and sparkle, they chose different gown styles. Ivanka wore a full-skirted ball gown, while Tiffany chose one with a mermaid silhouette.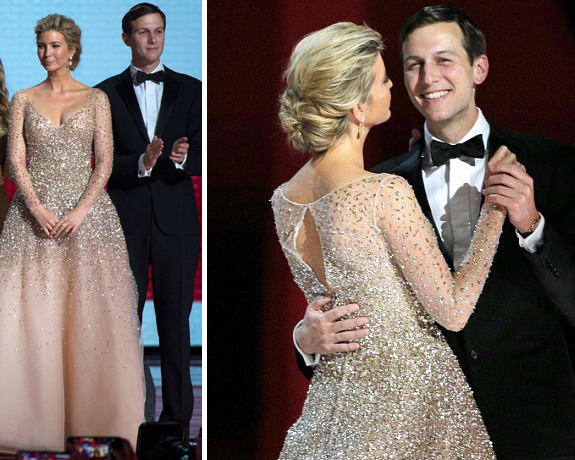 Ivanka Trump donned a long-sleeve Carolina Herrera ball gown featuring gold beading and a full skirt.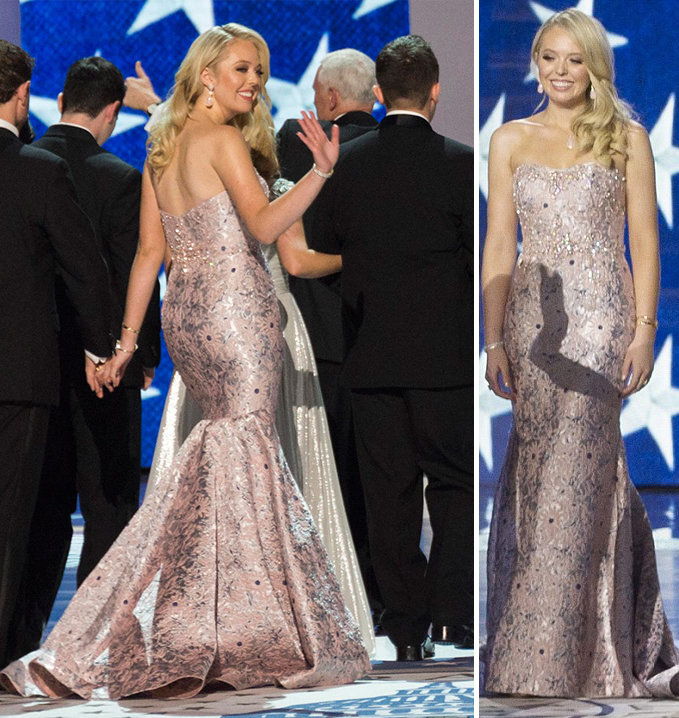 Tiffany Trump wore a strapless mermaid dress by Simin Couture.
 
An Overview: The Trump and Pence Families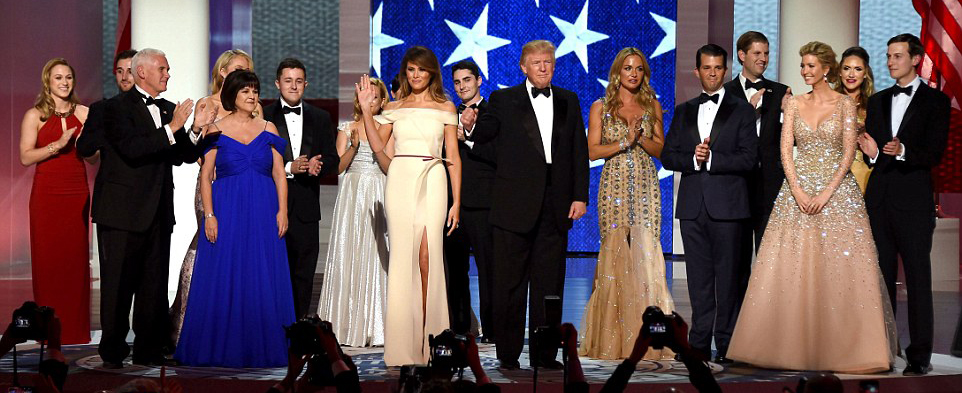 Gown colors ranged from red, white, and blue to golden hues.
As all of the inaugural balls were black-tie affairs, the men wore classic black tuxes with matching bowties.
Share Your Thoughts
What did you think of the gowns? Which is your favorite and why? What style or silhouette would you wear to such an event? For more inauguration fashion, check out they daytime looks here.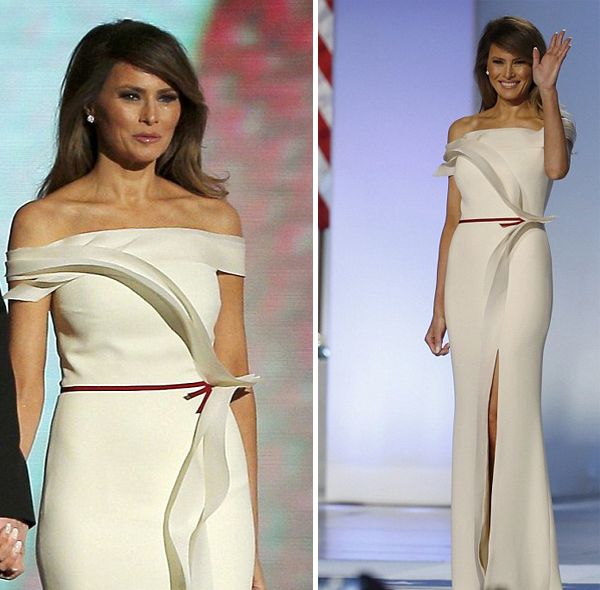 First Lady Melania Trumped wore a glamorous ivory silk gown she codesigned with Hervé Pierre.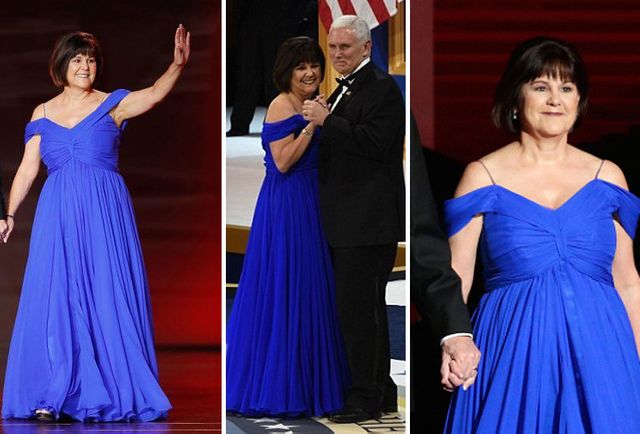 Second Lady Karen Pence wore a graceful off-the-shoulder cobalt blue gown.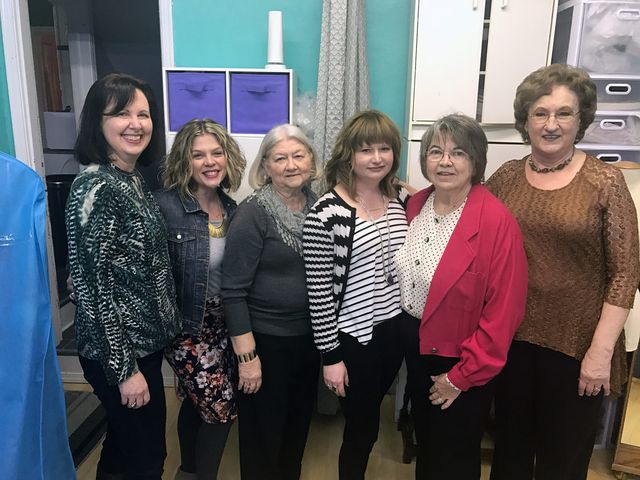 The six Indiana dressmakers who created Second Lady Karen Pence's inaugural ball gown are, from left, Cathy Runion, Whitney Luckenbill, Ellen Blacketer, Sarah Knochel, Joyce Hittesdorf, and Donna Christian.