Take Dyed Fabric from Botched to Beautiful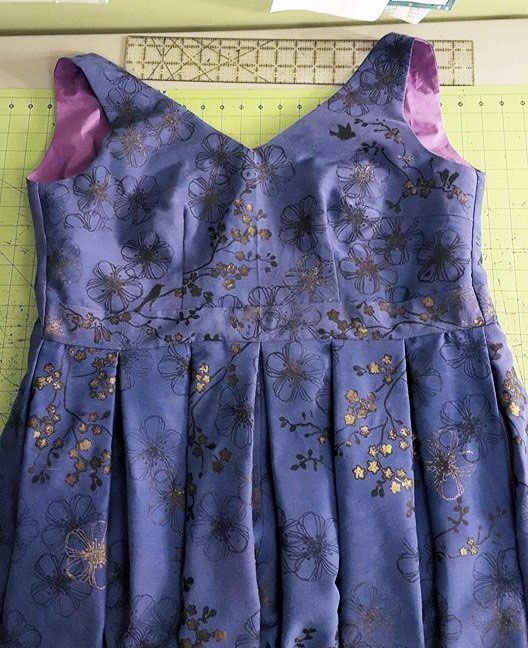 Solutions for Botched Dye Fabric Projects
A recent blog post on ThreadsMagazine.com described our experiences with various methods for remediating bad dye jobs and color runs on fabric. Here's an alternative way to handle fabric that's got some runs or faded splotches.
If your fabric dye job turned out splotchy, with low saturation in some areas, you could try overdyeing, or you could run the yardage through the wash to see if any remaining excess dye redistributes to the unsaturated areas. But I suggest getting creative with the fabric, instead, so it will be usable.
This silk shantung fabric started as a periwinkle color and was dyed deep amethyst blue. Unfortunately, there wasn't enough dye mixed into the dye bath, and the outcome was splotchy with unsaturated areas.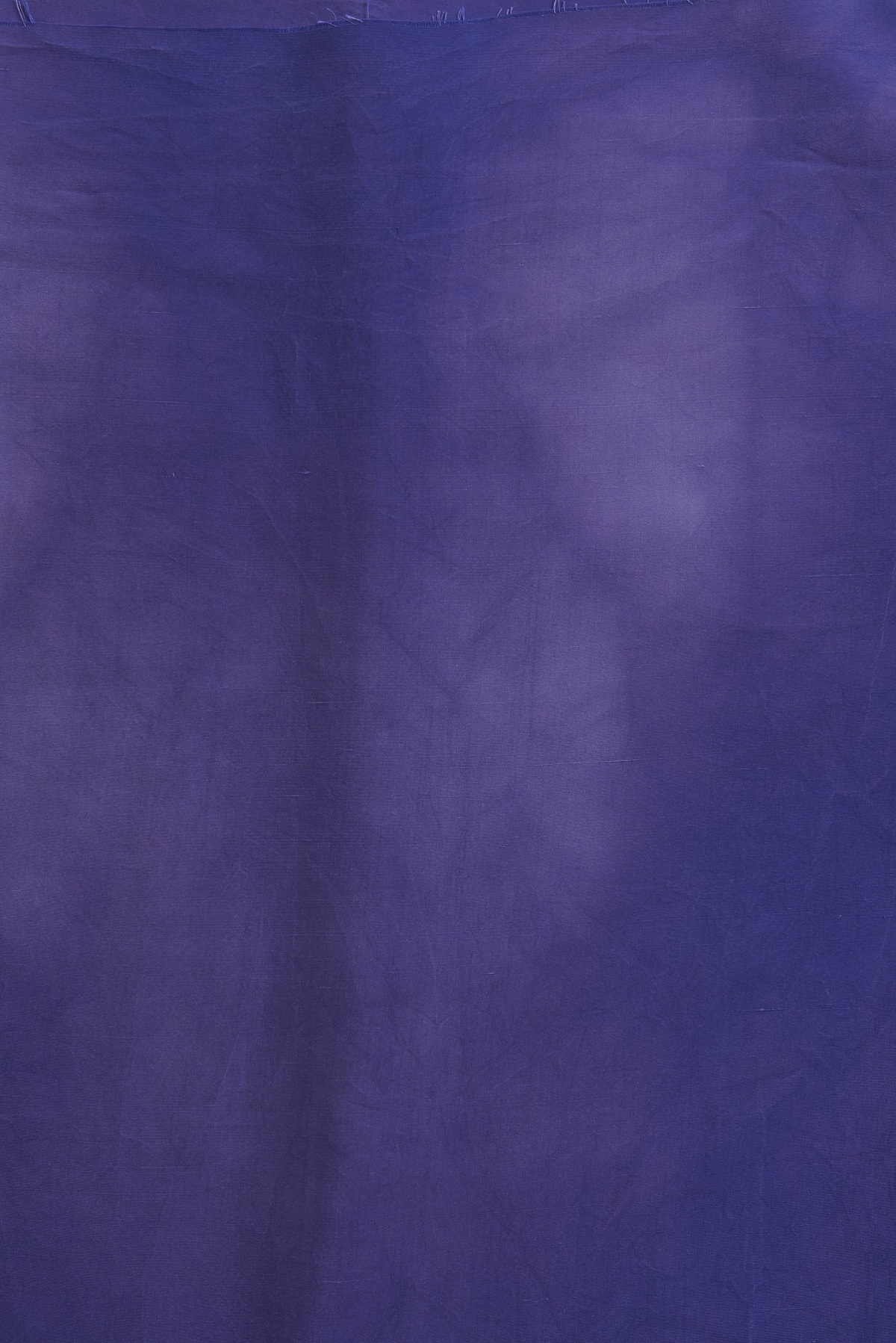 This situation is ideal for releasing your inner artist and trying your hand at fabric printing. It's a low-risk project, as the fabric is already "ruined," and the results may be better than the intended dye job! Use textile paints, inks, or liquid dyes with paintbrushes, stamps, or stencils to create your design on the stained fabric.
The technique you choose–painting, stamping, stenciling, or even silk-screen printing–largely depends on the fabric type and the design you wish to create, as well as on your artistic ability.
It's a good idea to sketch your design ideas for the fabric. If you have a garment pattern picked out, copy and enlarge the pattern flats (the line drawings) and color them with a loose representation of your ideas for the printed design. If you don't have a specific pattern in mind, it may be more difficult to plan a design. It's still best to first sketch your design ideas and color them to see whether the images in your head are as pleasing on paper.
Try to sketch your fabric design ideas using the flats of your chosen sewing pattern, and color them for the full effect.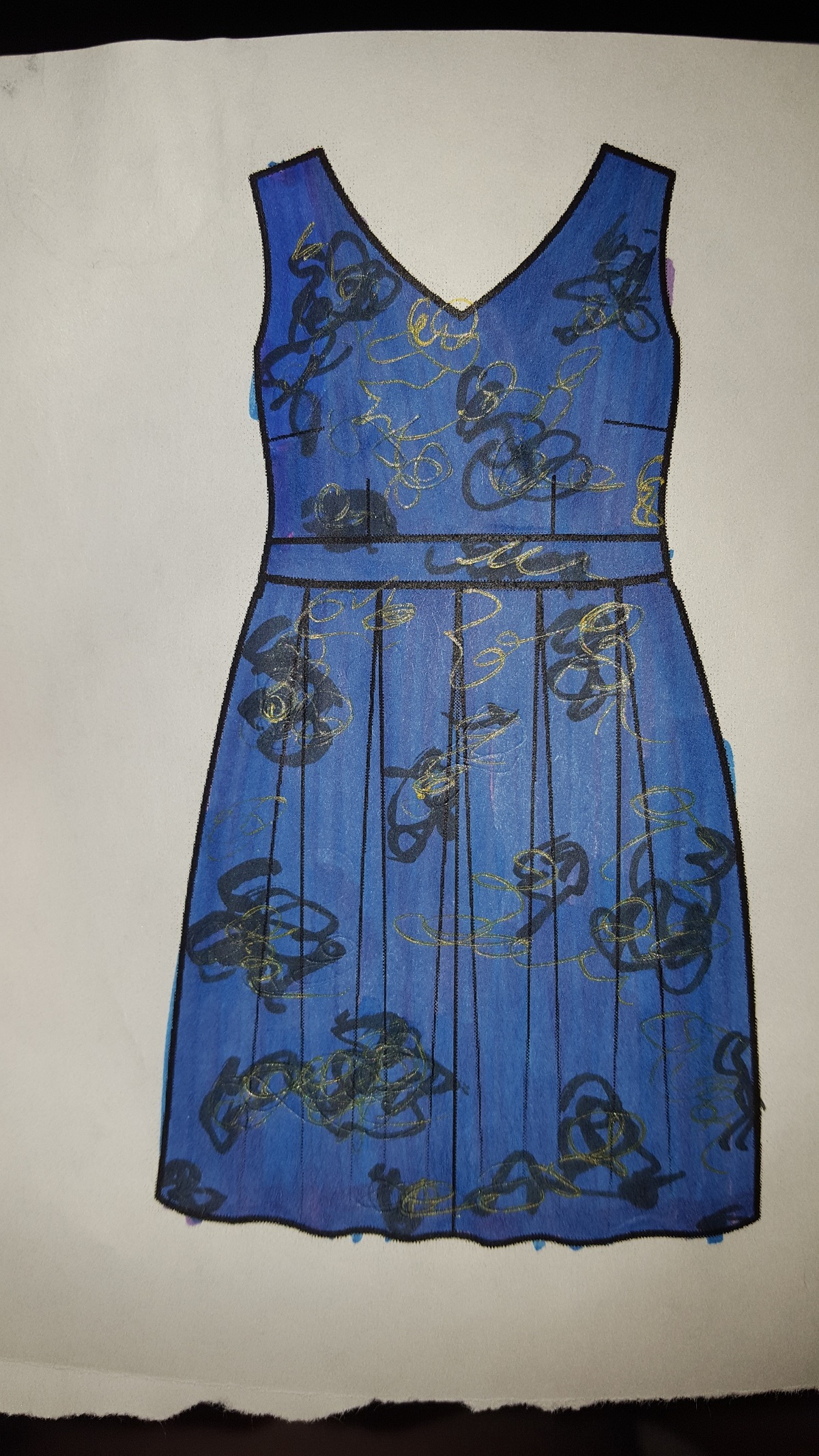 Once you have a general idea of the design you'd like to create, consider the fabric weave, weight, texture, translucency or opaqueness, hand, and drape. Then consider the printing medium you'd like to use: textile paints, inks, liquid dyes. Will the fabric absorb the paint or dye? This will determine how much control over the design you will have. For example, the silk shantung that I tried to dye, and which came out splotchy, is lightweight and tightly woven; has a slightly raised texture, but with very few slubs; and a full, somewhat fluid drape. Inks or dyes wouldn't spread through the fibers because of the thick threads. Textile paint would sit on the surface easily but wouldn't significantly alter the hand and drape.
Evaluate your fabric's texture, weight, hand, and drape. Then consider how textile paint, dye, or ink will interact with it.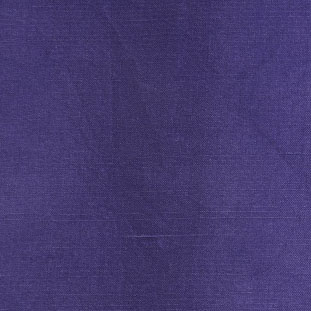 Cut a few small pieces of the fabric, if they can be spared, and test different printing techniques to see which gives the best result. This also allows you to play with design options and compositions. I tested various stamps and stencils, first in one color, then another, and then I layered the two colors.
Always test textile printing methods on scraps to determine which technique gives the best results.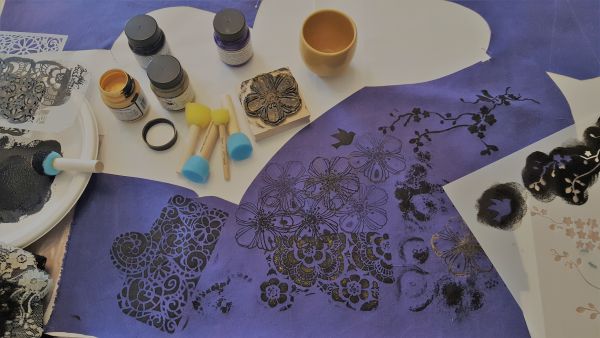 Once you determine the technique and colors that give the best result for your design, there are two ways you can proceed: print the whole fabric yardage, or print the design on cut garment sections. Printing on the cut garment sections saves time, effort, and paint/dye. It also allows you to plan the design and place the motifs strategically on the garment body.
Pin the cut garment sections onto heavy paper to stabilize them for printing.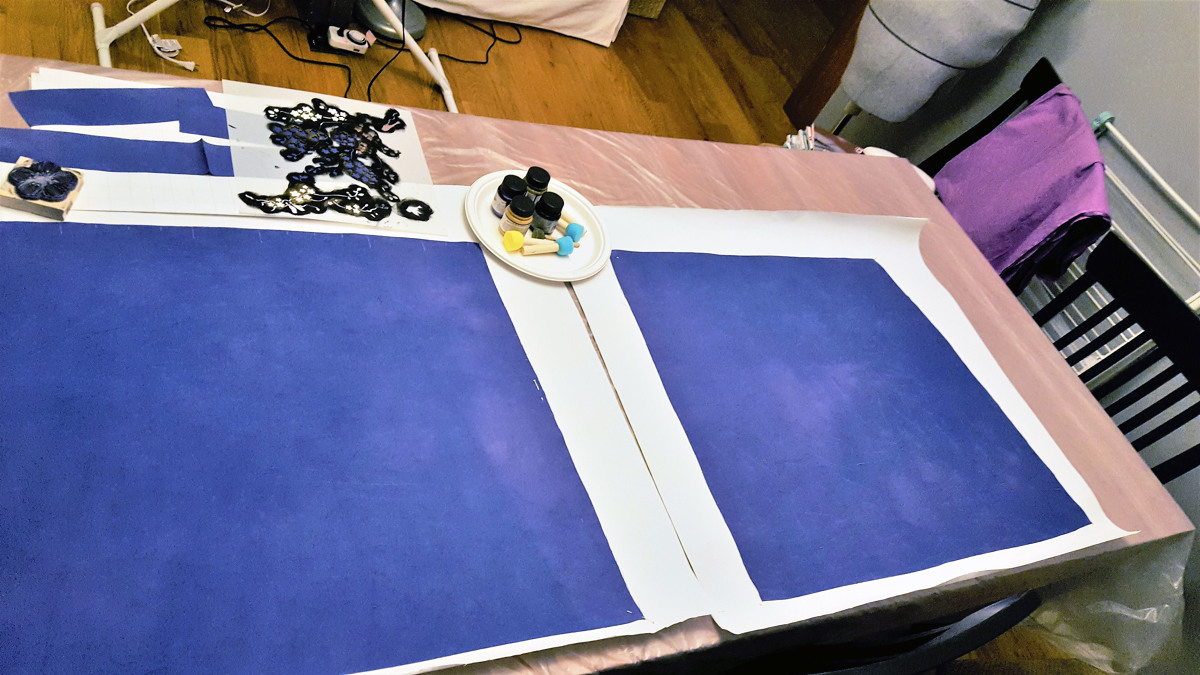 If you have a pattern chosen, the second route is the best approach. Pin the garment sections to plain white or kraft paper to stabilize them. (Spread a plastic drop cloth onto the work surface to protect it.) Begin printing, painting, stamping, or stenciling. On the examples shown, I used a stencil and a stamp with three colors of Jacquard Textile Paint (black, metallic gold, and metallic purple) applied with a sponge dabber.
While working on the garment pieces, stand back every once in a while and even take a few snapshots of the work on your smartphone, so you can view the work more abstractly and can consider how the work is progressing. It's easy to go overboard, so use these pauses to evaluate the overall effect and how the design you're creating on the separate garment pieces will come together.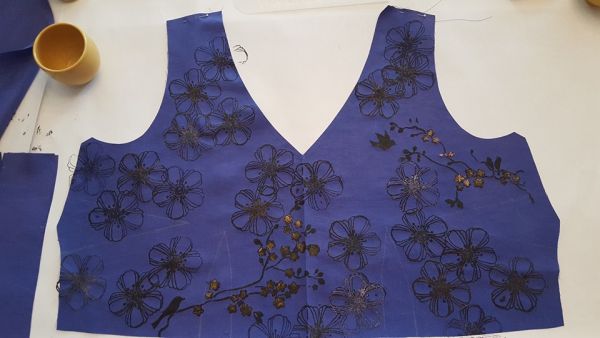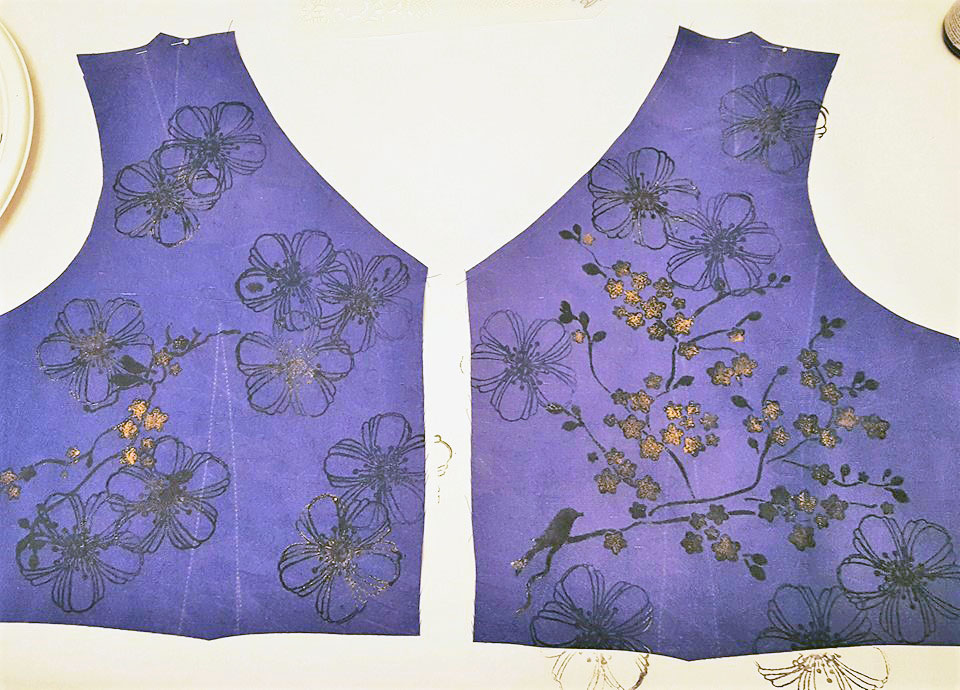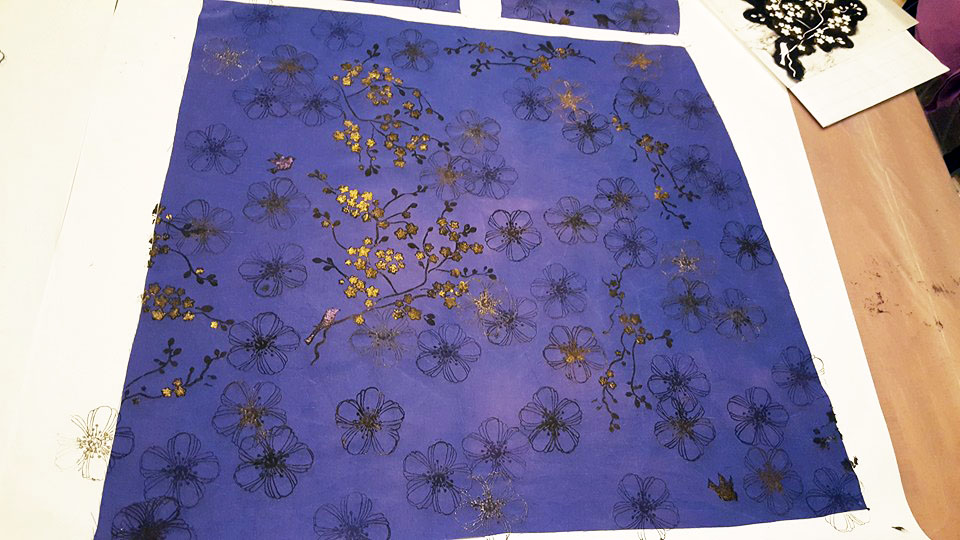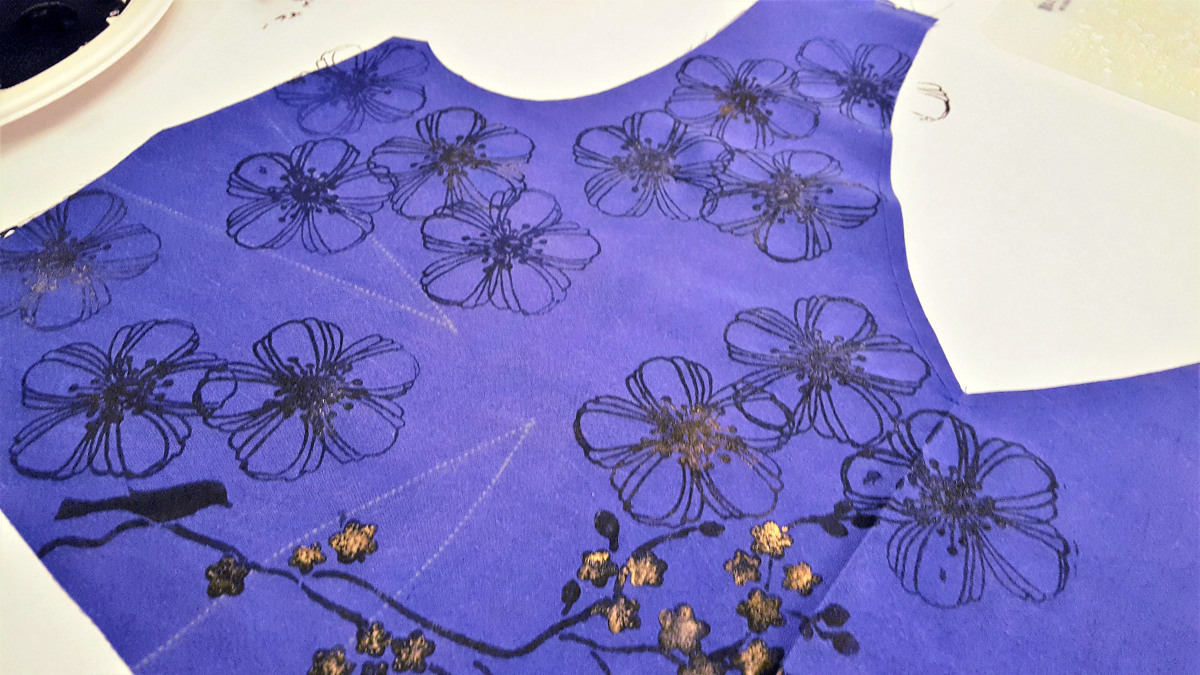 The result is an attractive textile that incorporates the botched dye job as part of the new design, so it appears intentional rather than a corrected mistake. On my printing project, the unsaturated areas of the fabric create an impression of a "glow" behind some of the new motifs. Touches of metallic paint catch and reflect light, adding to the glowing effect.
A botched dye job may not be a total loss if you create a new textile design with stamping, stenciling, or painting.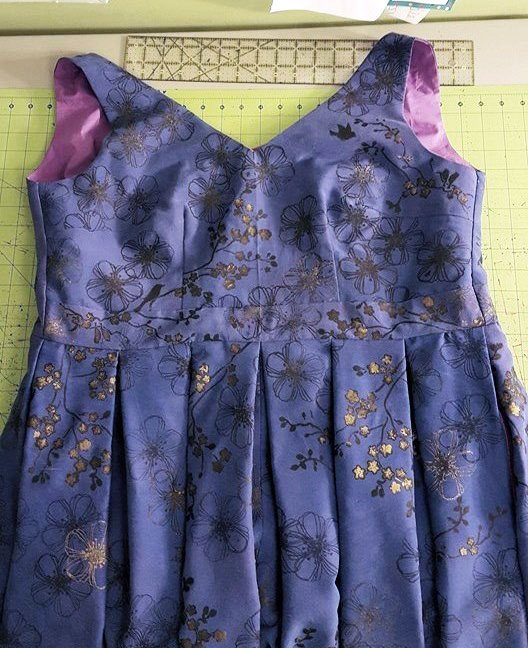 So if you've had a mishap with dyeing fabric, try creating your own surface design to incorporate the dyeing mistake.
Have you ever had a dye job go bad? If so, what did you do to save the fabric and make it usable?