A Look At the Exhibition, "Masterworks: Unpacking Fashion"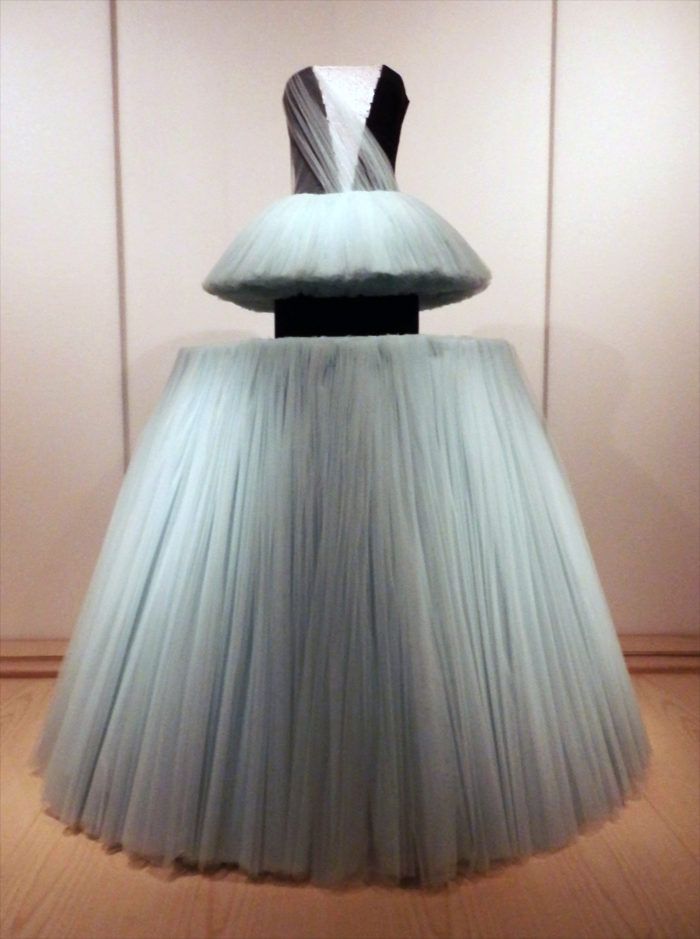 Masterworks: Unpacking Fashion
I recently visited the Costume Institute at the Metropolitan Museum of Art to tour Masterworks: Unpacking Fashion.
This exhibition presents 50 masterworks acquired during the last 10 years, which reflect the breadth and quality of the Costume Institute's collection. Founded in 1946, the Costume Institute has shifted its mission from building an encyclopedic collection to acquiring masterworks that represent historical periods and demonstrate the evolution of fashionable dress.
The exhibition is organized chronologically. Garments from the 18th century are evaluated for the quality of the materials. Those from the 19th century focus on dressmaking and tailoring techniques. Clothing from the 20th and 21st centuries emphasize the expansion of possibilities for fashion through innovative construction and concepts.
The Carl and Iris Barrel Apfel Gallery features some of the ensembles donated by designers in honor of Harold Koda upon his retirement as curator of the Costume Institute in January 2016. Many of the garments are avant-garde pieces of art. The exhibition ends February 5, 2017.
As you can imagine, the collection includes extraordinary pieces. Here are some of my favorites.
The exhibition opens with a 21st-century evening gown designed in 2010 by self-proclaimed fashion artists Viktor & Rolf. It took nearly 200 yards of polyester tulle and silk-synthetic moiré embroidered with white plastic sequins to create this ball gown.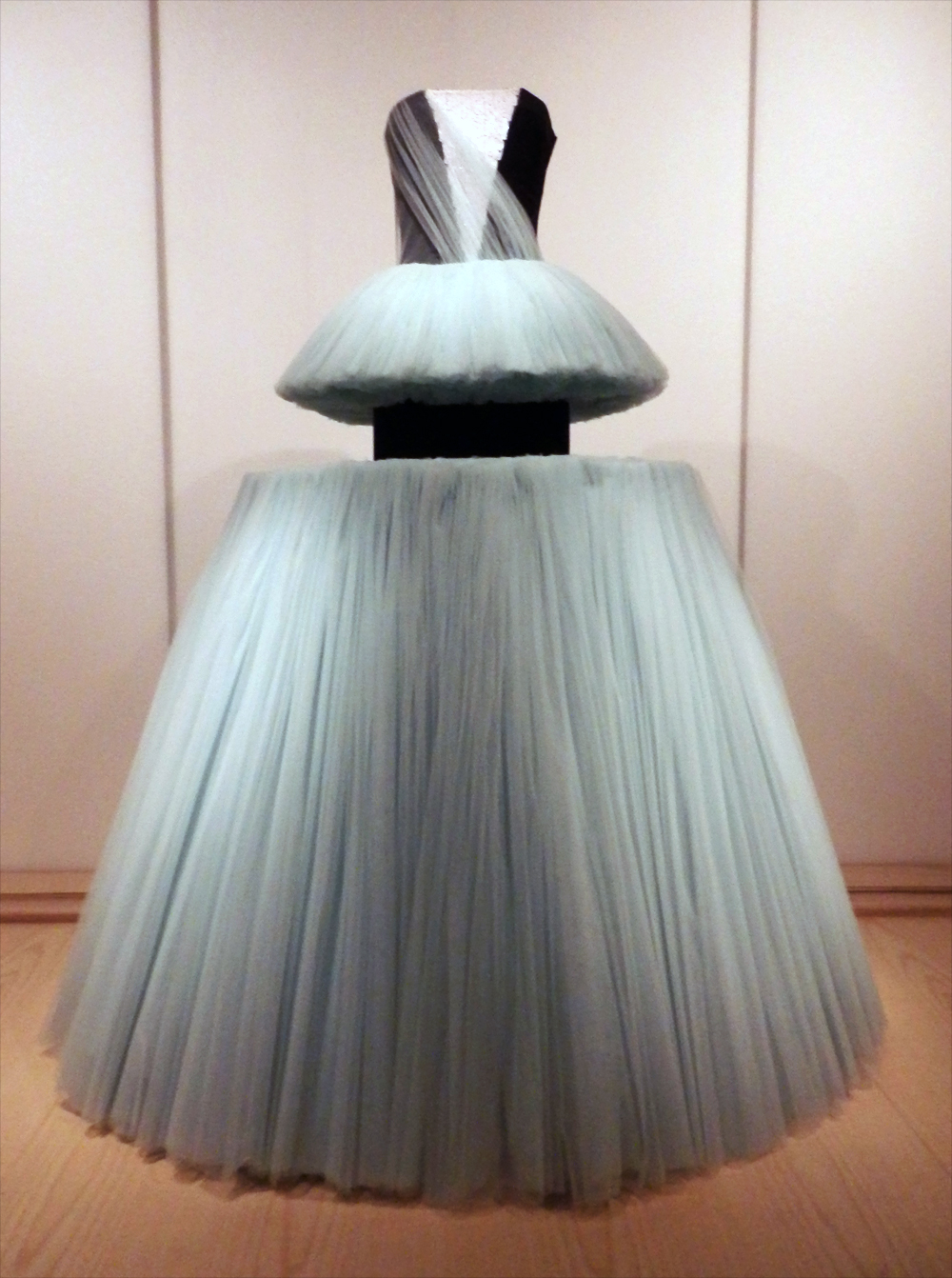 The 18th-Century Gallery
Robe Volante
During the 18th century, fine textiles and surface embellishments were the most important elements of high-style apparel for men and women. Changes in cut and silhouette occurred gradually, and women's clothing did not require complicated cutting and sewing techniques. This robe volante from the early 18th century is a one-piece gown with flowing front and back pleats.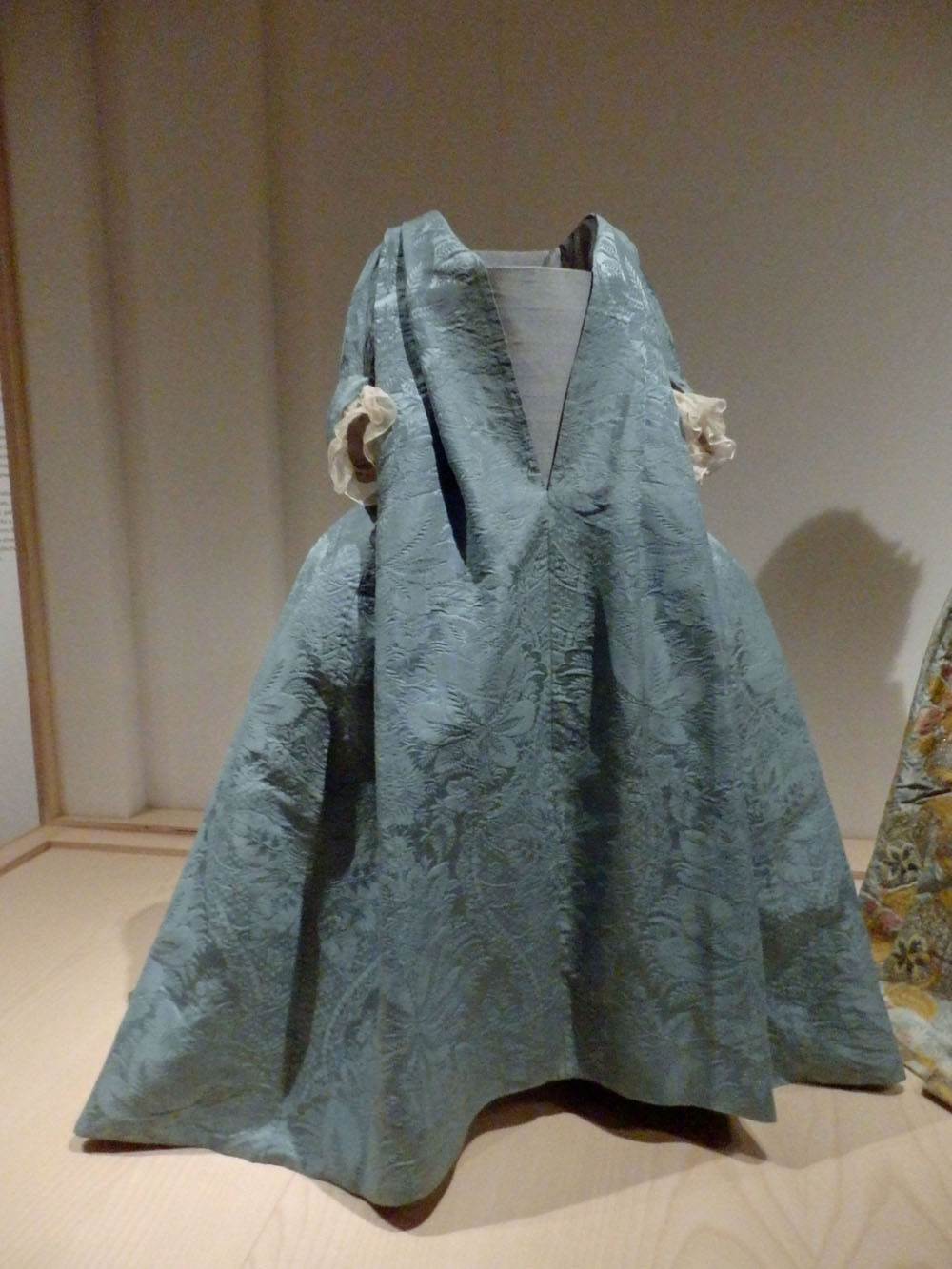 Fabricated in silk damask, the simple lines of the gown were ideal for showcasing textiles with large-scale designs. Few of these have survived because the dresses had minimal seaming, and the fabrics were reused for more modern styles.
Robe à l'Anglais
This robe à l'anglaise from the mid-18th century is believed to have been worn as a wedding gown. The rich fabrics were woven by hand-operated looms and represent a significant investment of time, materials, and skill.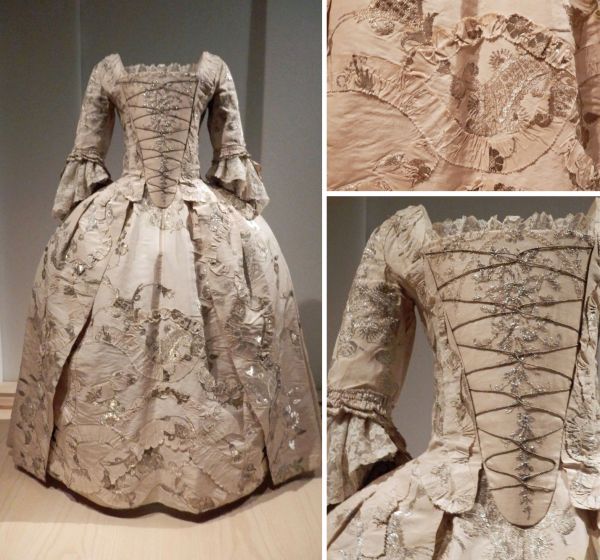 The ivory silk tulle is embroidered with silk thread in the exquisite patterning of English dress silks. Bands of self fabric were applied in a decorative pattern. Some bands had both edges pinked while others were pinked on one edge and scalloped on the other. 
 
Men's Fashion
Fabricated in wool-silk poplin, this elegant suit reflects the relative simplicity and informality of late 18th-century British menswear, which influenced fashionable men's dress throughout Europe.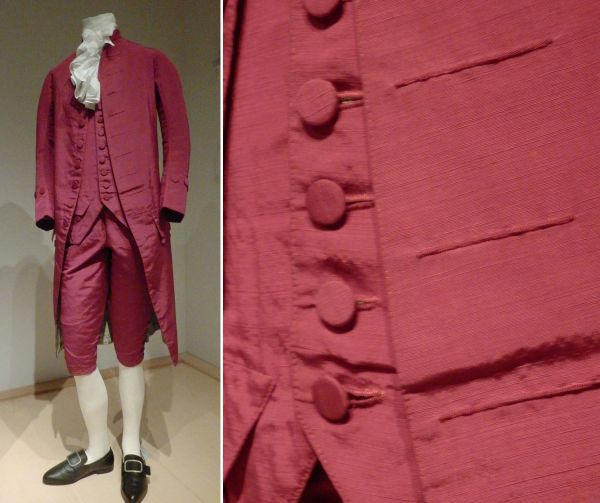 The 19th-Century Gallery
Inspired by the decorative slashed sleeves of the 16th century, the puffed trimmings of fine white lawn at the hem encircle this dress from the early 19th century. The dress features wool crewel-embroidered holly boughs with red berries and is trimmed with silk taffeta.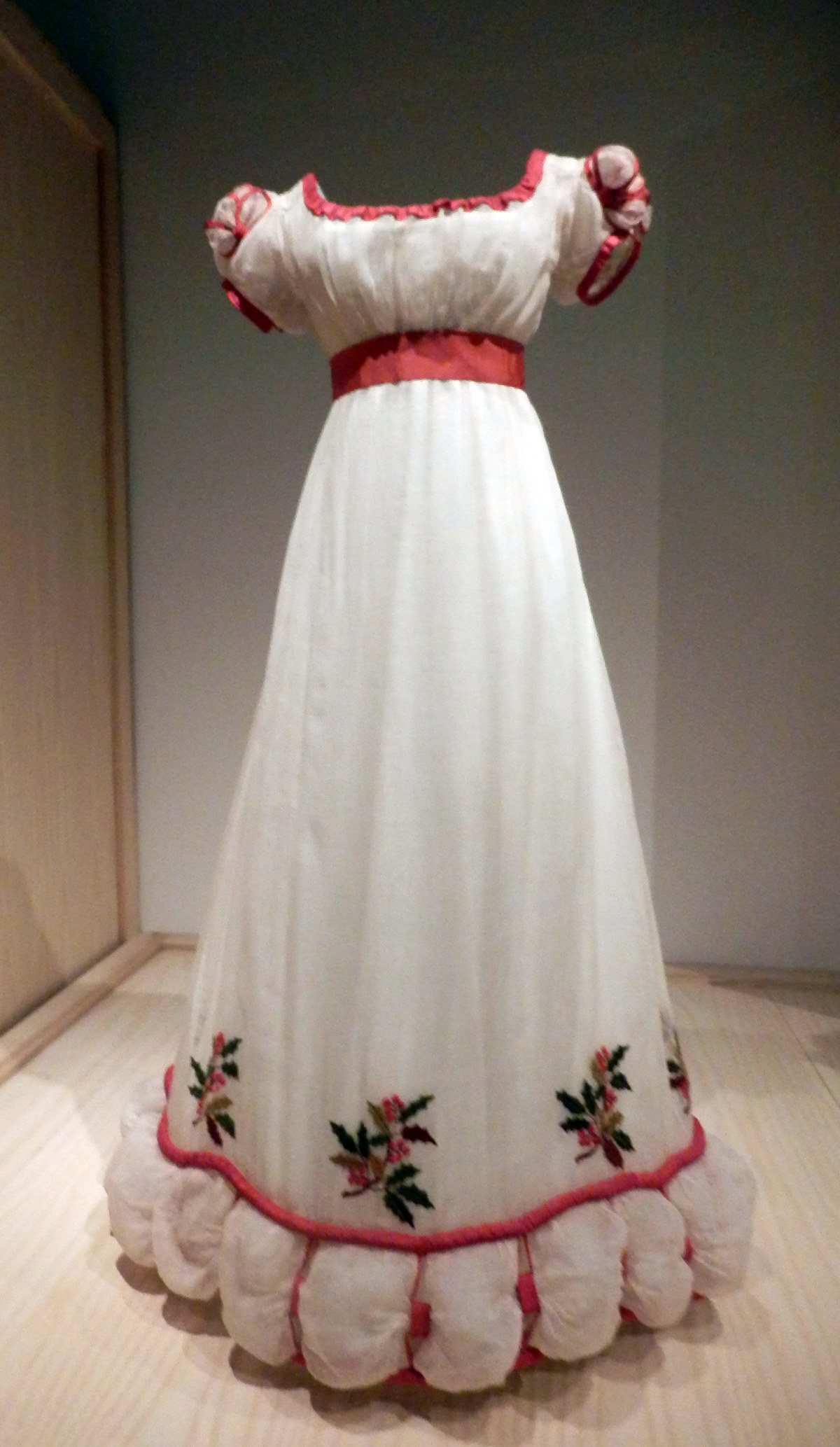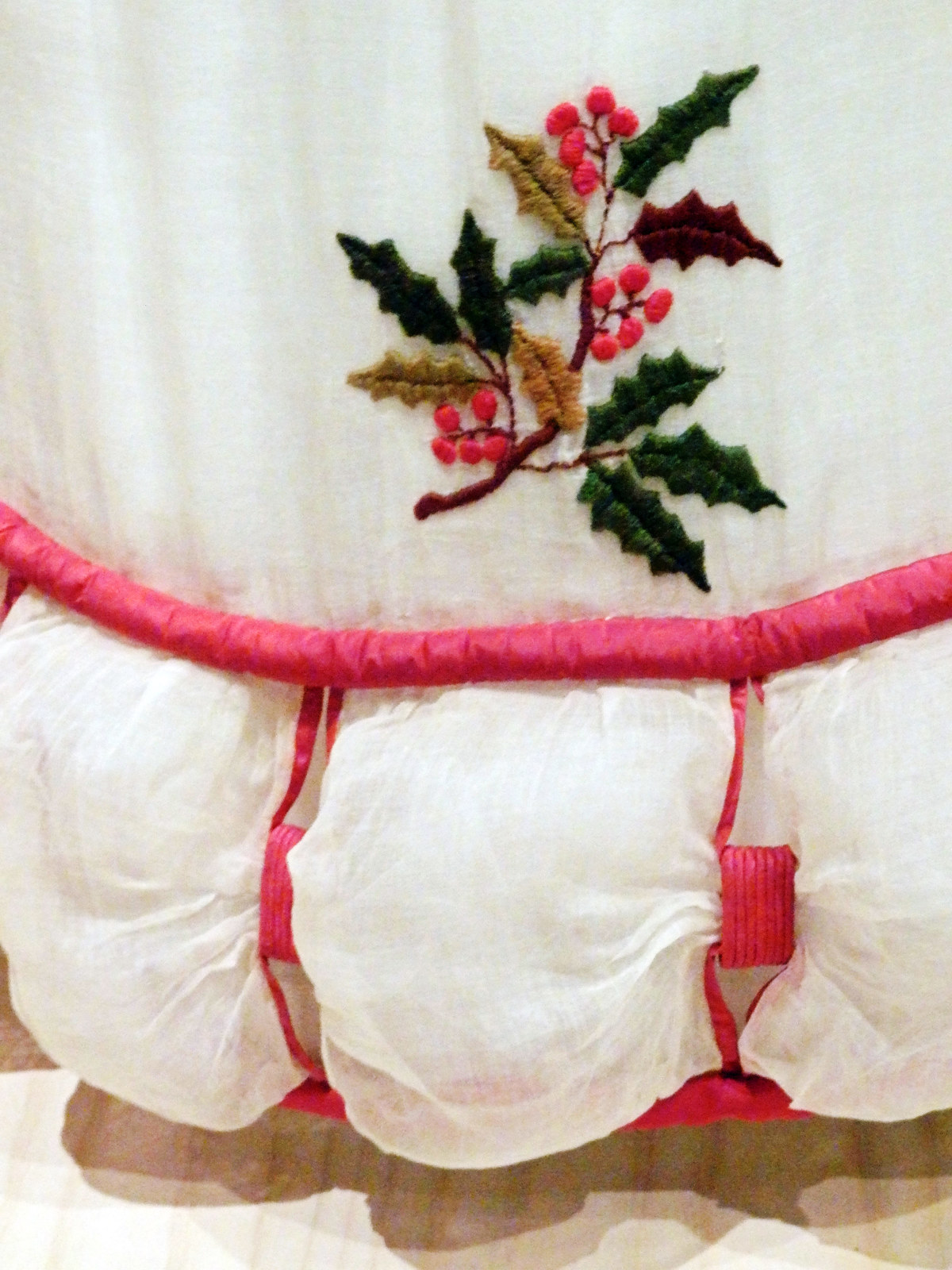 :
Silk Satin Gown 
Designed by Jean-Phillippe Worth in 1898, this silk satin gown is trimmed with ivory cotton lace, black velvet, and silk mousseline. The silk was woven à la disposition, meaning that the woven butterfly design is composed to correspond with the skirt's shape, so the butterflies appear to flutter upward and surround the wearer.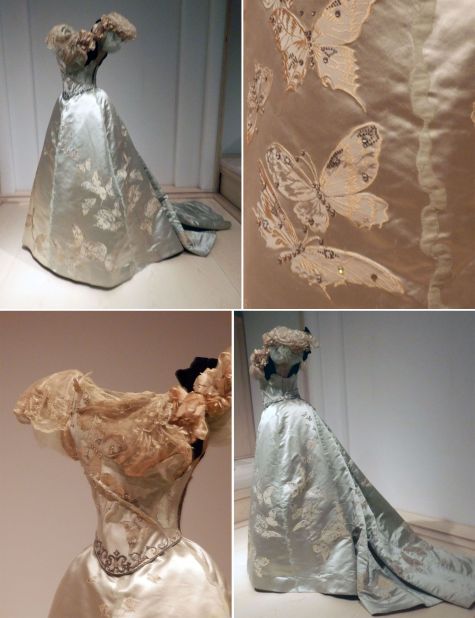 The Early 20th-Century Gallery
Silk Damask Opera Coat
Paul Poiret played an important role in originating new styles. This 1911 opera coat is fabricated in silk damask and trimmed with corded silk passementerie. Its design relied on draping rather than tailoring techniques. An advocate for abandoning the corset, Poiret was influenced by antique and Eastern forms of dress that liberated the body.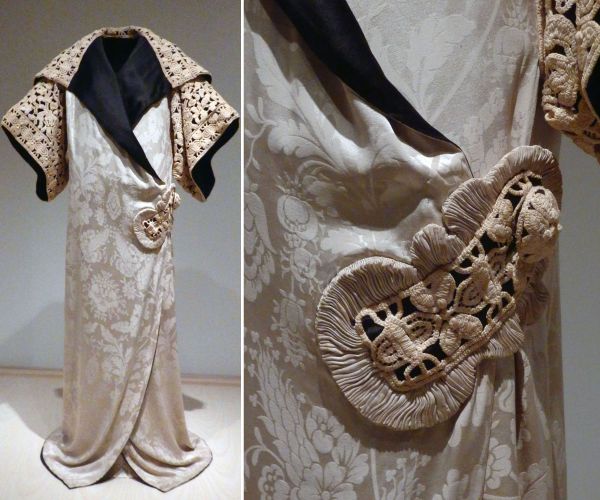 Lanvin Full-Skirted Gown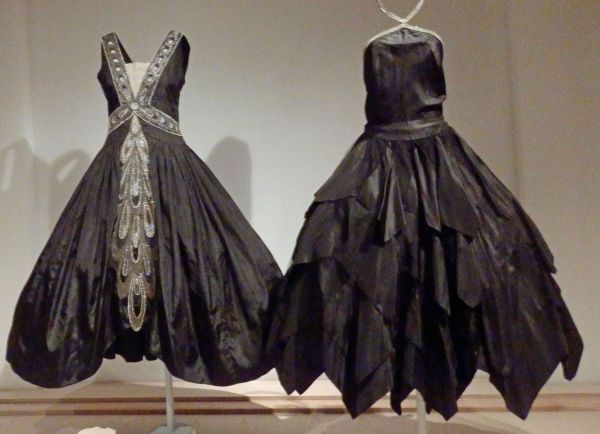 Inspired by 18th-century elegance, Jeanne Lanvin at The House of Lanvin was known for designing robes de style-romantic, full-skirted gowns. Embellished with novel decorative trimmings, the form changed little for more than a decade.
Charles James "La Sirène" Dress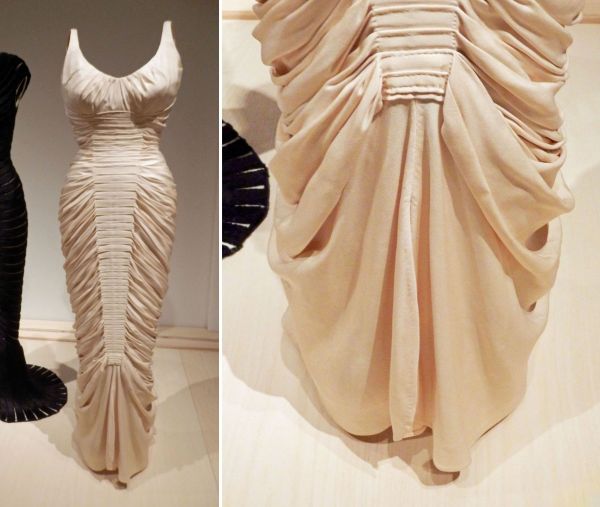 Charles James reworked this design many times over a 20-year period. The gown's alluring shape is formed by horizontal release tucks that allow the silk crepe to cleave to the body's curves. Popularly known as "the lobster dress," it is named La Sirène for the mythical Greek sirens whose seductive singing lured sailors to shipwrecks.
Alaïa "Houppette" Gown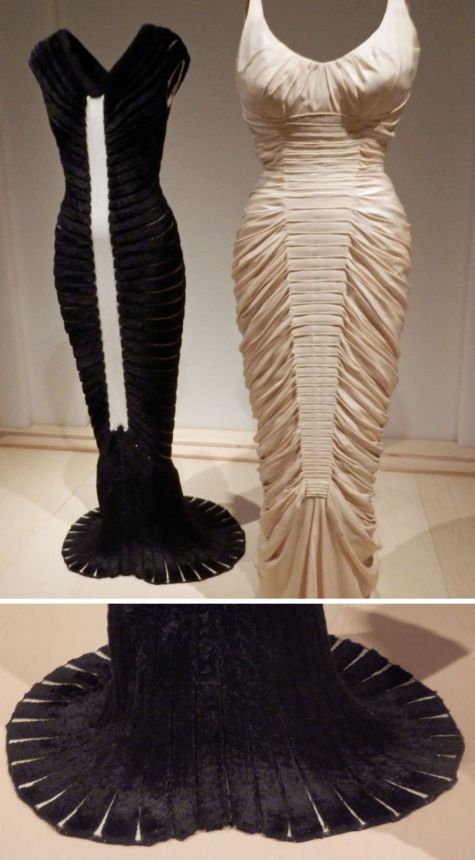 Influenced by his study of James and his designs, Azzedine Alaïa has alternated bands of black-and-white knit to highlight the contours of the figure for this design from his 1994 spring/summer collection. Alaïa developed his "houppette" powder-puff dress using short tufts of fiber to give the fabric the feel of swan's down.
Dior "Chicago" Jacket
PC033156a – I can't find this either -stay tuned

From Yves Saint Laurent's last collection at Dior in 1960, this iconic "Chicago" jacket clearly references motorcycle jackets. Fabricated in crocodile trimmed with mink, it was too avant garde for Dior's conservative couture clients. YSL left Dior and founded his own couture house in 1961. 
Balenciaga Gazar Gown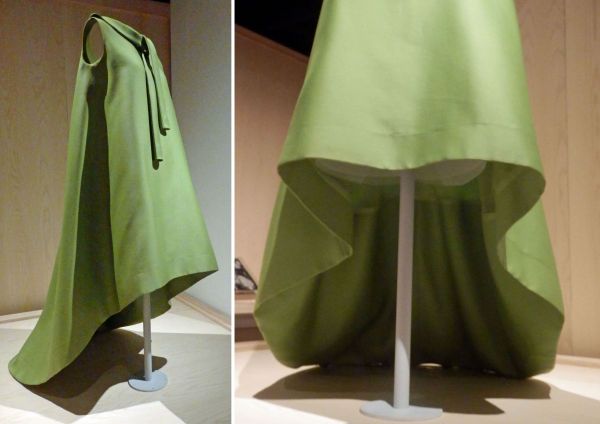 This silk gazar gown was designed by Cristóbal Balenciaga in 1964. Notice the seam about 3 inches above the hem. The hem facing is about 24 inches wide so the lining would be hidden when the wearer walked.
The Late 20th Century
John Galliano Evening Dress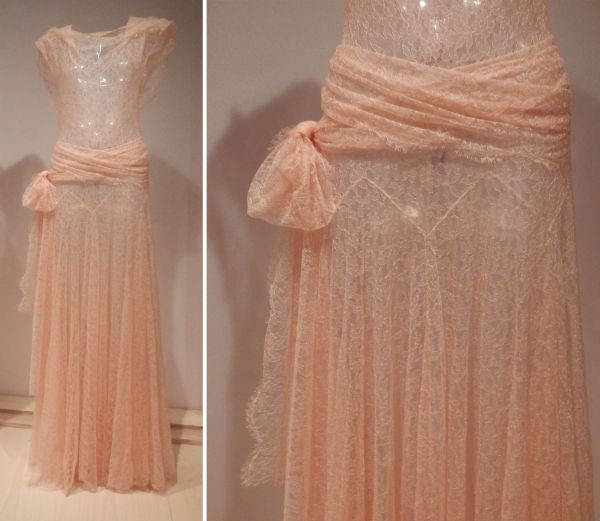 From John Galliano's 1998 spring/summer collection, this sleek evening gown was inspired by Madeleine Vionnet. The nylon lace was skillfully cut, and the dress constructed with a minimum of darts and seams. It was worn without a slip.
The Late 20th Century
Zandra Rhodes Punk Wedding Dress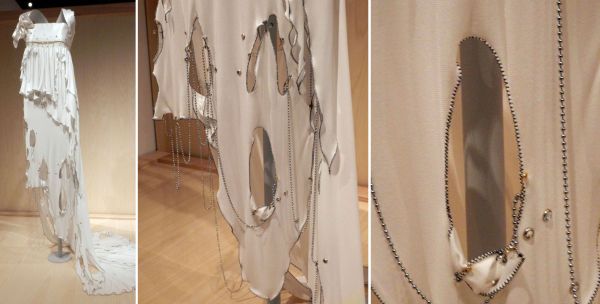 From 1977, Zandra Rhodes punk wedding dress is fabricated in silk-rayon jersey and nylon-rayon satin and embroidered with nickel ball chain and beaded safety pins. The tears are outlined with machine zigzagging.
Versace Safety Pin Dress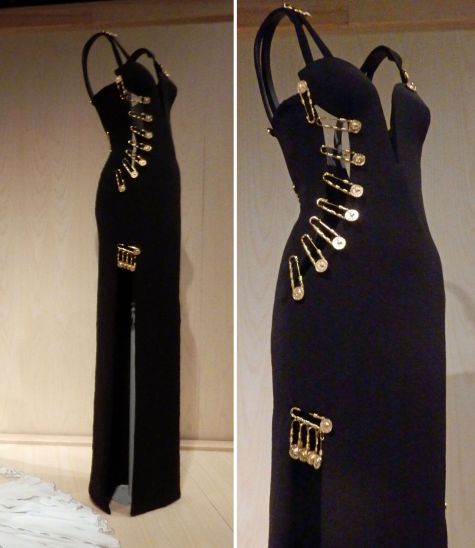 Designed by Gianni Versace in 1994, this infamous little black dress is lightly boned at the neckline and open side. Gilt kilt pins replace the safety pins of the 1970s; they are topped with Versace's signature Medusa-head.
Chanel Jacket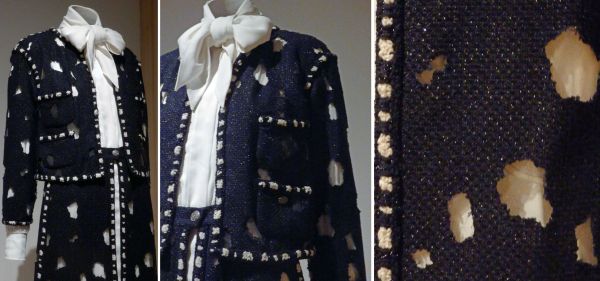 Karl Lagerfeld's suit for Chanel's 2011 spring/summer collection is fabricated in cotton-acrylic-nylon-polyester tweed with nylon net. The tattered cloth appears to have large moth holes. Each hole is backed with fine net and the edges are overcast to prevent unwanted fraying.
Alexander McQueen Butterfly Dress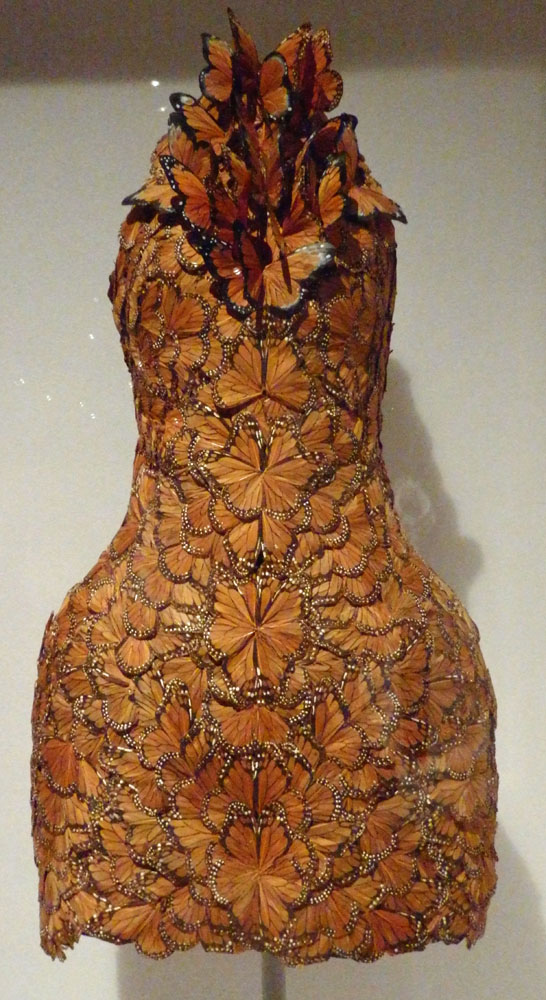 Designed by Sarah Burton for Alexander McQueen's 2011 spring/summer collection, this hourglass-shaped dress is covered with artificial butterfly wings made of feathers that were cut, dyed, painted, and then applied by hand.
YSL Red Lip Blouse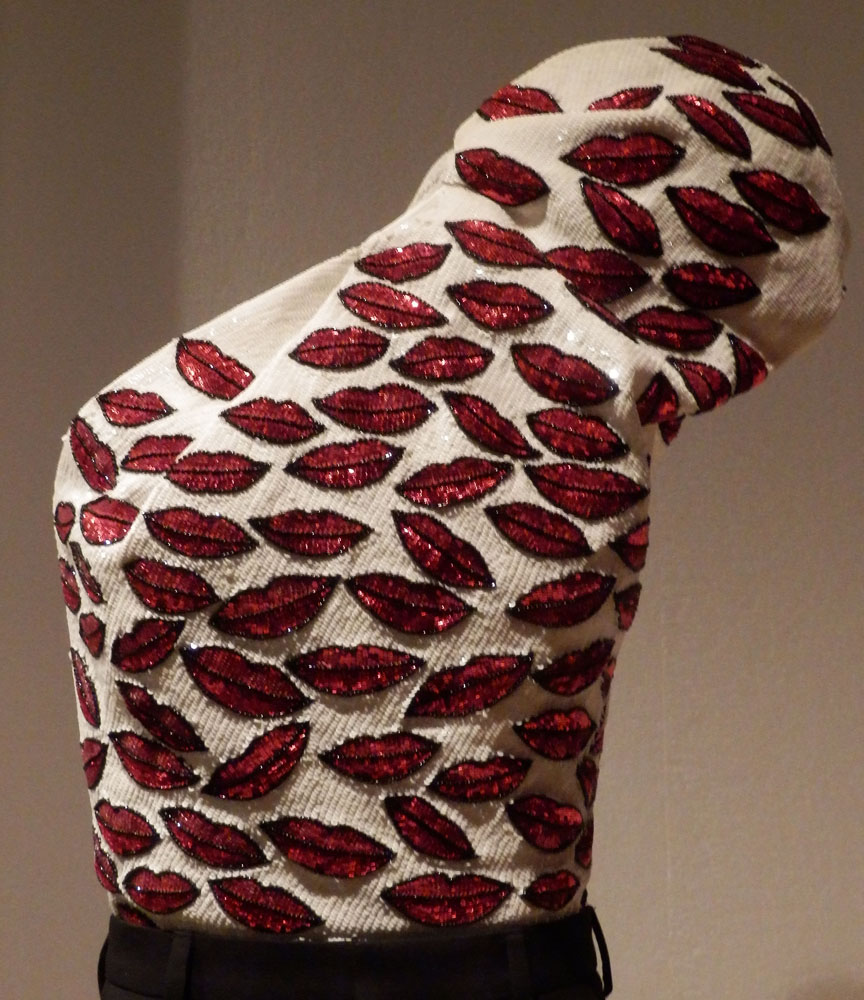 Designed by Hedi Slimane for Yves Saint Laurent in 2014, this silk crepe blouse is embroidered with lip motifs in red plastic sequins on a white iridescent sequin background.
Jean Paul Gaultier Wedding Gown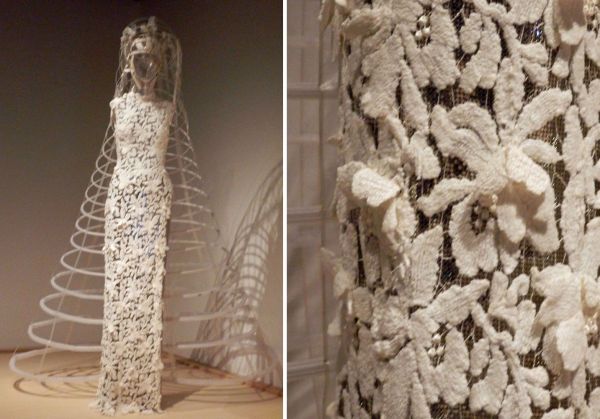 This unusual wedding gown was fabricated in a rayon-nylon chenille lace for Jean Paul Gaultier's 2008-2009 autumn/winter collection.
Chanel Trompe l'oeil Tweed Ensemble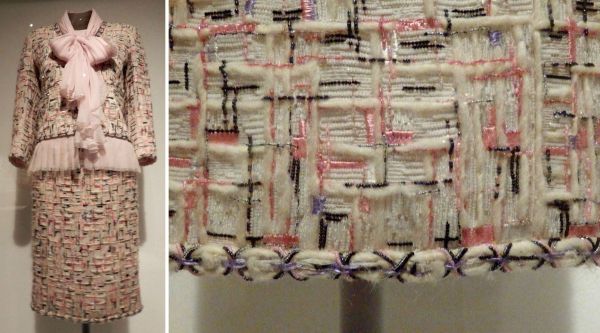 Designed by Karl Lagerfeld for Chanel's 2012-2013 autum/winter collection, the suit's trompe l'oeil "tweed" of white silk organdy is embroidered with while wool yarn, pink and purple silk threads, and pink glass and synthetic beads to simulate a textured wool fabric.
http://players.brightcove.net/911432378001/SkBUku4V_default/index.html?videoId=5253871557001
Share with Us: Have you been to this exhibit? What did you think? If not, what do you think of the garments from the collection that are featured in this post?
References:
The Metropolitan Museum of Art, Masterworks: Unpacking Fashion (2016). http://www.metmuseum.org/exhibitions/listings/2016/masterworks