Fashion from the 89th Annual Academy Awards

Red-Carpet Fashion from the 2017 Oscars
Glitz, glamour, and drama sum up the 89th Annual Academy Awards, which aired live from Los Angeles on Sunday, February 26. While we're still reeling from the Best Picture award fumble, we're remembering some of the colors, textures, and silhouettes worn to the star-studded show. Some of the more memorable gowns were worn by Viola Davis, Taraji P. Henson, Emma Stone, and Meryl Streep. Threads editors thought these celebs each hit it out of the park.
Here is a roundup of some trends seen on the red carpet. Click on each image to enlarge.
Red on Red
The overall Oscar fashion color palette was more subdued this year and leaned toward neutral champagne tones and darker hues than in the past. However, several A-listers graced the event in brilliant shades of red. We loved Viola Davis' entire look. The Best Supporting Actress winner wore a custom Armani Privé floor-length gown that fit her beautifully. The off-the-shoulder couture dress featured a halter-style design that gathered fabric at the neckline for a soft effect.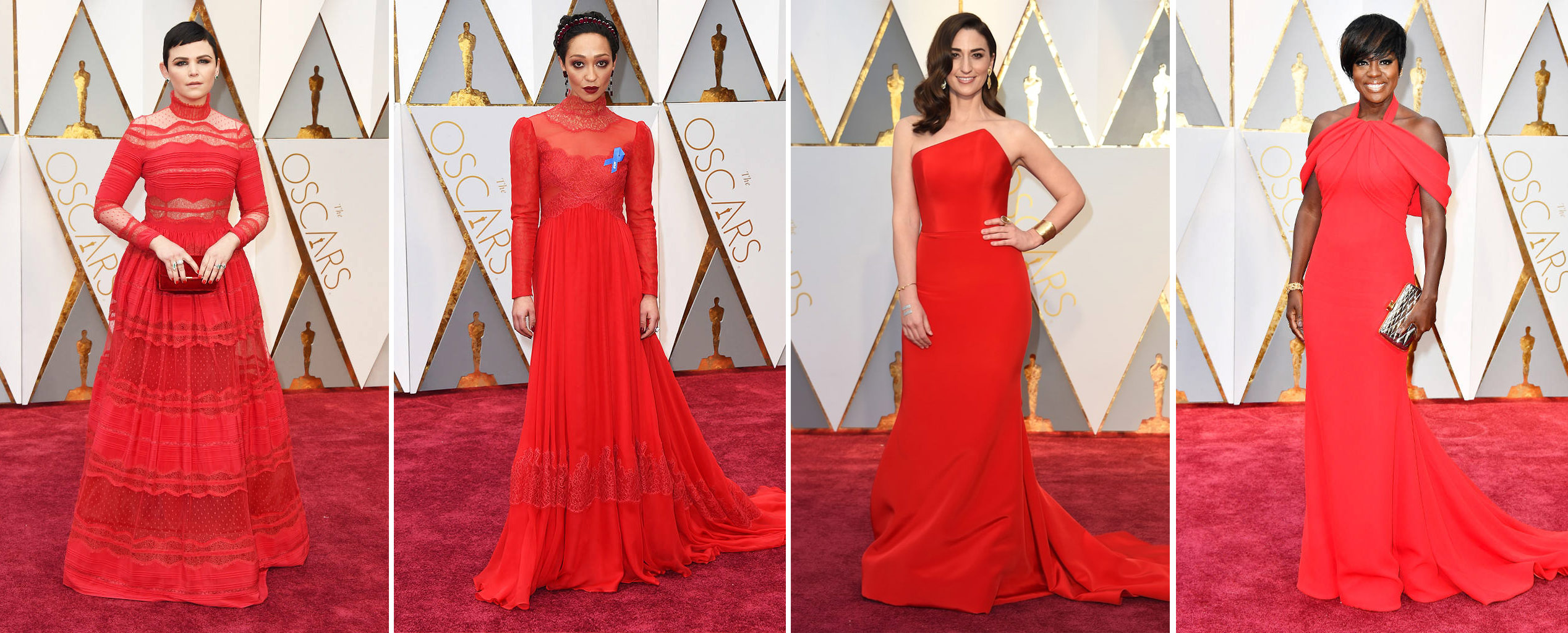 Left to right: Ginnifer Goodwin in Zuhair Murad, Ruth Negga in Valentino, Sara Bareilles in Romona Keveza and Viola Davis in Armani Privé.
Classic Black and White
Black and white gowns in all silhouettes and styles dominated the red carpet. One of our favorites was the gorgeous floor-length sequined black dress worn by actress Shohreh Aghdashloo. While its designer has yet to be named, the shimmering long-sleeved gown featured a sweetheart neckline and a cummerbund-cinched waist. Another notable gown was the Oscar de la Renta strapless design worn by Brie Larson. It featured an ultrastructured, fitted bodice with V-neckline and a flamenco-style ruffled skirt, complete with long train and thigh-high front slit.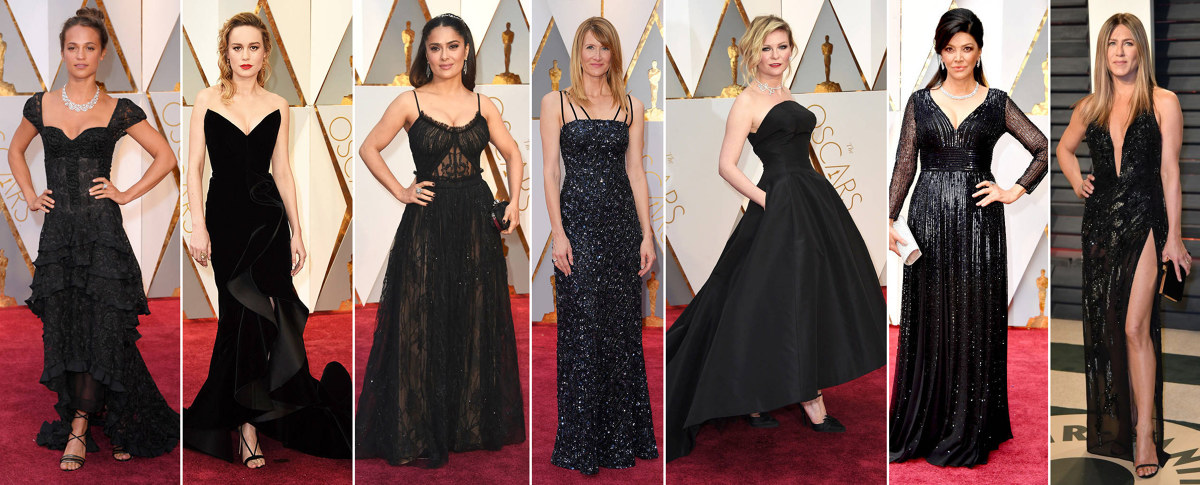 Left to right: Alicia Vikander in Louis Vuitton, Brie Larson in Oscar de la Renta, Selma Hayek in Alexander McQueen, Laura Dern in Rodarte, Kirsten Dunst in Dior, Shohreh Aghdashloo, and Jennifer Anniston in Atelier Versace.
One noticeable trend among the white gowns was that of trains and capes. Chrissy Tiegen, Karlie Kloss, and Darby Stanchfield each wore a design that featured a one-shoulder cape. Naomie Harris' strapless sequined Calvin Klein by Appointment gown featured a Watteau train.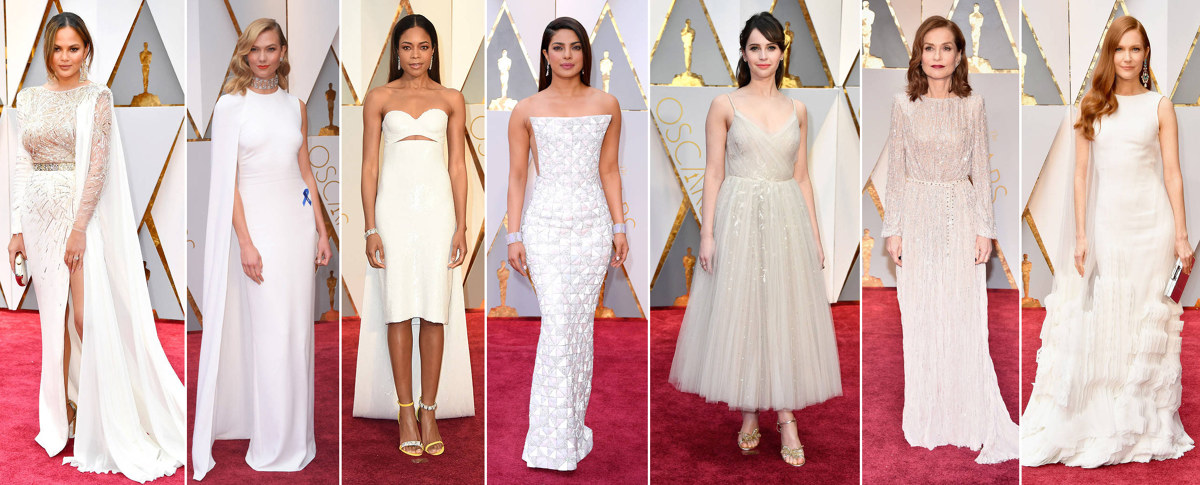 Left to right: Chrissy Tiegen in Zuhair Murad, Karlie Kloss in Stella McCartney, Naomie Harris in Calvin Klein by Appointment, Priyanka Chopra in Ralph & Russo, Felicity Jones in Dior haute couture, Isabelle Huppert in Armani Privé, and Darby Stanchfield in Georges Chakra.
Young Starlets in White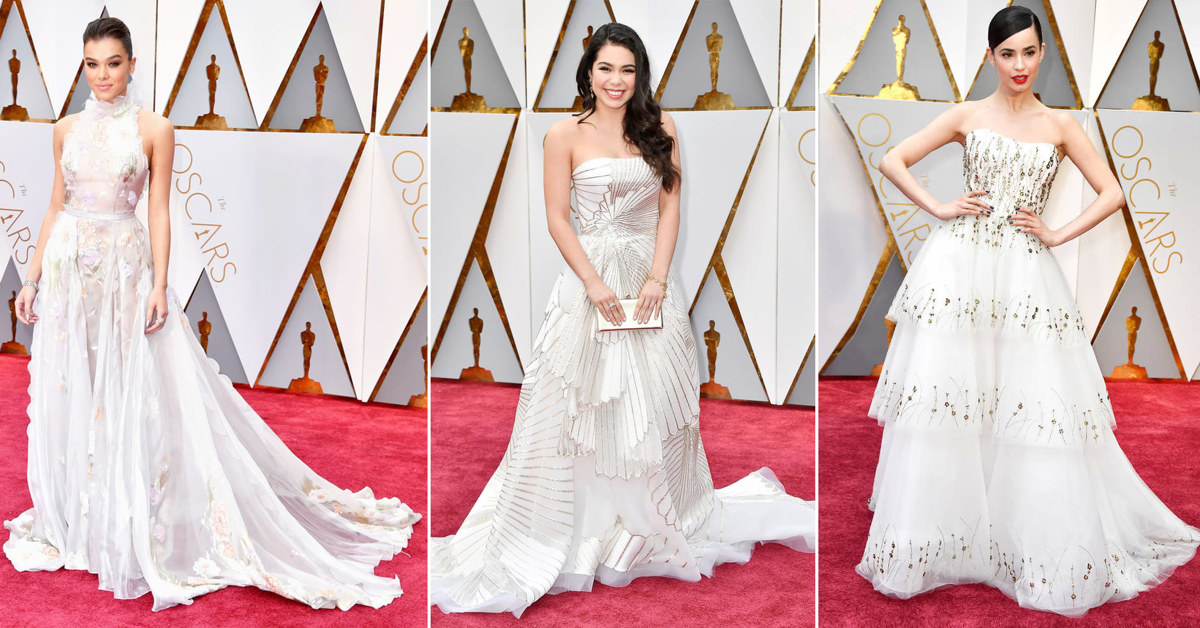 Left to right: Hailee Steinfeld in Ralph & Russo, Auli'i Cravalho in Rubin Singer, and Sofia Carson in Monique Lhuillier.
Champagne and Gold are Served
Perhaps inspired by the actual Oscars statuette, many celebrities opted for dresses in shades of champagne and gold. Actress Jessica Biel and beloved television host Robin Roberts looked statuesque in their gold-sequined, body-hugging gowns. Best Actress winner Emma Stone seemingly took a page out of Hollywood's golden era. Her Givenchy haute couture gown was embroidered with gold and bronze Swarovski crystals and featured four tiers of crystal fringe.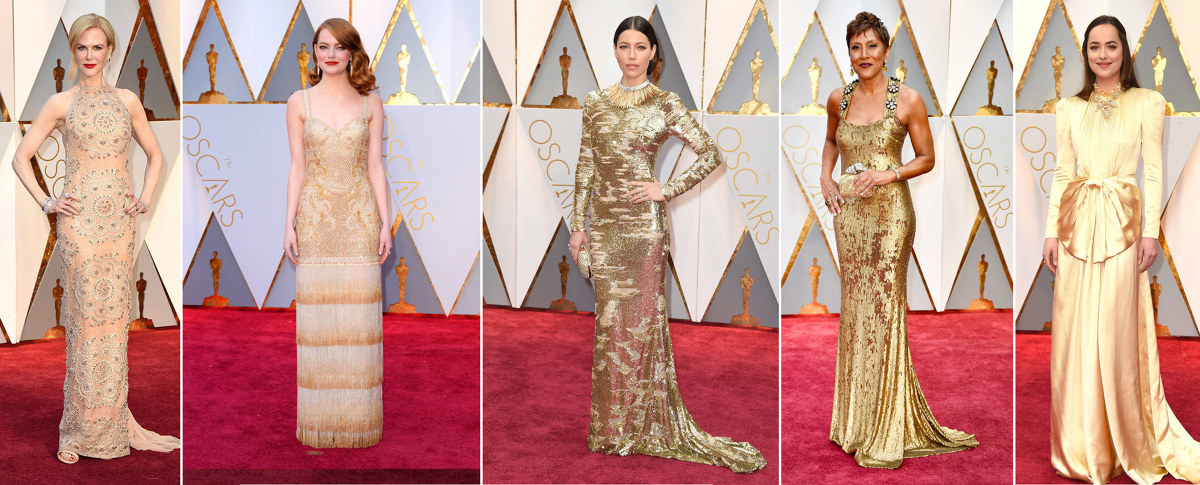 Left to right: Nicole Kidman in Armani Privé, Emma Stone in Givenchy Haute Couture, Jessica Biel in Kaufman Franco, Robin Roberts, and Dakota Johnson in Gucci.
Soft Colors

Pastel gowns were few and far between. Actress Amelia Warner opted for a blush floor-length, caped gown that featured playful polka dots. Television personality Giuliana Rancic opted for a pale blue Georges Chakra gown with cutouts and a one-shoulder cape. Television host Zuri Hall's Uel Camilo lavender gown featured two red-carpet trends in one: a sheer bodice with floral embellishments and a feathered skirt.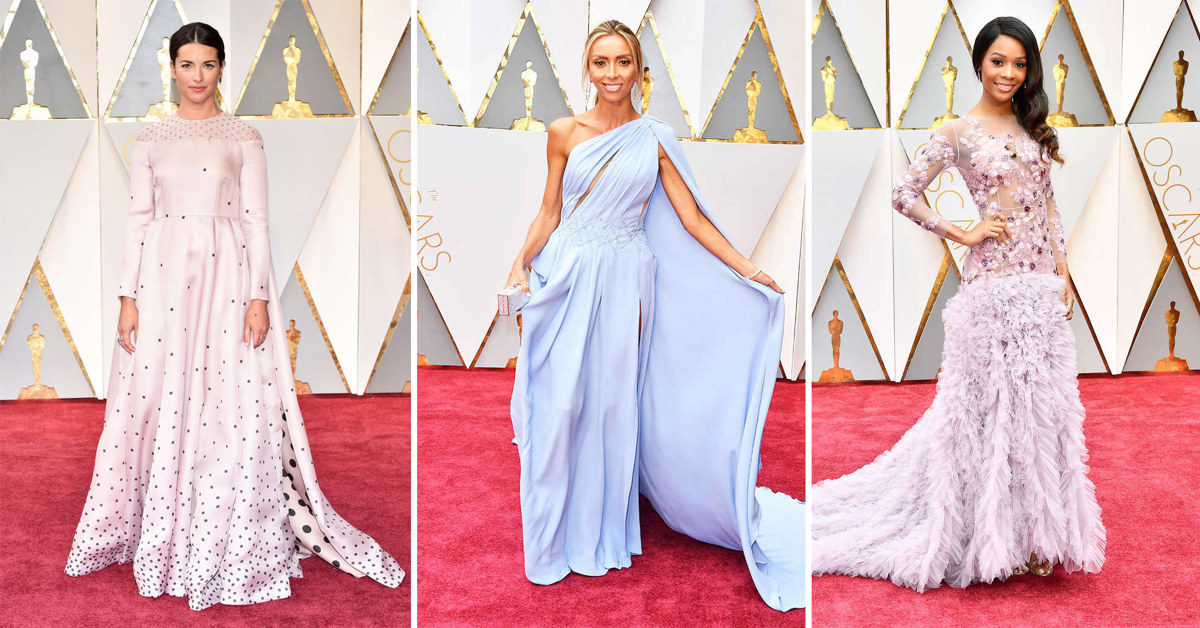 Left to right: Amelia Warner, Giuliana Rancic in Georges Chakra, and Zuri Hall in Uel Camilo.
Fringe and Feathers
This was the year of feathers and sparkly fringe. Sofia Boutella, Octavia Spencer, and Zuri Hall (pictured above) doned dresses that featured feathered skirts. Olivia Culpo and Emma Stone opted for sparkly and shiny fringe. In fact, Olivia Culpo's custom water-themed dress was a collaboration between fashion house Marchesa and beer giant Stella Artois and was designed for a good cause. According to E! News Online, the Stella Artois "Buy a Lady a Drink" campaign supports Water.org, which " . . . provides five years of clean water for one person in the developing world for each Limited-Edition Stella Artois Chalice sold." The beads used in Olivia's dress were made from those chalices.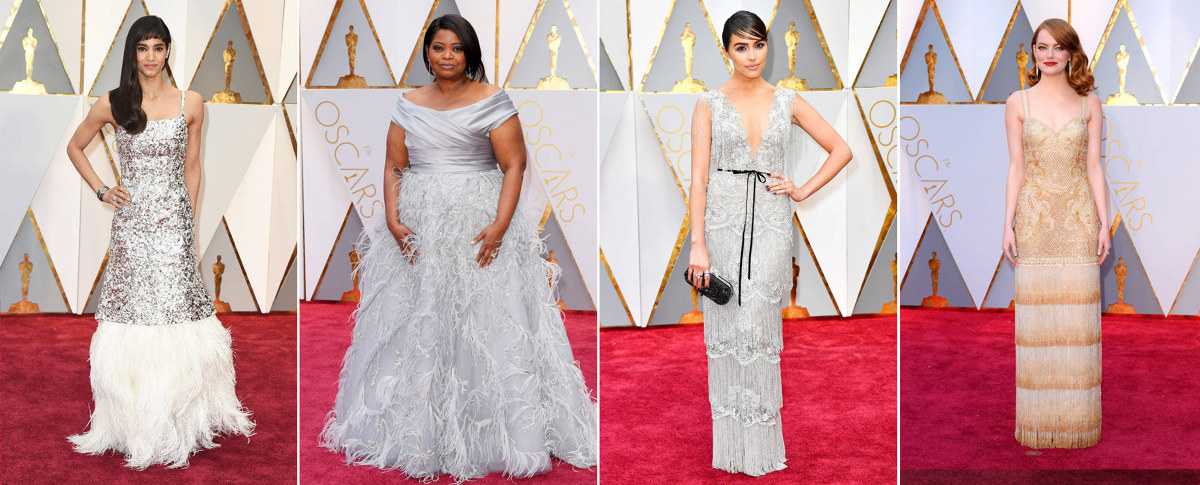 Left to right: Sofia Boutella in Chanel, Octavia Spencer in Marchesa, Olivia Culpo in Marchesa, and Emma Stone in Givenchy.
 
Click play to see how Emma Stone's fringe dress moved.
Thigh-High Slits

High slits are certainly not a new trend, yet they were featured in many designs worn to this year's show. Our favorite from this group is Taraji P. Henson. Her stunning, off-the-shoulder navy Alberta Ferretti with front slit fit her impeccably.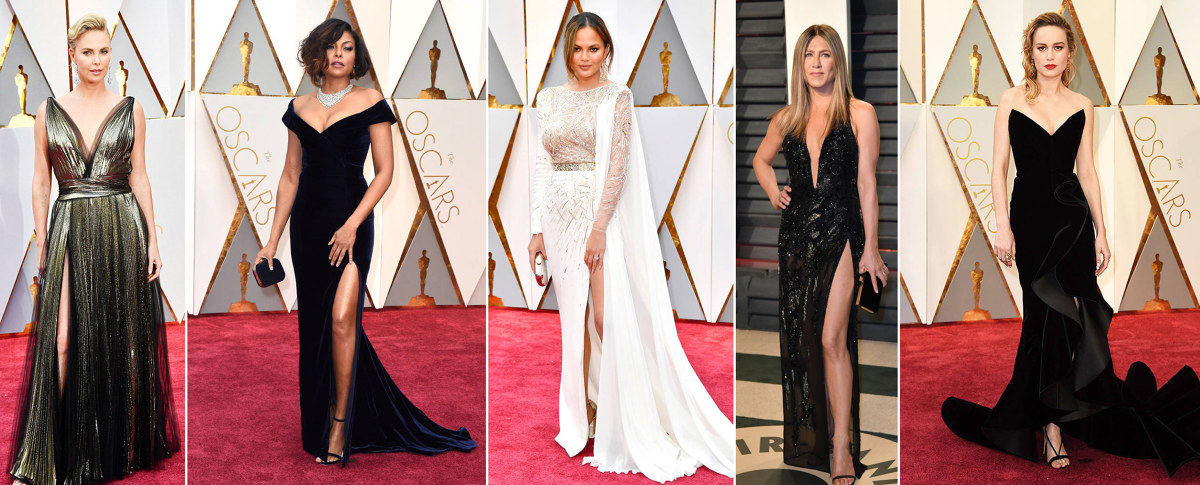 Left to right: Charlize Theron in Dior, Taraji P. Henson in Alberta Ferretti, Chrissy Tiegen in Zuhair Murad, Jennifer Anniston in Atelier Versace, and Brie Larson in Oscar de la Renta.
Lace 'Em Up

Like thigh-high slits, lace is a trend that consistently shows up on ensembles worn to the Oscars. Lace and lacelike textiles were used in conjunction with plunging necklines, sheer cutouts, and even as an all-over motif.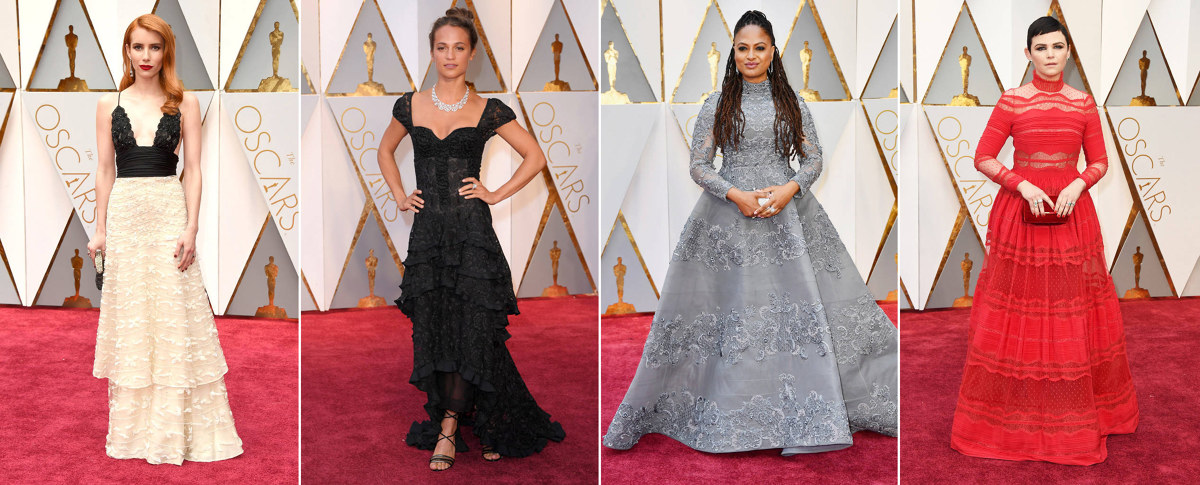 Left to right: Emma Roberts in vintage Armani Privé, Alicia Vikander in Louis Vuitton, Ava Duvernay in Ashi Studio, and Ginnifer Goodwin in Zuhair Murad.
Midnight Shine

Janelle Monae's custom Elie Saab ball gown may become one the most talked about gowns in Oscar history. The bigger-than-life dress may have been inspired by the actress having appeared in two movies nominated for Best Picture. Her ball gown featured a sheer bodice embellished with a bird motif. The entire dress, from its high neckline to wide hem, was embellished with sequins and crystals.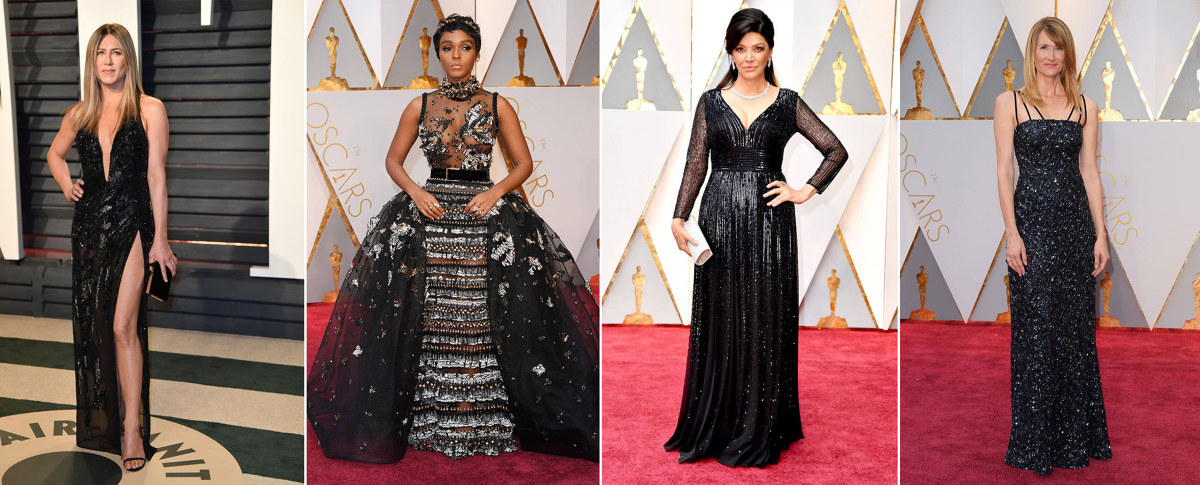 Left to right: Jennifer Anniston in Atelier Versace, Janelle Monae in Elie Saab Haute Couture, Shohreh Aghdashloo, and Laura Dern in Rodarte.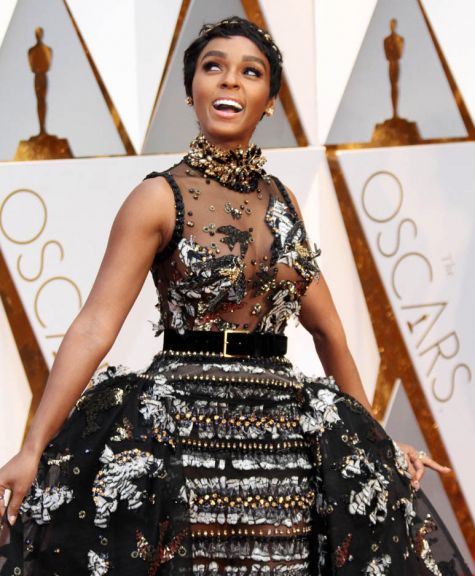 Bold Choices

In a sea of gold, white, and black (and some red) there were gowns that you could not miss. Alison Schroder and Leslie Mann wore dresses with lots of color, while Cynthia Erivo and Raphaela Neihausen opted for dresses featuring colorful florals.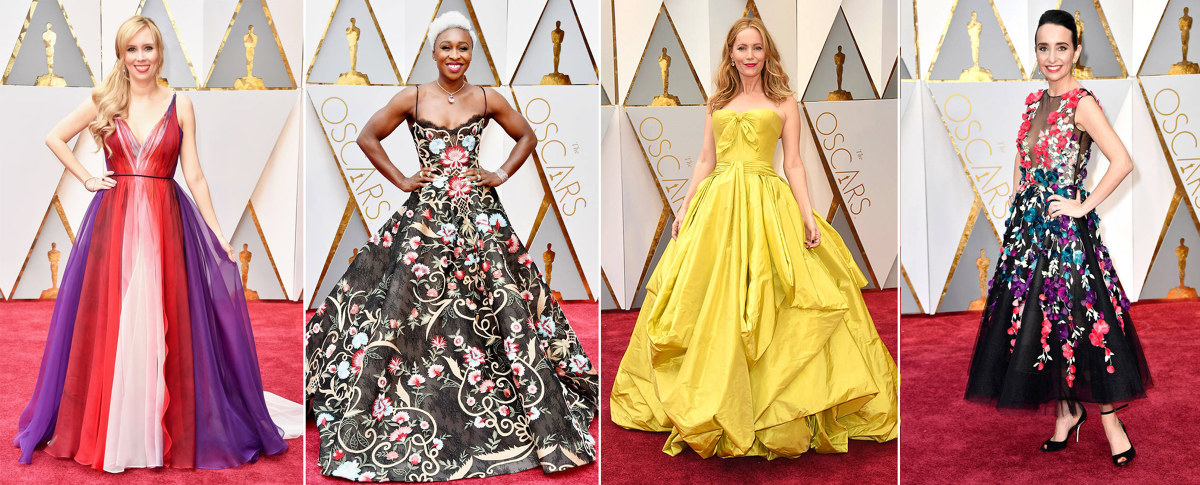 Left to right: Alison Schroeder, Cynthia Erivo in Paolo Sebastian, Leslie Mann in Zac Posen, and Raphaela Neihausen in Marchesa.
Missed Opportunities

As with every awards show, there were a few gowns that missed the mark. While we appreciate, and often celebrate, bold fashion choices, Blanca Blanco's slit was much too high and her shoulder ruffles where too large for her silhoutte. Scarlett Johansson's dress, while pretty, was too sheer and its flowing, soft design called for a more delicate belt. Dakota Johnson's Gucci dress didn't seem to fit her properly, and the front waistline bow added unnecessary bulk.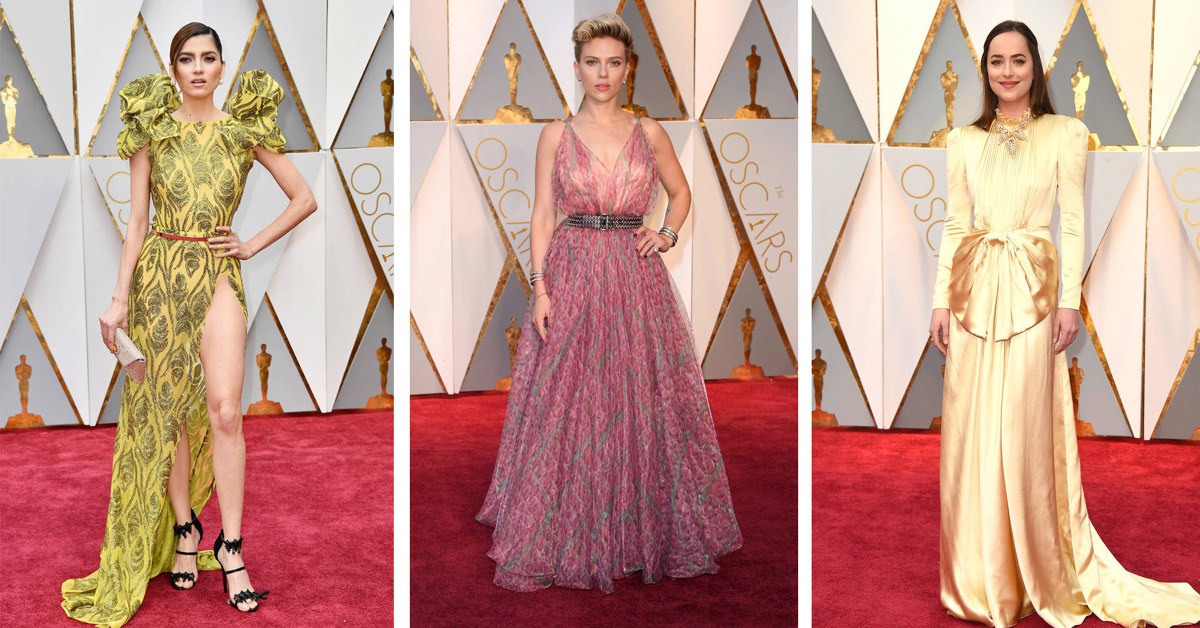 Left to right: Blanca Blanco in Ivan Bitton Style House, Scarlett Johansson in Alaia, and Dakota Johnson in Gucci.
The Look-alikes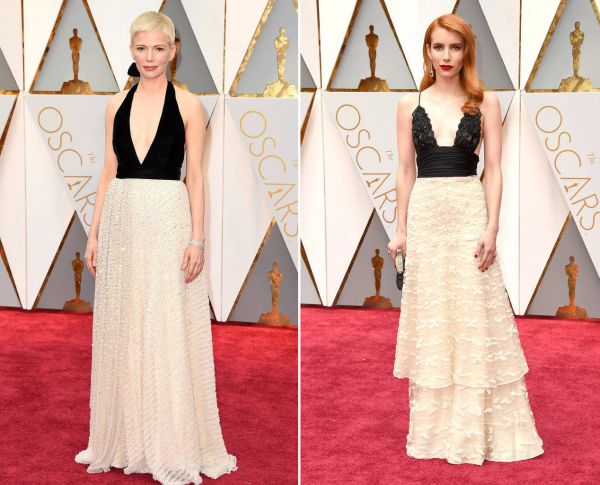 Left to right: Michelle Williams in Louis Vuitton and Emma Roberts in Armani Privé
Left to right: Ginnifer Goodwin in Zuhair Murad and Ruth Negga in Valentino.
Pants Added

Leave it to three-time Oscar winner Meryl Streep to wear one of our favorite looks of the night. Her elegant off-the-shoulder ensemble is Elie Saab Haute Couture. The belted gown featured embellished bodice and sleeves and had a little surprise – pants beneath the skirt.
Meryl Streep in a custom Elie Saab ensemble.
Tux Twist

More often than not, traditional tuxes and suits don't offer much freedom for creative expression. However, these four gentlemen found ways of showing off their personality. Pharrell Williams paired his custom Chanel wool tail coat with a Chanel necklace, cummerbund, and brooch. Best Supporting Actor Mahershala Ali opted for an all-black Ermenegildo Zegna Couture tuxedo with a checkered-print pocket square. Ryan Gosling paired his Gucci tux with a playful ruffled shirt by Anto. Josh Dallas wore a dark brown velvet Isaia tuxedo jacket with a rose lapel pin.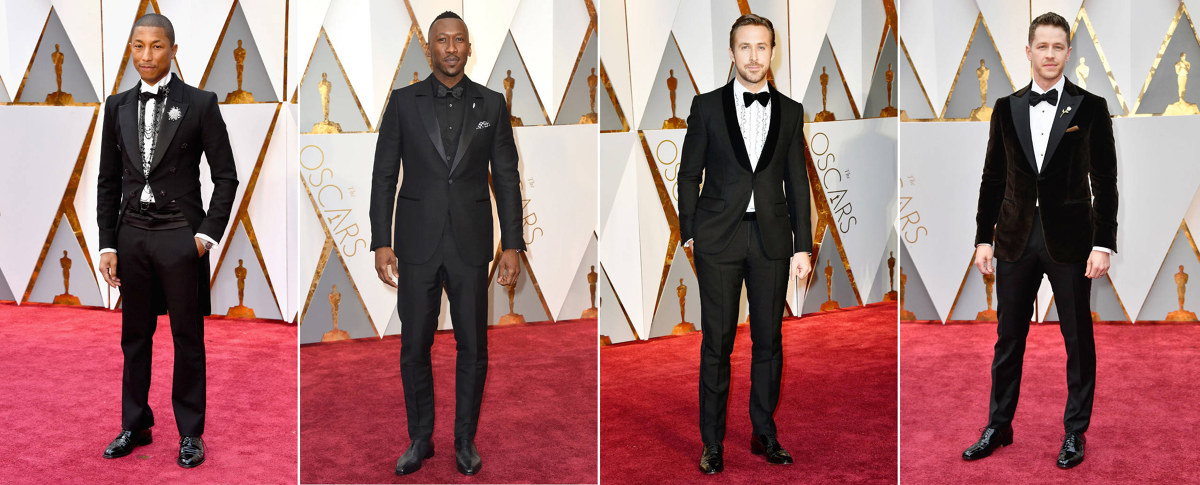 Left to right: Pharrell Williams in Chanel, Mahershala Ali in Ermenegildo Zegna Couture, Ryan Gosling in Gucci, and Josh Dallas in Isaia.
Classic Black Tie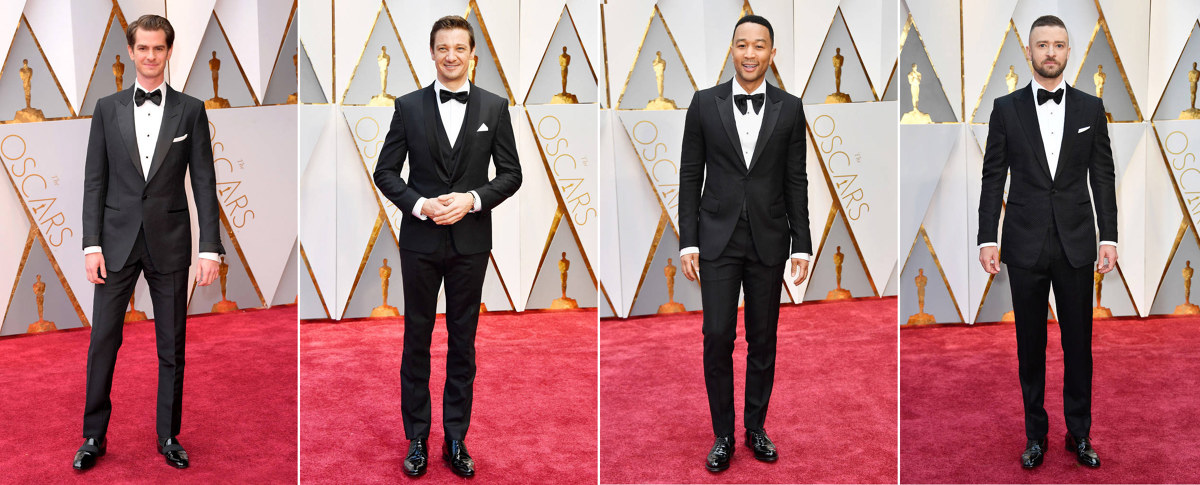 Left to right: Andrew Garfield in Tom Ford, Jeremy Renner in Hugo Boss, John Legend in Gucci, and Justin Timberlake in Tom Ford.
White-not?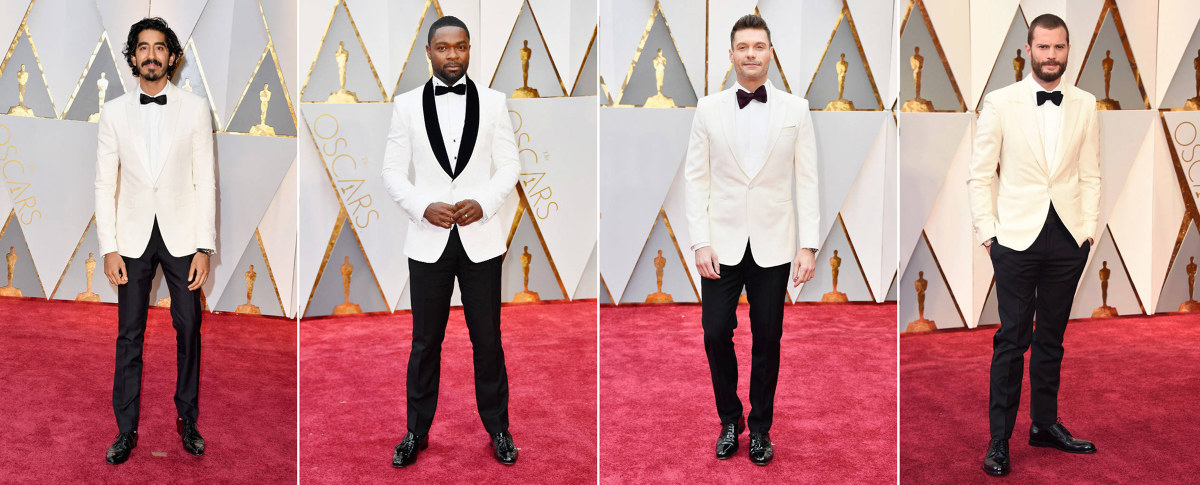 Left to right: Dev Patel in Burberry, David Oyelowo in Dolce & Gabbana, Ryan Seacrest in Ryan Seacrest Distinction, and Jamie Dornan.
Men in Blue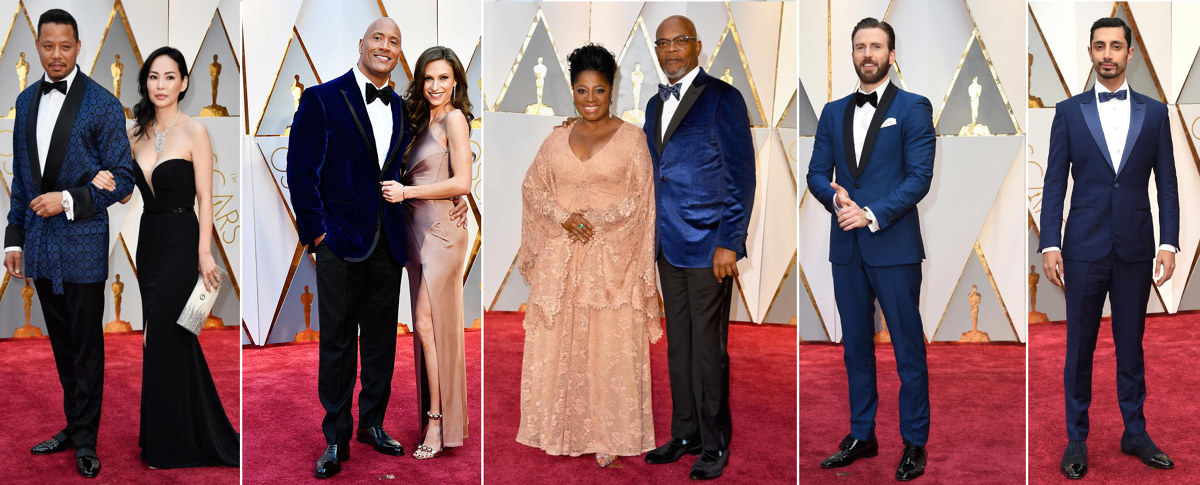 Left to right: Terrence Howard with Mira Pak, Dwayne Johnson and Lauren Hashian, Samuel L. Jackson and LaTanya Richardson, Chris Evans, and Riz Ahmed in Ermenegildo Zegna.
Who made your best- and worst-dressed lists? Did you see any details, shapes, or designs that have inspired you to sew? What are your favorite awards season trends? Whose Oscar gown or suit would you love to wear? Share your thoughts in the comments section.
Get the latest including tips, techniques and special offers straight to your inbox.