Striking Details from the Marist Silver Needle Runway & Awards Show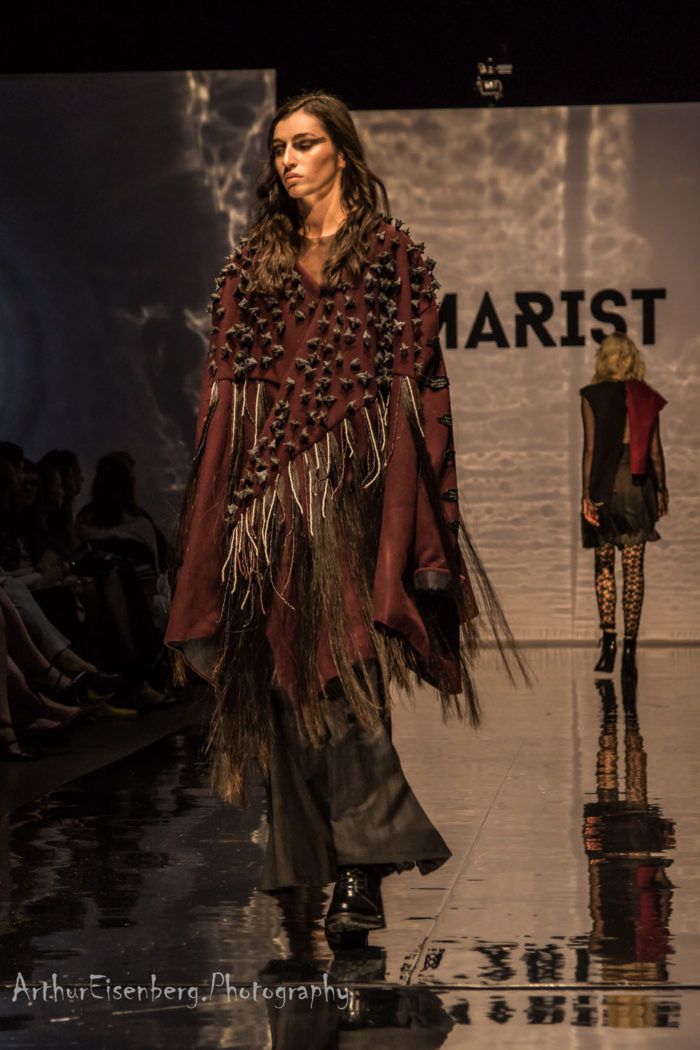 We're still talking about details we saw in the impressive fashion collections at Marist College's Silver Needle Runway & Awards show last week. The 31st annual event showcased the best work of fashion design students. It was less than two hours from our Connecticut offices, so we spend a rare afternoon away from our desks and indulged our fashion curiosity. Here are some of the memorable elements we took note of from our front-row seats.
Garment layering included everything from long vests and coats to asymmetrical skirt overlays.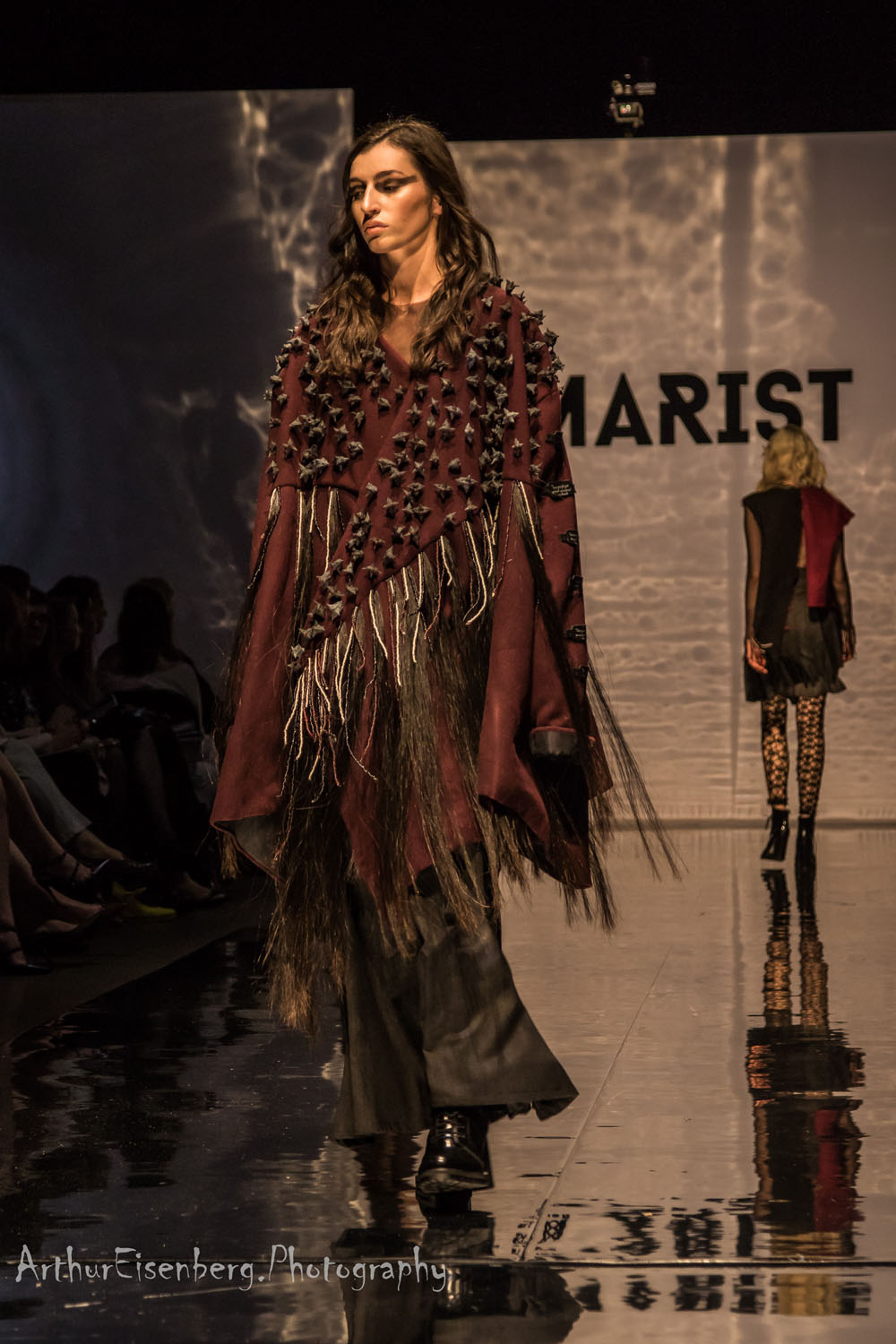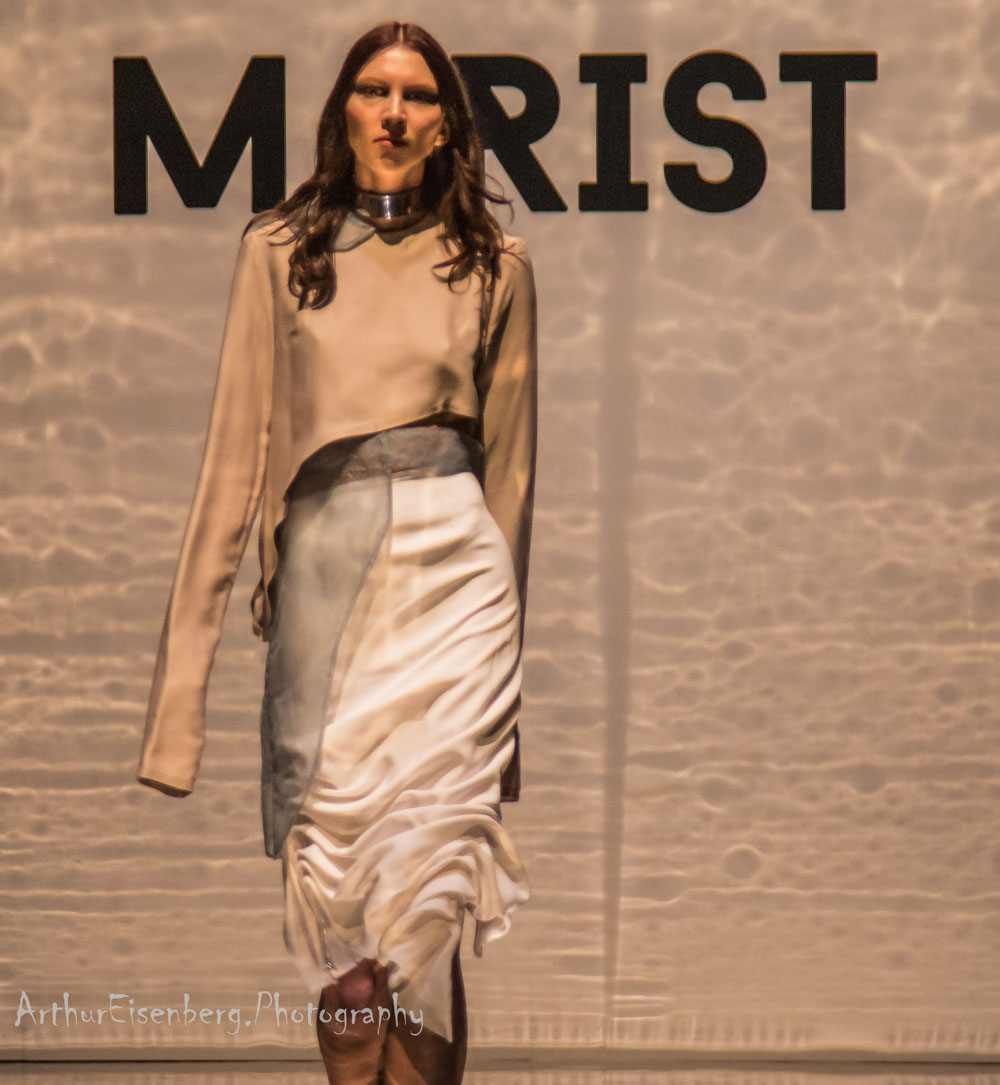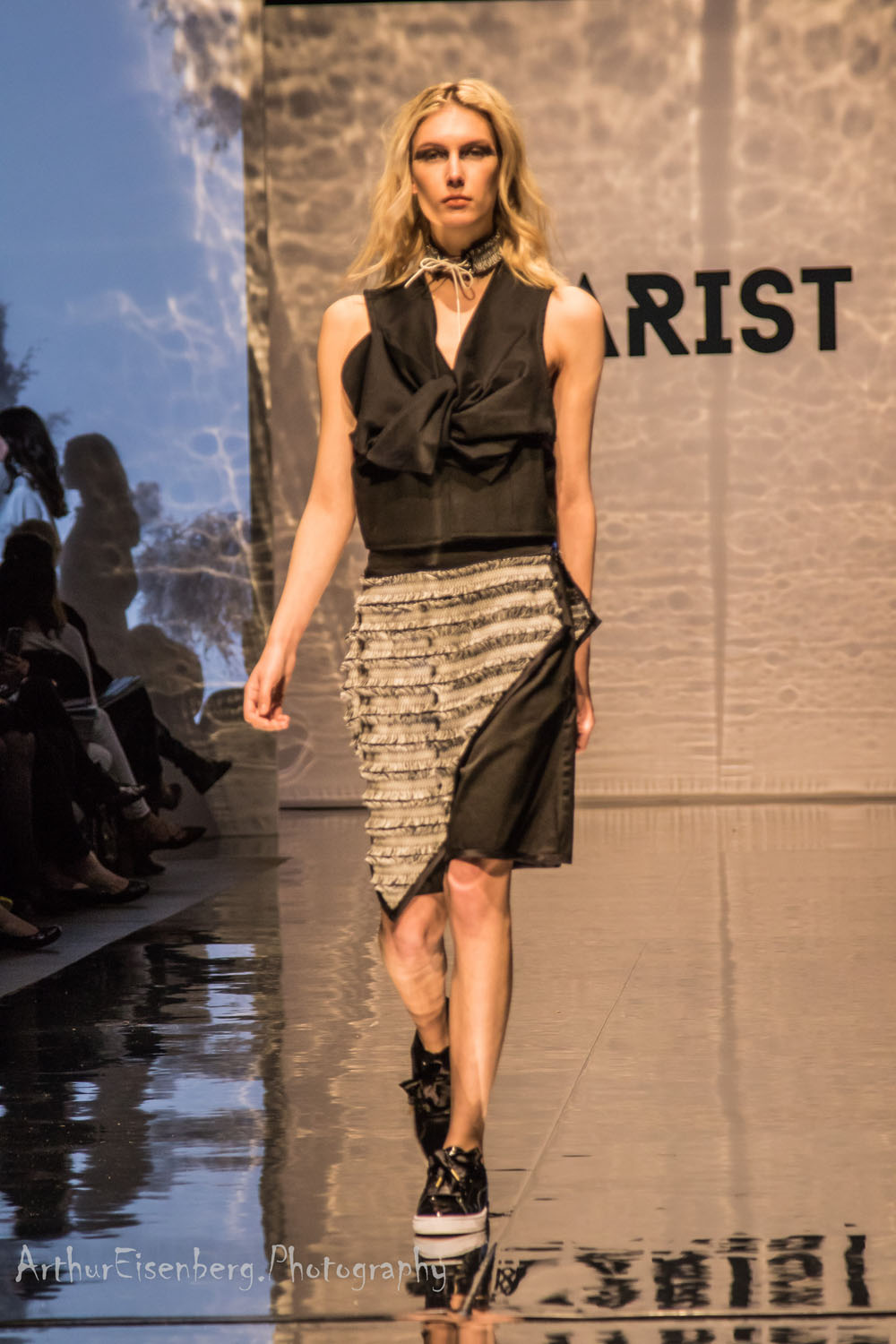 Long layers are part of the designs by Marist senior Emma Gage, winner of the Outstanding Concept award at the 2017 Silver Needle Runway & Awards show. An outfit from Kersten Haff's collection includes an asymmetrical sheer skirt overlay. Rows of fringe add interest to an asymmetrical skirt overlay in a design by Jenna Dickinson.

High texture showed up in many places: Lines of quilting added dimension on heavy woolen outergarments; graphic block lettering appeared on the front and back panels of skirts and vests; and wooden squares painted in gold foil lined up along garment edges.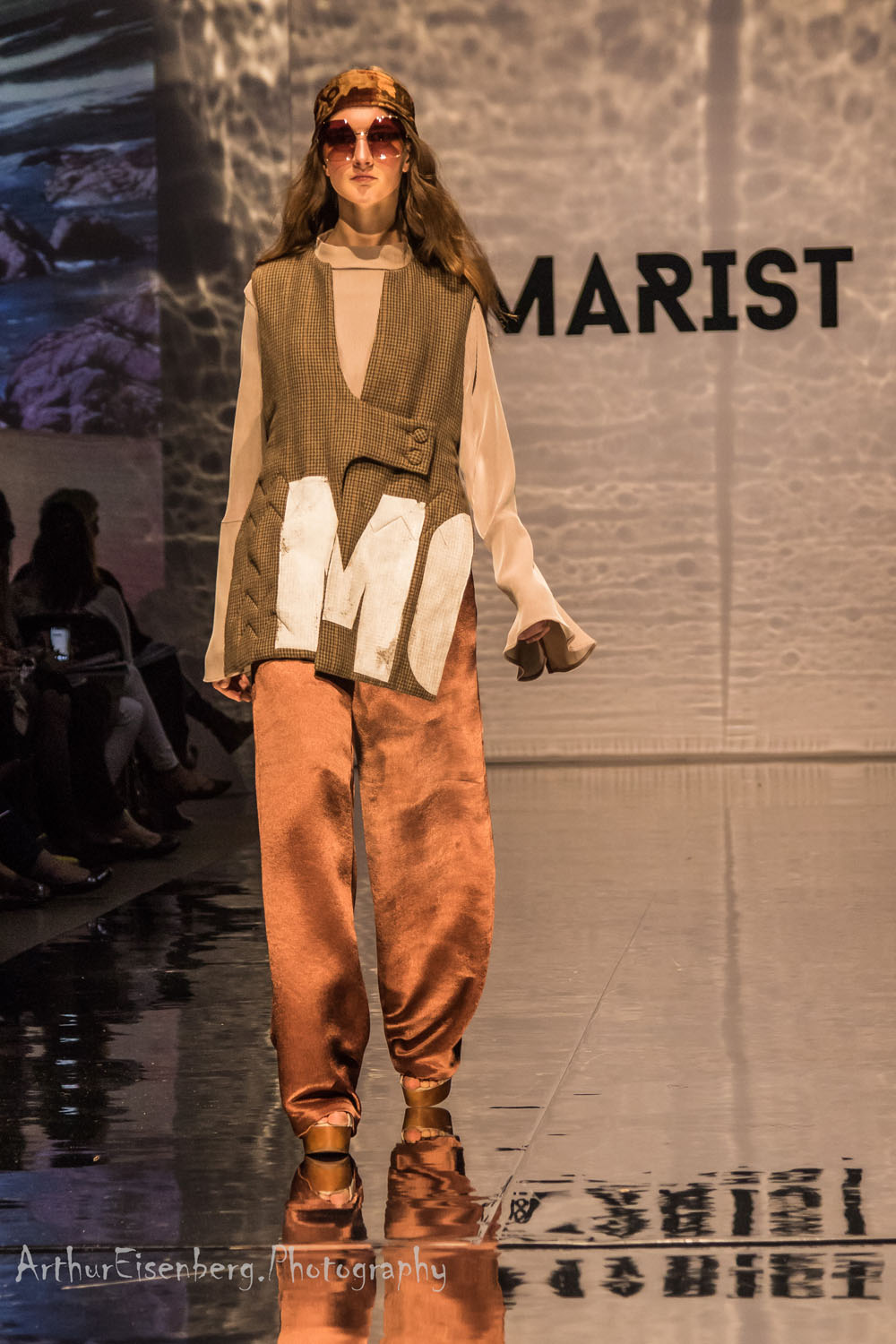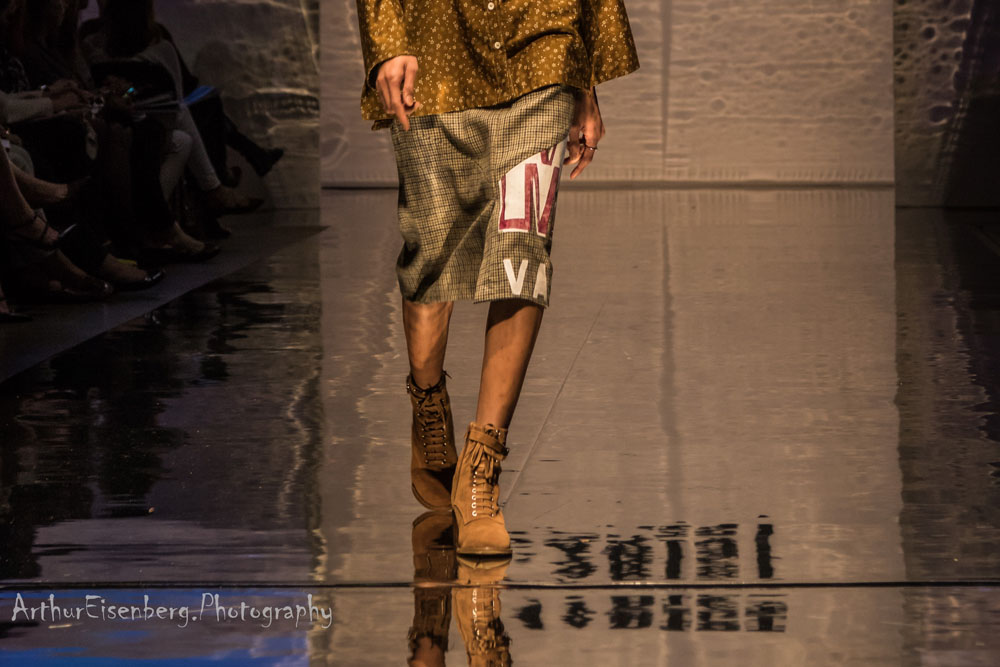 Aubrey Nardone, winner of the 2017 Outstanding Portfolio award, incorporated large block lettering into her designs.
The bold lettering shows up across entire garments or in a more abbreviated form in garment panels.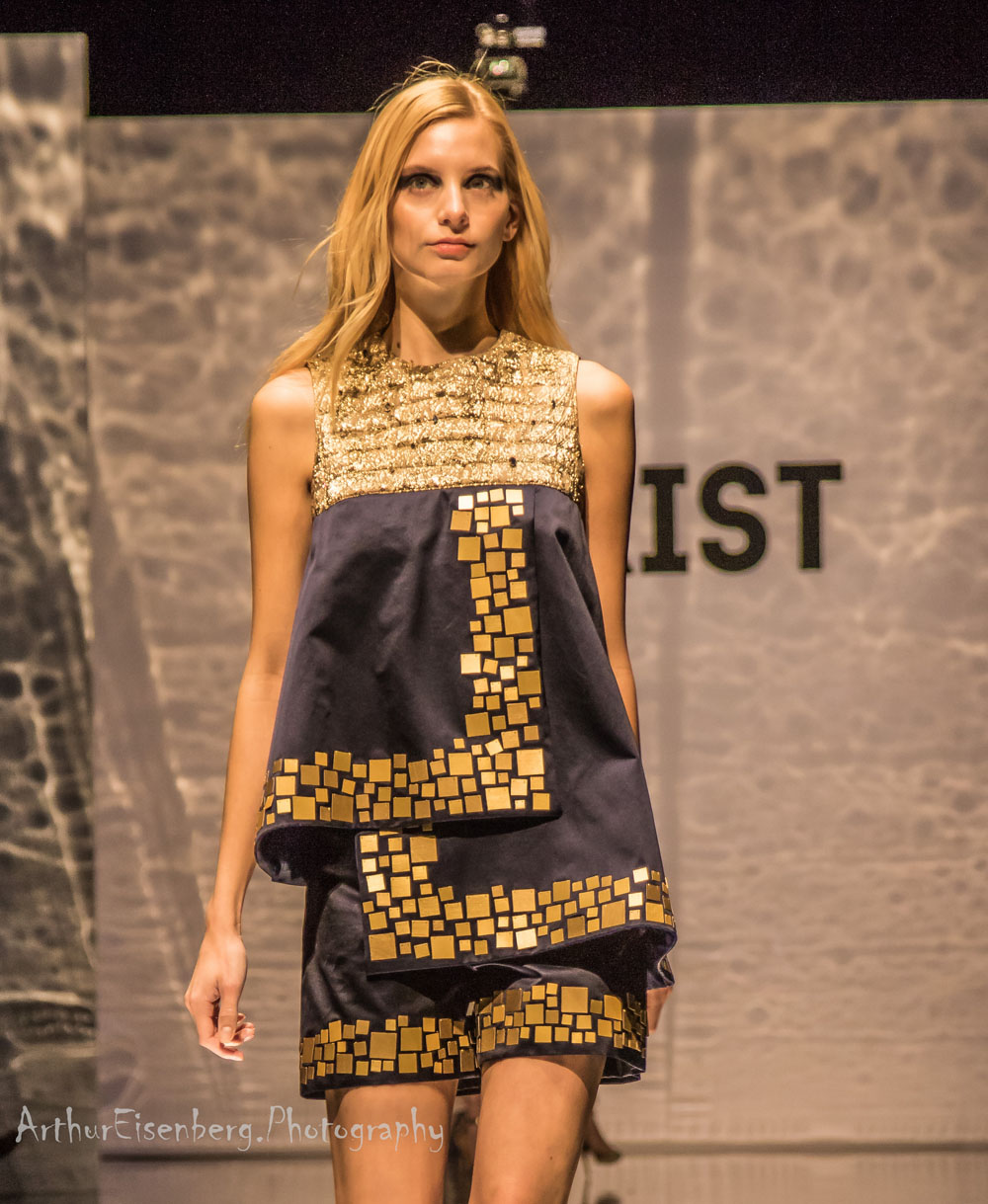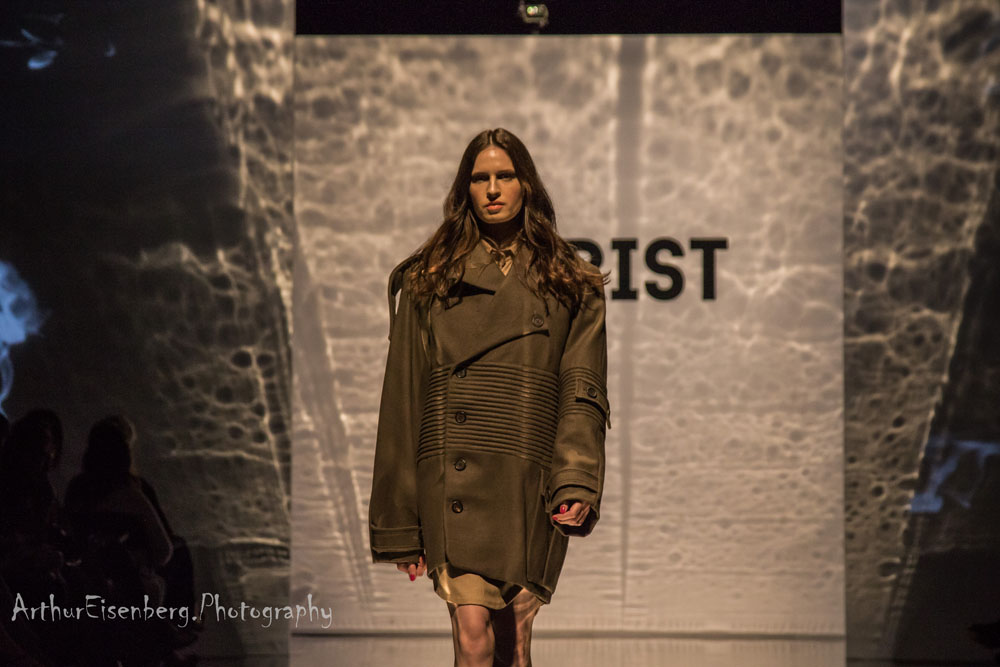 Mary Vodola hand-sewed each gold-foil-painted wooden square to her creations.
Parallel lines of quilting add dimension to a coat designed by junior Kate Norkeliunas.
Unfinished edges created fringe at hemlines, facings, and along lapped seams.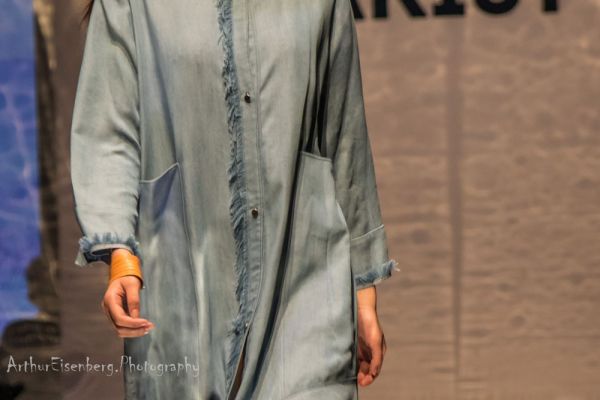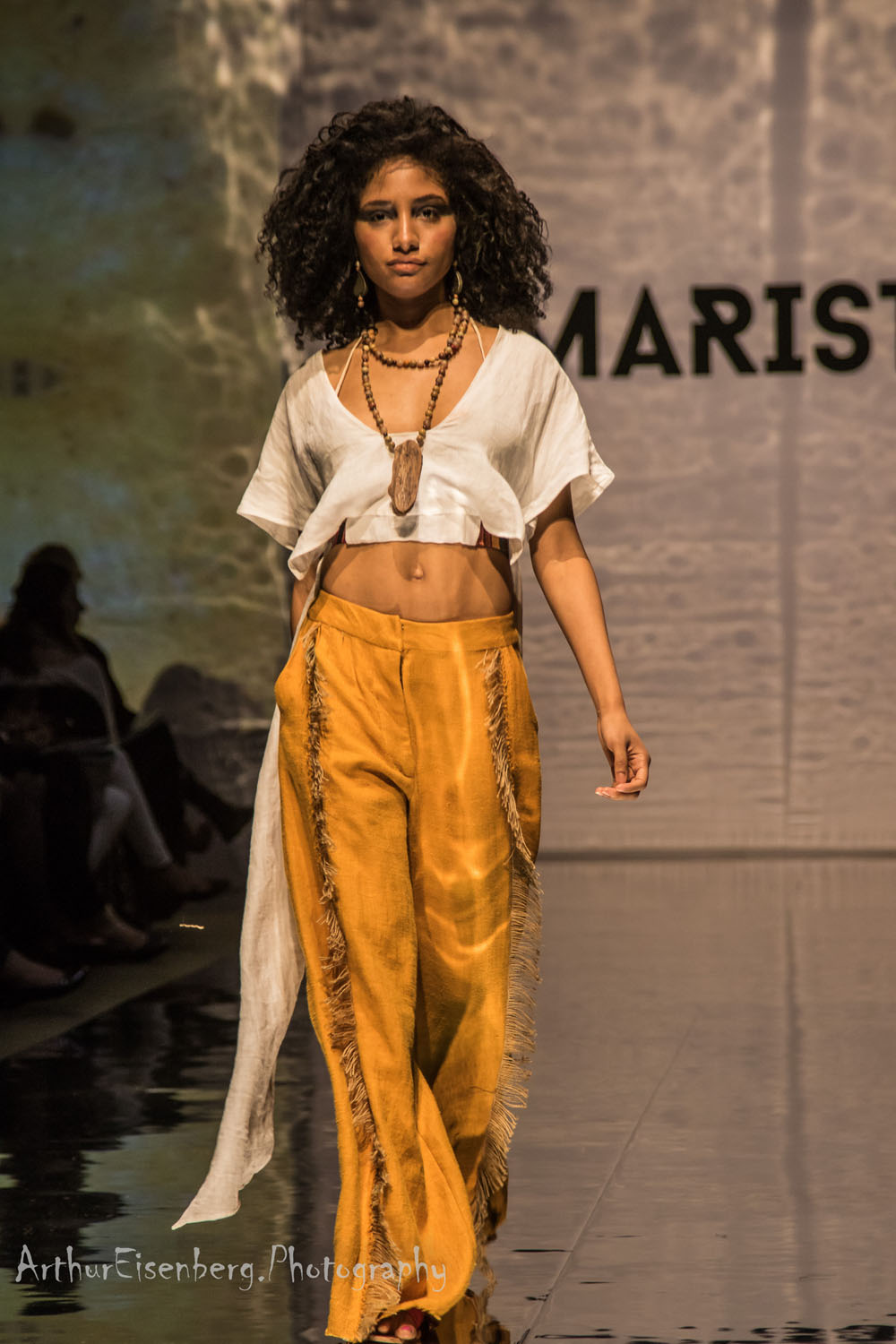 Unfinished edges at sleeve hems and facings are features of Corrin Bogart's designs.
A Paige Yates trouser design has side-front fringed seamlines.
Bound edges in contrasting colors were sewn on garments, especially on those featuring loosely woven fabrics.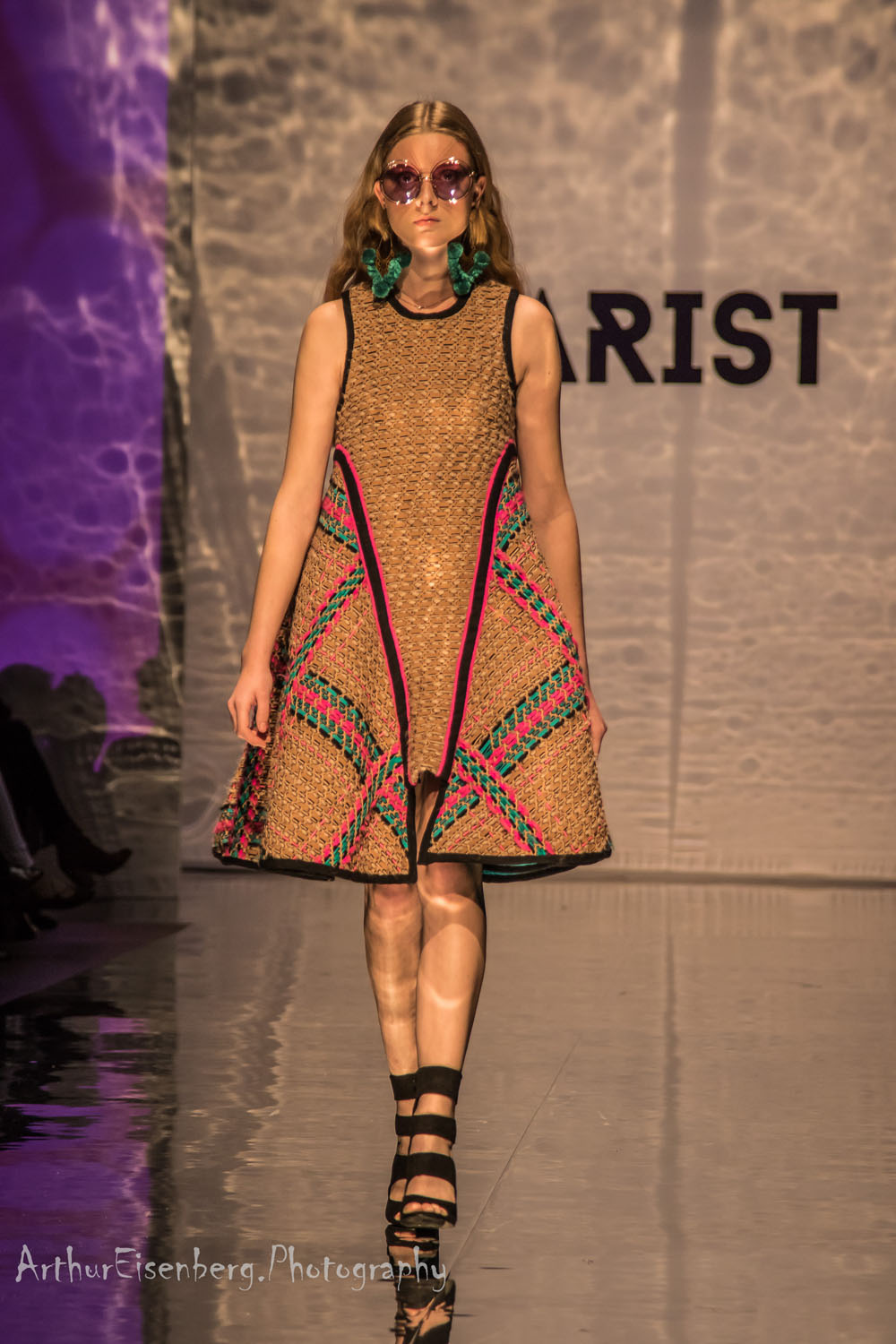 From Cara Benevenia, contrasting bound edges frame dramatically patterned garment panels. The Marist senior won the Outstanding Design Collection award.
Oversized garments and exaggerated silhouettes had full, billowy looks at the neckline, sleeves, and along pant legs. In several cases, drapey fabric was gathered or softly tucked and stitched for a puffy appearance.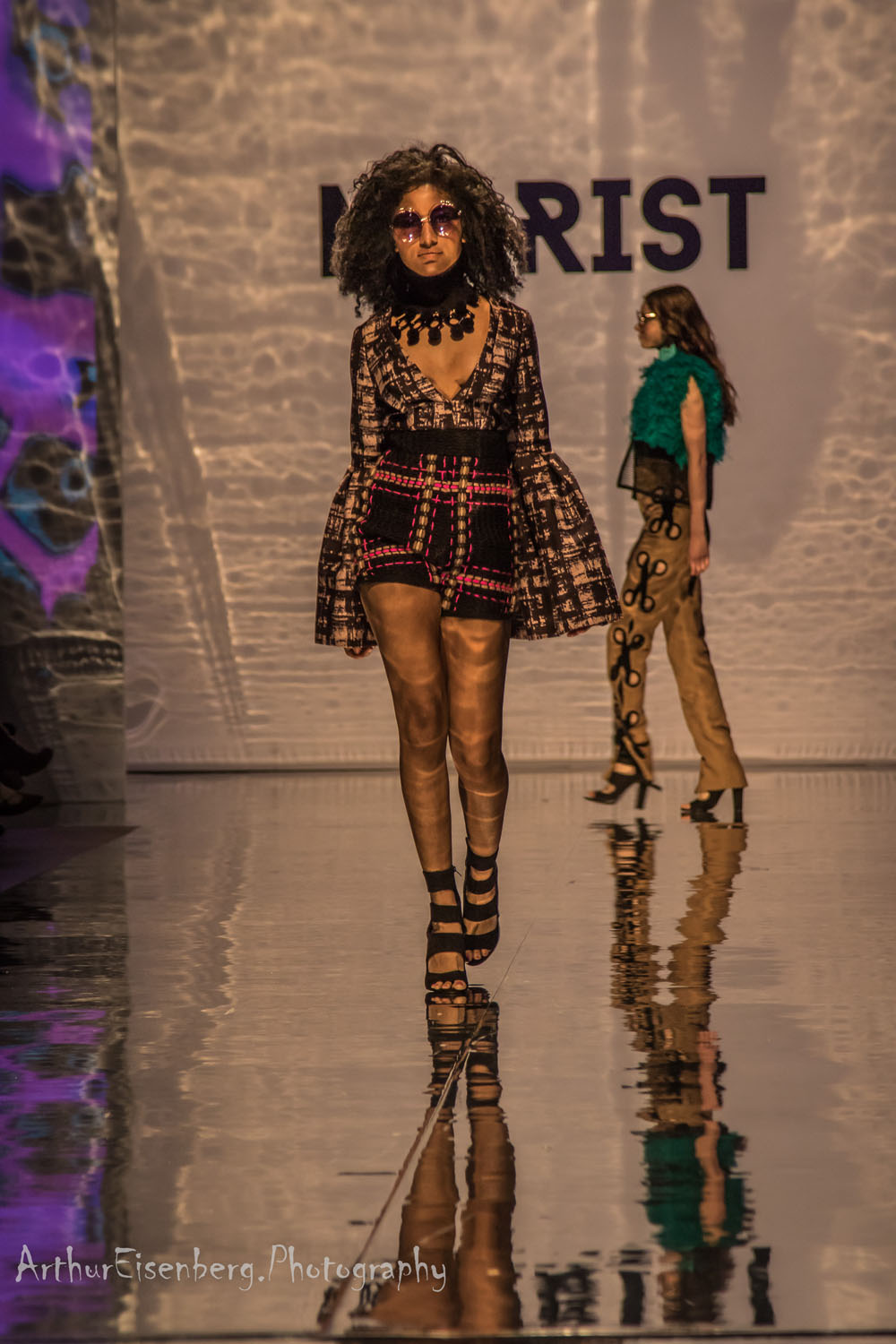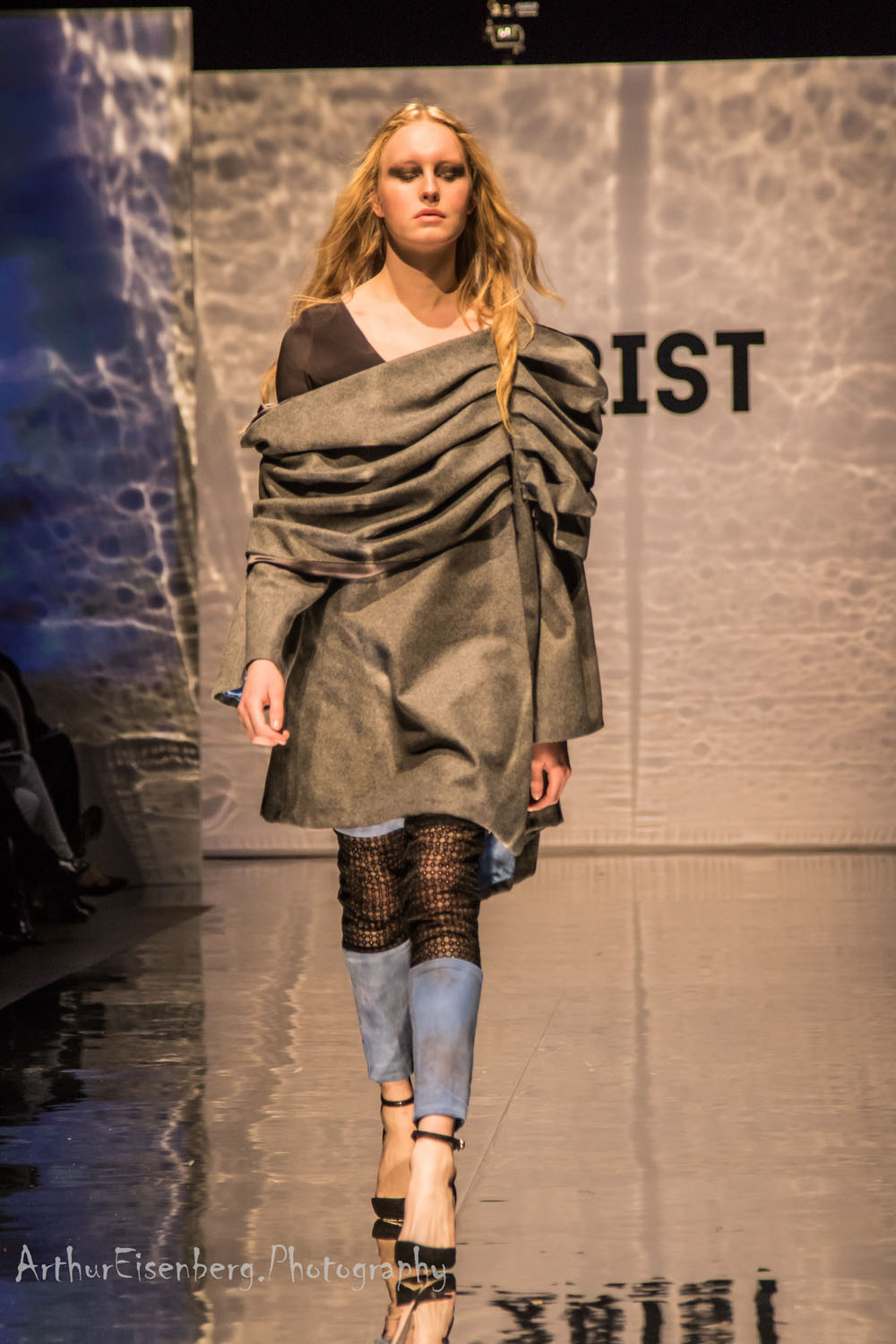 Oversized lantern-type sleeves are the focus in another ensemble by Cara Benevenia. She repeated the element on the legs of a jumpsuit in her collection.
A coat with an oversized, off-the-shoulder tucked collar was designed by Camilla Bowden.
High-waisted trousers with wide or close-fitting legs provided a slimming effect that elongated the legs. They also were a counterpoint to some of the oversized garments worn on top. Many trousers included interest along the side or side-front seams, including contrasting stripes, cartridge loops, jumbo grommets, and soft tucks.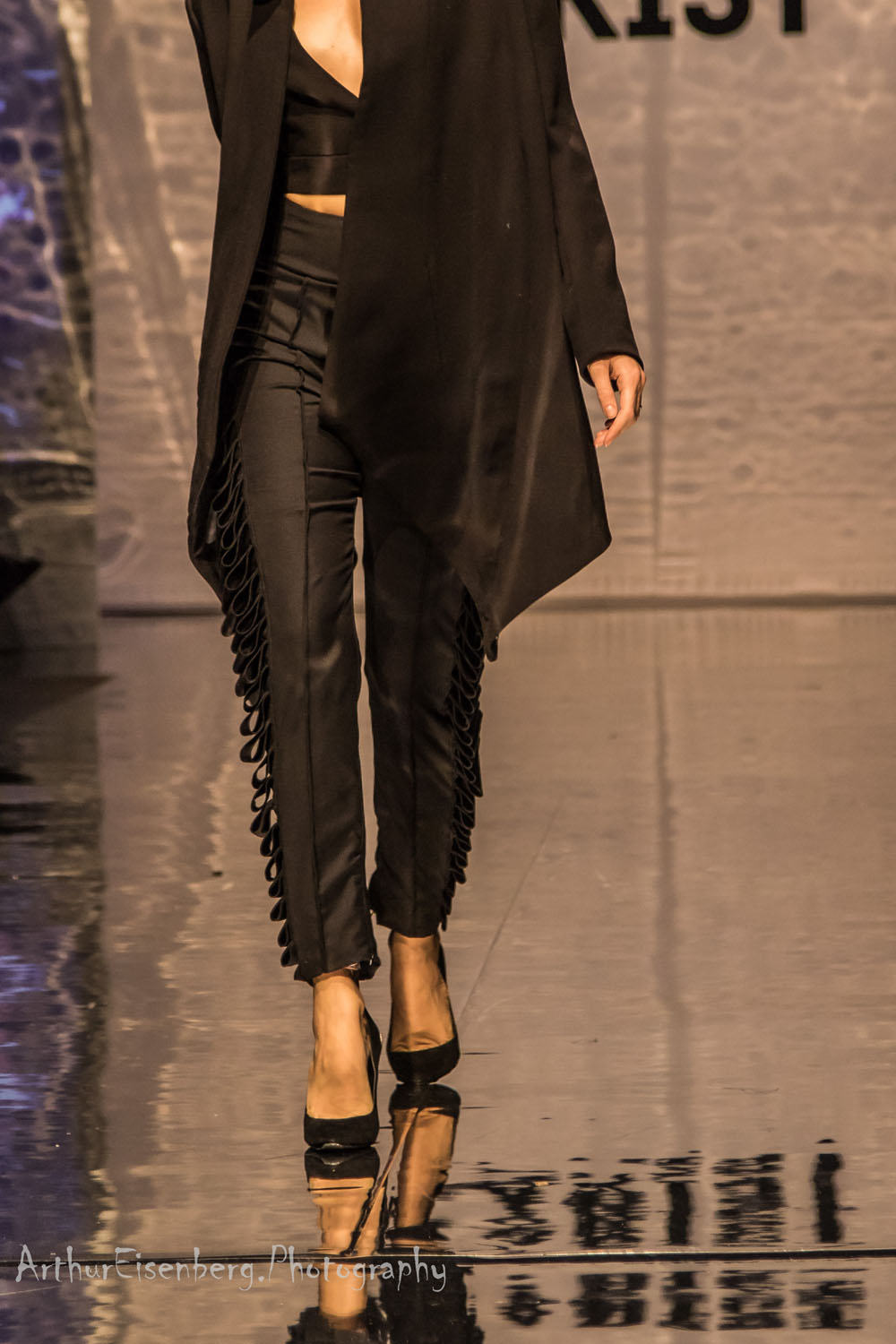 Cartridge loops adorn the side seams on close-fitting pants from Kristen Wong's collection.
Muted browns and greens dominated some collections, but contrasting hot pink and teal showed up in the collection of the senior who won the Outstanding Design Collection award, and bright pops of color were featured in other collections.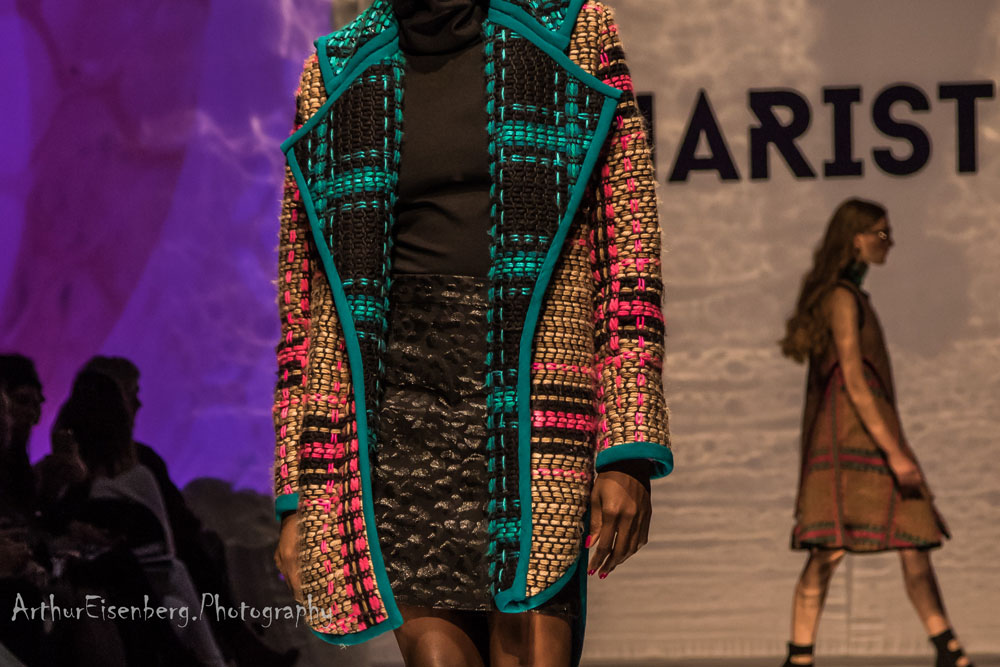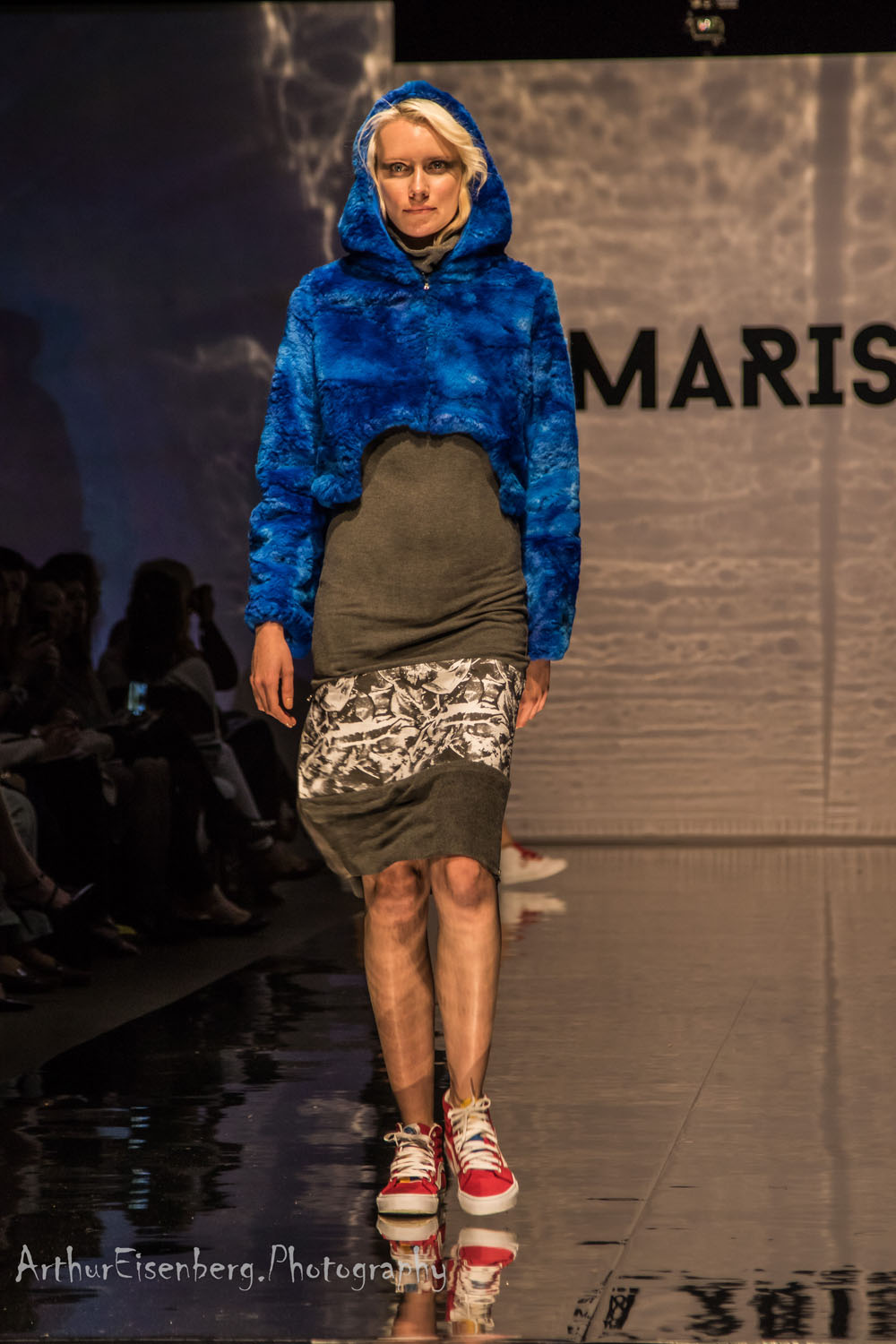 Cara Benevenia's collection includes plenty of color.
Kyra Hawrysh used touches of electric blue, as in this faux-fur cropped hoodie.
The show's outstanding garment was a two-piece black gown featuring a detachable skirt with cartridge pleats. The skirt had lambskin and silver floss embellishment, punctuated by Swarovski crystals and wearable waterproof LED lights. The lights could shine in eight different patterns, controllable by a remote.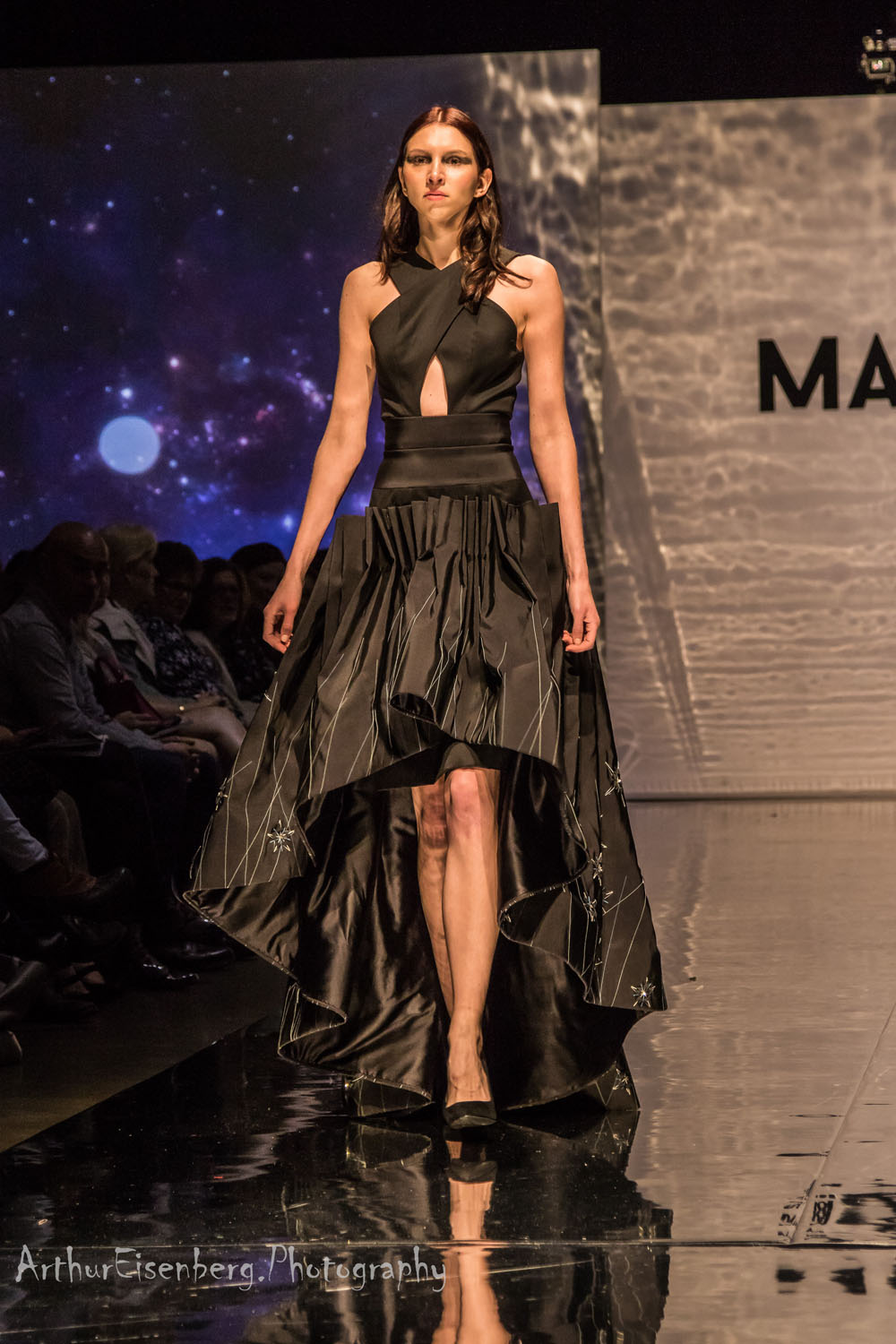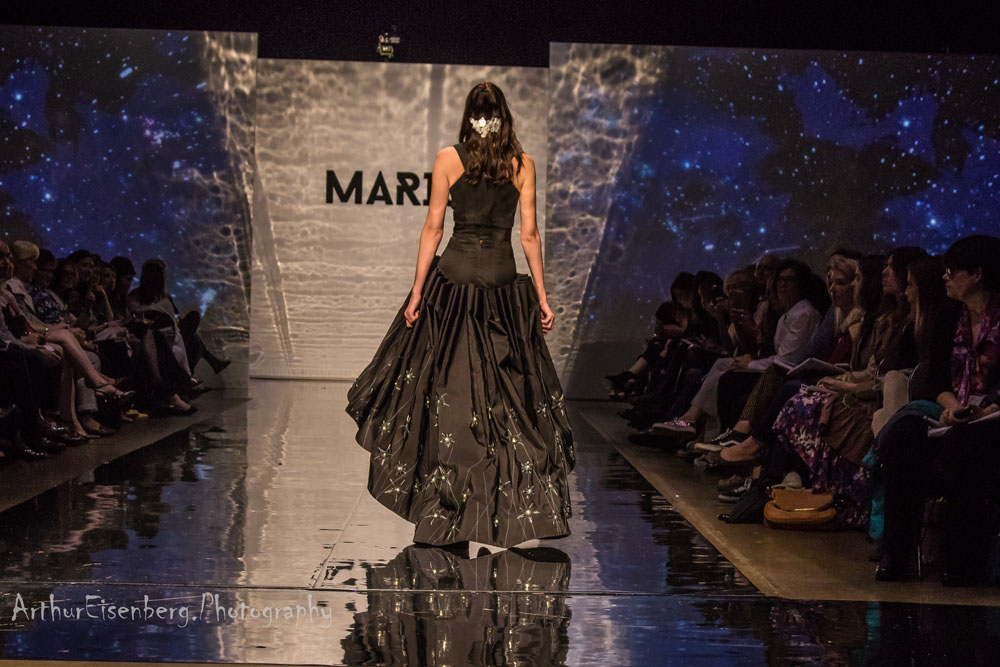 Kristen Wong's black embroidered gown embellished with Swarovski crystals and LED lights created a twinkling grand finale.
A remote control adjusted the lights in eight different patterns.
The completely student-run 2017 Silver Needle Runway & Awards show has us dreaming up new garments for ourselves and inspiring us to get back to our sewing rooms!
All the images above are by Arthur Eisenberg, NYCArthur.com, and are courtesy of Marist College.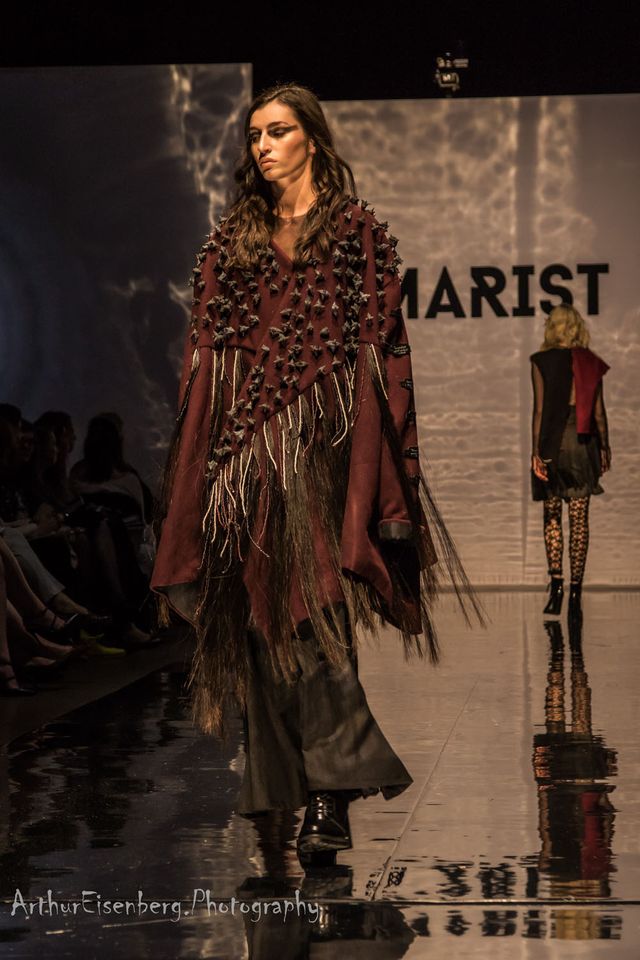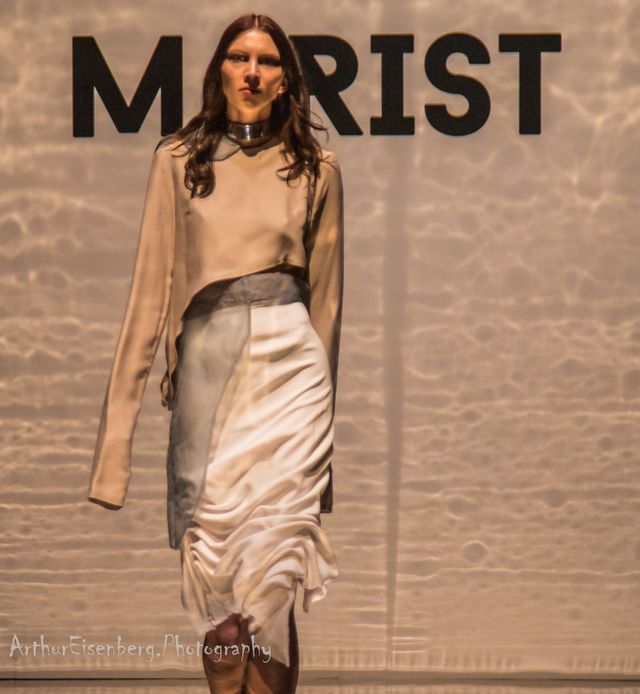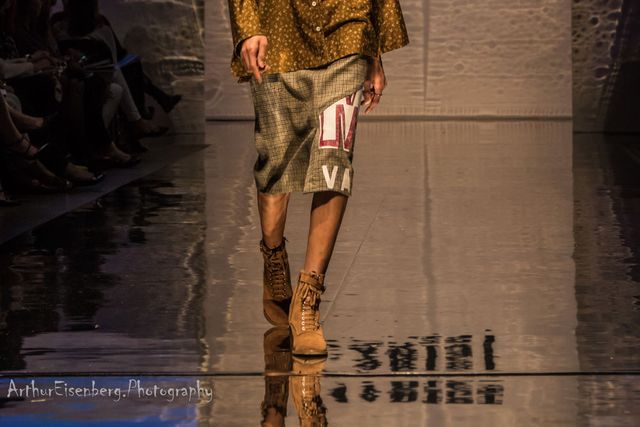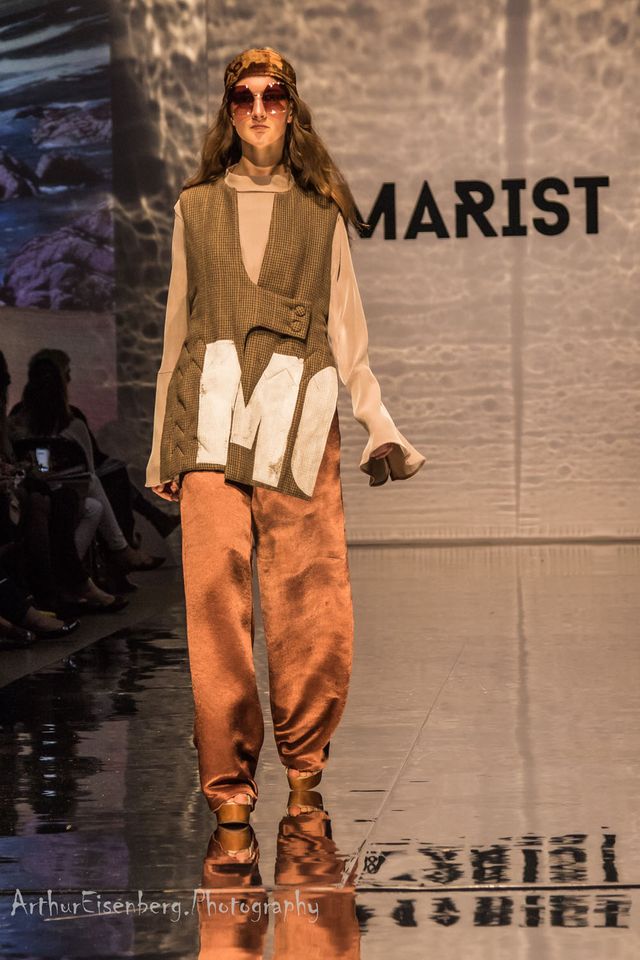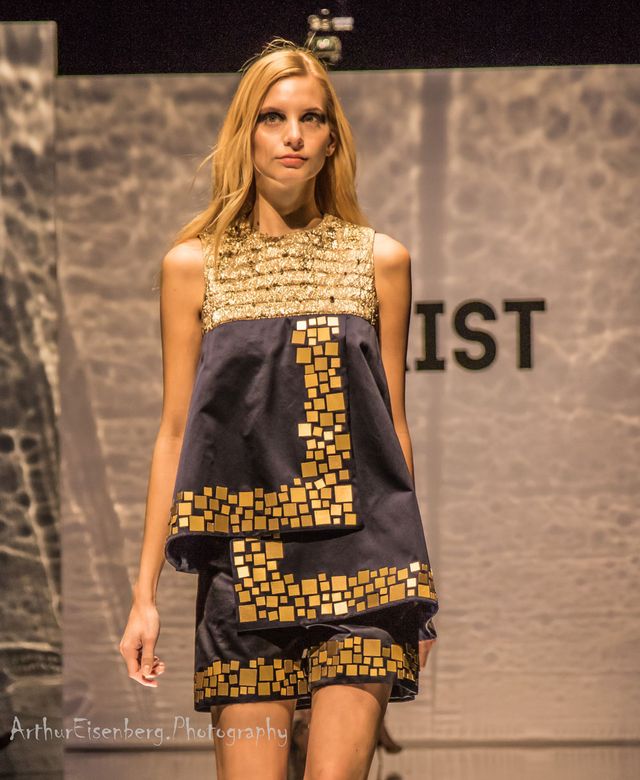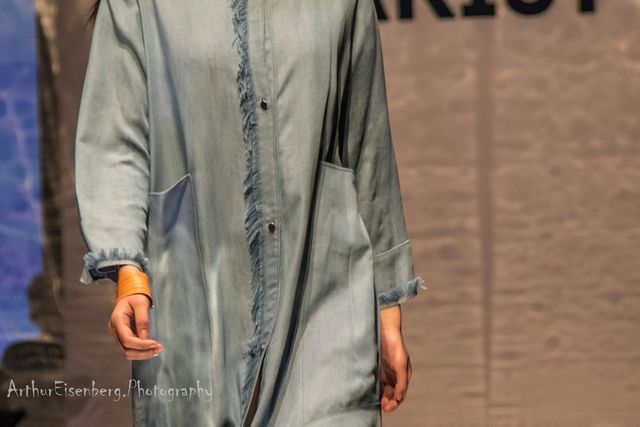 Unfinished edges at sleeve hems and facings are featured on Corrin Bogart's designs.