A Behind-the-Scenes Look at the Exhibit: "Georgia O'Keeffe: Living Modern"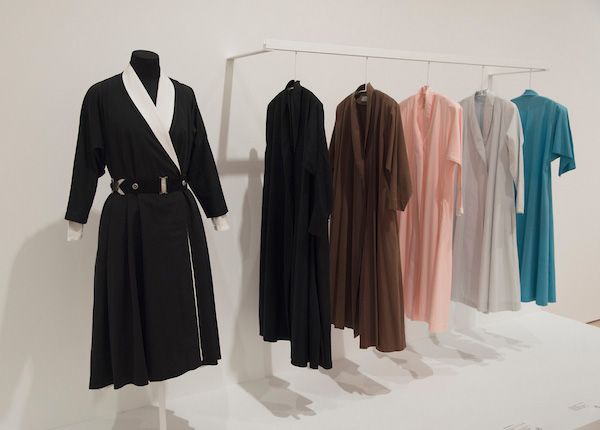 Georgia O'Keeffe Exhibition at the Brooklyn Museum
Georgia O'Keeffe: Living Modern focuses on the American modernist artist's wardrobe and how it relates to her art. The exhibition brings together many of O'Keeffe's personal garments, paintings, sculptures, and photographs of her personal style and home. It explores her artistic values, her independent lifestyle, and her philosophy that art should not be separate from life.
O'Keeffe was known for her individualism, plainness, and toughness. Born in 1887, she became an art teacher when her family's finances ended her art studies. It was in a summer art class in 1912 that she met Arthur Wesley Dow. An American painter influenced by Japanese art, Dow taught his students how to use line and color to create the beauty of nature and how to capture the essence of reality, then simplify it. He also introduced the concept that our homes could be an expression of our personal selves. The O'Keeffe exhibition shows how Dow's "most talented" student took his philosophy and adapted it in her art, her homes, her wardrobe, and her lifestyle.
At age 30, O'Keefe gave up her teaching career and moved to New York to paint full time. A friend had shown some of her charcoal sketches to photographer and art dealer Alfred Stieglitz, who gave her a one-person exhibition. About the same time, Stieglitz taught her how to pose and made his first of many photographs of her.
O'Keeffe and Stieglitz lived together, marrying in 1924 after his divorce was finalized. Their marriage lasted until his death in 1946. Although O'Keeffe had a well-defined personality when she met Stieglitz, he taught her how to use her wardrobe to reinforce her image and helped her refine her aesthetic.
Stieglitz photographed O'Keeffe in black and white for many years, and he organized her first museum exhibition at the Brooklyn Museum in 1927.
O'Keeffe developed an independent style of dressing early. The fashion for young women in the early 20th century was dresses with lace, ruffles, pleats, and tiny waists, along with large hair bows. O'Keeffe's personal style was much simpler. Her dresses had little or no ornamentation. Though she eschewed lace and ruffles in her teens, many of the blouses she wore in later years had lace trims, pin tucks, and ties at the neck to soften the severity of her black suits.
After she moved to New York and during the 1920s and 1930s, she adhered to a black-and-white wardrobe. Her standard summer outfit was a black skirt and white blouse. In winter, black was dominant in her wardrobe and her art. When she moved to New Mexico after Stieglitz died, she adopted a simple western look of jeans and shirts and wraparound dresses for everyday. From the 1960s through the 1980s, O'Keeffe's two signature outfits were the wrap dress and the black suit.
During the early years, O'Keeffe made most of her clothes and was known for her sewing skills. The tunics in the first group of garments are nicely made in lightweight silk. Since these dresses were carefully stored and moved from one residence to the next for more than 50 years, exhibit curator Wanda M. Corn concluded that they were meaningful to O'Keeffe and perhaps she had saved them because she had personally sewn the dresses and tunics. She continues with this supposition and attributes many garments without labels to O'Keeffe.
However, close examination of some garments could lead to different conclusions. For instance, a kimono in the collection labeled a "unique" design may have been custom made for O'Keefe rather than self-sewn because of a poor pattern match on the left sleeve, which an exacting artist would likely not have planned and sewn.
Here are some of the highlights from the exhibition: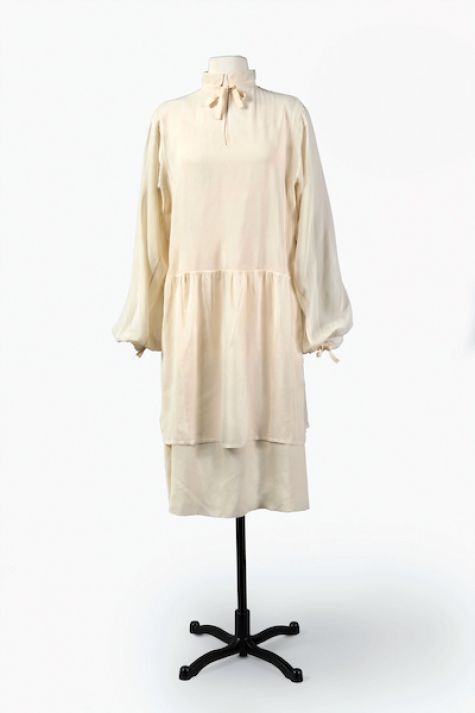 (Photo: courtesy of the Brooklyn Museum)
From the 1920s, tunics were worn over an underdress of the same fabric. This ensemble is silk crepe and attributed to O'Keeffe.


An apparent O'Keeffe favorite, this linen blouse from the mid-1930s was mended twice at the back neckline. The blouse has an elaborate pin-tucked design with two large motifs at center front, which may represent shells or leaves, two frequent motifs in the artist's painting. The blouse, whose pin tucks were hand-sewn, is attributed to O'Keeffe.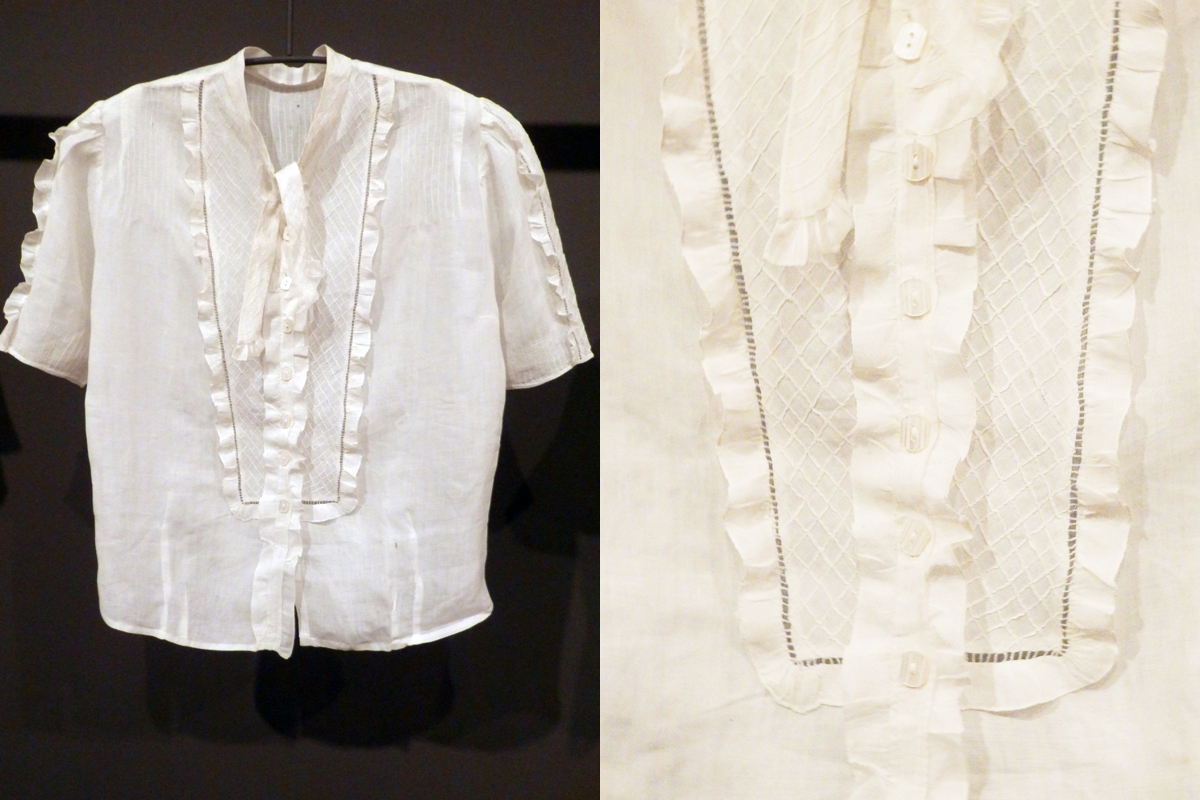 Although O'Keeffe disliked ruffles and flourishes, she had a penchant for blouses with intricate detailing.
The bib, tie, and sleeves feature pin tucks in a cross-hatch pattern. The fabric would have been pin-tucked on grain then the pin-tucked sections would have been cut on the bias. The bib is sewn to the bodice with fagoting. Narrow ruffles with hand-rolled hems trim the edges of the bib, end of the ties, and front band.
On the detail at right, above, notice the pin-tuck pattern on the yoke, fagoting, and the tiny hems on the ruffles.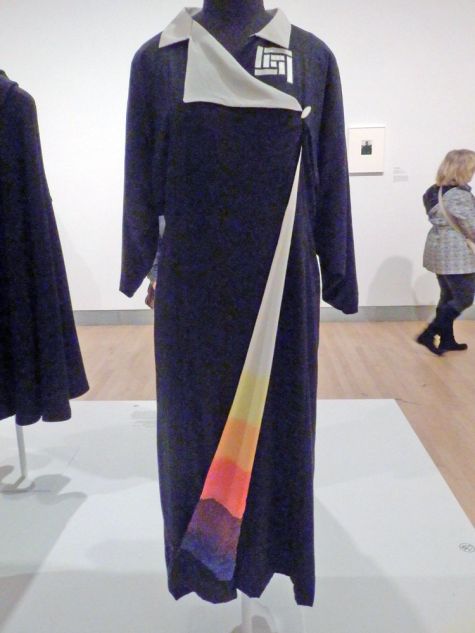 This elegant kimono-style evening coat is trimmed with a white silk collar, lapel, and appliqué. The facing is handpainted.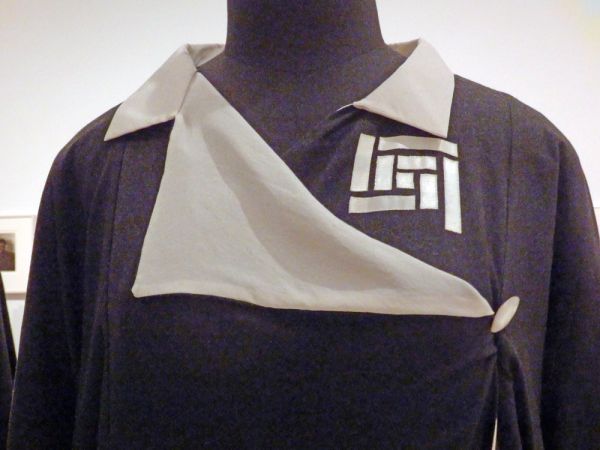 The appliquéd satin motif on the coat is reminiscent of Art Nouveau details.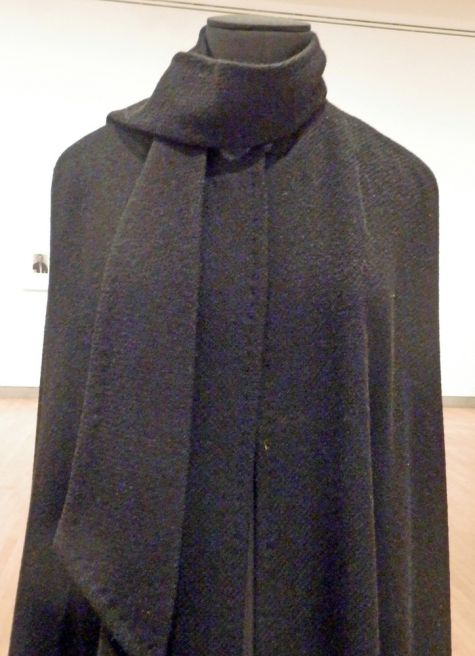 Attributed to Zoë de Salle, this cape is from the late 1930s. De Salle was known for her timeless capes, which were made from the best fabrics. This monastic design features a tie at the neck edge.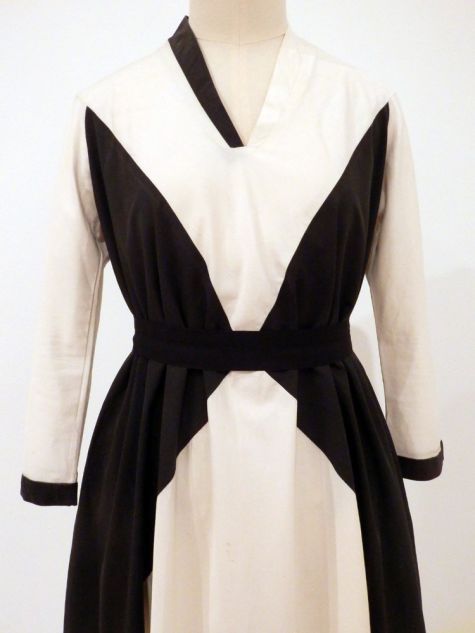 The 1954 "Chute" dress was one of Emilio Pucci's first dresses sold in America. "Chute" –shorthand for parachute– has no waist seam but flares from the waist when belted. The black sections extend from the shoulder to the hem in a geometric pattern. There are no photographs of O'Keeffe wearing the dress, but there were handkerchiefs in the side pockets when it was cataloged, indicating it was worn. O'Keeffe liked the layered look and frequently added contrast cuffs and collars. Here, the collar is replaced by a single band on one side of the neckline.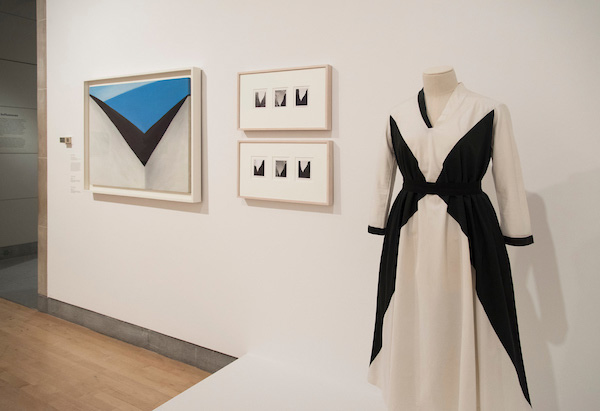 (Photo: courtesy of the Brooklyn Musuem) This installation view shows O'Keeffe's art with the Pucci "Chute" dress.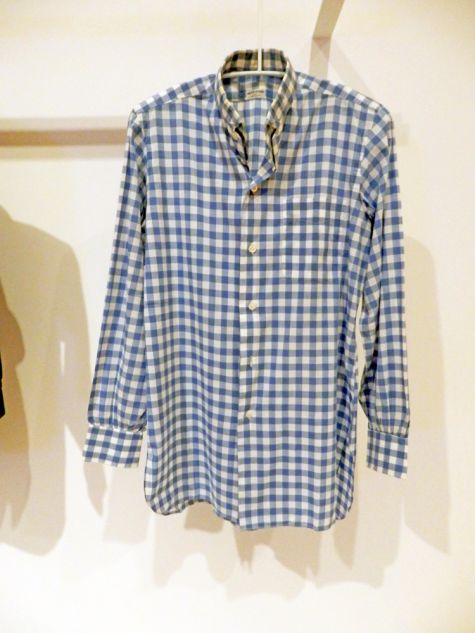 A gift from the New Yorker art critic, this shirt was such a favorite that O'Keeffe folded the worn collar to the inside and sewed it down to create a standup collar.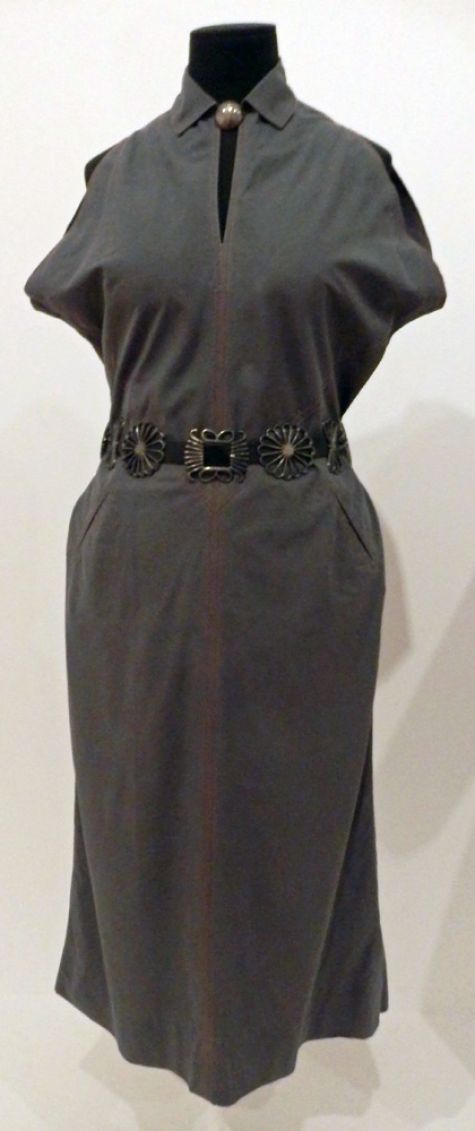 This dress was designed by Claire McCardell for Townley Frocks (1950s). O'Keeffe called McCardell "the best woman designer we've ever had." She had a local seamstress make copies of the dress in other fabrics and colors. The pin at the neckline is a Navajo button that she had made into a pin.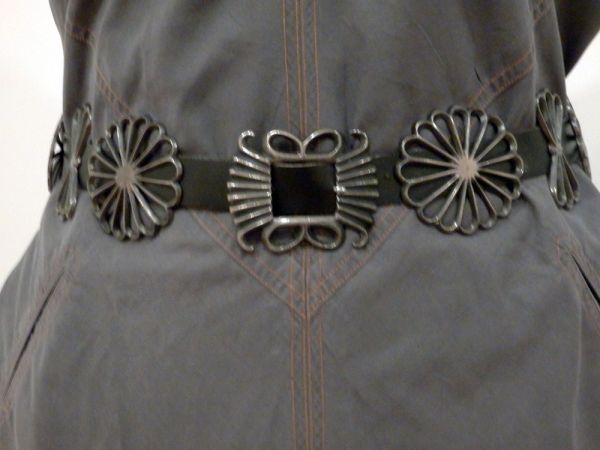 O'Keeffe frequently wore this 20th-century concho belt.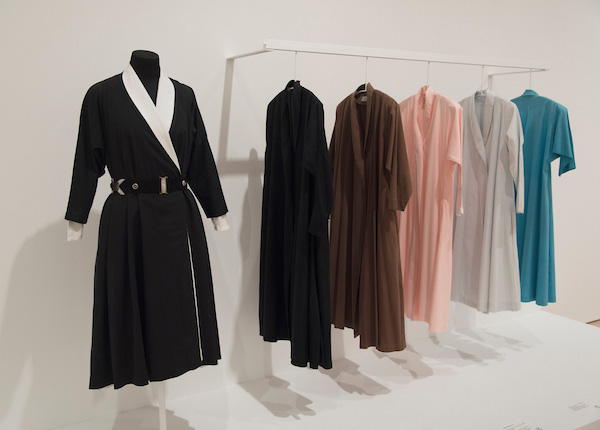 The wrap dress was a staple for several decades in O'Keeffe's wardrobe. She bought her first wrap dress, an artist's smock, from Neiman Marcus in the late 1950s. She had her seamstress copy it in a variety of colors. The wrap dress was lightly fitted at the waist and flared below the belt. The dresses were comfortable like a kimono, but the sleeves were fitted so the arms could move more easily.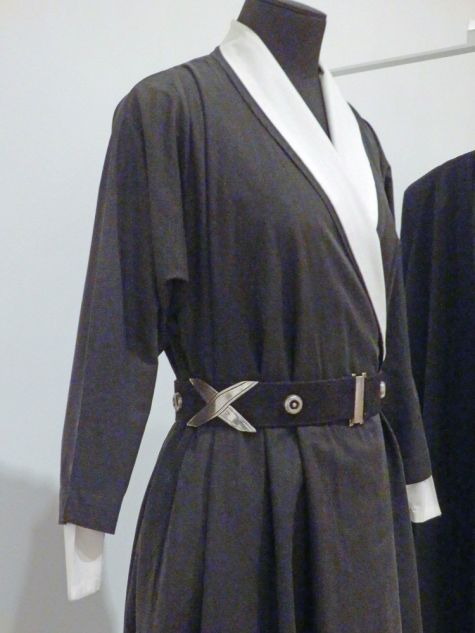 The wrap dress was comfortable to wear and easy to accessorize. Here is a frequently worn and photographed black wrap dress layered over another wrap dress and shown with a Hector Aguilar belt.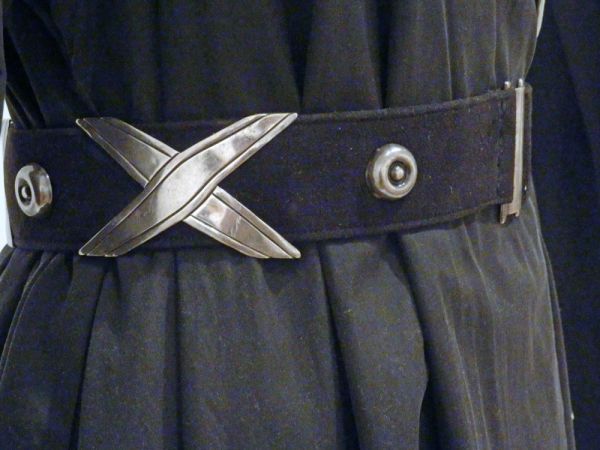 The X belt was made of black suede and sterling silver about 1950. Aguilar was a Mexican silversmith whose jewelry and belts were sold at Nieman Marcus and Saks Fifth Avenue.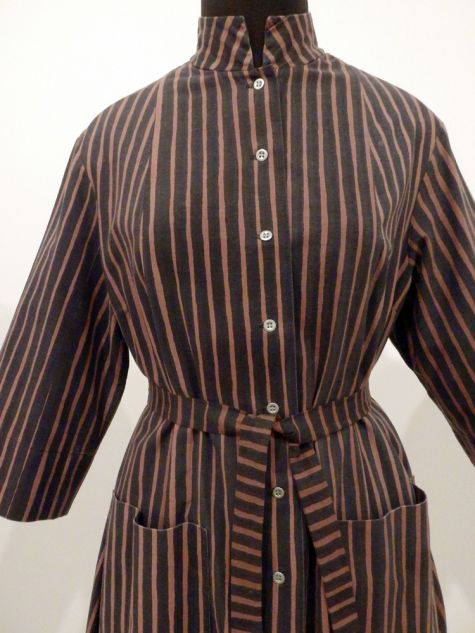 This Marimekko design acquired in the early 1960s incorporated elements O'Keeffe had already adopted as part of her personal style: waistless dresses, natural fibers, subdued colors, pockets, mandarin collars, and three-quarter sleeves.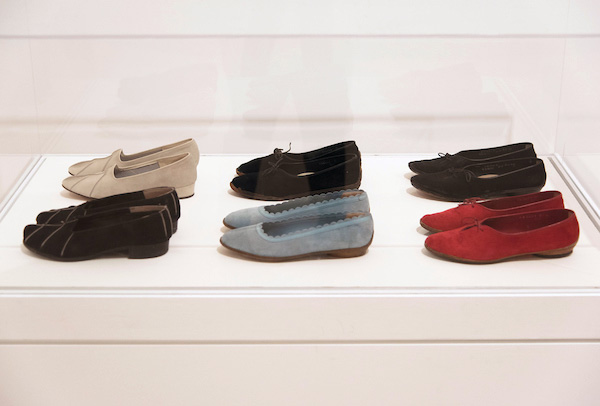 O'Keeffe preferred flats and frequently bought the same shoe in a variety of colors and materials.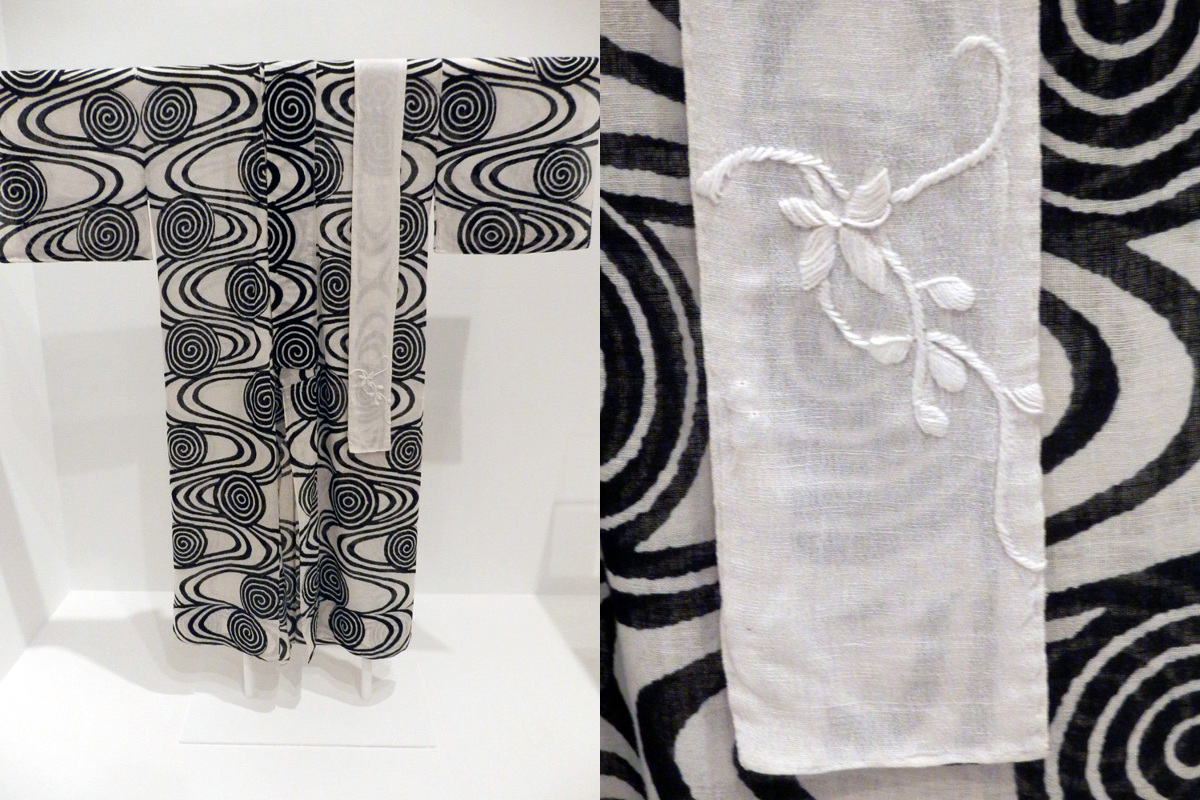 Introduced to Asian art by Dow, O'Keeffe bought her first kimonos in the 1910s and became a lifelong collector. She wore them in the Japanese manner, wrapped left over right and tied with a matching belt or sash. The swirl motif on this kimono was first used in Japanese art in the 18th century. Similar motifs were incorporated in the European Art Nouveau movement.
Lined with white cotton, the self-fabric belt has an embroidered motif on one end.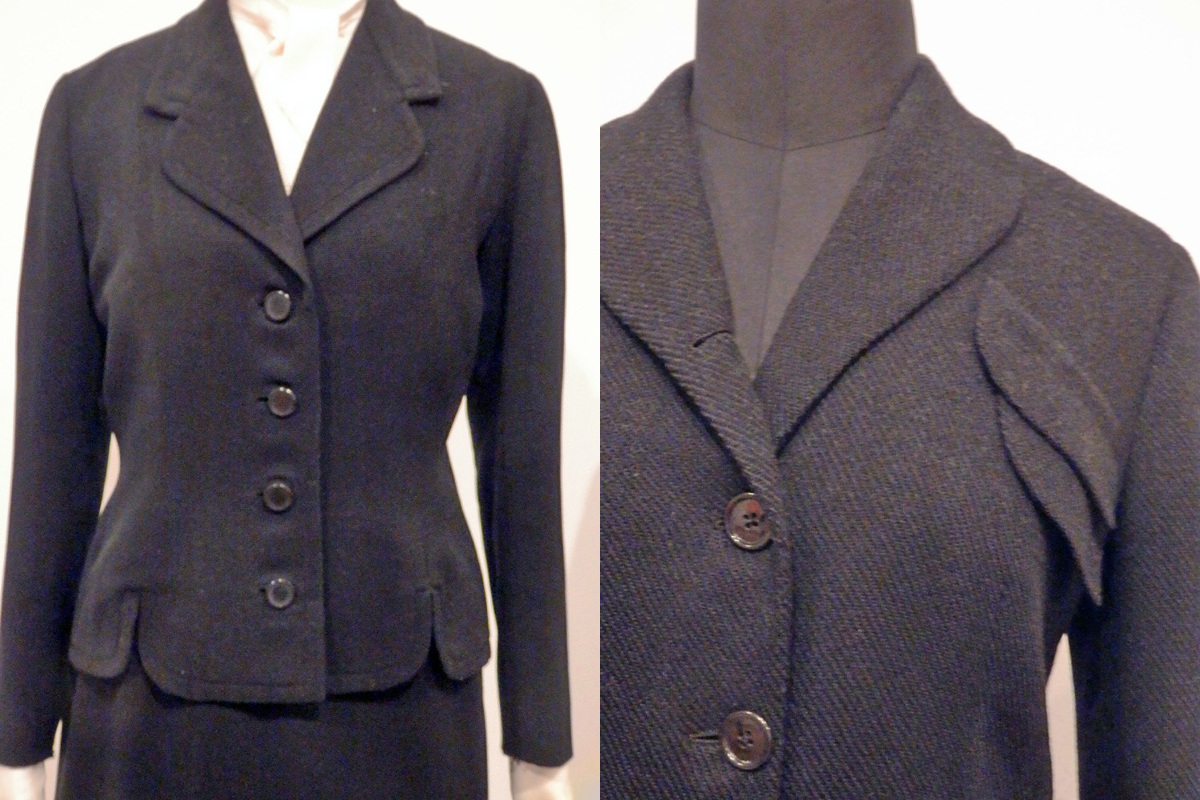 This Eisa suit by Balenciaga (above, left) was probably purchased on a trip to Spain in 1953 or 1954. When the zipper broke on the skirt, O'Keeffe replaced it with a teal-colored zipper since it wouldn't be seen.
From 1955, the wide shawl collar and angled flap pockets on this wool twill coat (above, right) show the influence of high-style women's coats. O'Keeffe wore the coat when photographed by Richard Avedon in 1958. The angled flaps duplicate the design of the pockets, but they were applied only to one side. The exhibition label doesn't indicate whether they are real pockets or simply flaps.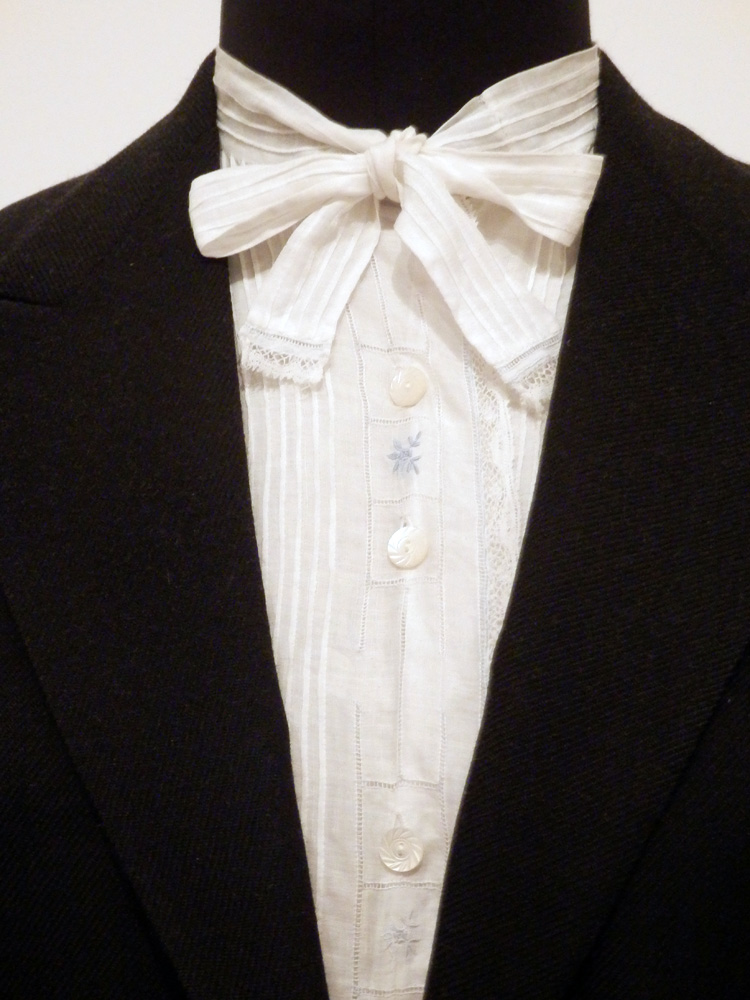 Beginning in the 1950s, her suits became more severe, but were often softened by a feminine blouse. Made by a French company, M. Vernet, this blouse features pin tucks, drawn-thread work, embroidery, and lace trims.
O'Keeffe dressed simply for comfort and ease from the time she was a young woman. Though she liked dresses that could be put on over the head or wrapped, pockets, loosely fitted designs without waist seams, and round or V necklines, she selected and wore them in a defined way to express her personality.
I enjoyed the exhibition but came away with the feeling that the curator knew more about art than vintage textiles and garment construction. This is a strong exhibition that shows O'Keeffe's integration of art, wardrobe, living spaces, and lifestyle; the curator's optimistic attributions that O'Keeffe made many of the objects is a distraction.
About the Exhibition
The exhibition is open through July 23, 2017 at the Brooklyn Museum; photos are permitted. The exhibition is accompanied by a comprehensive 320-page book about O'Keeffe.
Save
Save
Save