Pattern Roundup: Summer 2017 Open-Shoulder Trends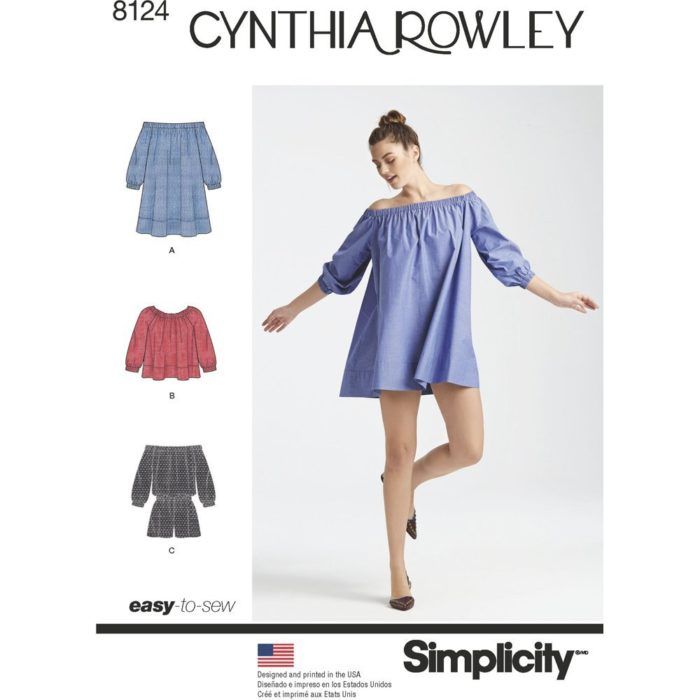 The open-shoulder trend took off roughly a year ago, so what's new this year? Clothing manufacturers are tweaking the off-the-shoulder look. Now, the cold-shoulder top is increasingly popular. This top, which leaves part of the shoulder uncovered, is supported by a shoulder strap; the remainder of the sleeve extends downward from about biceps level. Similar to this look is a slouchy, off-the-shoulder design. This leaves one shoulder bare while the other is covered. Styles range from flounce-trimmed tops to crochet tops. The trend appeals to a wide audience, making it a commanding look for summer.
This look can be sewn as a dress, top, or even a romper. It highlights the entire shoulder and can be worn off the shoulder or, more conventionally, on the shoulder.
The fabrics recommended are batiks, chambray, lawn, crepe de Chine, dotted swiss, double georgette, eyelet, gauze, gingham, and lightweight linen types.
This off-the-shoulder top includes options with shoulder straps or a halter strap. It can be made into a short or maxi-length dress, too. if you want to go with the slouchy shoulder look, just raise one shoulder. On the sleeves, add lace trim, ruffles (try wide lace), or tie cuffs.
Recommended fabrics: batiks, challis, chambray, cotton types, double georgette, gingham, linen types, lightweight sateen, seersucker, and silk types.
This pattern offers a variety of styles, including an off-the-shoulder cropped version, a one-sleeve T-shirt, and a draped surplice-front style with neck and waistband details.
The sizes are for stretch knits only. Simplicity recommends using spandex blends, stretch lace, and stretch velvet.
Are you ready to bare your shoulders? Which style is your favorite?