Reader Tip: Nail Polish Makes Notions Match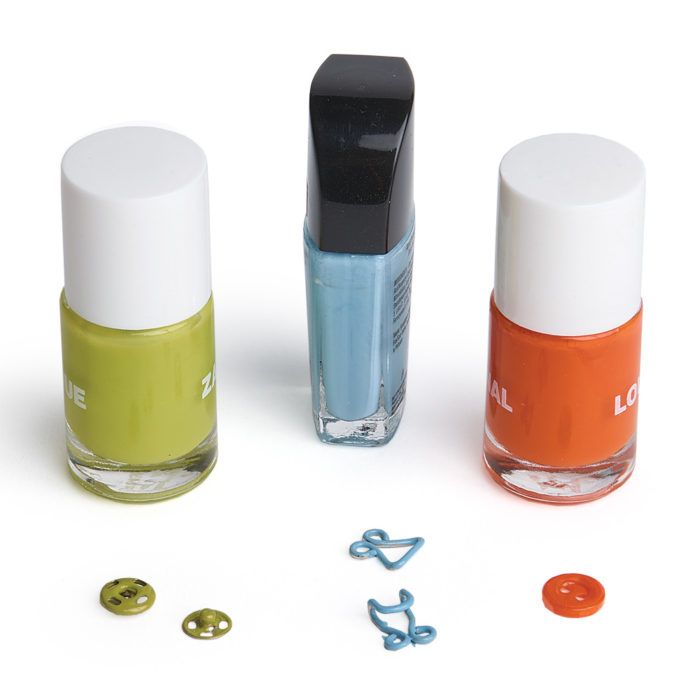 This reader-submitted tip was originally featured in Threads #192 (August/September 2017).
Now that nail polish comes in such a broad array of hues, I have collected many bottles, and I find them useful in the sewing room. Transparent and metallic snaps can be coated to better blend in with a fabric, as can hook-and-eye closures. Buttons can be refreshed with a coat of polish, and sometimes I can make a near-perfect match for a lost button this way. I find the closest match in size and shape, then I paint all the buttons the same color. The mismatched one looks nearly identical to the others. To paint them without removing them from the garment, punch a small hole in a piece of card, then cut from the edge to the hole, slide the card under the existing buttons, and "paint" without fear of marking the garment. I also use nail polish to color-code sewing machines and their corresponding bobbins, extra bobbin cases, and specialized machine needles.
-Liz Powell, Thunder Bay, Ontario, Canada


---
Submit your tip!
At Threads magazine, we're always on the hunt for smart tips, tricks, and solutions to help you sew smarter, better, and faster. Send us your great ideas for a chance to be featured in the magazine's Tips department.
Tips can be emailed directly to Threads or mailed to Threads Tips, P.O. Box 5506, Newtown, CT 06470.
We pay for any tips published in our magazine.