Sewing Supplies for Travel
Threads shares favorite tools and supplies for sewing on the go.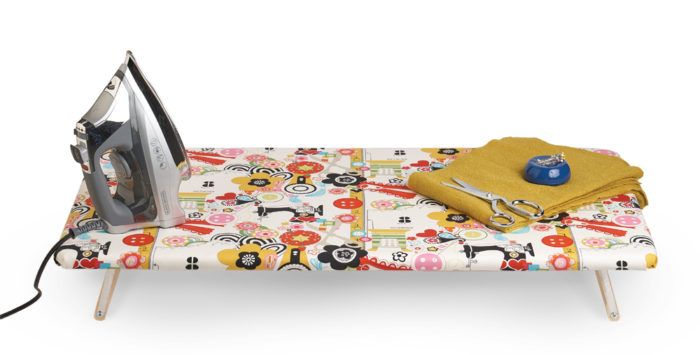 Sewing may not be an extreme sport, but sewers do like to move around. Whether en route to a workshop, expo, conference, or local sewing circle, we need to pack our sewing supplies and take them with us. Threads editors suggest some of their preferred notions and tools that make sewing on the go easy, pleasant, and productive. Check out a deliciously scented beeswax substitute, a peripatetic pressing surface, and a range of travel bags for toting it all in style.
Luxe thread conditioner

I do a lot of hand sewing for my historical costume-making hobby, as well as some hand finishing for modern clothes. When I don't have access to an iron and beeswax to condition my thread, my go-to is actually sold as a moisturizer: Bee Bar Lotion by Honey House Naturals. It's a solid cake that comes in a pretty tin, in a 0.6-ounce and a 2.0-ounce size. Just rub your fingertips over the wax and smooth onto the thread. Even when I'm not traveling, I default to using this wax because it's so convenient. I've never had a problem with it staining fabric and, as a bonus, it moisturizes my dry fingertips and helps prevent small rough patches from pulling at delicate fabrics.
—Stephani L. Miller, former special projects editor
Portable ironing boards

I have to iron where the job takes me, from the office to different photo studios. I want a TNT Quilt Board because it's a smart way to take an ironing surface wherever I need it, in a size matched to the space or my purpose. There are five size options, from the 12-inch Square Board to the 24-inch-by-66-inch Great Board. I'm interested in the 18-inch-by-36-inch Travel Board (shown). It weighs 11 pounds and has folding legs and a handle. Handmade in Massachusetts by a quilter's husband, the boards have two layers of batting beneath a cotton cloth cover, with cute prints or classic solid covers.
—Sarah McFarland, editor

Available from TNTQuiltBoards.com.
Travel bags

As soon as I saw these bags, I thought I'd want one to carry my machine and anything else I can think of. After using one, I fell in love. The Bluefig travel collection comes in just about any size configuration your sewing equipment may require, and in a wide array of beautiful fabrics. There is a large wheeled trolley for a machine on the go; a project bag big enough for a machine; and a small organizer case for all your notions, presser feet, and patterns. The tote bag is roomy enough to hold lots of supplies and is convenient for everyday use. Bluefig also offers quilting and yarn bags, artist series bags, and crafter tote series bags for art supplies. The bags are collapsible for easy storage. The only problem is which one to buy and in what colorway. Warning: If you buy one as a gift, you may like it so much that you never give it away.
—Aimee N. Seaver, former associate editor

Available from Bluefig.net.
Excerpted from "Inspiring Gifts" in Threads #194, Dec. 2017/Jan. 2018.