Holiday Gift Ideas for Everyone Who Loves to Sew
We're serving up more gift ideas to supplement "Inspiring Gifts" from Threads #194.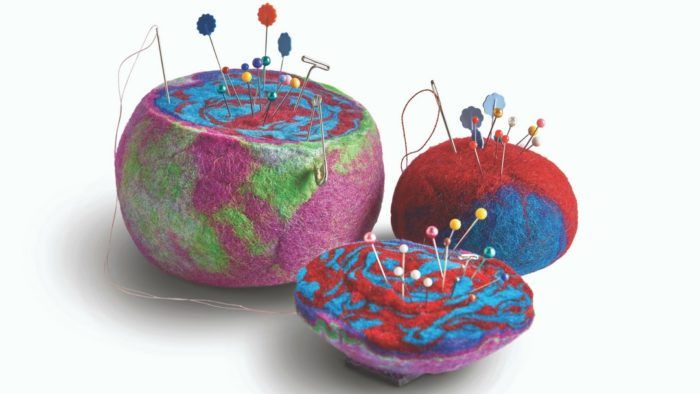 From cutesy stocking stuffers to deluxe presents for every level of sewing enthusiast, the Threads holiday gift guide in #194 (Dec. 2017/Jan. 2018), is overflowing with gift suggestions from the Threads team.
"Inspiring Gifts," p. 62, showcases new products and sewing notions that improve or inspire the sewing process.
Below are additional items worthy of mention:
Vintage vibes
A really good sewing book is an indispensable tool in the sewing room. A vintage title is a good way to go, but if you're looking for something with a fresh perspective, Gertie's Ultimate Dress Book: A Modern Guide to Sewing Fabulous Vintage Styles, by Gretchen Hirsch (Abrams, 2016) offers retro dress styles (patterns included) and a combination of fabric, sewing, and construction basics, couture-level techniques, and careful instruction. The bodice and skirt patterns can be mixed and matched to create many flattering styles. An intermediate sewer will have no trouble working with these designs, and even a beginner can follow the instructions with some patience. I can't wait to try Gertie's method for clean-finishing a lining around a lapped zipper or her technique for easing princess seams together.
—Stephani L. Miller, former special projects editor
AbramsBooks.com; $35.00
Wearable sewing confidence
The enamel "No Regrets" pin by Colette is a fun way to pay homage to the love/hate relationship so many of us have with our seam rippers. I like to keep my pin stuck in a project board above my desk, but it could certainly be worn on a jacket or placed on a tote bag to show off your sewing cred to the world.
—Katie Strano, editorial assistant
ColettePatterns.com; $10.00
Pattern weights
Pattern weights may be the notion you never knew you needed. Once you have them, you will realize you need more than one set. I do not use them in place of pinning a tissue pattern to fabric, but when I am first placing and planning the patterns pieces, these weights are wonderful, especially in rooms that have ceiling fans.
—Louise Cutting, contributing editor
Amazon.com; $13.99
NancysNotions.com; $24.99

Specialty-fit sewing patterns
Several independent pattern designers are really stepping up their game these days, offering not only unique and interesting styles, but also specializing in drafting for certain size demographics or offering a range of bust cup sizes. My current favorite (seriously, I own all but one of the patterns released to date—and not because it's not cute) is Cashmerette Patterns. This line is drafted for plus-sized/curvy women (sizes 12–28) and in cup sizes C/D, E/F, and G/H. It has several pattern alterations that are commonly needed by plus-sized and curvy women. Using these patterns is the first time I've ever been able to make a pattern right out of the envelope and have it come anywhere close to a great fit.
—Stephani L. Miller, former special projects editor
CashmerettePatterns.com; patterns priced individually
A workshop on design
I would love the gift of a workshop with Sarah Veblen at her Sparks, Maryland, studio. She teaches five- and six-day workshops on a variety of topics, including exploring fashion design, and sessions customized to what students ask to learn. Sarah is a wonderful teacher; she explains everything clearly and fully. She also has a practiced eye for design and gives excellent advice on what's flattering to each body type. I know I'd come away with many ideas for garments that suit my shape and my style. If you can't make it to one of Sarah's events, treat yourself to her fitting expertise in the form of in-depth classes on DVD or streaming, with her bodice and skirt videos in the Fit & Design Series.
—Carol J. Fresia, senior technical editor
SarahVeblen.com; $195.00–$790.00
Sewing and fitting expert Sarah Veblen (standing) teaches five- and six-day workshops in her Maryland studio.
Photo: courtesy of Sarah Veblen
For more information on the colorful Ewesful pincushion and other staff favorites, pick up the latest issue of Threads #194 (Dec. 2017/Jan. 2018), or become a subscriber to Threads magazine, or an Insider member for added digital benefits.
Let us know in the comments section below which gift idea you like best, or if you have a sewing-related gift idea you'd like to share.
Happy sewing in 2018!