A Visit to the Last Custom Glove Maker in NYC
Handcrafted LaCrasia Gloves have been worn by First Ladies and celebrities like Lady Gaga, Prince, and Michael Jackson.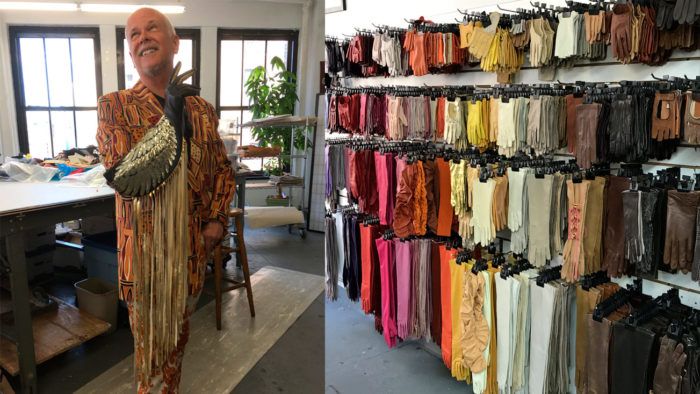 I recently stopped at the factory and shop of LaCrasia Gloves—now Wing & Weft Gloves—in New York's Garment District and was in heaven, surrounded by gloves of all sorts. They were so irresistible, I tried on a number of them.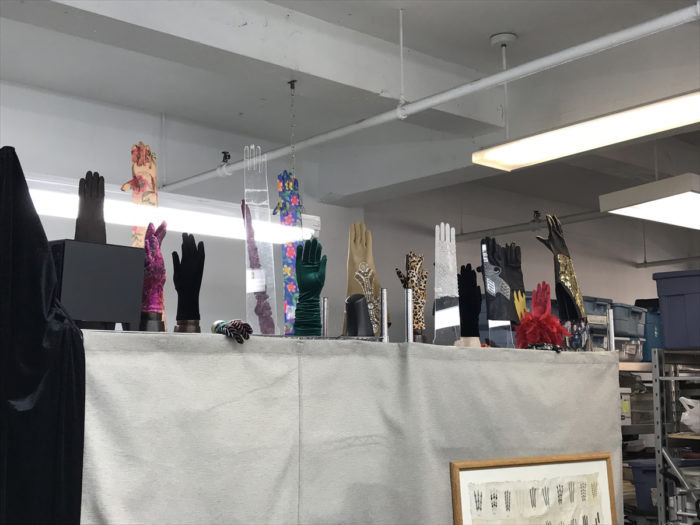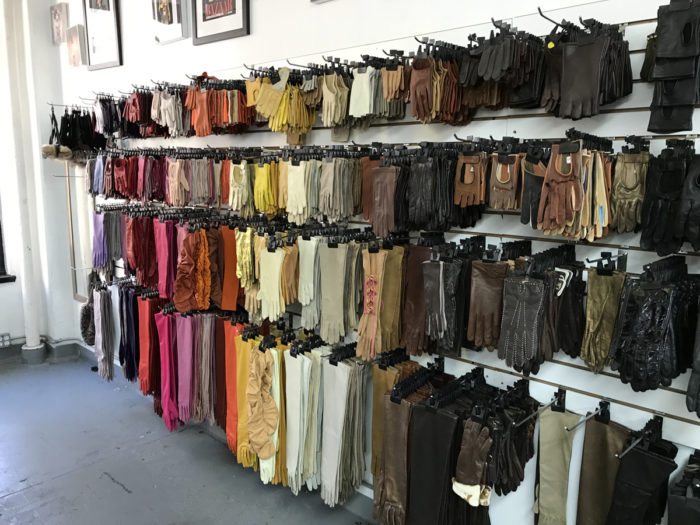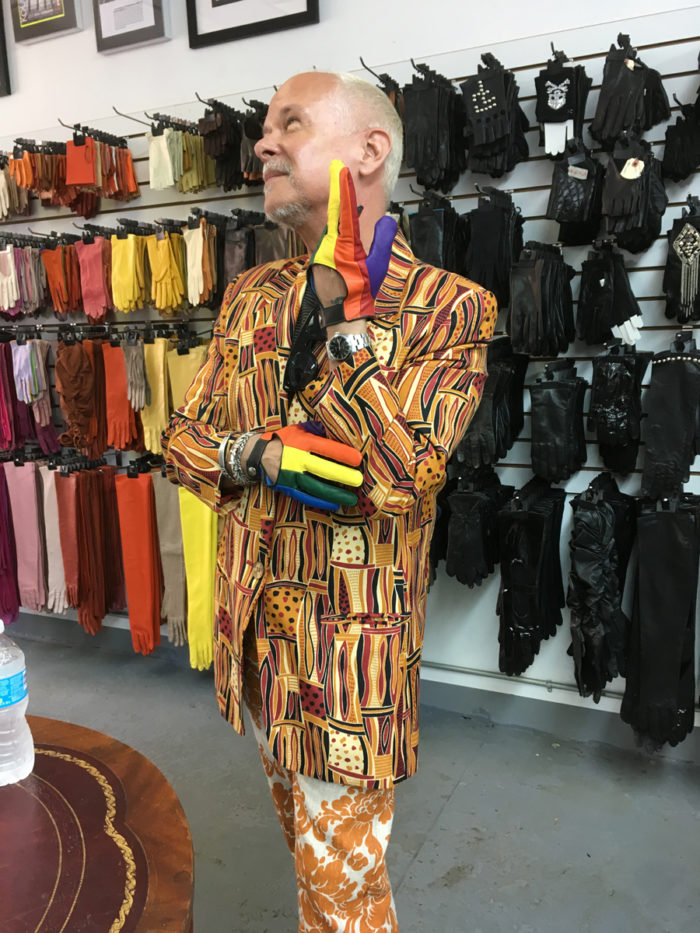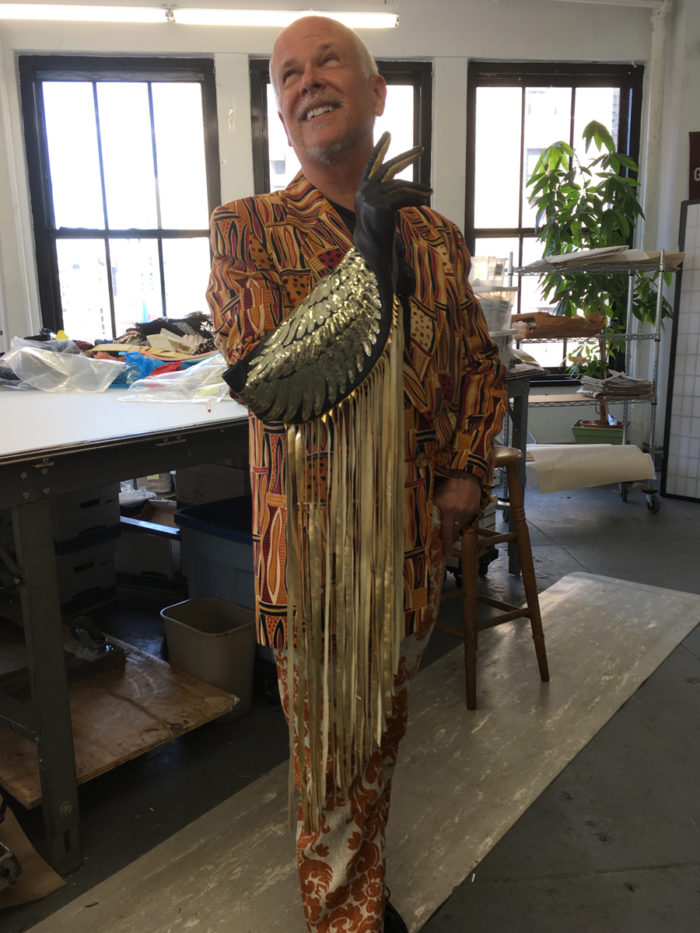 Some history
Jay Ruckel and Lacrasia Duchein, founders LaCrasia Gloves, turned over their business to two trusted colleagues in April 2017. The new owners, Sarah Timberlake and Katie Sue Nicklos, are keeping the last custom glove makers in the city alive under the name Wing & Weft Gloves. They have lots of help: Lacrasia  and her husband, Jay, serve as advisers and more, steering the business into its next phase.
Lacrasia and Jay have made gloves for 40 years in their Garment District location. They began practicing the craft after Jay himself learned from a master glover in historic Gloversville, New York, where glove-making had once been a thriving industry.
With the rise of mass production and imports, the apparel and glove-making industries in the United States and New York, in particular, have shrunk. At one time, LaCrasia Gloves employed 35 workers and produced 60,000 pairs of gloves a year, according to one published report. In 2017, LaCrasia, now called Wing & Weft Gloves, employs six and makes hundreds of pairs of gloves, according to new co-owner Katie Sue.
The Wing & Weft workroom looks much like other workrooms in the Garment District, but its output is rarefied.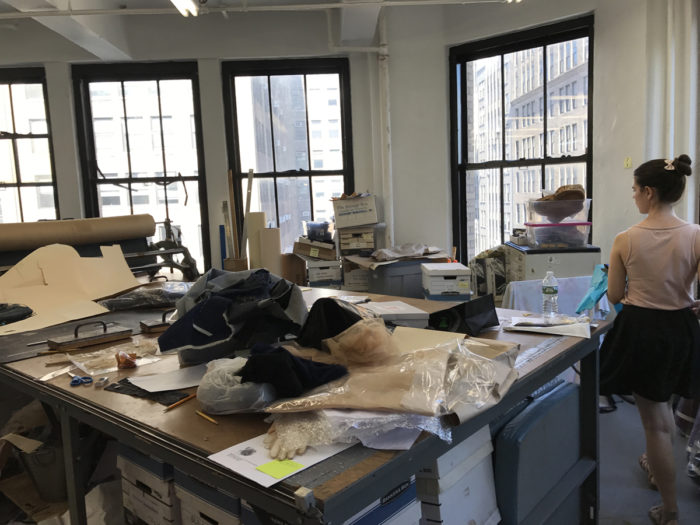 Work is done on specialty machines, like this sewing machine used to stitch the intricate parts of the gloves.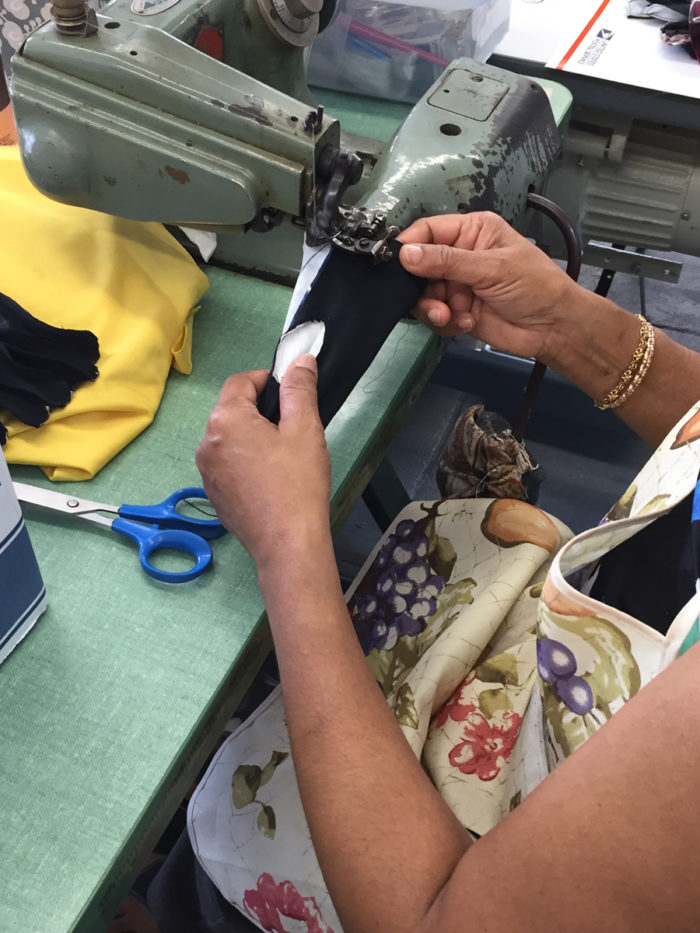 The tools of their traditional glove-making trade appear strange, like this scary-looking device used to turn the sewn gloves right side out.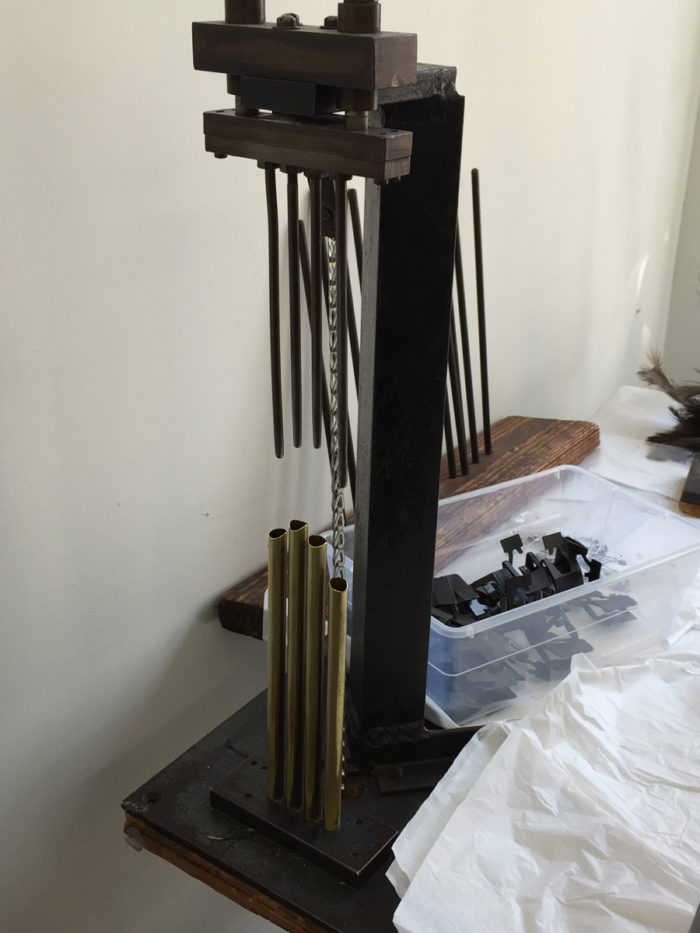 Another piece of equipment, which looks like a sculpture, is an iron used to press the finished gloves into the proper shape.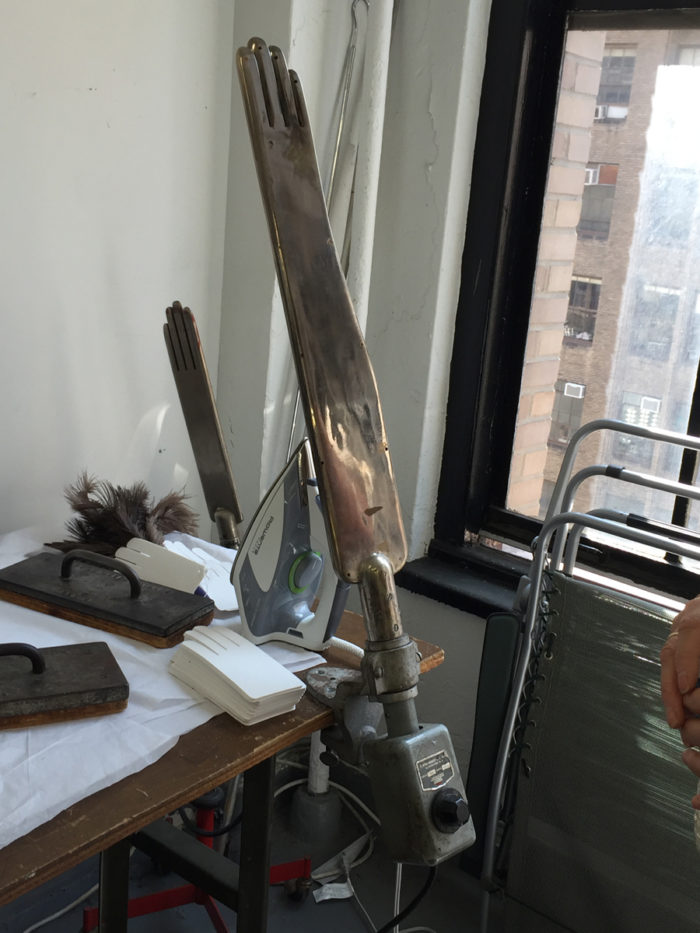 Jay and Lacrasia are still outfitting celebrities from Lady Gaga to the First Ladies. They also create gloves for debutantes and for Broadway shows such as the recent production of Hello Dolly! They continue to work with designers for Fashion Week and with couturiers for private clients. Katie Sue said they also complete small-batch manufacturing that consists mostly of die-cutting.
New owners Sarah and Katie Sue are now learning from Jay, who continues to work as the master glover, to keep the time-honored craft alive and to see bespoke gloves remain part of the fashion and performance industries.
"As theatrical costumers, Sarah and I have been loyal clients of LaCrasia Gloves for many years," Katie Sue says on the Wing & Weft Gloves website. "To continue this unique service in New York City's Garment District is a gift."
A working museum
The Wing & Weft Gloves factory/shop includes its own glove museum. The collection contains obsolete tools that have names and purposes all but lost to the world. They include a wooden last of an aristocrat's hand, carved during the 18th century, and a collection of glove guards once used by stylish ladies to attach their mitts to a handbag.
There's also a salesman's sampler, shown, for the embroidered points on the tranks (the main body piece of the glove). This sample of points is not obsolete, though. It was used as inspiration for creating the gloves worn in Hello Dolly!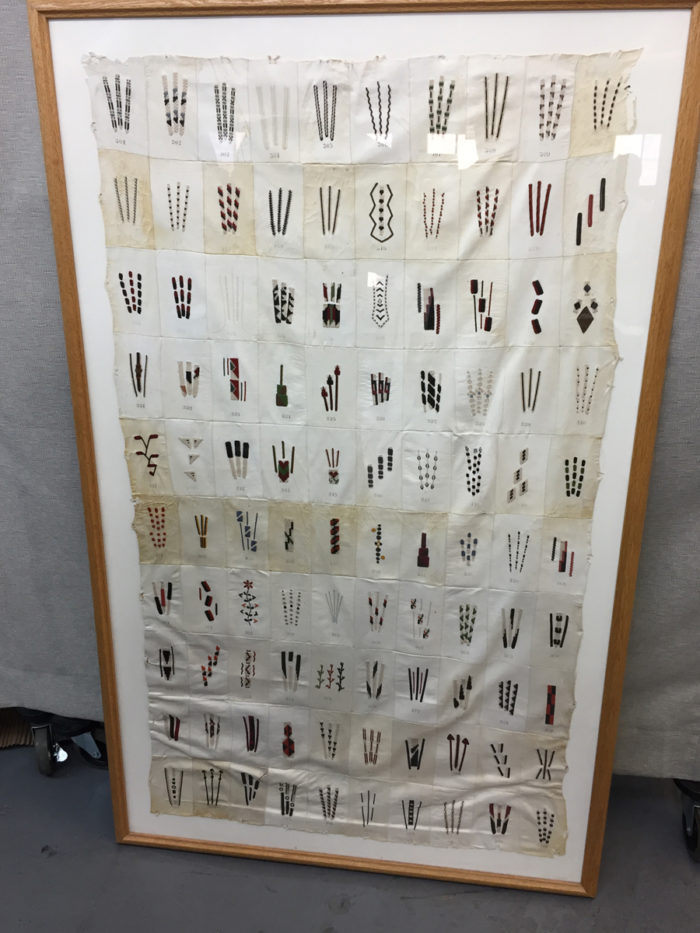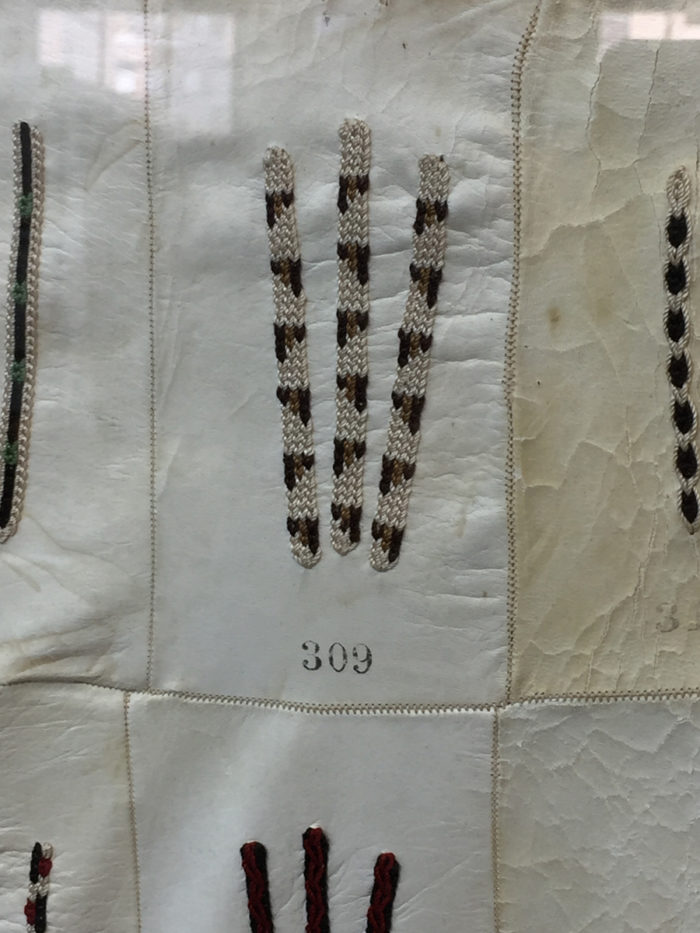 Other articles in the museum include a nearly ancient container of alum used by Victorian ladies to shrink their hands prior to the hour-long process of wrenching on kid gloves purposefully made fashionably tight. The collection has a wide array of glove turners, needed to reverse the items in question, which are sewn inside out; some are wooden, some amber, some improvised (a table leg). Jay says he owns more than 2,000 glove stretchers, and a few inventions whose use is uncertain even to him.
Other museum pieces are still in use. This die is used with a "clicker," to die-cut tranks for gloves made in multiples. There are also clickers for the fourchettes (the pieces in between the fingers), the thumb pieces, and the quirks (little gussets between the fingers, or at the thumb). See this article on the parts of gloves at The Dreamstress.com.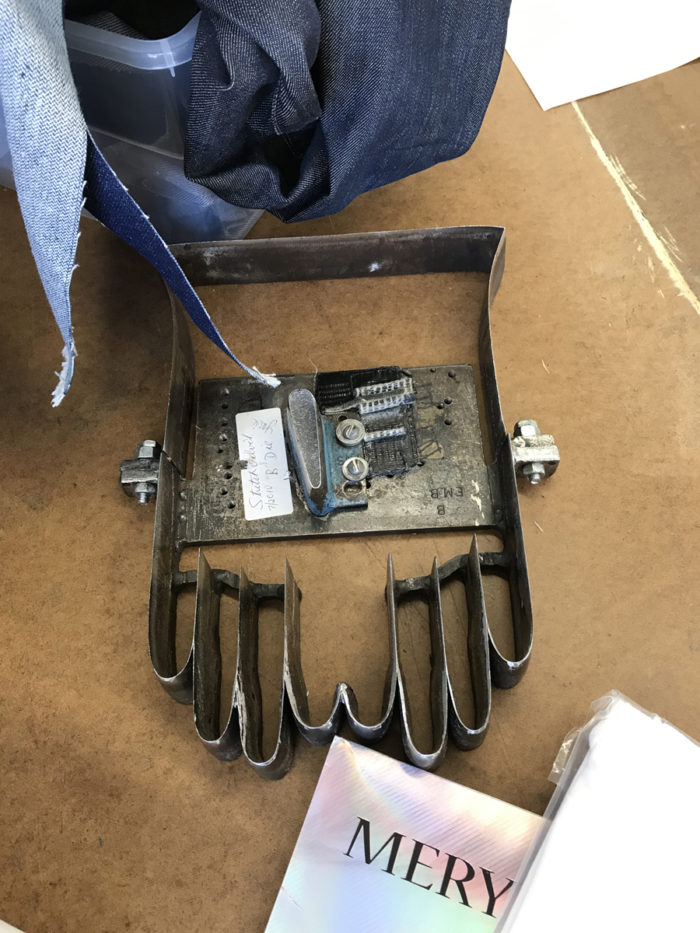 Celebrity clients
Michael Jackson's famous glove was created at LaCrasia Gloves. Even Jackie Kennedy commissioned their silk, elbow-length gloves, according to an article published in 2012.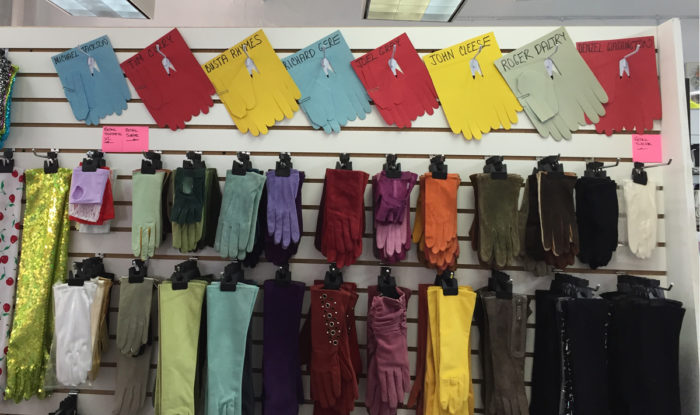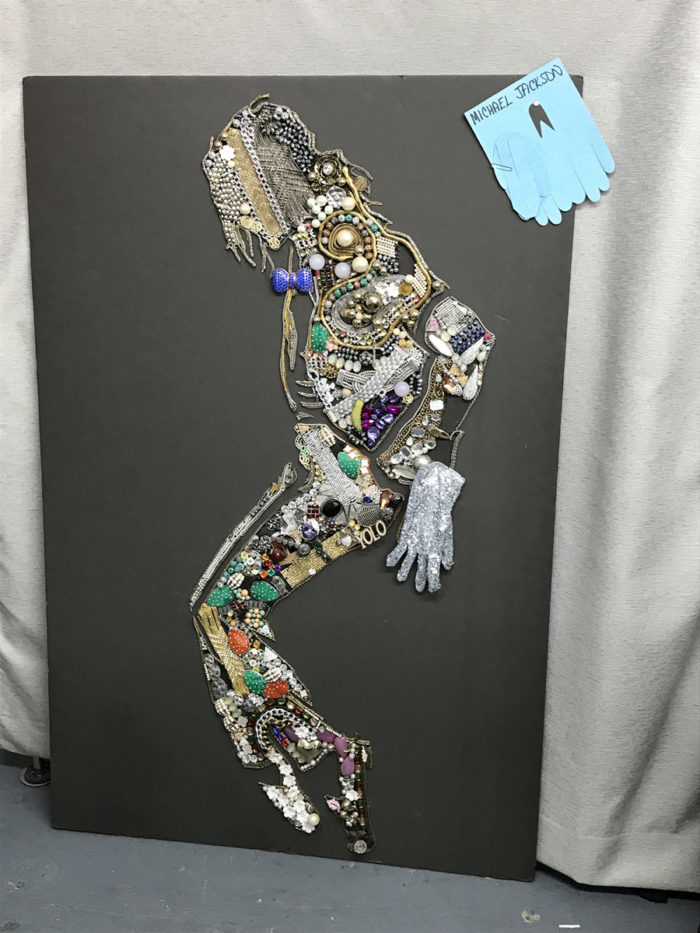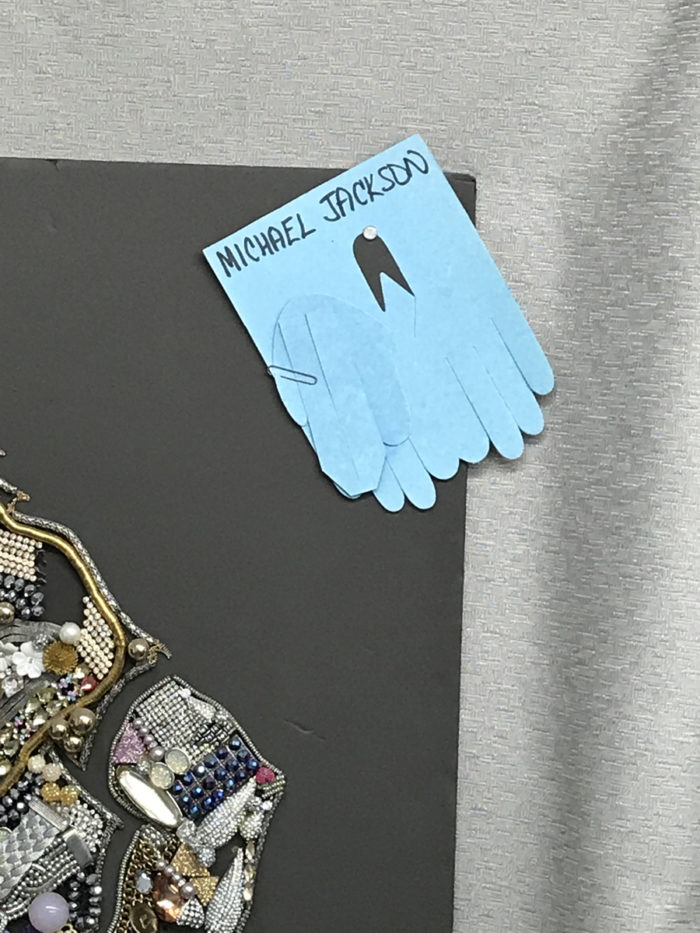 LaCrasia's history of outfitting the hands of Hollywood and Broadway aristocracy are no secret. Hung on a wall of the Wing & Weft Gloves factory and shop are hand-shaped cutouts identified as belonging to Kathleen Turner, Michelle Pfeiffer, and Nicole Kidman. Kidman wore LaCrasia gloves in the movie Cold Mountain.
Pfeiffer wore a pair of black vinyl sheaths as Catwoman in Batman Returns. In fact, LaCrasia has the catwomen in showbiz history covered: Eartha Kitt, Julie Newmar (both from the 1960s television series), and, more recently, Halle Berry, who required long leather gloves with crystallized rhinestone nails for the 2004 movie.
Another hand template on the wall is marked "Prince." For his Purple Rain tour, the flamboyant musician required 10 dozen purple lace gloves every two weeks. He wore each pair once.
Wing & Weft Gloves welcomes glove shoppers and visitors to their museum during weekday business hours. They also can schedule hour-long factory tours for five or more people for $150, Katie Sue says.
My experience
My husband commissioned a pair of gloves for me to wear for the holidays. Naturally I was excited to place my order.
The Wing & Weft Gloves staff took a tracing of my hand and then measured the base of my knuckles while I closed my hand. We decided on the style and officially placed the order.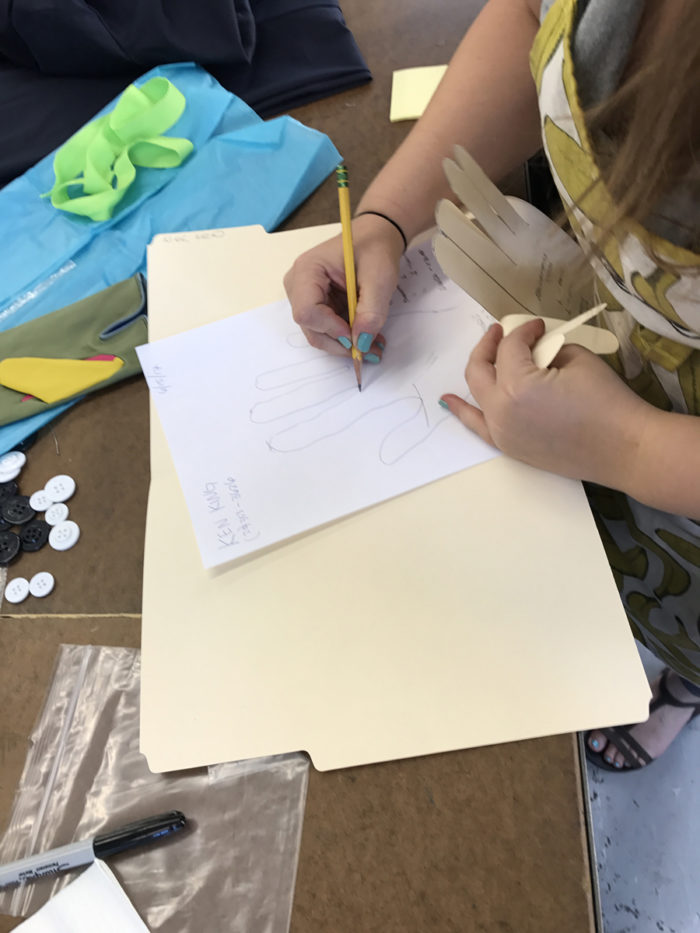 Later, Wing & Weft Gloves called, and I went in for my fitting.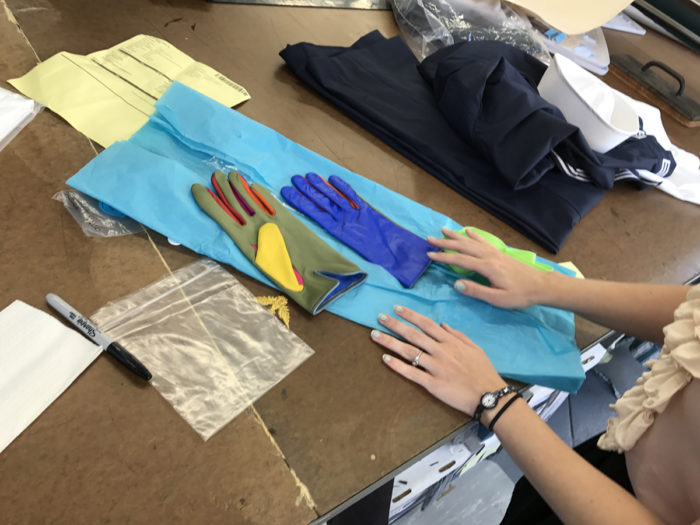 I tried on the gloves, which needed to be taken in a little.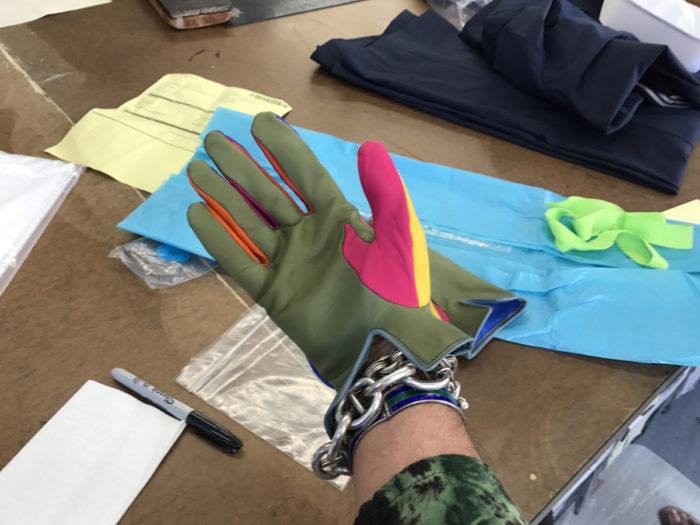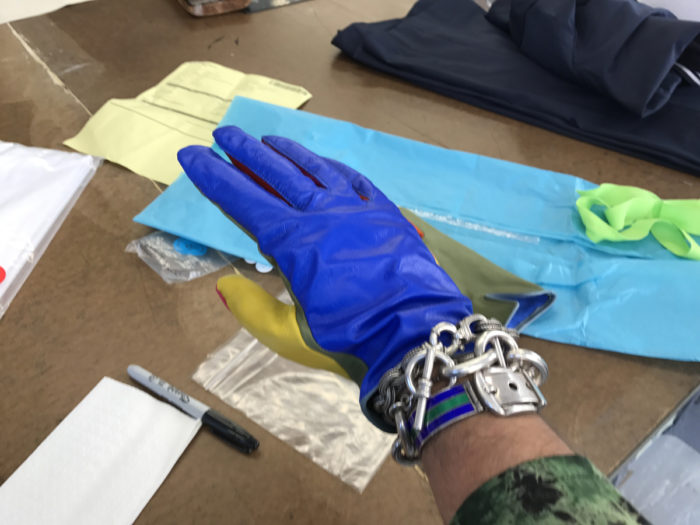 Changes were noted on the pattern and set to adjusting the gloves.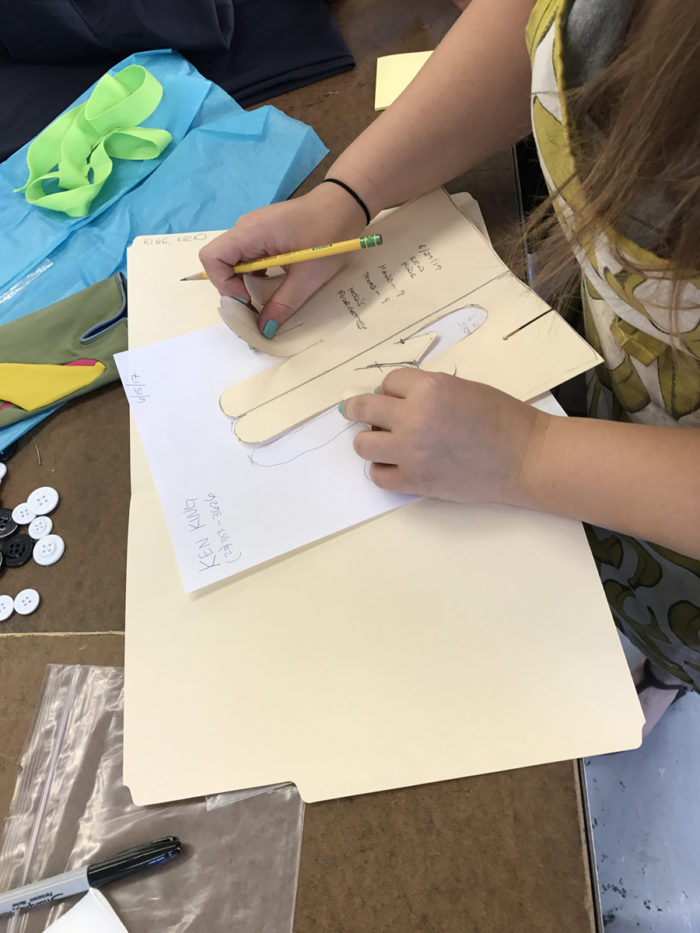 And a few days later, I had my custom-made gloves!