Adjusting Women's Pants With This On-the-Body Fitting Method for the Back-Crotch Seam
You'll be amazed at how precisely and easily it locates and fixes areas of poor fit.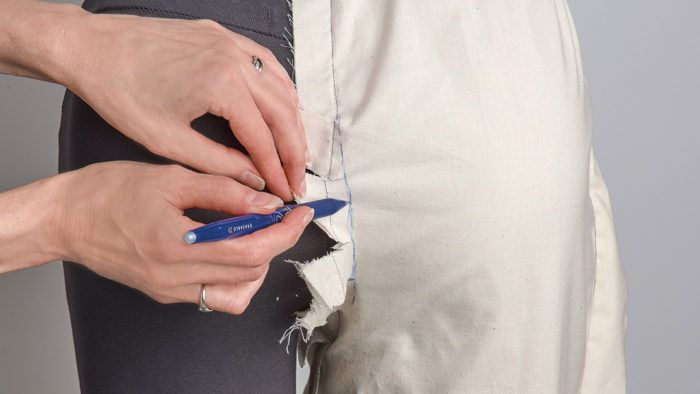 Fit the crotch curve directly
Here's an on-the-body fitting method that is odd to execute but is uniquely helpful in showing you exactly what fitting adjustment is needed at the back-crotch seam. You'll be amazed at how precisely and easily it locates and fixes areas of poor fit.
1. Expose the back-crotch seam and allowances. With your full muslin, place one leg inside the other, with the seam allowances on the outside. Put on the pants and anchor them with elastic at the waist. Check that the crotch seam is centered on the body.
2. Assess the pants back. If you have problems with the HBLs dipping or the grainlines bowing, you're likely to see fabric crumpled under the buttocks and in several places on the back inner thigh.
3. Clip the crotch seam. Clip into the seam allowances as far as, or even a good deal beyond, the seamline. As you work, you'll feel tightness along the seamline, indicating where you should clip. Clip until the crumpling disappears and tension is released.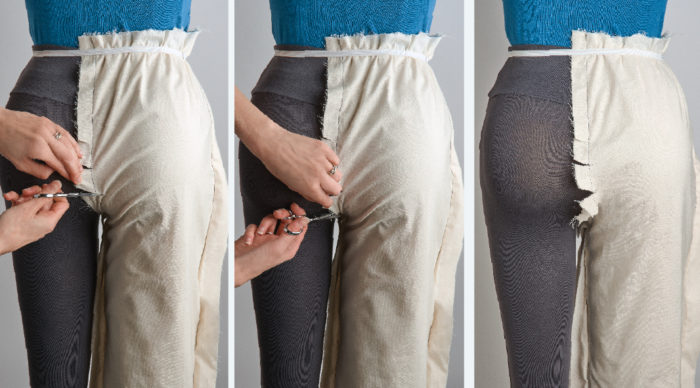 Clipping the crotch seam releases tension and eliminates wrinkles. By clipping, you reshape the crotch seam exactly as needed for the body. This is a straightforward method for creating the scooped and/or lowered crotch curve that many figures need for an optimal pants fit.
4. Redraw the crotch curve. When the fabric lies smooth and flat, draw the back-crotch curve, following the body's form and indentations.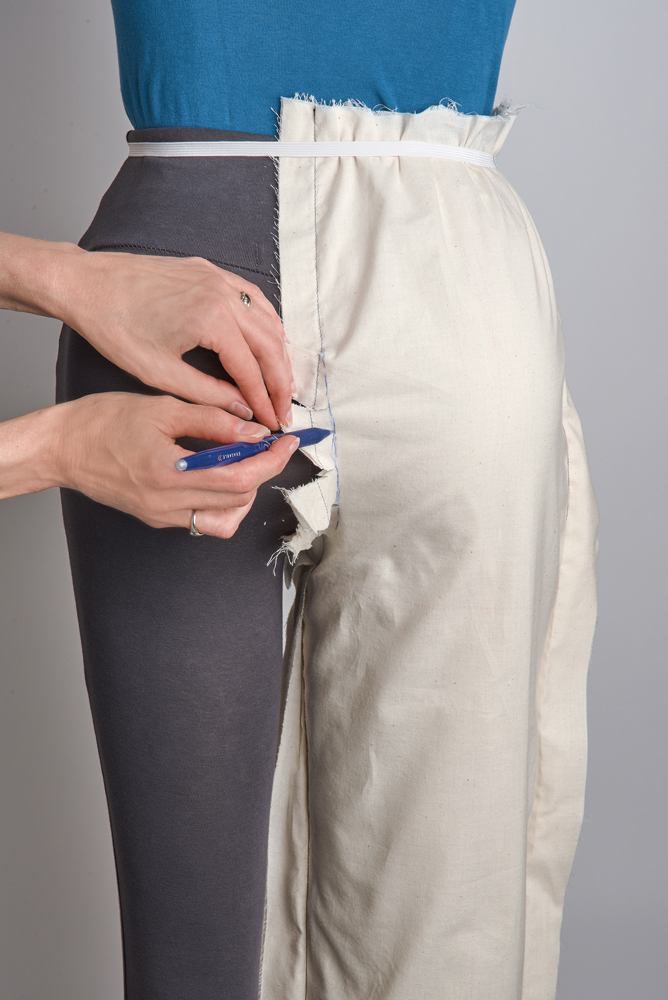 5. Adjust the pattern. Transfer this new seamline to the pattern and make a new muslin. Try it on, and make any additional alterations; you may need to add width at the side seams to compensate for what was lost in scooping and/or lowering the crotch seam.
This is an excerpt from the article "Improved Pants Fitting" by Sarah Veblen (p.54) in Threads #195.