Sewing-Related Events in January 2018
Check out sewing gatherings for January 2018.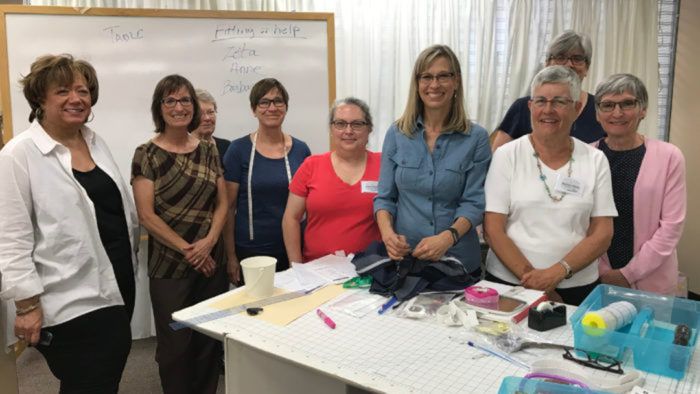 Jan. 2 – 5: Winter Break Adult Sewing Day Camp, Columbus, Ohio
During this four-day course at the Dabble & Stitch store, you'll explore the past 100 years of fashion using fashion archives and books—and maybe even fashion museum holdings during a field trip—to derive your own garment design from the past. You'll learn how to draw inspiration from the evolution of sleeves, coat collars, and color choices, and then determine what looks good on you. All students will find out how to take their measurements and draft a torso block pattern. The camp costs $150.
Jan. 11 – 14: Snowbound Stitch Camp, Butler, Pennsylvania
Sew and quilt with Amy Baughman during a four-day Snowbound Stitch Camp at the Conley Resort and Golf Club. At 6 each evening, Amy will conduct demonstrations ranging from free-motion couching/quilting to using Westalee rulers and the Brother ScanNCut material cutter. A cutting table and ironing stations are provided, but bring your own machine and project. Cost is $165 per person, including brunch and dinner. Attendees must make their room reservations, which are $79 a night.
Jan. 19 – 20: Two-Day Embroidery Event, Plant City, Florida
Learn machine embroidery techniques on Brother machines at this class hosted by Anita's University, the teaching side of embroidery design company Anita Goodesign. The two-day class includes lots of design packets and machines for sale. It runs from 9 a.m. to 5 p.m. at Hillsborbough Community College's Trinkle Center. The fee is $99.
Jan. 25 – 27: Arizona Quilt, Craft & Sewing Festival, Phoenix
For three days, you'll have the chance to attend quilting classes, workshops, and demonstrations at the Arizona Exposition and State Fairgrounds. You'll also have access to over 300 booths that sell supplies for sewing, quilting, needle art, and crafts. Best of all, there will be plenty of sales and door prizes. Admission is $10 for the three days.
Jan. 27-28: Pant Fit-and-Sew Event, Portland, Oregon
This two-day pant-fitting workshop, led by instructors Helen Bartley and Pati Palmer, is held at the Fabric Depot. The first day focuses on the Palmer/Pletsch tissue-fitting method, the best fabrics to use, how to measure, fill out a fit chart, and tissue-fit a pant that can be altered for an individual's shape. The second day hones in on cutting and pin-fitting fabric. Included in the workshop is a Palmer/Pletsch pant pattern, 17 hours of instruction, and lunch. The workshop costs $350.
Get the latest including tips, techniques and special offers straight to your inbox.