Check Out the Latest Issue of Threads Magazine | April/May 2018
Learn how to custom-fit pants with vertical seams, and more.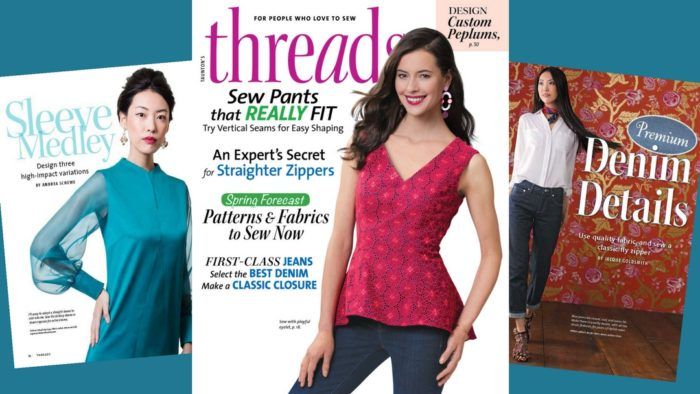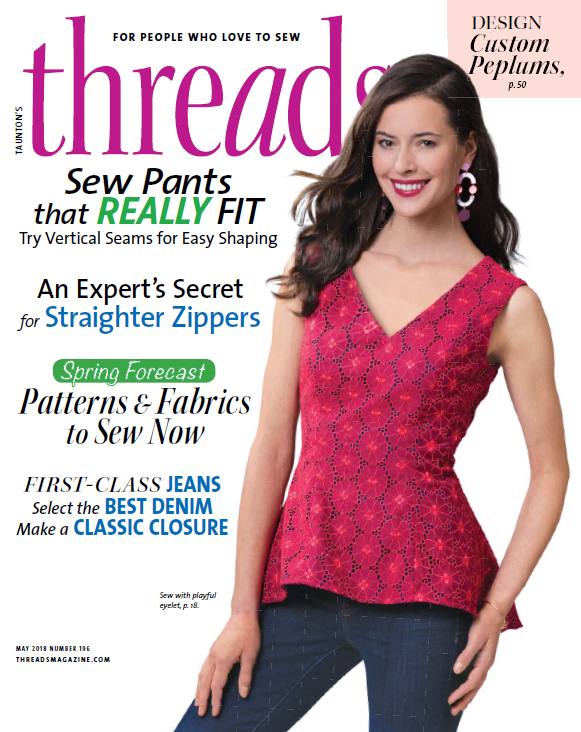 The April/May 2018 issue hit newsstands February 21 and contains feature stories on three high-impact sleeve variations, how to sew a classic fly zipper on denim, pants fitting, the forecast for spring fashion, and more.
There also are sewing tips, fabric inspiration, embellishment techniques, and pattern reviews. Accompanying several stories are Web Extra articles that are only available online.
Threads Insider members will enjoy exclusive 360-degree views of a raglan seam chambray dress from our Pattern Review department. Visit our Insiders page for more information on becoming a Threads Insider member. Insider members receive free digital and tablet access to magazines, exclusive sewing technique videos, our searchable online magazine archive, 360-degree views of select garments, and more.
What you'll find in Threads #196, April/May 2018:
Features
Precision Placket & Vent
Enhance basic tops with a tab-front or side-seam opening
by Louise Cutting
Premium Denim Details
Use quality fabric, and sew a classic fly zipper
By Jacque Goldsmith
Vertical Seams for Pants Fitting
Create opportunities to custom-fit your shape
By Judith Neukam
Flare for Peplums
From slim to full, there's a silhouette for every figure
By Judith Neukam
Sleeve Medley
Design three high-impact variations
By Andrea Schewe
Spring Into Fashion
Color and whimsy energize fabric and garment trends
By Stephani L. Miller
Departments
Contributors
Letters
Tips—Use painter's tape instead of pins, a simple way to thread machine needles, easy-access fabric storage
Notions—Adjustable clamp-on task lighting, washable lint rollers, templates for accurate folding and hemming
ThreadsMagazine.com
Fabric Lab—Enchanting eyelet
Embellishments—Weave with rickrack
How Did They Sew That?—Inset fabric bands
Pattern Review
Essential Techniques—Set your zipper straight
Pattern Hack—Knot ordinary sleeves
Sewing Saves—Embroidery to the rescue
Advertiser Index
Closures
Up Close