Give Your Jeans Professional Finishing Touches | Web Extra
A contoured waistband and topstitched belt loops complete the look of premium denim jeans.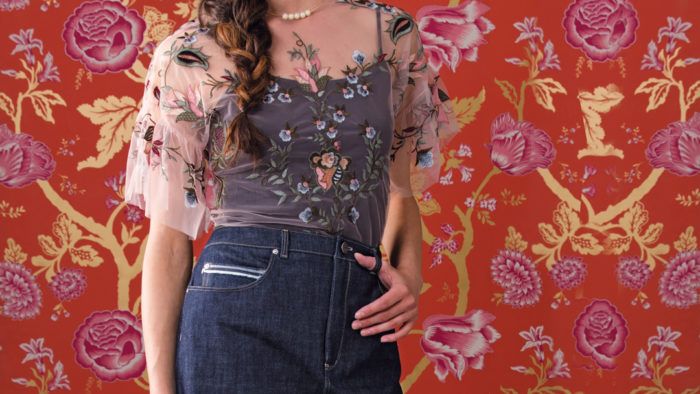 Take your jeans-sewing experience further with a well-fitting, curved waistband that won't stretch during wear, and belt loops that are quick to sew.
In Threads #196 (April/May 2018), author Jacque Goldsmith shows some of the features that go into high-quality denim jeans, including sturdy, indigo-dyed fabric and a professional fly-zipper closure. Find out how to add good-looking and durable finishing touches.
Stabilize a contour waistband
A curved waistband hugs the body more closely than a traditional straight band and is an excellent choice for many women. However, a curved band has many areas of bias grain along its edges, which tend to stretch and distort during wear. You'll need to stabilize the upper edge to keep the band fitting the way you like.
 1. Stabilize the waist edges. Cut the waistband and facing pieces and join them at center back. Press the seam allowances open. On the band, staystitch just outside the waist seamline, within the seam allowance. On the facing, sew a strip of twill tape, extending 1/8 inch into the seam allowance, with the stitching line just outside, within the seam allowance.
2. Join the waistband and facing. Sew up one short end, along the waist edge, and down the other short end.
3. Trim the seam allowances. Cut along the twill tape's edge.
4. Turn the band right side out. Then attach it to the jeans.
For more information on jeans waistbands, click here.
Stitch belt loops efficiently
Belt loops are essential for the look and function of a great pair of jeans. You don't have to sew individual loops, or make skinny tubes that are difficult to turn right side out in stiff denim. This method makes nice, even loops quickly.
1. Prepare a denim strip. Cut a strip 1 1/8 inches wide. For five belt loops, a standard number for most jeans, cut the strip 25 inches long. Serge one long edge. TIP: Use a yardstick as a pattern. Most are 1 1/8 inches wide.
2. Fold and stitch the strip. With the right side out, fold and press it in thirds, with the raw edge tucked under the serged edge. Topstitch along both edges. Don't worry if you don't catch the serged edge in this stitching; when the loop is folded and bar-tacked to the jeans, the edge will stay in place.
 3. Cut the loops. Cut five 3-inch-long pieces from the most evenly stitched portions of the sew strip. Attach them to the jeans as desired.
Get the latest including tips, techniques and special offers straight to your inbox.