Advanced Illumination with Stella LED Clamp Light | Notion
Brighten your workspace with this stylish task light.
Good task lighting is essential: You need to see clearly to create. The Stella EDGE LED Clamp Light is an investment in versatile lighting.
Available in white, gray, or black, the lamp is about 25 inches long from base to tip, with a head of smooth smooth aluminum alloy set on an articulated arm in a silicone rubber sheath. The lamp bends back and forth, side to side, and up and down, for precise positioning. Its steel C-clamp base has silicone pads to protect furniture, and it attaches securely to edges from 1/2 inch to 2 1/2 inches thick.
The 21 LED bulbs set in the lamp head, estimated to last more than 50,000 hours, emit no UV rays and little heat.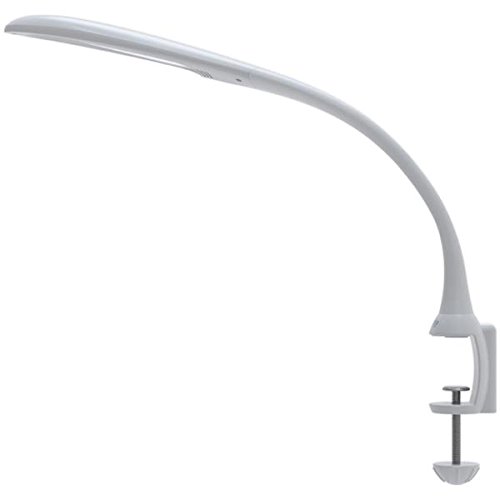 Use a remote control to turn the lamp on and off; set it to one of five brightness levels; and choose a warm, cool, or pure white light spectrum. The remote control magnetically attaches to the lamp base for convenient storage. Energy-usage details, which vary according to the settings, are available at the manufacturer's website. Portable, adaptable, and streamlined, the EDGE is an example of thoughtfully balanced form and function.
The Stella EDGE LED Clamp Light was a featured notion in Threads #196 (April/May 2018).