What You'll Find Inside Threads #197 | Preview
Take a peek at Threads' June/July 2018 issue.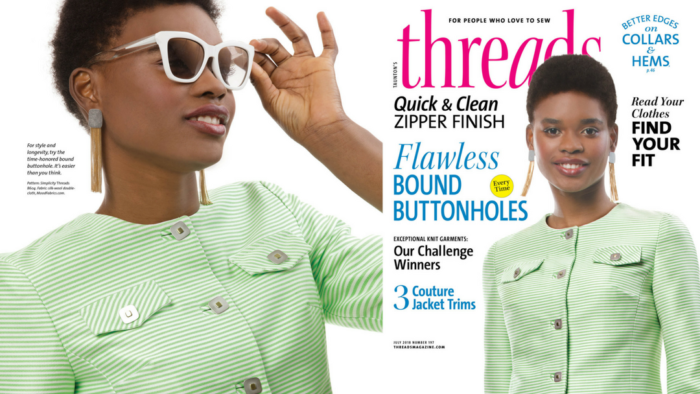 Threads #197, June/July 2018, arrives this week with feature articles on creating perfect bound buttonholes, instructions on how to use ready-to-wear garments to diagnose fit issues, a review of the winning designs from the annual Threads/Association of Sewing and Design Professionals (ASDP) challenge, and more.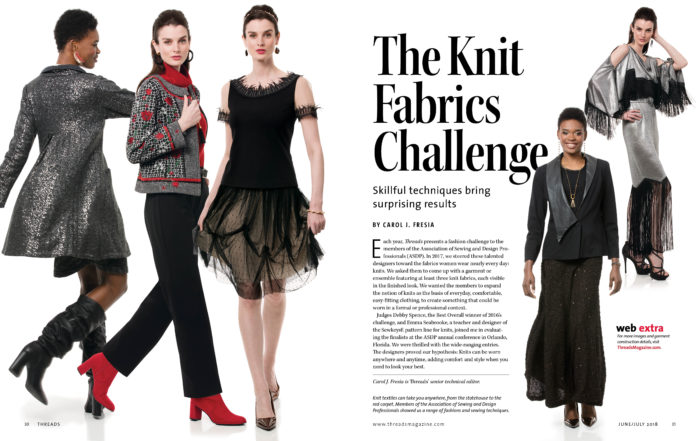 You'll also enjoy a buttonhole marking tip, learning to work with crinkled cloth, designer trim embellishments, the low-down on rotary cutters, and more.
Be sure to check out our #197 Web Extra articles available only on ThreadsMagazine.com.
With #197, Threads Insider members have access to an exclusive 360-degree view of a cotton sateen back-wrap dress. Visit our Insiders page for more information on becoming a Threads Insider member. Insider members receive free digital and tablet access to magazines, exclusive sewing technique videos, our searchable online magazine archive, 360-degree views of select garments, and more.
What's Inside Threads #197, June/July 2018:
Features
The Knit Fabrics Challenge
Skillful techniques bring surprising results
by Carol J. Fresia
Bound Buttonholes for All
A method simple enough for a 12-year-old
by Daryl Lancaster
How to Favor Seams
Roll them to the wrong side
by Debby Spence
Zipper Finish
Make a closure that looks good from both sides
by Mary Collen
Fitting Revelations
Uncover style and silhouette clues from purchased garments
by Judith Neukam
Unsung Stars of the Stage
A spotlight on the revered Parsons-Meares costume shop
by Kenneth D. King
Departments
Contributors
Tips – Binder clips tame fabric for cutting, precise buttonhole marking, ironing on a timer
Notions –  Singer Featherweight sewing machine, white pencil makes marks that iron away, glowing machine sewing guides
Fabric Lab – Crinkled cloth
Embellishments – 3 designer trims
ThreadsMagazine.com
How Did They Sew That? – Hand-roll a hem
Pattern Review
Essential Techniques – The spin on rotary cutters
Pattern Hack – Envelope dress
Sewing Saves – Replace a torn coat pocket
Closures
Up Close