Threads/ASDP Knit Fabrics Challenge: A Closer Look
Beautiful details from the Association of Sewing and Design Professionals' winning entries.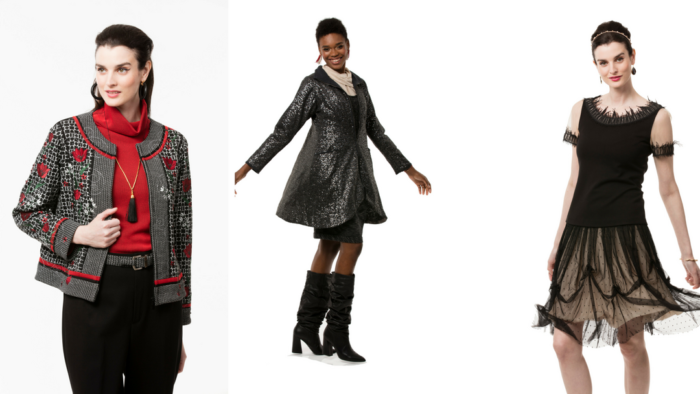 Every year, Threads presents a design challenge to the Association of Sewing and Design Professionals (ASDP). In 2017, we posed the Knit Fabrics Challenge.
The Knit Fabrics Challenge
Threads magazine challenges the members of the Association of Sewing and Design Professionals to design unique ensembles featuring knit fabrics. Use at least three types of knit textiles in your entry (hand-knits are allowed). Although you don't need to use equal amounts of each knit, each fabric should be visible in the finished garment or outfit. Small amounts of woven fabrics may be included for stabilization or embellishment.
Think outside the box of casual knits or activewear. Your look can be comfortable, but it should work in a professional or a formal context. Consider settings such as a boardroom or when giving a presentation, a formal or semiformal wedding, an exclusive restaurant, an evening at the opera, or a fancy awards dinner. We'd love to see something that's special and uses some of the spectacular dressy knit fabrics available. We encourage you to think beyond the typical special-occasion dress. What would make you feel beautiful, stylish, and comfortable?
As always, we'll be looking for excellent construction and innovative, wearable design. Stretch your sewing skills and take on The Knits Challenge.
The five winning entries displayed innovative approaches to working with knits. To find out more about each ensemble, look for Threads #197 (June/July 2018). Take a look at some of the details that captured our interest.
Best Overall: Patricia Robison, Shades of Gray Ensemble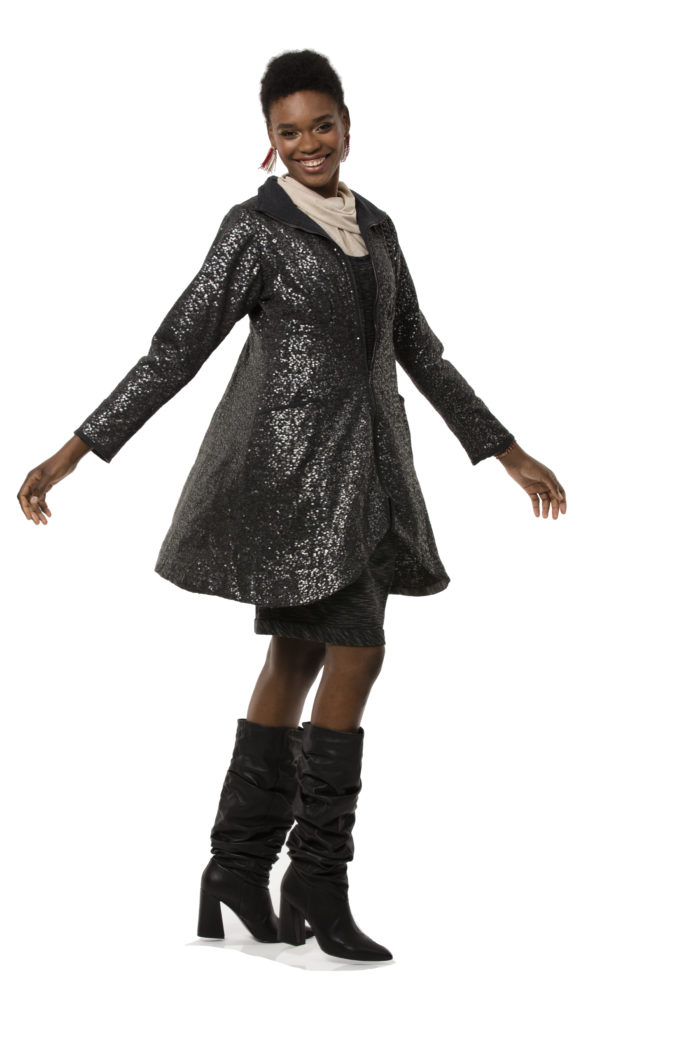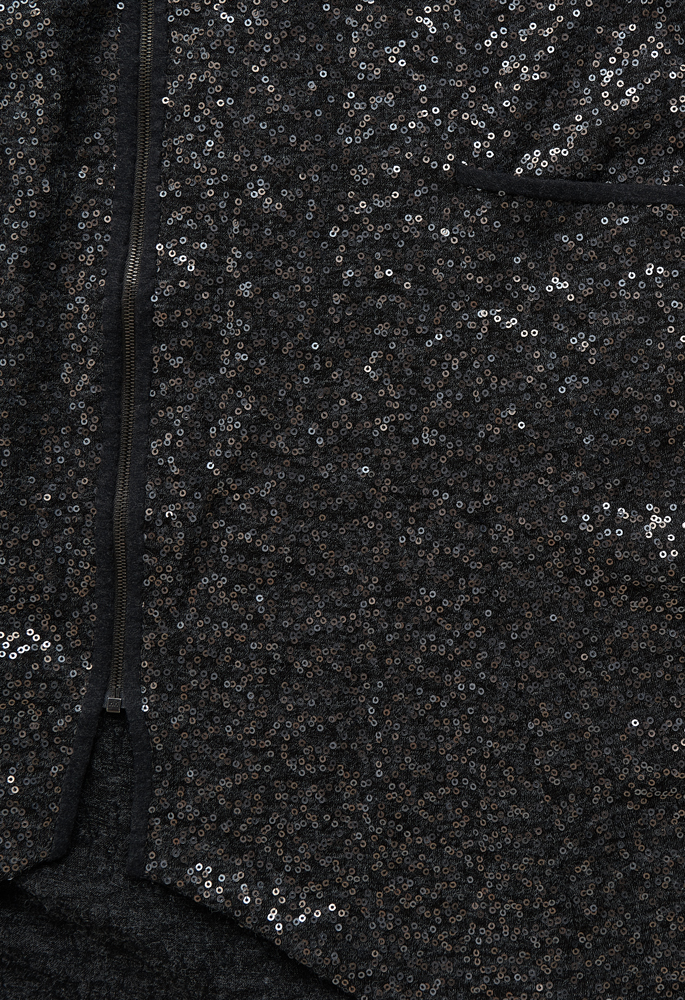 A rayon knit binding, sewn by hand to control the stretch, finishes the jacket's hem, front, and pocket edges.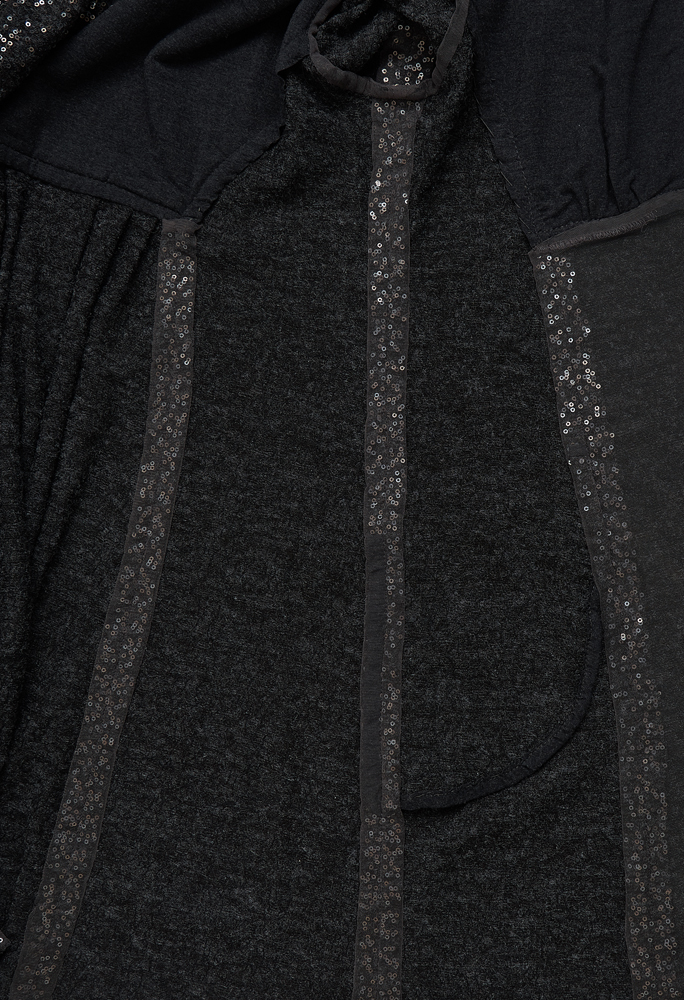 Patricia's jacket features hand-sewn sheer mesh binding on all exposed sequined seam and hem allowances, for comfort and durability.
The ponte-knit dress includes welt pockets, which have sheer mesh pocket bags to reduce bulk.
Best Construction: Gayle Moline, A Touch of Red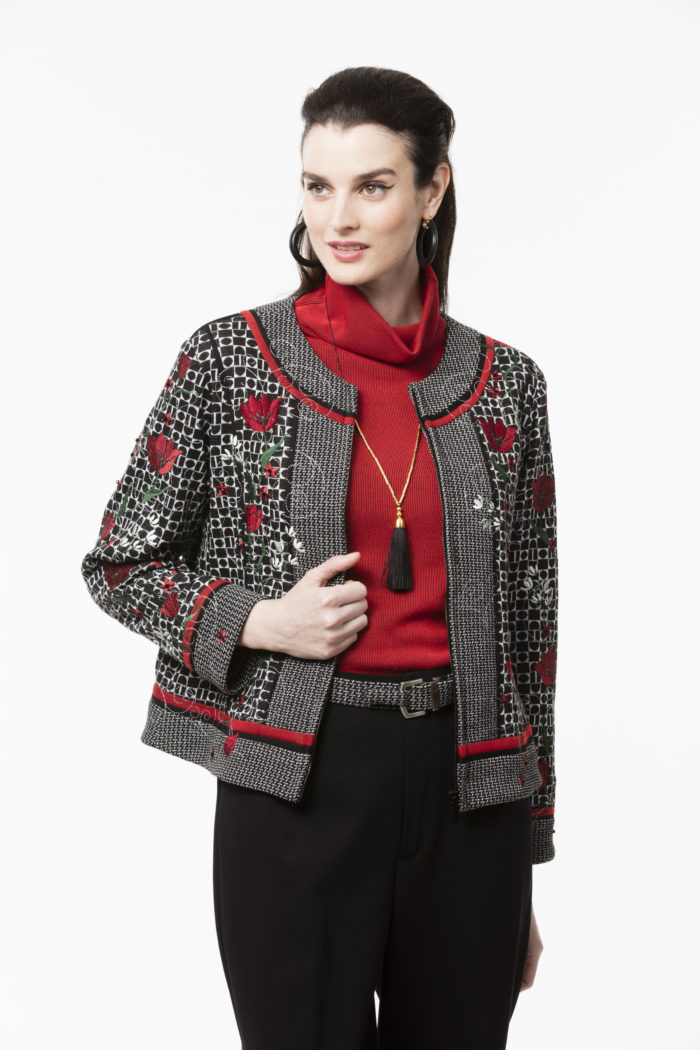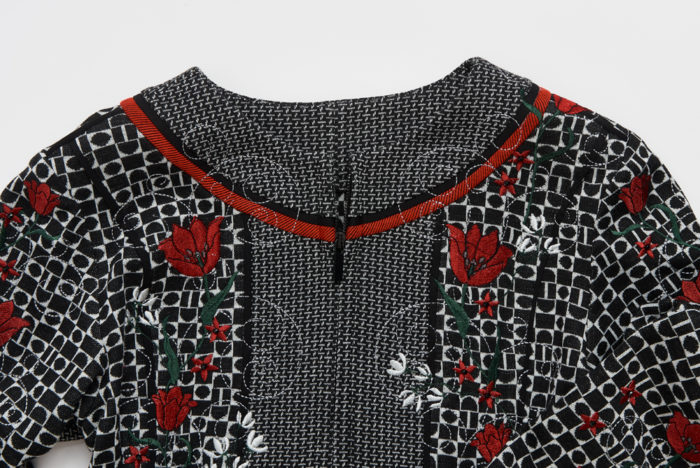 Inserted strips of fabric outline the jacket's yoke. Gayle planned the embroidery to swirl across the jacket from panel to panel.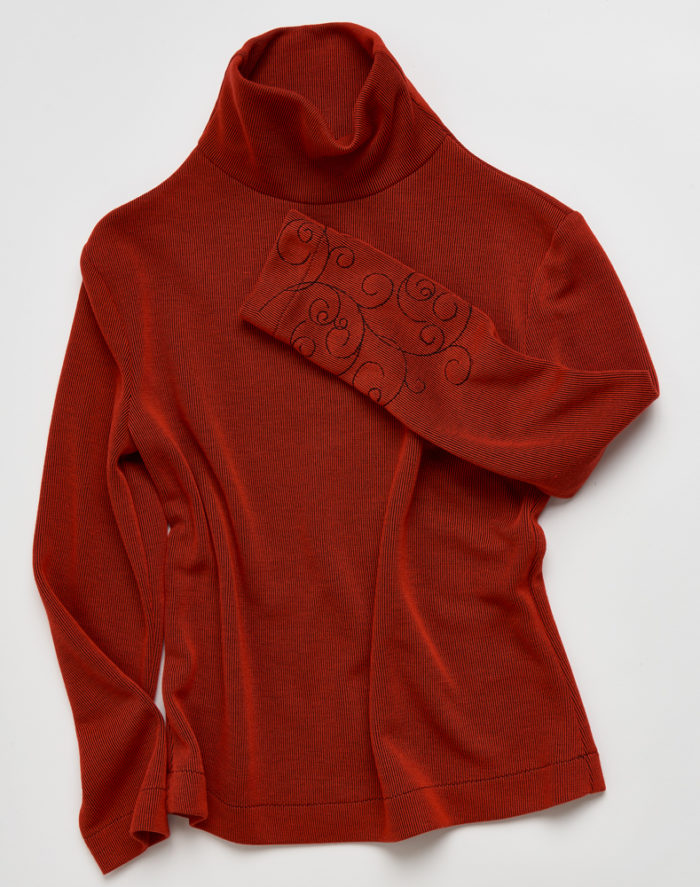 The red rib-knit, cowl-neck top features a coordinating scrolling embroidery motif on one sleeve.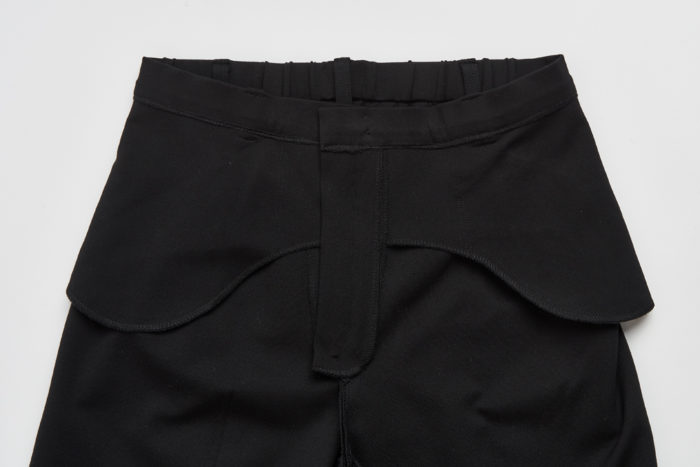 Gayle's classic black trousers, made of ponte knit, include extended front pocket bags that act as a stay for a smoother line across the abdomen.
Most Elegant Interpretation: Sarah Veblen, Point d'esprit and Strings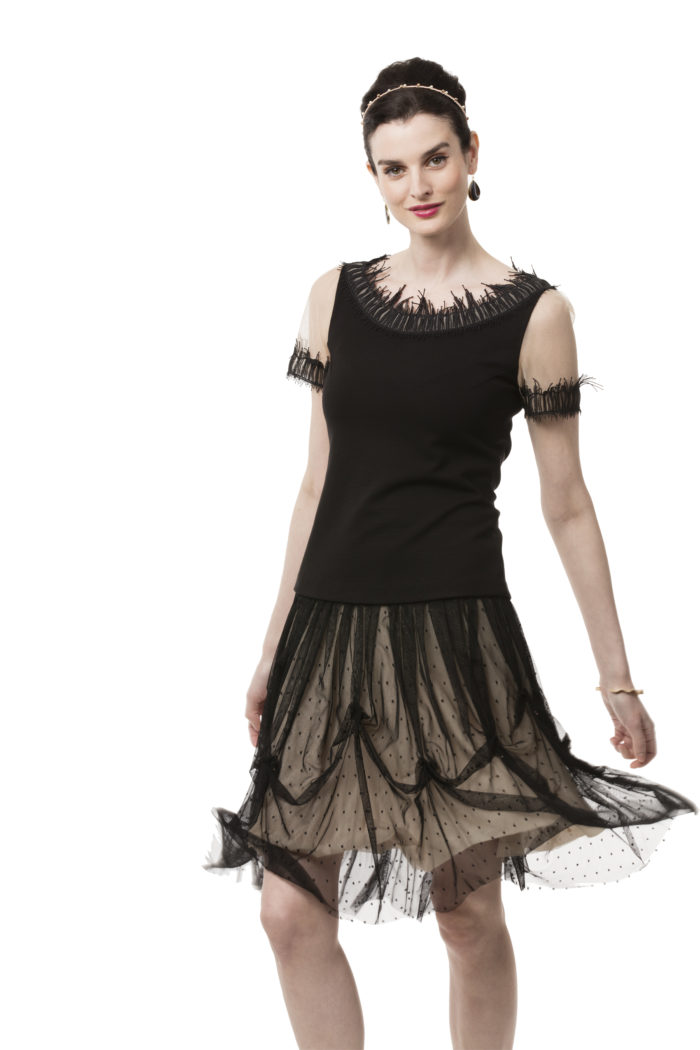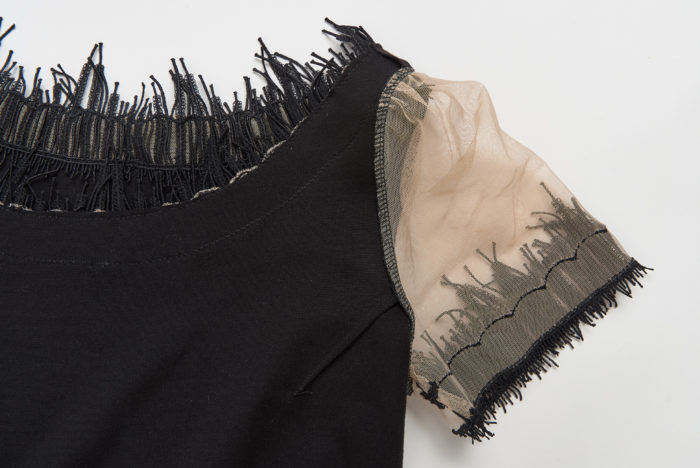 The fabric that inspired this top was a beige knit mesh with applied "stringy" trim along the selvage. Sarah used this edge as is along the sleeve hems (shown from the wrong side). At the neckline, she trimmed the beige mesh, leaving only the unique trim.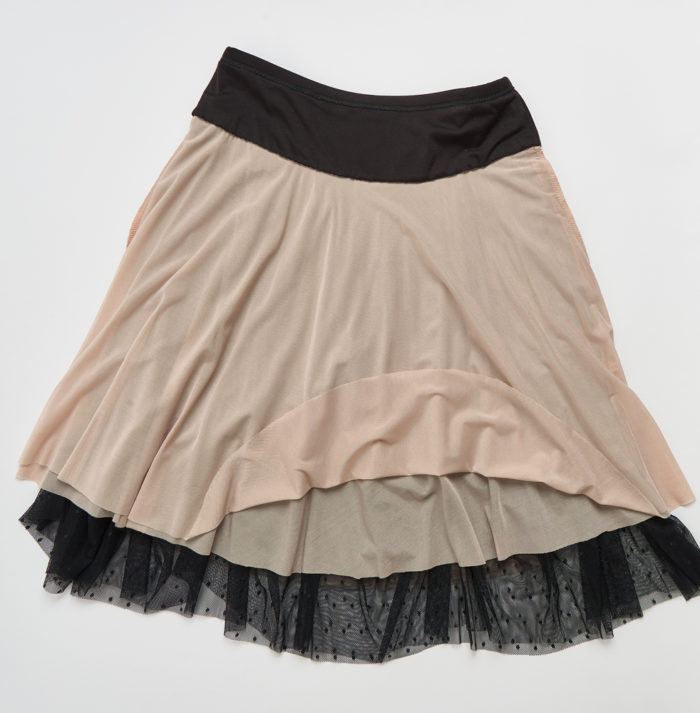 The skirt, shown inside out, hangs from a soft stretch-knit yoke, and consists of two layers of pale beige knit underlayers of black mesh point d'esprit.
Most Dramatic Treatment: Janet Blood, In Walked the '70s
Generously long fringe on the pant legs and sleeves invites the wearer to boogie all night.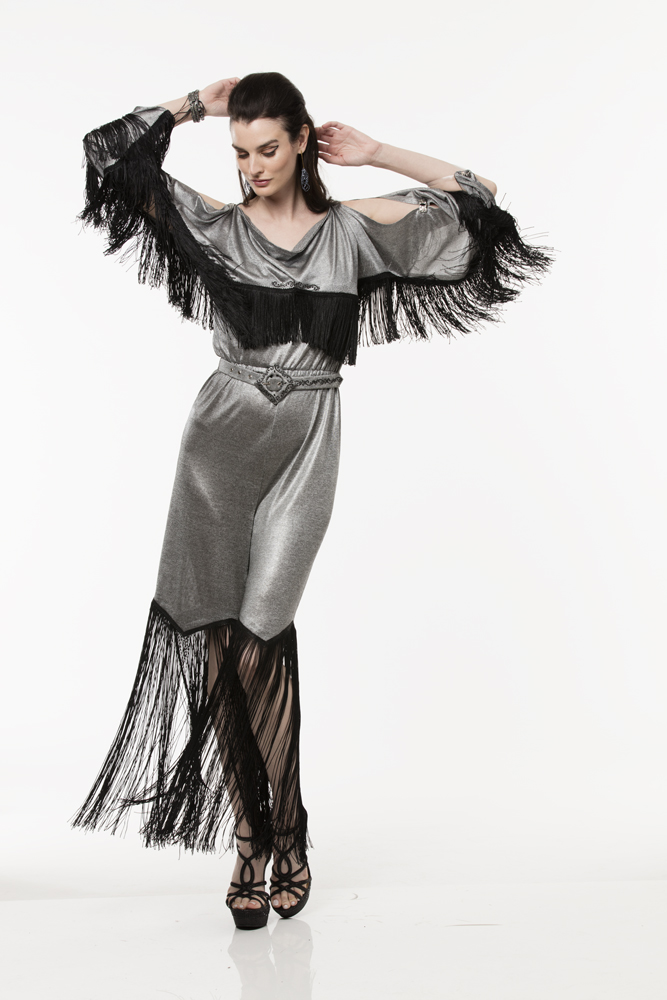 Janet designed a sleek silver jumpsuit trimmed with long chainette fringe. She embellished the bodice and belt with black crystals, and she used decorative clasps at the shoulders and sleeves.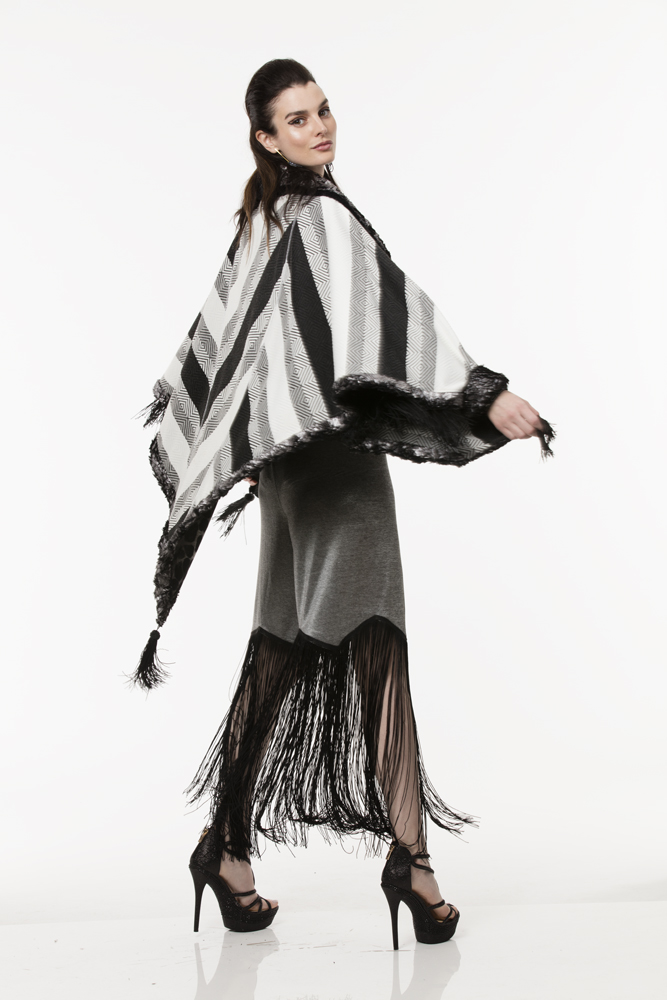 A striped cape with chevrons and metallic fur trim has corner tassels that echo the jumpsuit's fringe.
Audience Choice: Judy Huyck, Legally Inspired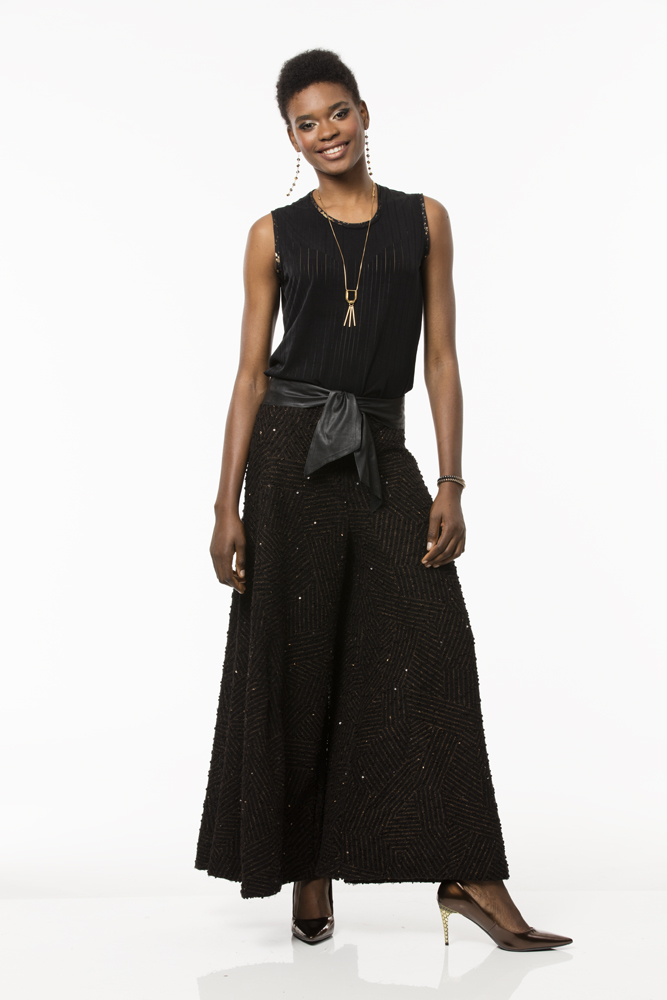 Judy's ensemble includes a black shell with a slightly twisted design, and wide-legged pants made of copper-sequined black knit. The pants feature a black leather yoke that ties in front.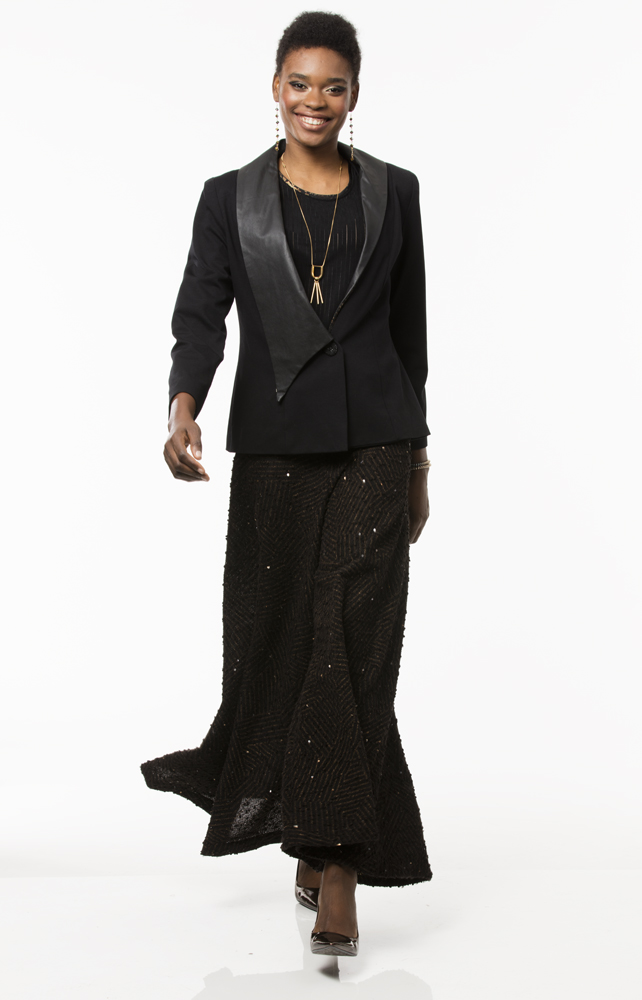 A black ponte-knit blazer sports an asymmetrical collar with black leather lapels.
For a more in-depth look at the details of the 2017 winning designs, read "The Knit Fabrics Challenge" by Carol J. Fresia in Threads #197.
Follow the links below to learn more about past Threads/ASDP challenges.
"The Innovative Lace Challenge"
"Get Inspired by Art: Design Challenge Winners Revealed"
"Winning Entries from ASDP Design Challenge: The New Power Suit"
"The 2016 Threads/ASDP Quilted Garment Challenge"