Sewing-Related Events in May 2018
See if there's show celebrating sewing craftsmanship nearby this May.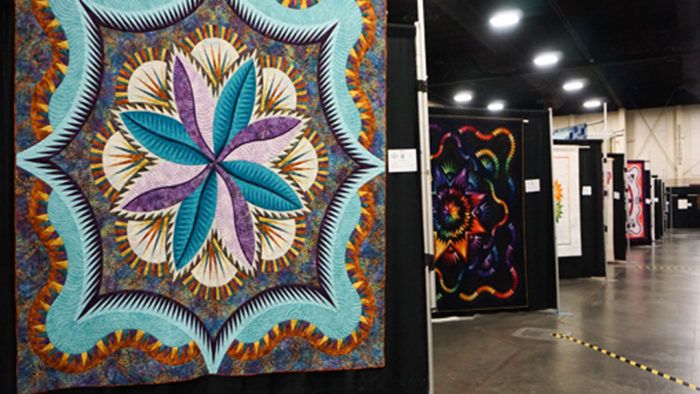 Here are some sewing-related events highlighting craftsmanship at festivals and shows in the United States and overseas in May 2018.
May 1–5: Utah Quilting & Sewing Marketplace, Sandy, Utah
This five-day event at the Mountain America Exposition Center is jam-packed with festivities for attendees. Interact with well-established instructors from across the country during the five days of classes and before and after lectures. Browse the plethora of quilt design exhibits and vendor booths during the final three days, from May 3 to 5. Be sure to watch a fashion show on May 3 or 4 in which customer creations from a local craft shop are highlighted. Two live quilt auctions also are planned. Class and lecture topics range from appliqué and machine quilting to design and fabric painting. Class fees vary and enrollment includes a one-time registration fee.
May 9–13: London Craft Week 2018, London, England
The annual London Craft Week showcases the work of more than 200 emerging designers and makers. Numerous workshops, exhibits, and programs are planned throughout the city, ranging from a demonstration on basket-making to one on slipper embroidery by Hand & Lock, embroiderers to royalty. From Wednesday through Sunday, at least 30 programs are offered daily. For a full program list, go to the London Craft Week website. Roughly half the exhibits and programs are free and do not require a reservation.
May 11–13: The Handmade Fair, Ragley Hall, Warwickshire, England
Attend the ultimate fair at Ragley Hall to learn from expert crafters, tour their exhibits, and replenish your design stash. Unique to the Handmade Fair is the Super Theatre, where well-known creative minds from across the country take the stage for 45-minute sessions to talk about their craft. View the Super Theatre schedule to plan ahead. Take part in any one-hour skills workshop, such as the Wax Print Wrap Skirt class or the Deep Buttoning upholstery class, and be sure to participate in a 30-minute Grand Make session. General admission is £12.
May 18–20: Handmade Oxford, Oxford, England
This three-day show makes its debut at Oxford Town Hall. It is an opportunity to meet emerging makers and view their collections. Shop their abundant array of jewelry, glass, furniture, ceramics, as well as art-to-wear and knitted textiles. Admission is £5.50 for one day.
May 26–27: Downtown Delray Beach Craft Festival, Florida
This outdoor juried festival, at the Delray Beach Tennis Center, is a perfect way to enjoy Memorial Day weekend. The show, now in its 21st year, features a variety of fine arts and crafts for sale, including hand-designed and handwoven garments, as well as wearable hand-dyed silks and lace. Admission is free.
Get the latest including tips, techniques and special offers straight to your inbox.