Crocheted Edges on Garments
If you can crochet, you can easily embellish—and finish—a garment with a sturdy, attractive edging technique.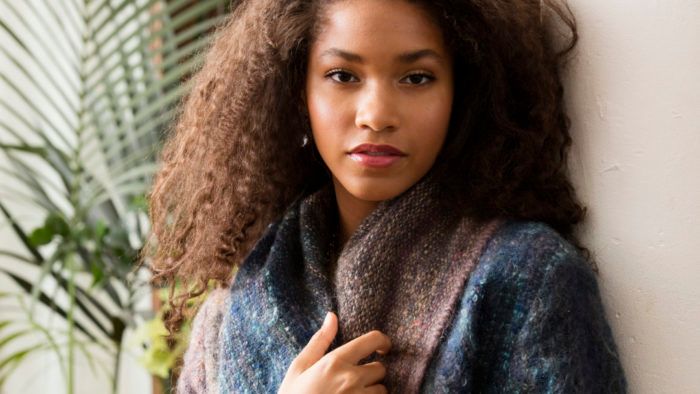 When you'd like to avoid bulky facings or hems, consider finishing a garment with crocheted edges. You can add this finish to just about any stable fabric.
Learn how to prepare the fabric's edge for crochet, in Threads #200 (Dec. 2018/Jan. 2019). Author Daryl Lancaster explains the best way to stabilize the area to be crocheted, discusses tools and materials, and demonstrates a key crochet stitch.
Based on this variety of examples using different stitches and yarns, you can experiment with stitches and yarns on your own fabric to find the finish that best suits your garment.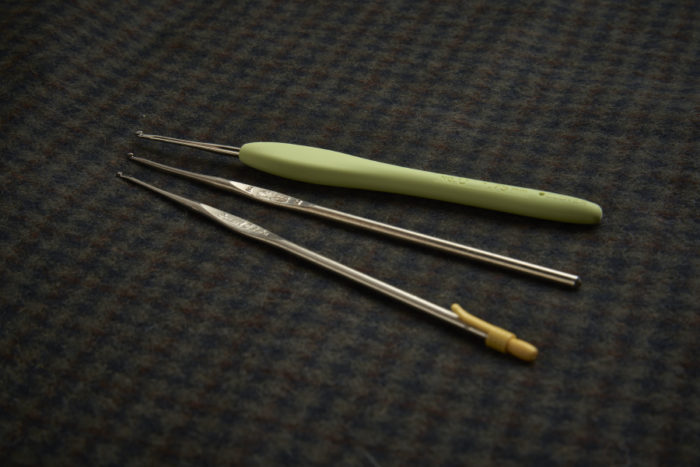 Single crochet and reverse single crochet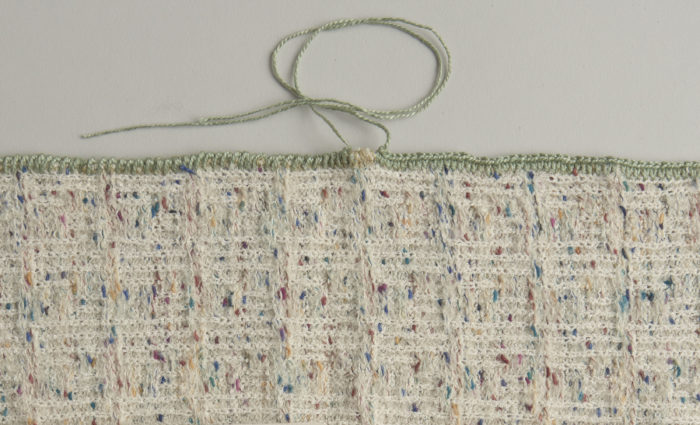 This sample is worked on a stable knit fabric, using size 5/2 pearl cotton. The edge is stabilized with a four-thread serger stitch. On the right, a basic single-crochet stitch produces a neat, chainlike edge. On the left, the reverse single crochet  appears as a densely wrapped edge instead.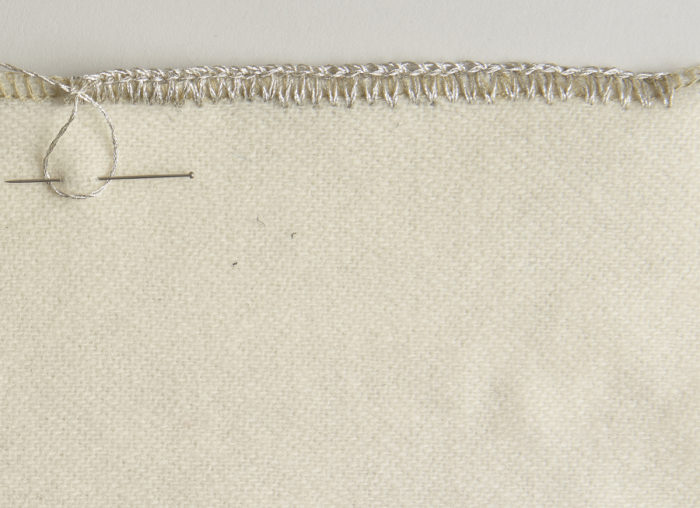 Winter white wool fabric is trimmed with single crochet, worked in DMC Metallic Pearl #5 floss. The chained edge in metallic floss is reminiscent of jewelry. The edge was stabilized with a strip of fusible knit interfacing then serged with a three-thread overlock stitch.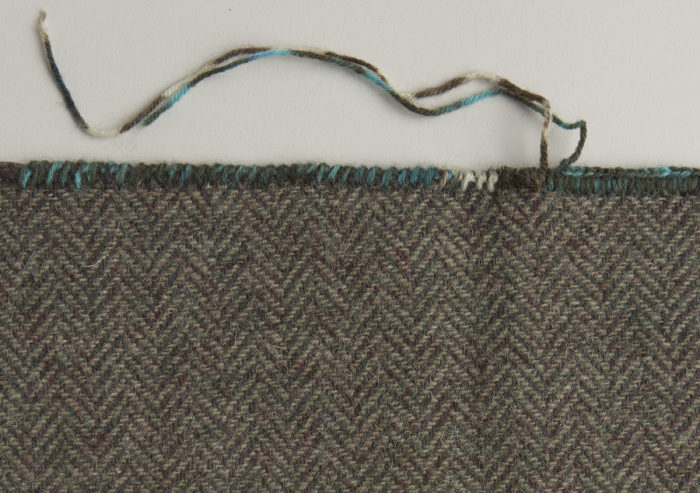 Wool/nylon sock yarn in a variegated colorway trims a classic Harris tweed. The edge foundation is a bias-cut, nylon-tricot binding. Again, single crochet (right end) contrasts with reverse single crochet (left end). Both are appropriate for fabric of this weight.
Double crochet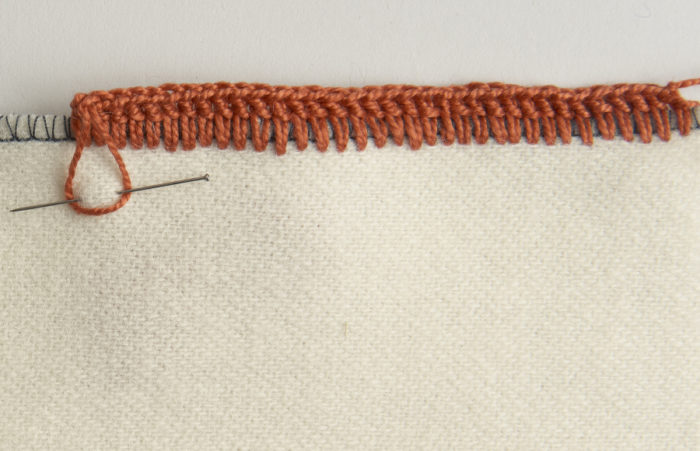 A double-crochet stitch, worked in size 5/2 pearl cotton, yields a wider, more ornate finish that extends farther beyond the fabric edge. A strip of fusible knit interfacing with a machine-sewn overcast stitch stabilizes the edge.
Scalloped edge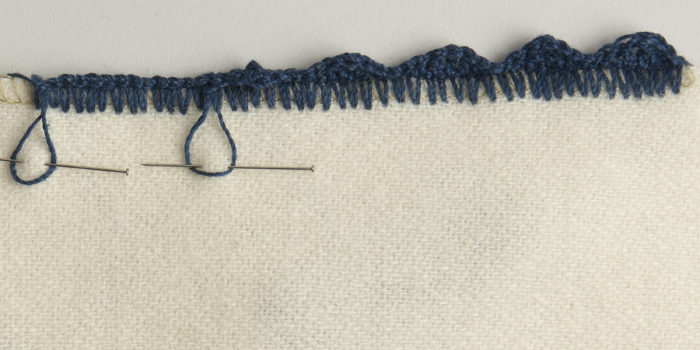 You can create a dainty embellishment with an additional row of crochet. The first row is basic single crochet. The second row, which creates the scallop, follows a patterns of single, double, and triple crochet stitches.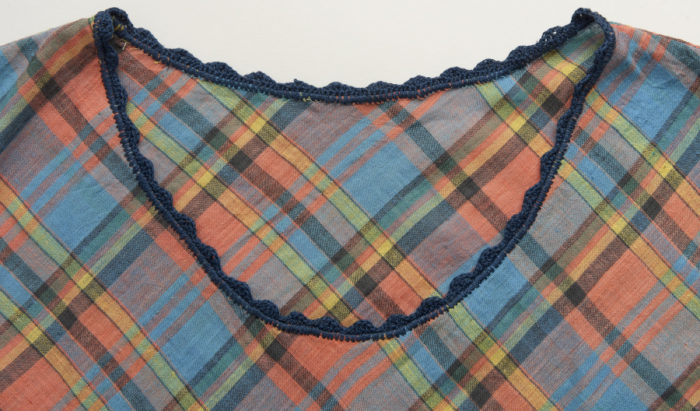 This pattern makes a lovely finish on a neckline, as in this bias-cut madras blouse. When you're working with a lightweight, tightly woven fabric, you can support the edge by simply pressing it under and straight-stitching a scant 1/4 inch from the fold. This stabilizes it sufficiently for the crocheted finish.
For more crocheted edge ideas, look online or visit your local library. Once you've completed the first row on a garment's edge, you can add almost any type of border you like.