Wool Fabric Guide: Easiest to Most Difficult to Sew
For success when sewing with wool, choose fabrics thoughtfully, and progress from easy to more challenging textiles.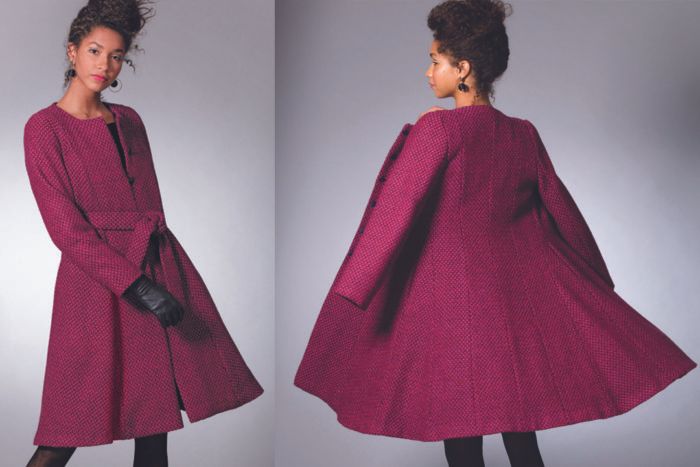 Wool is a classic fabric for a reason: It's long-wearing, looks good, and works well for many garments and climates. But beginning sewers are often intimidated by it.
There's no need to fear wool. In fact, it's one of the most satisfying fiber types to work with. If you choose the right fabric, you'll be able to have success.
When you're starting out, keep in mind that not all wool fabrics are the same and not all are suitable for beginners to sew. Below are some examples of wool textiles, ranked from beginner to advanced. Look for materials that share the characteristics noted, and you'll avoid frustration in your first wool projects.
Learn more about wool and find out how to select an appropriate garment design for your skill level, in "Essential Techniques: Wool fabric guide," Threads #200, Dec. 2018/Jan.2019.
Beginner
Peruse 19 wool fabric options for beginners.
| | |
| --- | --- |
| | Flannel is highly recommended; however, this cashmere version may be pricey for someone who is timid about wool. |
| | Nice for a dressy but easy skirt; the metallic threads will elevate a straight or pencil skirt. Use a press cloth when pressing, and test on a scrap to make sure the metallic fibers don't melt. |
| |  Tweed with no matching required. |
| | Nice for a simple top or dress; may be difficult to find coordinates for this unusual colorway. |
| | Excellent weight for a coat or pencil skirt. The multicolored tweed weave requires no matching along seamlines and conceals any small sewing errors. |
| | Nice for a skirt or dress; tweed camouflages errant stitches. The neutral color coordinates with a wide range of garments, so you'll get lots of wear from a garment made with a fabric like this. |
| | Allover tweed; no matching; hides small errors. |
| | Crepe has a lightly textured surface and not a hard finish, so it's easy to press and mold with steam. It makes excellent coating and is good for a skirt. |
| | This textured weave is likely made from angora or other animal fiber. It has a soft hand. The basketweave design is small so no matching is needed. |
| | Flannel is highly recommended for a first project. Its brushed surface hides any sewing imperfections, and it's easy to press and mold, so setting sleeves isn't a chore. When you're ready to make a jacket or coat, try flannel. |
| | This dark weave is excellent fabric for camouflaging minor stitching irregularities; it is a nice weight for a skirt or structured dress. |
| |  Lovely fabric for a coat or skirt. The texture and multicolor weave add interest without increasing difficulty. |
| | Nice for a skirt; it's also nice for a coat or jacket with interfacing support. Wool doesn't have to be dark or neutral—enjoy a brighter hue. |
| | For a wool novice, this is suitable for a skirt or collarless coat. More advanced sewers can use it for jackets and coats with notched collars. |
| | For a wool novice, this is suitable for a skirt or collarless coat. More advanced sewers can use it for jackets and coats with notched collars. |
| | No repeat or plaid earns this multicolor tweed beginner status. Consider a classic collarless jacket, in the silhouette of a Chanel jacket. Pay special attention to seam finishes as the fabric will ravel. |
| | Lightweight crepe for a sleeveless top or dress. The weight and sponginess of this fabric will camouflage beginner errors. |
| | Excellent for a beginner, whether it's a skirt, pants, collarless jacket, or coat. The purple hue is deep and rich, and is a lovely alternative to black and gray as a winter neutral. |
| | Lightweight; suitable for a sleeveless shell. |
Advanced beginner
These five wool fabric options are for those wishing more of a challenge.
<
| | |
| --- | --- |
| Red/black herringbone tweed | Excellent weight for a beginner but the herringbone forms a vertical stripe and would need to be matched at key seamlines. |
| Purple tweed blend | Likely some silk, which causes the sheen; slight repeat, which some folks would think requires matching. |
| Brighter red and black | This fabric has a harder finish (its surface is smooth and has little nap), which is less forgiving. It may have a plaid or repeat that would require matching. |
| Burgundy challis with painted flowers | Lightweight challis for a shell top; errors will not be easily camouflaged. Light, soft wovens can stretch along bias lines and may need stabilization. |
| Black or midnight broadcloth | Superb weight for a dress; errors are not camouflaged, but the drape is excellent for some styles. |
Advanced
Three enticing fabric options provide challenges for the most experienced wool sewing enthusiasts.
| | |
| --- | --- |
| Forest green drill look | Hard finish; prone to shine when pressed. When properly sewn and pressed, this type of fabric yields a crisp, rather than soft, look. |
| Burgundy wool sateen | Beautiful textile with a slight sheen. However, the hard finish should be reserved for those with experience with wool; excellent for dresses and indoor jackets. |
| Black sateen with polka dots | Elegant, but this combines the difficulty of a sateen (see above) with the challenge of polka dots that form a plaid. You'll need extra precision for layout and construction. |