Make It with Wool 2018: Fashion/Apparel Design Winner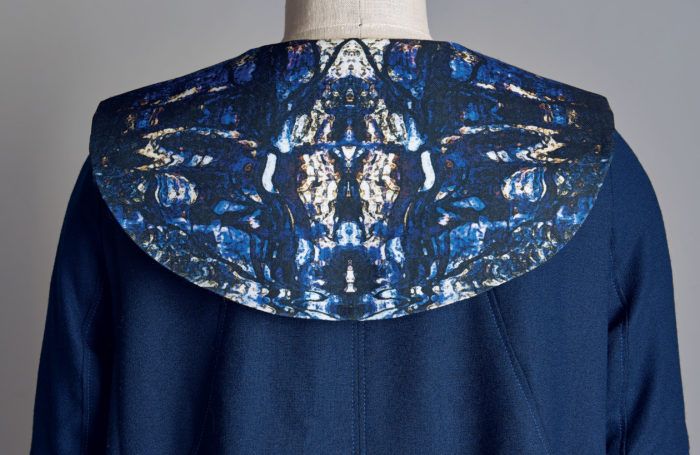 Jason Gagnon, Spring Lake, Michigan
Jason Gagnon created a coatdress inspired by Balenciaga for his second Make It With Wool competition. The design is called "Lake Spirit," and derives its shape and fabric pattern from water. Jason  used a photograph of Michigan's Hamlin Lake, taken by Dick Bourgault, to create a digital textile print as the garment's focal point. The main part of the coatdress is a navy tropical-weight wool. Jason draped the original design on a dress form and finished the pattern with flat patterning. The modified sailor's collar honors Balenciaga's heritage growing up in a fishing village. The trapeze-style silhouette follows the lines Balenciaga and Claire McCardell are known for developing. Polyester satin lines the coatdress, while silk habotai in Jason's digital print lines the bell-like sleeves. Topstitching outlines all the seams. Printed cashmere forms two matching bands that separate the main sleeve from the lower bell portion.
Jason aims to teach sustainable design methods through publications and workshops. Digital textile printing is of
particular interest to him.