Designing a Pattern Line for Savvy Sewers | Episode 10
Sponsored by Dharma Trading Co.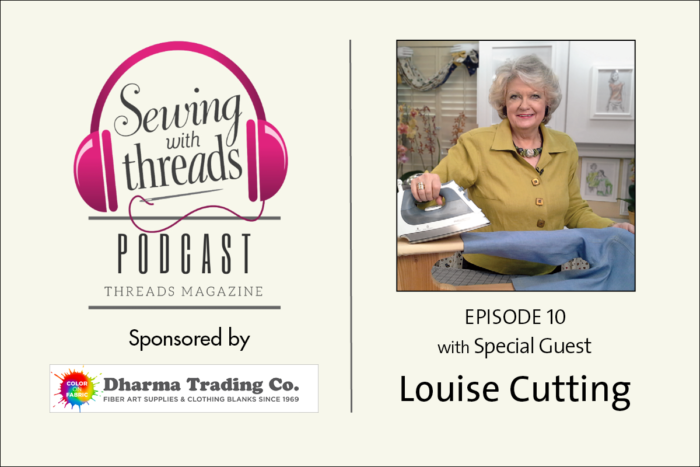 For clothing pattern designer and teacher Louise Cutting, comfort and looks go hand in hand. The owner of Cutting Line Designs and a Threads contributing editor, Louise spends up to six months developing sportswear designs she says feel great and have the versatility of being worn in casual or dressy settings. She shares some of her methods and some sewing advice with Threads editors as the guest on Sewing With Threads, Episode 10.
Louise also tells the editors her designs are inspired by garment details she finds while snoop shopping, looking at Pinterest, and checking out what top designers are showing in their collections. She began her pattern line about 20 years ago with five designs. Today, she sells about 30 patterns on her site, CuttingLineDesigns.com. Her most successful pattern is One Seam Pants. The By Popular Demand Jacket, which lends itself to alterations and variations, also has proven to be a big seller. Every pattern includes Louise's many hand-drawn illustrations, which, she explains, she creates while she sews each new design.Fitting elements, such as optional darts, are built into the patterns, too. Find her step-by-step instructions for adding darts to other patterns in two Threads articles: "Add a Bust Dart," #142, April/May 2009, and "French Dart for Fit," #193, Oct./Nov. 2017.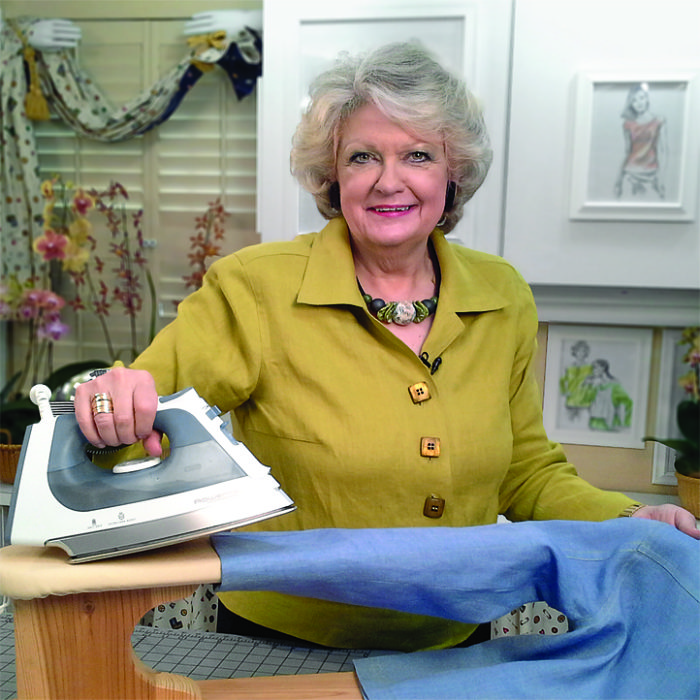 Additional bust dart techniques are available in these videos featuring Louise: Bust Dart Pressing: Cup Size is a Factor in Which Technique You Choose, How to Remove a Bust Dart (for Threads Insiders), Add a Bust Dart to a Sewing Pattern (for Threads Insiders) Simple Bust Adjustment (for Threads Insiders). It's perhaps not surprising that Louise, who grew up learning from those versed in the Bishop method of clothing construction, says she loves precision sewing.
She is also careful about getting the right fit and says she's found a greater need these days to adjust patterns for the forward shoulder. The technique is detailed in her article, "Fit a Forward Shoulder," Threads #169, Oct./Nov. 2013.One Threads reader posed a question for which Louise has an answer: To solve the problem of knotted or tangled threads at the start of a machine-sewn seam, Louise suggests leveling the machine's presser foot with a scrap of fabric on the foot's back edge to create even traction on the front and back of the foot. This will enable the foot and feed dogs to grab and move the fabric along correctly—and prevent knotted bobbin and top threads.For more expert sewing advice and detailed techniques, check out the Industry Insider Techniques DVD series featuring Louise. These videos are free to Threads Insiders.
Sign up now to see Industry Insider Techniques, Volumes 1 thru 8, or purchase Industry Insider Techniques, Volumes 1 thru 5, in the Taunton store.The episode is sponsored by Dharma Trading Company. Dharma Trading Company is your one stop shop for all fiber art supplies and service. You can see them online at DharmaTrading.com or call toll free at 800-542-5227 and speak to a live human about how to use everything they offer. Dharma Trading customer service is the best. You just give them a call, and they will do all they can to help you make your life more colorful. Check them out online at DharmaTrading.com or call today at 800-542-5227.
---
We have created a podcast survey to help guide our content. Please take a moment to answer a few questions.