How to Make No-Sew Place Mats
Dress up any place setting with a cutout floral design on felt.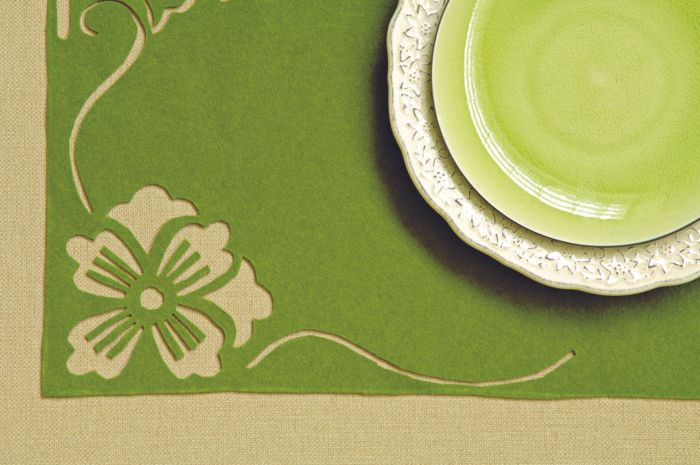 Set your table in style this holiday season with personalized place mats with a laser-cut look. These floral-design place settings are easy to create with wool felt, which doesn't fray and makes cutting a cinch. Feel free to try polyester or other blended fabric versions for a similar look that's a little easier on the wallet.
Before you begin, prewash your fabric; you don't want your guests to worry about not being able to clean up a little spill during their holiday meal. When you are washing felt, be sure to follow the instructions on the bolt so you don't damage the fibers. Polyester felts will have different care instructions from wool versions, so double-check before leaving the fabric store.
For even more festive flair, try using this simple technique to whip up a matching table runner or tablecloth in a contrasting color. They're so quick to finish, they make great hostess gifts and will impress even the most stylish party-goers.
Supplies and sources
Chalk
Small embroidery scissors (JoAnn.com, EmbSupplies.com, SublimeStitching.com)
Temporary spray adhesive (JoAnn.com)
Tracing paper
3/8 yard wool felt, 36 inches wide for two place mats (JoAnn.com, DickBlick.com)
Craft knife
Optional: Plastic vellum (CreateAndCraft.com)
Create a stencil, and cut away
Once you get the hang of these stenciling techniques, you'll want to cut lots of designs. Luckily, your skills can be put to use on tablecloths or table runners, as well.
1. Scan or photocopy the template.
Print and enlarge the PDF template below on a photocopier and copy it onto heavy paper. Our template creates 17-inch by 12-inch place mats. Use an craft knife and a cutting surface (such as a rotary mat) to cut out the template. If you plan to use the template several times, try cutting it from plastic vellum, which can be found in the quilting sections of sewing-supply stores; it will last longer.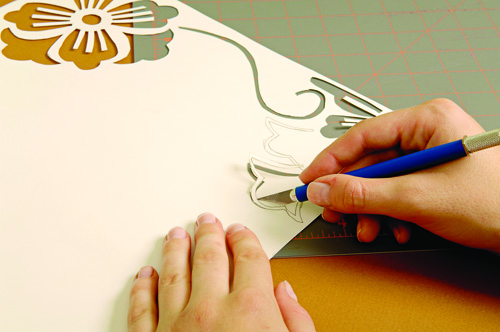 2. Apply temporary spray adhesive to the template right side.
Place it sticky-side down on the felt's wrong side. Press down to adhere the template to the felt.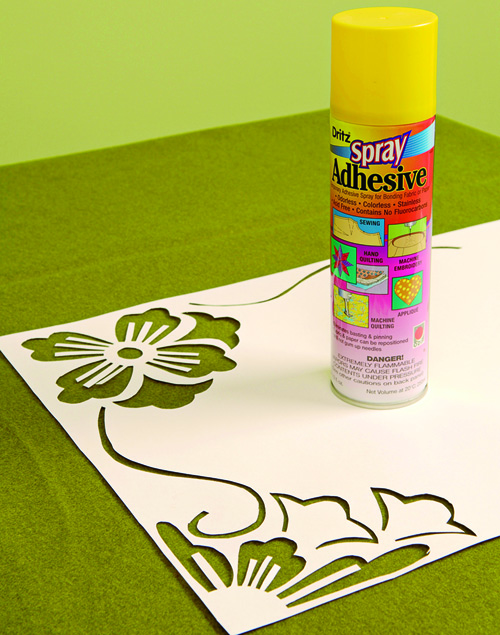 3. Use tailor's chalk to stencil the design onto the felt.
Trace around the outside edge of the template as well. If you're using paper, be careful not to tear your template.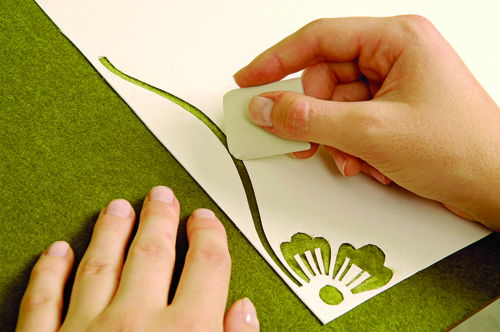 4. Carefully peel the template from the felt.
Cut out the outer edge of your place mat along the traced line. Then, cut out the design using small embroidery scissors.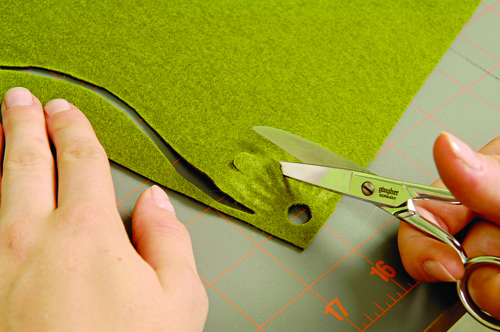 Tip: Color contrast
For contrast, add a second layer of felt in an alternate color underneath each of your cutout place mats. Just stitch around the outer edges, or apply a little fabric glue to secure them.
This article was originally published in CraftStylish, Vol. 3. Photos by Sloan Howard.
View PDF