How to Knit an Easy Holiday Ornament Cover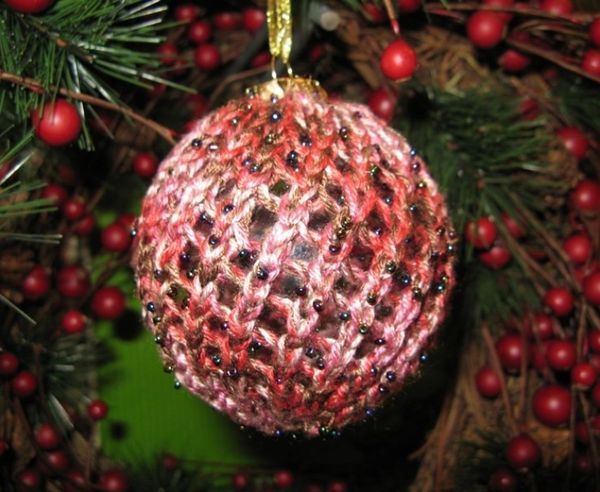 This easy-to-make, elegant knitted ornament cover makes an eye-catching handmade gift that is destined to become a treasured heirloom.
". . . While visions of sugarplums danced in their heads. . ."
—Clement Clarke Moore
As soon as I saw this yummy Tilli Tomas yarn, it reminded me of the perennial holiday symbol, the sugarplum, made famous in The Nutcracker ballet and our favorite holiday poem A Visit from St. Nicholas.
The knitted ornament cover is a holiday adornment that will never be out of style, outgrown, or out of sight. A perfect mini take-along project, these ornaments are so quick and easy you will want to make several to bestow on your favorite friends and family.
---
Supplies
• Clear or colored glass or plastic ornament, 8 1/2 inches to 9 1/2 inches in circumference (2 3/4 inches to 3 inches in diameter)
Yarn, such as Tilli Tomas Beaded Lace Silk 100-percent silk (sample made with 165-yard skein called Strawberry Dip). You should be able to knit three or four ornaments from one skein.
Other recommended options: SWTC sequined Yang or Artyarns Beaded Silk. You can also use up leftover bits of variegated/hand-painted yarns from your stash.
Double-pointed needles size US 3 (Depending on the yarn weight used, you may wish to adjust your needle size.)
apestry needle
Abbreviations
DPN: set of double-pointed needles
K2 tog: knit two together
Sts: stitches
YO: yarn over
---
Knitting instructions
Cast on 36 sts, leaving an 8-inch tail, and evenly distribute on three needles. I used a double strand of the Tilli Tomas Beaded Lace Silk to bring me up to a DK (double-knit) weight. I also took into consideration the size ornament I had to work with to determine the number of stitches to cast on. If I were using only one strand, I would cast on 48 stitches.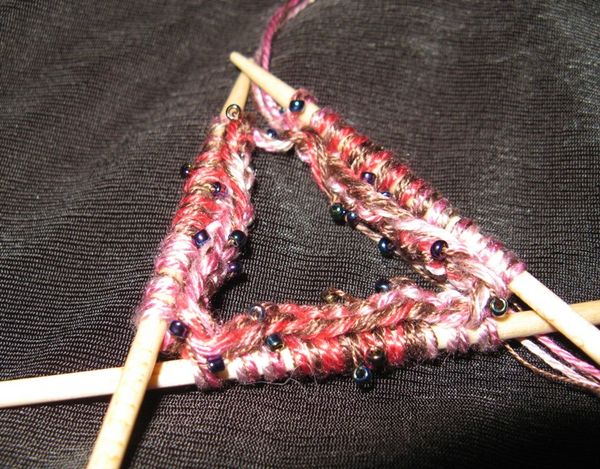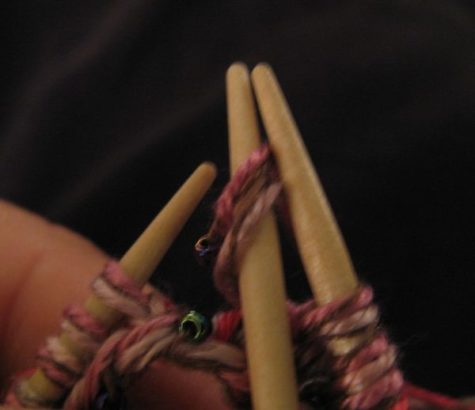 Round 1: Knit.
Round 2: *YO, K2 tog. Repeat from * around.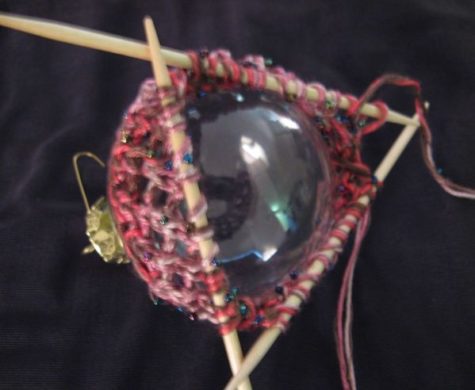 Repeat rounds 1 and 2 until the piece measures around 2-1/2 inches long. K2 tog around two rows.
---
Finishing
Cut the yarn and leave a 6-inch tail.
Slide the beads off the tail to make it easier to close up the top.
Thread a tapestry needle, and pull through the stitches while you are removing the DPN's.
Slip the ornament cover over the ball and tighten the stitches around the top. Weave the yarn tail through the stitches to secure.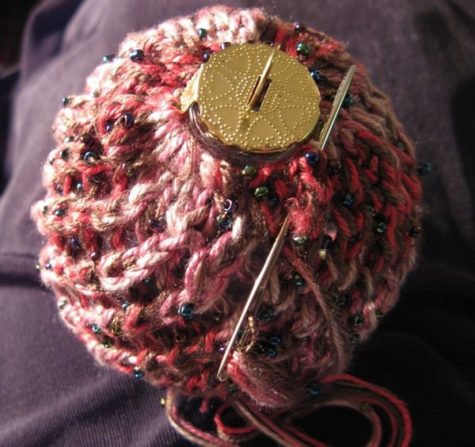 Slide the beads off the cast-on tail, then thread the tapestry needle to work through the cast-on stitches.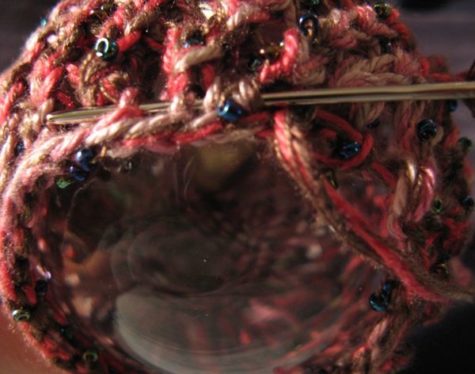 Pull tightly to close and weave in the tail.
I'll bet you can't make just one. Knit happy.
Check out more enchanting fibers from the original embellished yarn company, Tilli Thomas. This pattern was inspired by Knox Socks Designs free pattern "Knitted Christmas Ornament Covers" by Judy Sumner. See all of Phil Gyford's images on Flickr.
This article by Tina Hilton was first posted January 6, 2018 on Craftstylish.com.