Make a Yarn-Wrapped Wreath
Wrap yarn around a padded form, secure it, and then embellish it with trinkets and ribbons.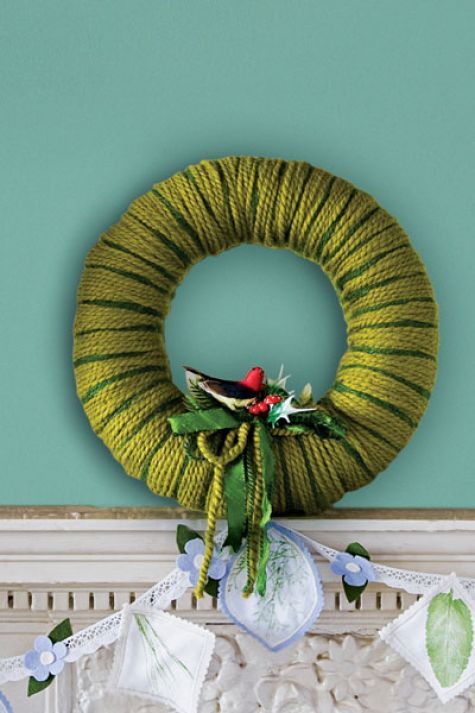 This yarn-wrapped wreath is a crafty take on the traditional holiday décor, and it makes a dramatic statement in any home. It's easy to assemble and customize. Simply wrap the yarn, secure it, and then have fun decorating it however you like.
Supplies
Optional
Embellishments, including millinery leaves and flowers, ornamental birds, vintage ornaments, ribbon, buttons, crocheted flowers, beads, baubles, or small ceramic figurines (TinselTrading.com, Blumchen.com)
Hot glue gun
---
Assemble the wreath
1. Wrap the batting.
Wrap long strips of the batting around the wreath form, and secure it with florist pins. Eyeball your work to ensure that the fluffiness is distributed evenly. Try to secure the pins on the same side each time.


2. Add the ribbon.
Wrap the batting with wide tulle ribbon or other sheer ribbon, and secure it with pins. Remember to secure the pins to the side you pinned in step 1.


3. Wrap the first yarn.
Begin wrapping the thicker yarn by tying one end to the wreath and securing it with a knot on the same side as your pins. Continue to wrap as uniformly and tightly as possible. Knot the end, and cut or tuck the tail under to hide it.


4.  Create a stripe.
Wrap another yarn around the wreath, and tie it off. Space your wrapping about an inch apart on the inner edge and a little wider on the outer edge of the wreath, circling the wreath three times to create each three-yarn-thick, somewhat uniform stripe. (Note: You can nudge the yarn stripes around a little when you've finished.) After the last stripe is wrapped, cut the yarn and tie it off to the yarn below on the back of the wreath. Trim the excess, or tuck it under.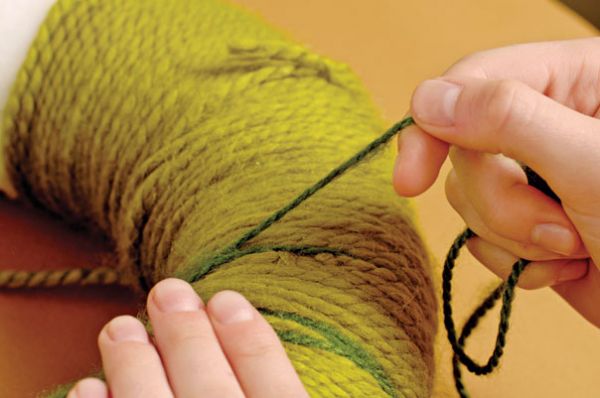 5.  Add the hook.
Insert the wreath hook into the back of the yarn-wrapped wreath. Add some glue (I use a hot glue gun) to the area where the wreath meets the hook for extra security.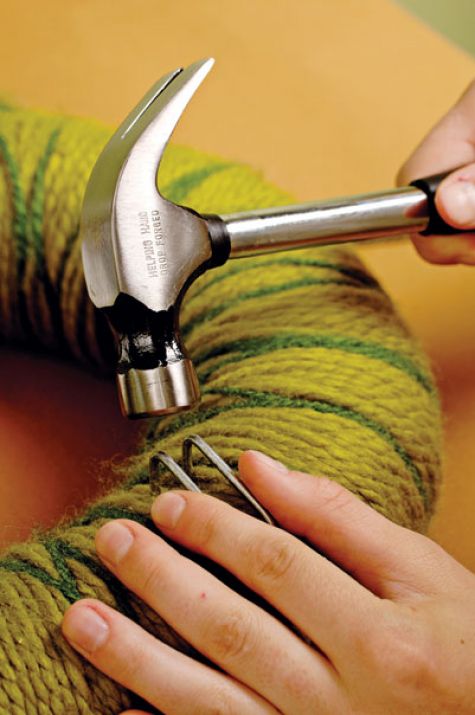 6.  Embellish.
Tie a floppy yarn bow by joining about 2 1/2 feet of the yarns used with ribbon. Alternatively, add other embellishments to the wreath area surrounding the bow. Secure the items by wiring each piece, using the stems to pierce the wreath, and/or use glue.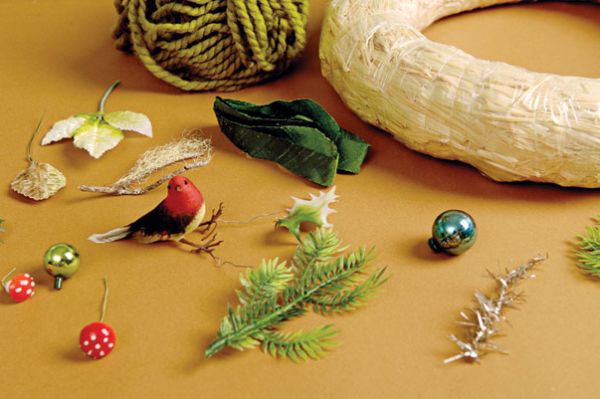 Tip: You can add fluff by wrapping white mohair yarn on the wreath and securing it to the back.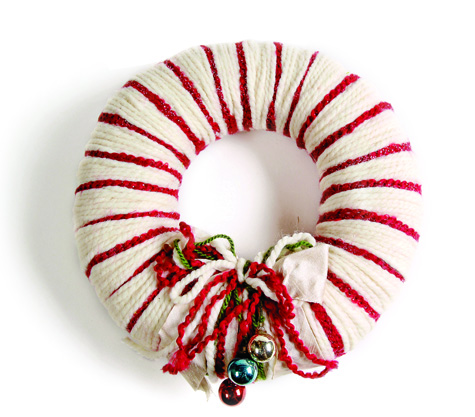 This article by Katie Runnels is excerpted from Craftstylish Holiday Decorating Ideas, Vol. 3, p. 60. Step-by-step photos by Sloan Howard.