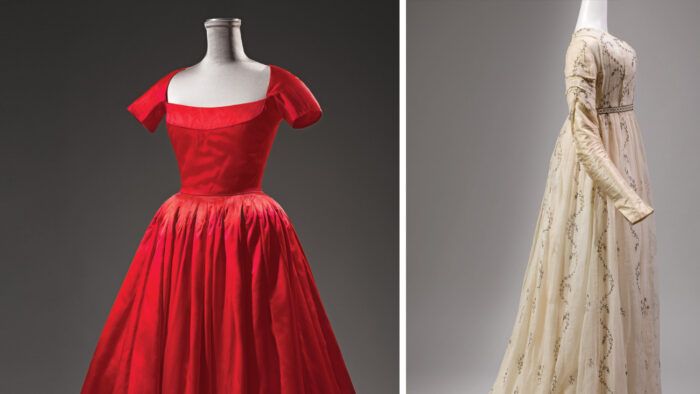 Fabric has always been the basis of fashion; without fabric, fashion does not exist. The fibers and weaves available are an integral part of shaping the styles of the times. As different fibers were introduced into Western fashion, garments and silhouettes evolved to make the most of what these new fabrics could do.
Fabric in Fashion, presented at the Fashion and Textile History Gallery at the Museum at FIT (the Fashion Institute of Technology), New York City, examines garments and textiles from the past 250 years to reveal the role fabric plays in creating fashion. This exhibition runs through May 4, 2019. It is organized by Elizabeth Way, assistant curator of costume at the museum. "I wanted to present this narrative focusing on textiles and fashion—areas of study that are often surprisingly separate," Elizabeth says. "Fashion is an enormously useful and illuminating lens through which to view culture and history, so this story naturally sheds light on economic, political, scientific, and social topics."
The exhibition is structured to tell the story of how fabric, and the culture surrounding fabric, informs fashion. It begins by delving into textile structure and how different weaves and knit structures affect the way fabric behaves on the body. The exhibition then examines four key fiber types—silk, cotton, wool, and synthetics—to show their influence over time. There are often definitive cultural reasons fibers and textiles are viewed the way they are; the last section of the exhibition deals with how these perceptions have changed throughout recent history.
The exhibition features 65 garments and 30 flat textiles from the museum's collection. Elizabeth had two criteria when selecting pieces: Together, they must form a cohesive whole so that the exhibition appears polished, and each garment must not be heavily embellished, to allow the textile to shine.
The organizers want…
Start your 14-day FREE trial to access this story.
Start your FREE trial today and get instant access to this article plus access to all Threads Insider content.
Start Your Free Trial
Already an Insider? Log in