Pattern Roundup: Plus-Size Patterns
Check out a selection of designs for curvy figures.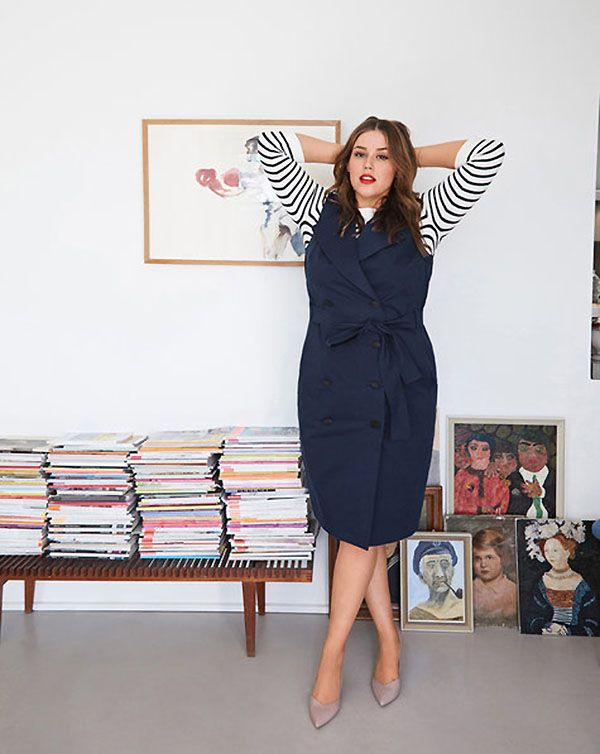 In the past, there was no such thing as plus-size patterns: Commercial patterns were available only a limited size range, which alienated curvy sewers. Anyone outside the "average" had to make extensive changes, often redrafting an entire pattern to achieve a good fit.
Nowadays, there are independent pattern companies devoted to creating patterns for plus-size sewers, such as Cashmerette, Colette, and Skinny Bitch Curvy Chick (for petite plus-size women). The commercial pattern companies have gotten onboard, too, and now usually offer pattern lines that fit women of all sizes. For example, extended sizes often are included in patterns sold by Simplicity and BurdaStyle; McCall's has the Custom Cup Size line; and Vogue offers Today's Fit by Sandra Betzina.
Check out the Curvy Sewing Collective website for more information about plus-size patterns. There, find an extensive list of pattern companies that produce curvy patterns with links to their websites and information about their size ranges. Curvy Sewing Collective also has reviews of plus-size patterns from many companies, as well as resources for sewers, including recommended books, information about sizing systems, and more. Their "Same Pattern Different Bodies" section shows how patterns look on different body types, as sewn by members of the site, with information about their measurements, changes they made to fit, and their thoughts about the pattern as a whole.
For advice on altering pants to fit your shape, read "Everyone Can Have Jeans that Fit" by Sandra Betzina, from Threads #111, Feb./March 2004.
Read "How to Choose Fabrics for Plus-Size Sewing," an excerpt from Sewing for Plus Sizes by Barbara Deckert, for information about how fiber content can affect garment longevity and comfort.
If you're a Threads Insider, "Fitting Plus-Size Sleeves" by Kathleen Cheetham can help you achieve a good sleeve fit using any pattern.
---
5 Out of 4 Nancy Raglan Top/Dress/Tunic
The Nancy Raglan from 5 Out of 4 Patterns is a versatile pattern that includes five bodice styles (shirt, tunic, A-line dress, swing dress, layered dress) four neckline finishes (cowl, crew, V-neck, hood), four sleeve options (short, three-quarter, long, extra-long), and three sleeve finishes (hemmed, cuffs, thumbhole cuffs). Sew it in a sweater knit for cold weather or a light jersey for warm days. Size range: 31-inch to 57-inch bust, 26-inch to 54-inch waist, 34-inch to 61-inch hips.
---
Butterick 6533
Butterick 6533 by Connie Crawford features a zip-front jacket and elastic-waistband pants. The jacket has a hood, sleeve cuffs, and pockets. The pants have elastic at the hem and waistband for better fit. Sew the jacket in sweatshirt fabric for a casual look or raincoat fabric for outerwear. The pants are great in denim or patterned medium-weight wovens. Size range: 34-inch to 68-inch bust, 25-inch to 58-inch waist, 35-inch to 76-inch hips.
---
BurdaStyle 6390
Create a flattering party dress with BurdaStyle 6590. The pattern has an off-the-shoulder neckline with two styles of shoulder straps (wide and halter). It also has optional pleats on the bodice overlap. The bell-shaped skirt has knee- and tea-length options. Sew it in colorful woven fabrics with some stretch such as brocade or stretch satin. Size range: 41-inch to 52.75-inch bust, 34-inch to 45.5-inch waist, 43.5-inch to 55.25-inch hips.
---
The BurdaStyle.com Trench Dress 9/2018 #122
The BurdaStyle.com Trench Dress 9/2018 #122 is double-breasted and sleeveless, with lapels, shoulder tabs, side front in-seam pockets, belt loops, and self-fabric belt. Sew this in suiting or dress-weight fabrics with some stretch. Size range: 39.5-inch to 48-inch bust, 32.5-inch to 41-inch waist, 41.75-inch to 50.5-inch hips.
---
Cashmerette Chilton Trench Coat
The Chilton trenchcoat from Cashmerette features options for hip-length or mid-thigh-length, as well as a single-breasted, buttoned front, belted waist with belt loops, shoulder tabs, side front in-seam pockets with faux flaps, and a center-back kick pleat on the longer view. Also available are three different bodice pattern pieces for different cup sizes. Sew this coat in mid- to heavyweight coating fabrics. Size range: 40-inch to 58-inch bust, 32-inch to 48-inch waist, 42-inch to 58-inch hips.
---
Dana Marie Design Co. Moto Me Jacket
The Moto Me jacket by Dana Marie Design Co. has an asymmetrical front closure, in-seam pockets, princess seams, and wide lapels. Use buttons, clasps, or zippers for the closure. Sew this jacket in mid- to heavyweight woven fabrics or faux leather. Available for download is a free guide to a full-bust adjustment on this pattern. Size range: 30-inch to 62-inch bust, 22-inch to 54-inch waist, 32-inch to 64-inch hips.
---
McCall's 6436 Shirt
McCall's 6436 is a button-down shirt with breast pockets, bust darts, and an angled hem. Included are alternate pattern pieces for three cup sizes. The pattern offers the option to sew the shirt sleeveless with faced armholes. Sew this shirt in light- to medium-weight woven fabrics. Size range: 38-inch to 54-inch bust, 31-inch to 49-inch waist, 40-inch to 56-inch hips.
---
New Horizons Designs Elevation Hoodie
New Horizons Designs' Elevation hoodie features chevron color-blocking seams at the shoulder and into the hood, as well as a hidden kangaroo pocket with welt openings. Sew this hoodie in sweatshirt fleece or French terry with at least 35 percent stretch. Size range: 31-inch to 51.5-inch bust, 25.25-inch to 43.5-inch waist, 33.25-inch to 53.5-inch hips.
---
Peppermint Jersey Dress
The Jersey Dress from Peppermint is a free, knee-length pattern that features raglan sleeves, sleeve and hem bands, and side front in-seam pockets. Its simple silhouette can be altered to take many forms. Sew this dress in sweater or jersey knits. Size range: 32-inch to 40-inch bust, 26-inch to 34-inch waist, 35-inch to 43-inch hips.
---
Sewaholic Patterns Minoru Jacket
The Minoru jacket from Sewaholic Patterns features a wide collar with optional hidden hood, raglan sleeves, an elastic waistline, as well as interior patch pockets with optional hook-and-loop tape closure. Sew this jacket in light- to medium-weight wovens such as twill or canvas. Size range: 30-inch to 41-inch bust, 24-inch to 35-inch waist, 36-inch to 47-inch hips.
---
Shwin Designs Kaleidoscope Maxidress
From Shwin Designs, the Kaleidoscope pattern can be made as a maxidress or a top. Both designs feature side panels with cut-on short sleeves and banded neckline. The dress has an elastic waistline. Sew this garment in knit fabrics with at least 30 percent stretch. Size range: 30-inch to 52-inch bust, 23-inch to 47-inch waist, 30-inch to 52-inch hips.
---
Stitch Upon a Time Ursula Leggings
The Ursula Leggings from Stitch Upon a Time feature three style options: legwarmer, with extra fabric around the calf; skirted, with tulip skirt for modesty; and diamond-cutout, with interest at the lower leg. In addition, the pattern includes three length options: short; capri; and pants, as well as three waistband options: regular, yoga, and maternity. Sew these versatile leggings in knit fabrics with at least 40-percent stretch. Size range: 26-inch to 55-inch waist, 30-inch to 58-inch hips.
---
StyleArc Katherine Pant
The Katherine Pant from StyleArc features angled side front pockets, front seams, back waist darts, and a fly-front closure. Sew these pants in bottom-weight woven fabrics such as gabardine and twill. Size range: 30.3-inch to 58.3-inch bust, 23.5-inch to 50.5-inch waist, 32.6-inch to 61-inch hips.
---
Tuesday Stitches Conifer Skirt
Designed by Erin Weisbart of Tuesday Stitches, the Conifer Skirt features two style options: regular and layered, in two lengths: knee- and maxi-length. The pattern includes the option for a fold-over or narrow waistband. Sew this skirt in a stretch knit with good recovery. Size range: 25-inch to 45-inch waist, 35-inch to 55-inch hips.
---
Vogue 1580 Pants
Vogue 1580, designed by Sandra Betzina, is a loose, palazzo-style pant with an elasticized waistband, side-front pockets, and optional wide front and back straps to create a jumpsuit effect. Sew these pants in light to medium-weight woven fabrics with some drape. Size range: 32-inch to 55-inch bust, 26.5-inch to 50.5-inch waist, 34.5-inch to 57-inch hips.
---
If you've made any of these, we'd love to see your work—please consider submitting a Gallery post or or tag us on Instagram with #memadethreads.
Get the latest including tips, techniques and special offers straight to your inbox.