Give the Gift of a Fiber Arts Kit
These craft kits and subscription boxes make wonderful gifts for the maker in your life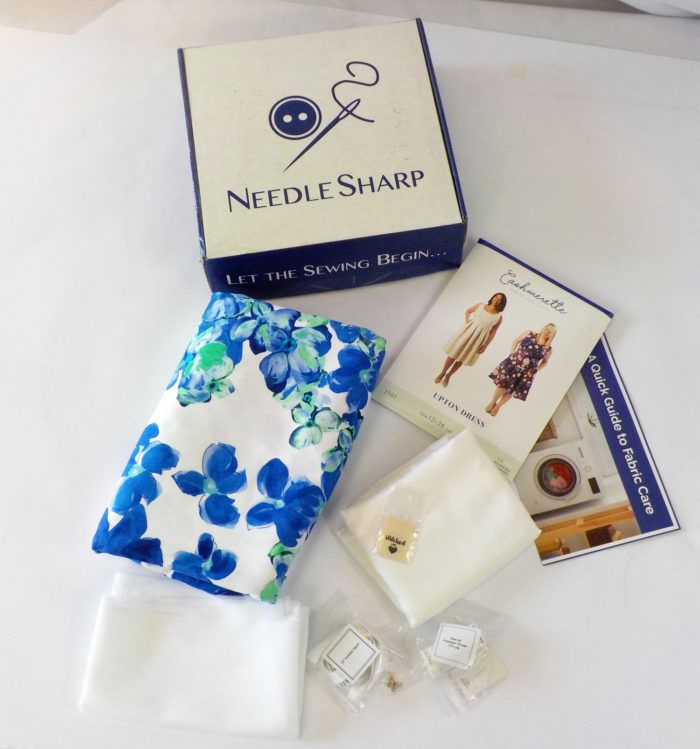 It can be a challenge to find the time to sew and craft, let alone search out new materials and interesting projects. For curious and discerning sewers and crafters, project kits and subscription boxes offer ingenious ideas. The benefits of these products include thoughtful curation by expert creators; collected and measured supplies; and significant savings versus purchasing materials separately.
Collections and kits also make it easier to give the gift of sewing and crafting. A project kit is a way to share your fiber arts interest with a friend or relative who might need a little guidance, a project plan, and beautiful materials to be inspired to join you in sewing, knitting, beading, or another rewarding pastime.
Here's a list of  some subscription services and crafting kits available.
Sewing projects by mail
For everyone who loves to learn and to tackle new projects, a monthly subscription to Pins+Needles would give them to access to new patterns without needing to visit a fabric store and search out designs. The kits contain seasonal patterns and quality fabric and notions needed to complete the project, as well as an extra surprise. The service delivers the supplies to your door, giving you more time to sew. The company creates video tutorials for each project on its blog. Choose between a small box and a premium box. The small box contains projects like zippered bags, tote bags, and aprons, which are great for a beginner. The premium box is for larger projects such as wall hangings and larger or more complicated bags.
PinsNeedlesKits.com; $24.95–$39.95 per month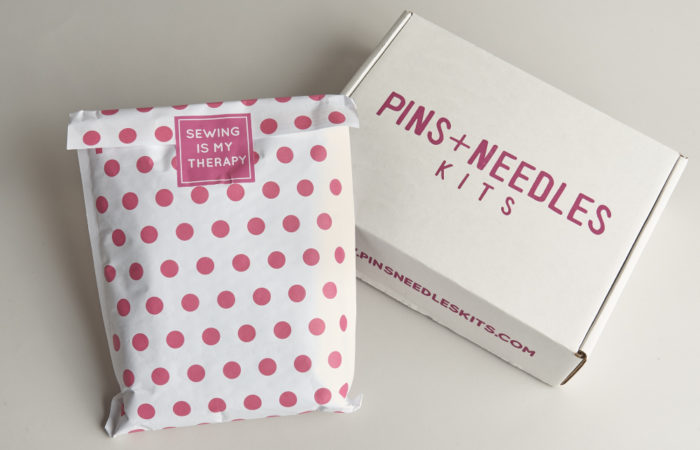 The premium Pins+Needles kit from July 2018 contained a lovely slipper pattern with Kona cotton fabric in shades of peach, red, and burgundy.
Patchwork pursuits
Darn Good Yarn has more than just yarn. The company's Fabric of the Month subscription provides quality fabric for sewers and quilters. The box includes four fabric fat quarters, each at least 18 inches by 22 inches, a piecework pattern, and a sample card. The fabric is enough to complete the pattern included. Each month features a different piecework pattern with illustrated instructions. Save the piecework squares and create a quilt over the course of several months. The box arrives at the end of the month.
DarnGoodYarn.com; $10 per month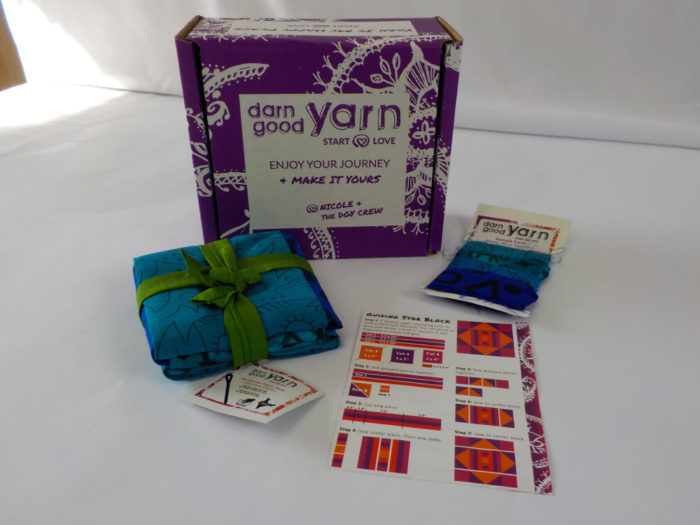 Kits for garments
For sewers who want to try new techniques and garments but are unsure what notions or fabrics to choose, the Needle Sharp kit contains all materials needed to make a garment, including any specialized machine needles and notions.  Each month, the company selects a garment to focus on and builds kits around it. From party dresses to blazers and button-up shirts, Needle Sharp will help expand your wardrobe and your sewing experience. The kits come in four options: Lightweight, which have entry-level patterns and materials;  Medium weight, which includes intermediate patterns and materials that are more difficult to work with; heavyweight, which includes difficult patterns and premium materials; and Curvy, the newest box offering, which caters to plus-size sewers. You can buy boxes individually or subscribe for as many months as you would like. Choose from three fabric options for each kit at checkout; if you're unsure, you can even order swatches of all three fabrics for a $1.99 if you're not a subscriber, or free if you are.
Needle-Sharp.com; $59.99–$119.99 per month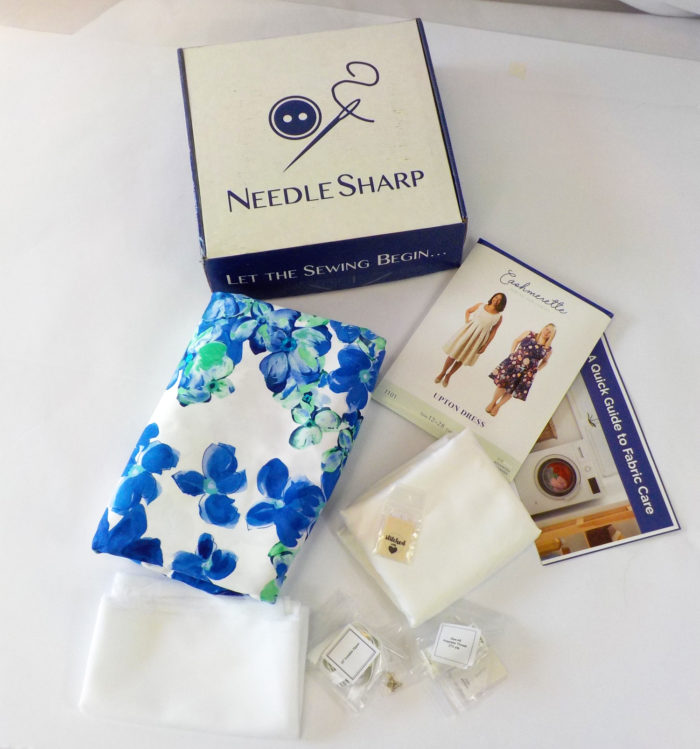 The Curvy box for December 2018 contained Cashmerette's Upton dress with a selection of floral stretch poplin (shown), black, grey, and blue jacquard, and black stretch sateen.
Beads by delivery
Beading is a tempting pursuit, with beautiful project results and a deep well of materials and techniques to explore. However, a beginner may not be sure where to start, or where to shop for quality materials. The Darn Good Yarn Bead of the Month subscription service solves both issues with monthly beading project kits. Each kit contains ethically sourced beads plus supplies for a complete project. Tools are not included, but subscribers receive detailed instructions and photos of the finished project. For beginners, the subscription is a guided means to develop beading skills and seek out necessary tools. For more experienced beaders, it's a way to receive new supplies and project plans on a regular basis. The subscription auto-renews on the first of the month, and you may cancel any time. The sample kit sent for review included the Infinite Beginnings necklace tutorial with twisted silk cord, agate beads, crimping tubes, and clamshell covers and clasp. It had all the materials for a relaxing evening of beading, and the result was a lovely necklace to give (or keep).
DarnGoodYarn.com; $10 per month, plus flat-rate shipping ($4 domestic; $13 international)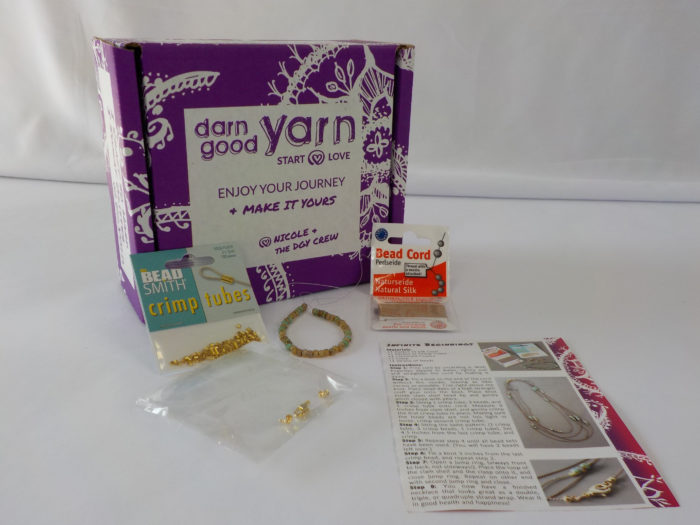 Smart start for young sewers
Designed as teaching aids for sewing instructors, Bluefig University's Learn to Sew kits impart sewing principles and techniques while they skip tasks that can frustrate young sewers, such as pattern and fabric preparation, pattern pinning, and fabric cutting. The precut felt kits come in three levels, beginner to advanced, for ages 6 and up. Each kit contains the elements needed to complete a project, including step-by-step instructions. Each level builds on the skills gained in the previous level. Class 100 kit options are a purse, an artist's tool wrap, and a lunch bag. Class 200 kit options are a snap-closure clutch, a toy or a blanket carrier, and a tablet computer sleeve. Class 300 kit options are a zippered briefcase, a zippered duffle bag, and a zippered backpack.
Bluefig.net; $20.00–$29.00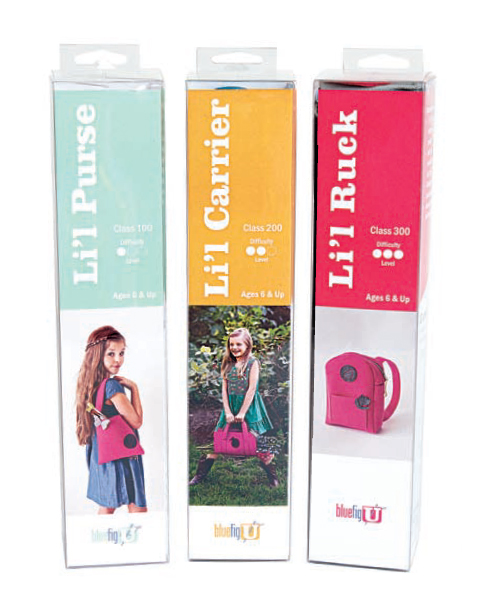 Do-it-yourself cardigan
The Zephyr Tides Cardi kit from Darn Good Yarn includes the pattern and four skeins of lace weight Silk Cloud yarn, enough to complete the pattern. With 16 color choices, this yarn knits up to create a gorgeous garment. Note: Some colors may be sold out. The cardigan is knit in five pieces: two sleeves, two front panels, and one back panel. Included in the extensive instructions is a diagram to aid in constructing the garment. The pattern is also available for free without the kit.
DarnGoodYarn.com; $55.99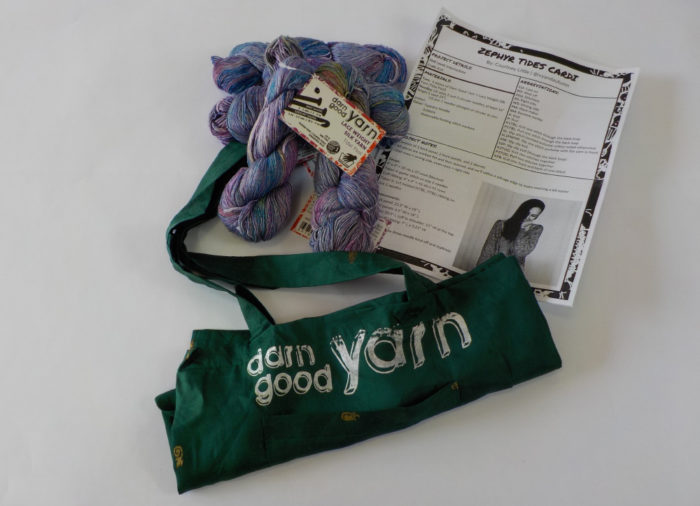 See more gift ideas: