Embellishments: When, Where, and How to Use Them | Episode 12
Episode 12: Gail Patrice Yellen talks about her embellishing techniques, using fusible interfacing, and sewing over pins.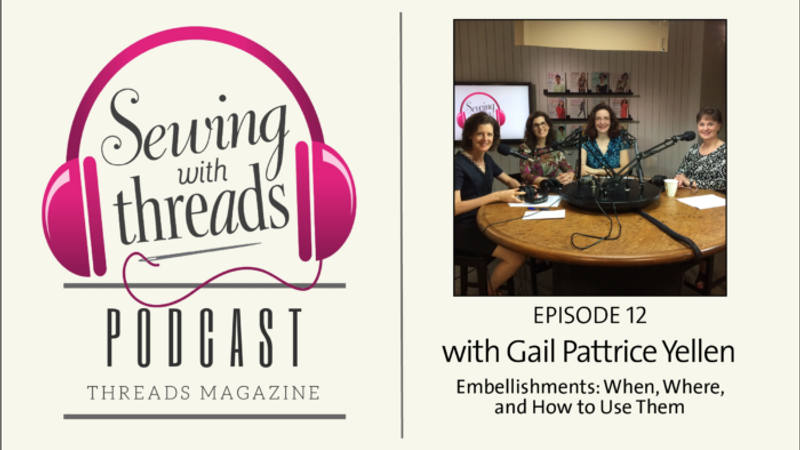 In the Sewing With Threads Episode 12 video podcast, guest Gail Patrice Yellen offers tips for tastefully embellishing garments, discusses embellishment techniques she has developed, and shares her thoughts on applying interfacing.
Gail is an embellishments and serger expert, teacher, and author. She has written Serger Essentials: Master the Basics and Beyond! (Fons & Porter, 2015), It's All About Embellishment (self-published), and numerous articles published in Threads. She also has starred in several videos. For her latest venture, Stitching Zen with Gail and Jen, she has partnered with Jennifer Stern-Hasemann and designed a line of patterns.
Sewing and wearing knits are a favorite of Gail's. However, she has hand- and machine-embellished garments made of wovens and knits. She supplies advice for how to add sparkle and other embellishments without making garments appear over the top. In several Threads articles, she takes readers through step-by-step embellishment instructions:
Open window technique in "Embellishments: Charmed cutwork," Threads #165, Feb./March 2013
"Unbeweavable" technique in "Embellishments: Beaded ribbon weaving," Threads #171, Feb./March 2014
Use of a serger to embellish accessories and garments in "The Belt-Loop Binder," Threads #198, Aug./Sept. 2018.
Gail confesses that she occasionally sews over pins. She also compares notes with the Threads editors regarding interfacing types and methods. Technology has led to the development and availability of many types of interfacing. There are benefits to the many lightweight fusible versions. However, it's still important to choose interfacing appropriate for the project and determine which side of a facing to interface. Turn of cloth is another factor to take into consideration.
For an explanation on handling turn of cloth, see "How to Favor Seams" by Debby Spence, Threads #197, June/July 2018.
For more information about Gail and to view some of her techniques, go to Gail Patrice Designs.