Q&A: Intercontinental Pattern Sizing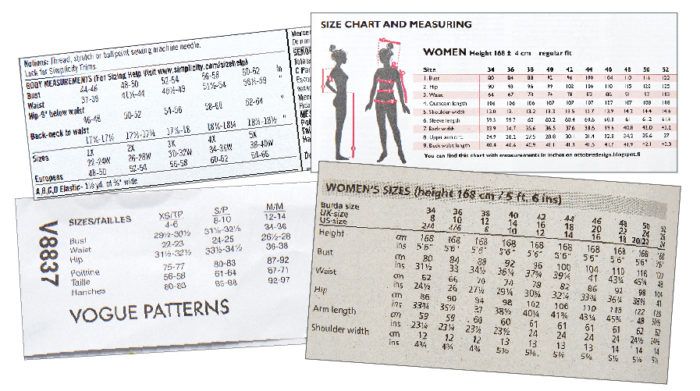 Q: What is the difference between European and American pattern sizing (Marfy vs. McCall's, for example)? Are European sizes smaller?
—Linda Pittman, via email
A: Threads editors routinely scrutinize pattern size charts as they select sizes for sample garments to be sewn for our
issues. We've concluded that American patterns aren't larger than European patterns. In fact, some European sizes have larger measurements than the corresponding American size. For example, a Vogue size 8 is for a 31-1/2-inch bust, 24-inch waist, and 33-1/2-inch hips, while a BurdaStyle US size 8 pattern is for a 34-1/2-inch bust, 27-1/2-inch waist, and 37-inch hips.
As with ready-to-wear clothing, the size number is essentially unimportant. What matters more is the sizing convention used by the pattern company or designer. Because these differ from company to company, you must always compare your measurements to the pattern designer's size chart. In one brand, you might wear approximately a 12, whereas you'd take an 8 in another brand. Some European companies publish their charts with metric measurements. You can take your own measurements in centimeters, or look online for the chart converted to imperial units.
Once you start looking closely at various size charts, you will notice that pattern companies design for different body types.
Ottobre patterns, for example, are about 2 inches larger in the hips than corresponding sizes by Vogue and Simplicity. If your waist is small relative to your hips, you might find Ottobre a better fit. There are patterns, such as Cashmerette Patterns' offerings, specially designed for plus-size figures. These feature proportional grading that accommodates a fuller bust, without increasing the shoulder width or overall body length.
Getting a great fit is easier when you start with a pattern that's closer to your body measurements. Recognize, though, you'll probably have to make some size adjustments for your shape. Visit ThreadsMagazine.com for help with fitting; there are many approaches to customizing a pattern, and you're sure to find a way that works for you.