Elements of Trench Coat Construction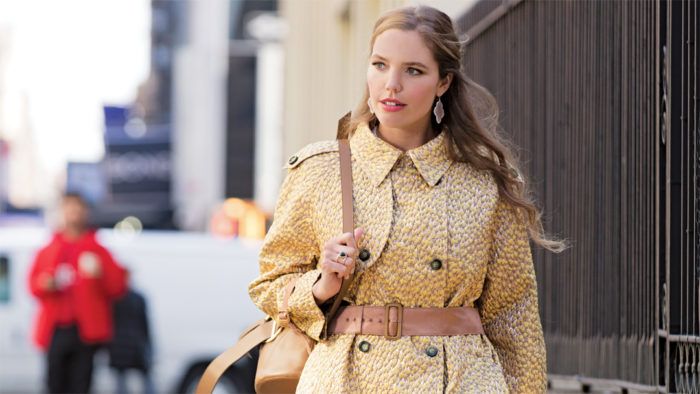 It makes sense that a water-resistant coat developed in a rainy country. In 1823 in northern England, Charles Macintosh came up with a rubber-based substance. Sandwiched between cotton layers, it made a waterproof fabric. Early difficulties—the fabric stank and was heavy, stiff in the cold, and sticky in the heat—were overcome, and demand grew. John Emary opened a shop in London in 1851 and featured garments made from his own rainproof cloth, called aquascutum. Then Thomas Burberry invented gabardine in 1879. Originally waterproofed with lanolin before being woven, the fibers were wool or wool and cotton. Gabardine's tight, twill weave made it water-resistant and durable. He began using it for overcoats.
See our trench coat pattern roundup.
See the results of our test of water-repellent fabric treatments.
Designed for utility
In his book, Military Style Invades Fashion, (Phaidon Press, 2016) author Timothy Godbold sums up the history and appeal of the trench coat: how it was adopted by British officers on the Western Front in World War I, then by Hollywood icons in the 1950s. From its utilitarian essence—light and waterproof, with epaulets to display rank and a chest flap to cover a gun—it transitioned into a glamorous garment. He writes that decades after the war, "Burberry offered a trench coat in silk taffeta—and the last place anyone would wear it would be in the rain."
The raglan sleeve, featured on original versions, is said to have been developed by Lord Raglan's tailor, after Lord Raglan lost his right arm at the Battle of Waterloo. The range of movement offered by a raglan sleeve, and the ease with which it can be shrugged off and put on, made it practical for the one-armed war hero. Other utilitarian design elements, developed for the trenches in World War I, are…
Start your 14-day FREE trial to access this story.
Start your FREE trial today and get instant access to this article plus access to all Threads Insider content.
Start Your Free Trial
Already an Insider? Log in