Add Zip to Men's Shirt Patterns Using Style Lines and Contrast Fabrics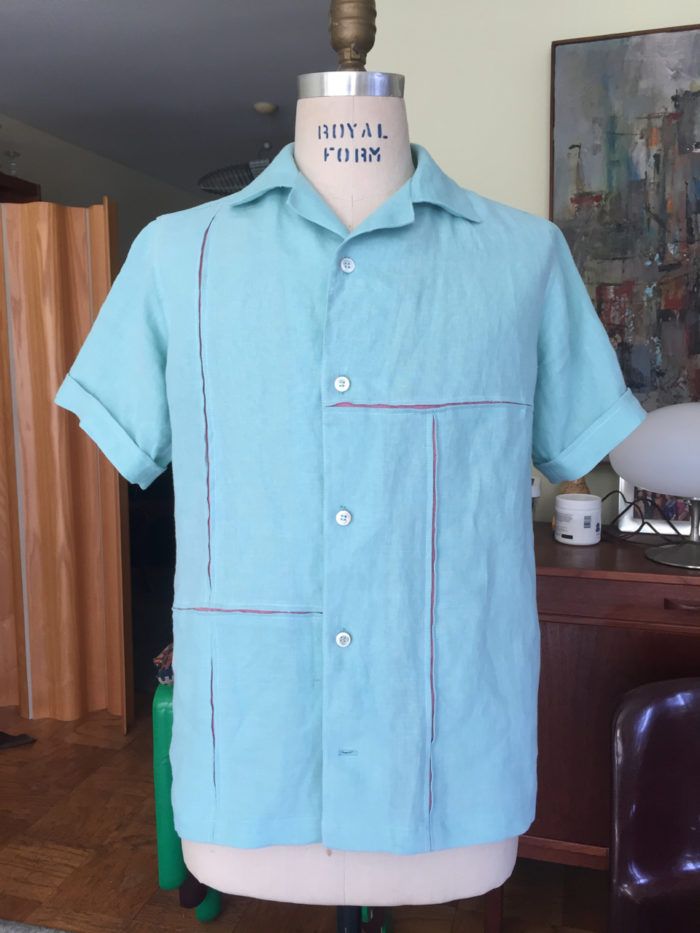 I've been sewing men's shirts for 10 years, using commercial patterns almost exclusively. What I've learned is that most shirt patterns are standard, since, unlike women's fashion, men's clothing has not changed radically in the last century.
The shape and size of collars have been tweaked through the decades, as has fit—some decades loose, other decades trim. Nevertheless, in almost every men's shirt pattern from the last 100 years you will find two fronts, one back, two sleeves, one yoke, and one collar—sometimes one-piece (as in a camp-collar shirt) and sometimes two (the classic collar stand/collar combination). You may often find a pocket as well, especially on casual shirt patterns.
Make classic shirts unique
Let's say, however, we want to make something unusual. There are two excellent methods for creating your own look while sewing with commercial shirt patterns:
• Play with pattern mixing while adhering to the standard pattern pieces in the envelope.
• Customize the pattern itself by adding style lines. Style lines are seams that don't contribute to the fit or shape of a garment but add visual interest.
Here are some examples of both methods from my creations.
Use contrasting fabrics
I've long been a fan of combining different fabrics to add unique touches to my shirts. There aren't many rules to follow here. You're the designer. It is important, however, to be sure the fabrics you're combining work well together aesthetically and in terms of weight and hand. It's usually best to keep fabric types together, i.e., cotton with cotton and wool with wool. There are exceptions: A wool overshirt might have a soft cotton or smooth silk collar stand facing.
Start your 14-day FREE trial to access this story.
Start your FREE trial today and get instant access to this article plus access to all Threads Insider content.
Start Your Free Trial
Already an Insider? Log in