Pattern Review: Victory Patterns Jackie Dress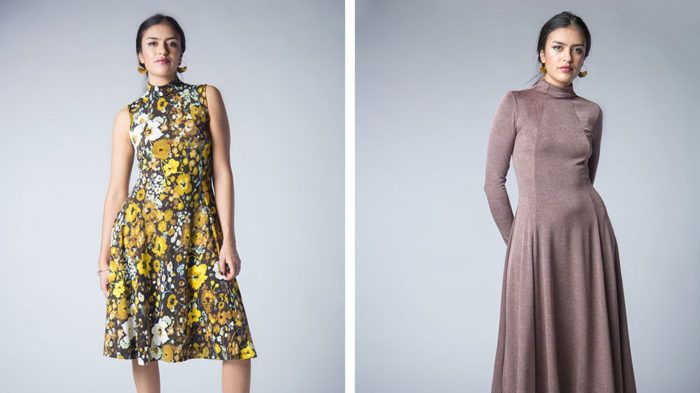 Victory Patterns: Jackie Dress
Elevate your wardrobe with this classic silhouette that includes flattering seaming. The dress features a funnel neckline and fitted bodice, which flares into a softly draped skirt. The center back has a slit opening from the midback to the neckline, which fastens with three small buttons, and a waist seam across the center-back panel. Length choices include below-the-knee or tea length, and the dress may be made sleeveless or with long sleeves. The sewing instructions are correct and detailed. They contain useful information on sewing with stretch fabric, various stitches that can used, and suggested machine needles. Seam allowances are only 1/4 inch wide, which may be difficult to sew on lightweight fabrics. Choose midweight knits with two-way stretch such as jersey and scuba.
(Sized 0–16 for busts 32–44.5 in. and hips 34–46.5 in.)
—Tested by Janith Bergeron, Barrington, New Hampshire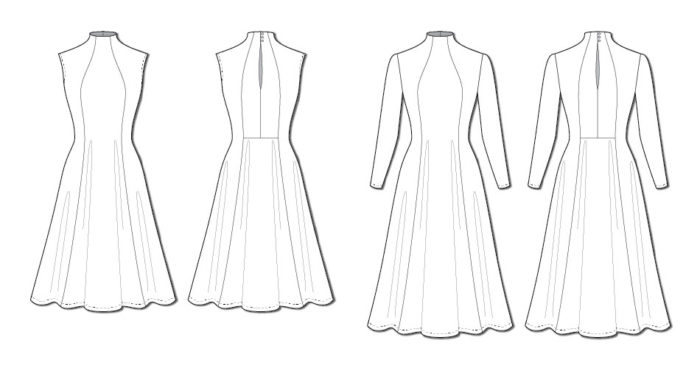 Sewing Tip: Consider serging to control the narrow seam allowances.
This review was originally published in Threads #207, February/March 2020. Have you made this pattern? If so, be sure to share pictures in our Readers Closet gallery.
Illustrations by Steven Fleck.