Q&A: Grainline on Pants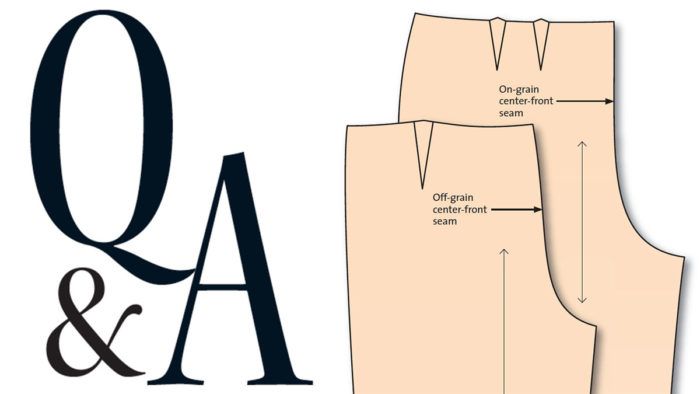 Q: When you're drafting or fitting a pair of pants, does the center-front seam have to be on the straight grain? Center-back seams are always slightly off-grain, but I've seen center-front seams both ways—on grain, or slightly off. Which is correct? What are the implications for fit?
—Doug Larson, Brooklyn, New York
A: Sarah Veblen, a fitting expert featured in the Pants Fitting with Sarah Veblen Insider video series, helps us understand this drafting and fitting issue:
In my opinion, there's not a right choice and a wrong choice: It is acceptable to have center-front seams on grain or slightly off grain. When choosing an option, I weigh these factors:
Ease of construction: If the pants have a fly front, I find the sewing is easier if the center front is on grain. However, it is possible to control a slightly off-grain center front and get a nice-looking fly front by applying lightweight fusible interfacing to stabilize the off-grain area.
Fabric choice: If I'm working with fabric that has a plaid motif or a wide stripe, I think pants look better with an on-grain center front. Then the center-front seam or fold along the fly front intersects the fabric's linear motifs at right angles, rather than on a slant. It's a matter of personal preference, and you'll see ready-to-wear pants for men and women with off-grain fly-front openings.
Fit considerations: If the person wearing the pants has a small waist relative to his or her hip circumference, an off-grain center front often helps with the fit at the waist. The slanted seamline reduces the waistline the way a small dart would. Keeping the center front on grain can result in needing one or more front waist darts, and might call for a large dart intake that is not flattering on the body.
Style choice: If you want a flat front pants style (i.e., without front waist darts, pleats, or tucks), an off-grain center front might be the only way to get a snug enough fit at the waist.
Depending on your body type, fit preferences, pants closure (front versus back or side zipper), and fabric, you may choose either front-seam grain orientation. If you sew and wear pants frequently and like a variety of fits, you might find it worthwhile to create two different master patterns, one with an on-grain front seam and the other with an off-grain seam. You can then add other features to make different pants styles.
This article was originally featured in the Q&A department of Threads #207 (February/March 2020).
---
Do you have a question? Send it to us and we'll find an expert's answer.
via mail: Threads Q&A, PO Box 5506, Newtown, CT 06470-5506
via email: ThreadsQ&[email protected]
via the Contact the staff page to submit your entry