How to Sew Textured Tucks
Learn Vilma's technique for making shaped tucks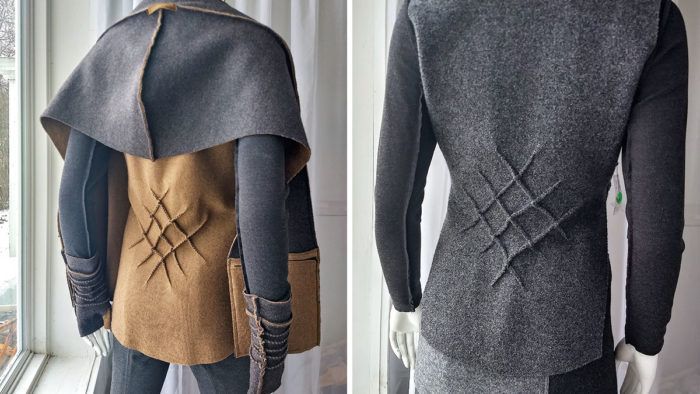 From our profile on Vilma Mare:
"Fashion is a powerful means of self-expression. For Vilma Mare, originally from Lithuania, her designs are an extension of her culture and her identity. She has a studio open to the public by appointment in Copake, New York. Much of her work is done in natural fibers—boiled wool and felt—and feature exposed seams and tucks for a deconstructed look."
See one way Vilma creates this special look below.
This technique, which I call "architectural deconstruction," creates textured tucks to shape and embellish garments. The tucks function as darts but have greater visual impact. The tuck foldlines are cut with a perforating rotary cutter before the tucks are stitched; the perforations add texture. Use intersecting tucks for design and shaping, or single tucks for emphasis. Boiled wool and other nonraveling fabrics work best for this technique.
1 Mark the tucks. On the fabric's right side, place a mark at the start and end points of the desired tuck locations; they may intersect. Test the marking tool on a fabric scrap before using it on the fashion fabric. Then connect all markings with chalk to create the design.
2 Perforate the chalk lines. With a perforating rotary cutter, follow the lines from start to finish, making sure to accurately cut the points where the lines cross.
3 Stitch the first tuck. With wrong sides together, fold the fabric along the perforated line. Straight-stitch about 2.0 mm to 3.0 mm from and parallel to the fold. Backstitch at the beginning and end, or leave thread tails to pull to the wrong side and knot.
4 Stitch the intersecting tuck. Fold the fabric along the next line, with wrong sides together, and stitch the tuck as before. Pay attention when crossing the previous tuck. If the intersecting seam is bulky, you may need to stitch at 3.0 mm to 4.0 mm from the edge to ensure smooth results.
Vilma Mare learned to sew from her mother at 16 years old. She recently celebrated 40 years of sewing.