How to Create a Nearly Invisible Patch to Repair Holes, Tears, or Stains
Learn how to conceal repairs on stained or damaged fabrics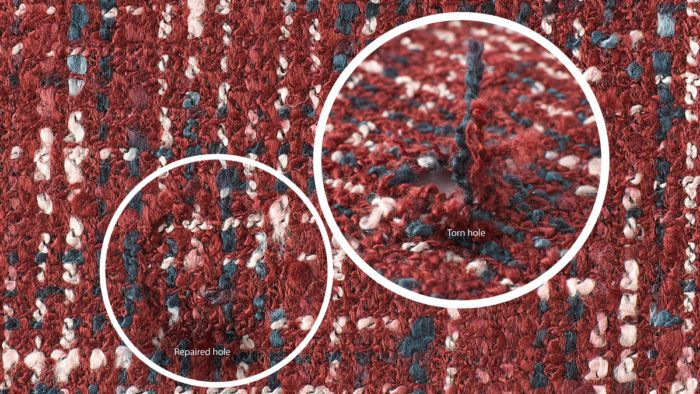 When you know how to sew, you can mend open seams and fallen hems easily with a bit of stitching. If you make your own clothes and save some fabric remnants, you can patch fabric that's more substantially damaged. Stains that can't be removed, and snags and tears that aren't at seamlines, can be cut away and patched with an exact—or close—match.
In decades past, small tears, burn holes, or moth holes could be rewoven, a technique in which a patch of fabric was woven into the damaged area to fill it. That specialty service is practically defunct today. I'll show you an updated version that uses fusible products and matching fabric. If you have scraps from sewing the garment, you are in luck. If not, consider harvesting patches from internal facings, wide hem allowances, or the area behind a patch pocket. This approach works best on patterned or textured fabrics, which conceal the margins around the repair. If your fabric is finely woven, smooth, or solid-colored, you can make it whole again this way, but you may need to find an additional way to camouflage the mended area. Give it a try—if the garment is already damaged, what have you got to lose?
1. Back the damaged area. Apply a circle of fusible web to the wrong side; make it 1 inch or larger in diameter than the stain or hole. If there is a large hole, place a paper towel under the fabric as you fuse to protect the ironing surface, then tear away as much of the paper towel as possible.
2. Cut away the damage. With small, pointed scissors, cut around the damaged area through the fabric and fusible web to create a clean edge. Cut rounded rather than straight…
Start your 14-day FREE trial to access this story.
Start your FREE trial today and get instant access to this article plus access to all Threads Insider content.
Start Your Free Trial
Already an Insider? Log in