Pattern Review: Deer and Doe Sirocco Jumpsuit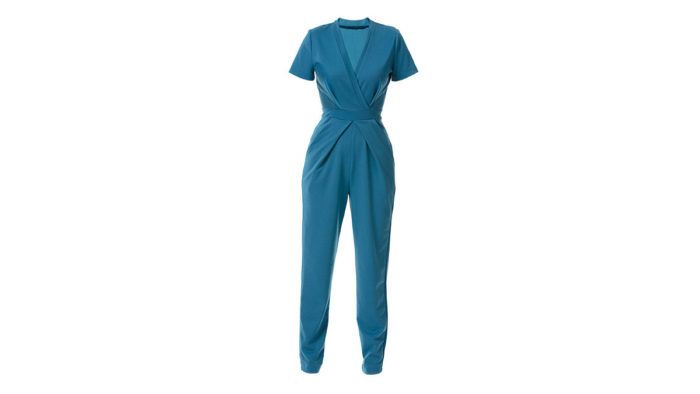 Deer and Doe: Sirocco Jumpsuit
This short-sleeve jumpsuit and romper will hug and highlight your curves. It has a surplice bodice, a 1-inch-wide neckline band, an inset waistband, and diagonal side pockets. The front waistline has tucks above and below the waist seam; the back has tucks above the waistline and darts below. The jumpsuit pulls up over the hips without a zipper. The illustrated instructions are complete, but pay attention to the right- and wrong-side tints, or you may sew the tucks backward, as we did in the sample garment. The pattern requires knits with at least 60 percent stretch, such as midweight jersey or ponte knits. There are many layers converging at the waist, so thick fabrics may be too bulky.
(Sized French 34–52 for busts 31.5–45.625 in. and hips 33.75–48 in.)
Update 4/26/2022: Deer & Doe has just released a size expansion, available here.
—Tested by Rachel Kurland, South Strafford, Vermont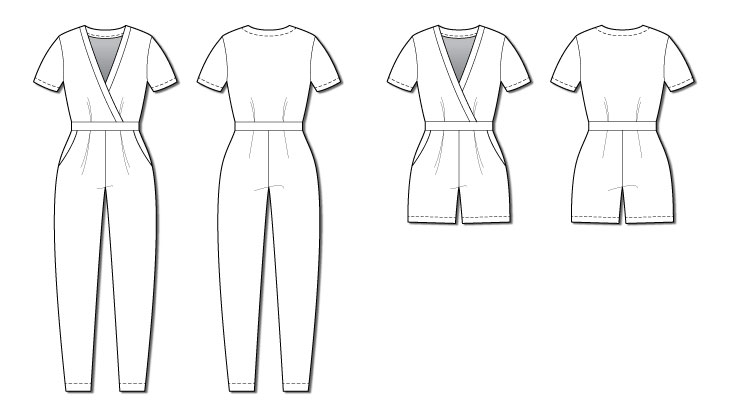 Sewing tip: If you need to shorten the legs, do so in several areas to preserve the tapered silhouette.
This review was originally published in Threads #209, June/July 2020. Have you made this pattern? If so, be sure to share pictures in our Readers Closet gallery.
Illustrations by Steven Fleck.