Pattern Review: Colette Patterns Albion 2002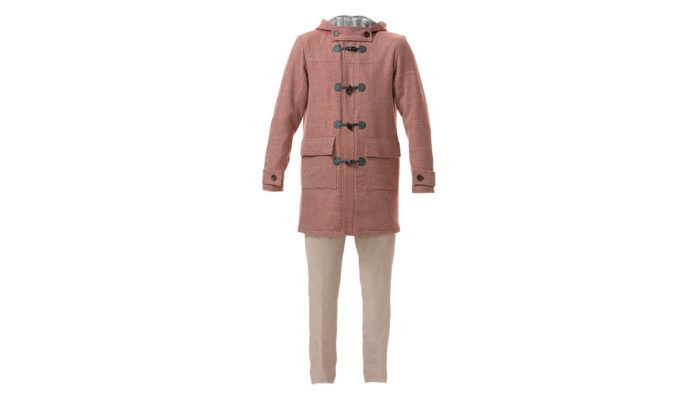 Colette Patterns: Albion 2002
Inspired by the straight-cut duffel coats of the 1950s, this unisex design has classic elements such as toggle closures, front and back yokes, and two pocket styles. A structured three-piece hood completes the look. The coat comes in two lengths: midthigh and hip. Both have a front yoke, double-layer back yoke, two-piece sleeves, buttoned sleeve tabs, and deep side-seam pockets. Optional details include a detachable button-on hood tab and patch pockets with flaps. Make the coat with a lining or without. For the unlined version, a combination of flat-felled seams and bias bindings provide a clean finish. There are several design elements that add to this jacket's sturdiness. For example, on the lined version the back yoke is underlined, and the patch pockets' top edges are finished with a separate facing instead of a simple turned-under edge.
The instructions state to make the buttonhole on the sleeve tabs after attaching them. It may be easier to complete this before attachment.
The side-seam pockets extend all the way to the front facing and hemline and are caught within those seams. In the unlined view, this creates an inner pocket on each side.
The instructions do not say how large the toggle closures should be. Those shown, which measure 5-1/2 inches when closed, may be too wide for smaller sizes. Test for closure width by making a muslin.
The sewing instructions are well illustrated, and include lots of details. Each sewing step is precisely identified with a header that stands out. Boxes of helpful text appear throughout and contain online links for further in-depth explanations. At the end of the instructions, you will also find a glossary of sewing terms. The design is ideal for wool coating, quilted outerwear fabrics, and weather-resistant fabrics.
(Sized Men's XS–2XL for chests 30–52 in.)
—Tested by Nancy Muro, Wallingford, Connecticut

Sewing tip: Consider adding an ease pleat to the lining's center back for comfort and ease of movement.
This review was originally published in Threads #211, October/November 2020. Have you made this pattern? If so, be sure to share pictures in our Readers Closet gallery.
Illustrations by Steven Fleck.