Pattern Review: Dana Marie Design Company Sawtooth Jacket 1060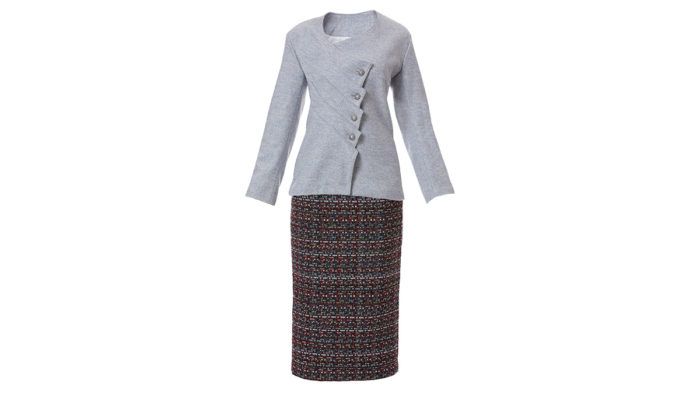 Dana Marie Design Company: Sawtooth Jacket 1060
This is a dramatic, easy-to-wear, hip-length jacket with plenty of details. The angled right front edge is formed by four tucks that are sewn and topstitched. Buttons sit between the tucks to close the jacket, and welt pockets in the side panel seams add polish and convenience. There are bust darts, side panels, two-piece sleeves with a mock vent, a shaped center-back seam, and optional shoulder pads. It can be unlined or lined. The front tuck details are sewn after the jacket is fully constructed.
Our tester recommends marking the tuck lines while the piece is flat rather than waiting until the jacket is finished, as the instructions say to do. Thread-tracing the tuck lines ensures that the lines will not fade during construction and pressing.
The pattern does not include markings for button or buttonhole placement. Put on the garment to determine ideal placement.
On the sleeves, there are not enough notches or match points to enable accurate construction. There is no underarm notch to help position the undersleeve, no front or back sleeve-cap notches to distribute the sleeve-cap ease, and no mark for where to end the stitching line to create the faux sleeve placket.
The sleeve and body hem allowances need to be trued at vertical seams in order to fold up properly. The sewing instructions are clear, but the illustrations are small and sometimes difficult to interpret. The pattern envelope states that finished garment measurements are on the pattern pieces, but they are not. The yardage given on the pattern envelope is insufficient. The tester's mock-up, size XXS, required 2-1/2 yards of 64-inch-wide muslin, as opposed to the 2-1/8 yards of 60-inch-wide fabric that was recommended. Choose midweight linen, gabardine, or wool suiting.
(Sized XXS–3XL [2–32) for busts 28–56 in.)
—Tested by Karen Konicki, New York, New York

Sewing tip: Test the tuck detail on scrap fabric to see if your fabric requires interfacing. If it stands up well on its own, omit the interfacing to reduce bulk.
This review was originally published in Threads #211, October/November 2020. Have you made this pattern? If so, be sure to share pictures in our Readers Closet gallery.
Illustrations by Steven Fleck.