Pattern Review: Vogue 1673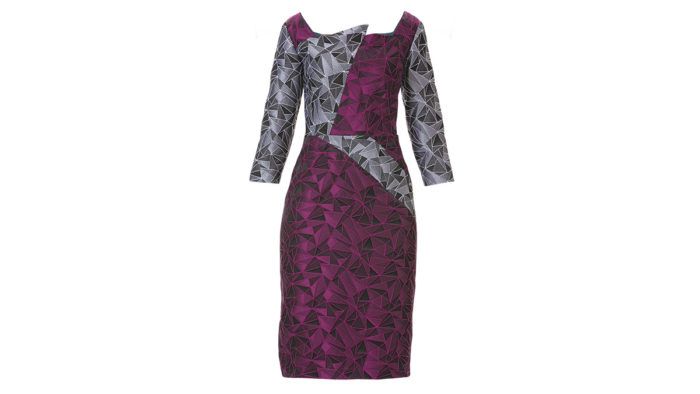 Vogue 1673
This moderately close-fitting dress draws attention with its angled neckline and asymmetrical panels. The neckline is wide and extends almost off the shoulder. View A has three-quarter-length sleeves and includes contrasting panels at the right bodice, sleeves, and diagonal band in the skirt. View B is sleeveless. Both views have bust darts, narrow front yokes, asymmetrical panels, and a straight skirt that ends below the knee. In the back, bodice and skirt waist darts give the dress shape. A center-back zipper and hem slit finish the look. It is fully lined and all the front and back bodice pieces are interfaced. To make the fusing efficient, consider applying the interfacing to fabric yardage before cutting the bodice pieces. The instructions are accurate and easy to follow.
Pay close attention to the grainline on each pattern piece, as it varies throughout the pattern.
Keep in mind the grainlines may behave differently, so take your time when pinning and matching seams.
The tester suggests adding fusible stay tape to several seams for stability, including the center-back zipper edges, the back slit, the waistline seam, and the neckline's extension.
Press each seam as it is sewn to achieve a crisp look.
You may choose to widen the shoulder yoke pieces to provide coverage and prevent the garment from sliding off your shoulders. If your fabric has different right and wrong sides, try using the two faces to create the contrast, or use two patterned fabrics for the front and front contrast and a third for the entire dress back and sleeves. Select midweight fabrics such as crepe, jacquard, and linen. Fabrics with some stretch add comfort and wearing ease.
(Sized Misses' 6–22 for busts 30.5–44 in. and hips 32.5–46 in.)
—Tested by Pam Howard, Newnan, Georgia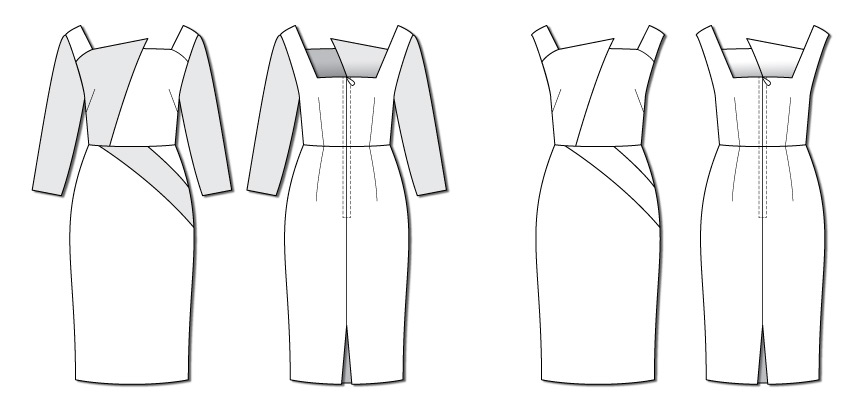 Style tip: Add lingerie loops to the shoulder seam to prevent exposed bra straps.
This review was originally published in Threads #211, October/November 2020. Have you made this pattern? If so, be sure to share pictures in our Readers Closet gallery.
Illustrations by Steven Fleck.