Pattern Roundup: Patterns for Brocade and Jacquard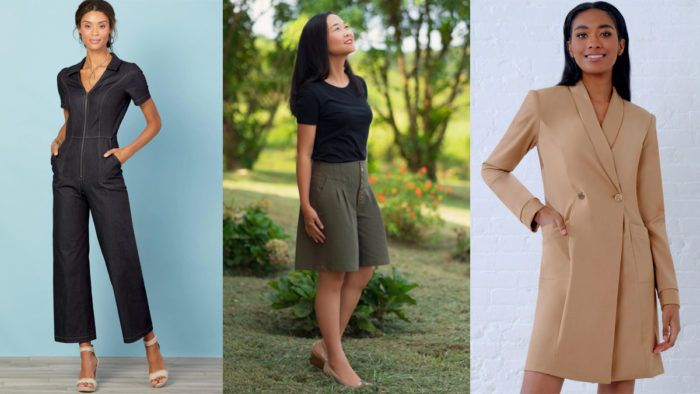 Many sources of sewing information and fabric retailers themselves talk about and use brocade and jacquard interchangeably. While these fabrics have similar characteristics, the methods used to create them are different. Find out more about the differences in "Fabric Lab: Brocade or Jacquard?" by Erica Redfern in Threads #211 (Oct./Nov. 2020).
When sewing with brocade or jacquard, choose patterns with features that are enhanced by the fabric's signature characteristics. Most brocade and jacquard fabrics have a firm, stiff hand and are not suited for drapey designs. Instead, opt for pieces that are shaped by darts or panel seams. Look for structured garments; simple, sleek silhouettes or designs that are intended to stand away from the body. Deep pleats or gathers create dramatic volume but may not suit everyone's aesthetic.
Patterns that work successfully with brocade or jacquard often call for midweight woven fabrics such as denim, twill, or sateen. Keep an eye out for these textile types, and experiment with different designs to find what you like best.
Below are 12 patterns that should work with brocade or jacquard. Use these as a jumping-off point for your own investigations and experimentation.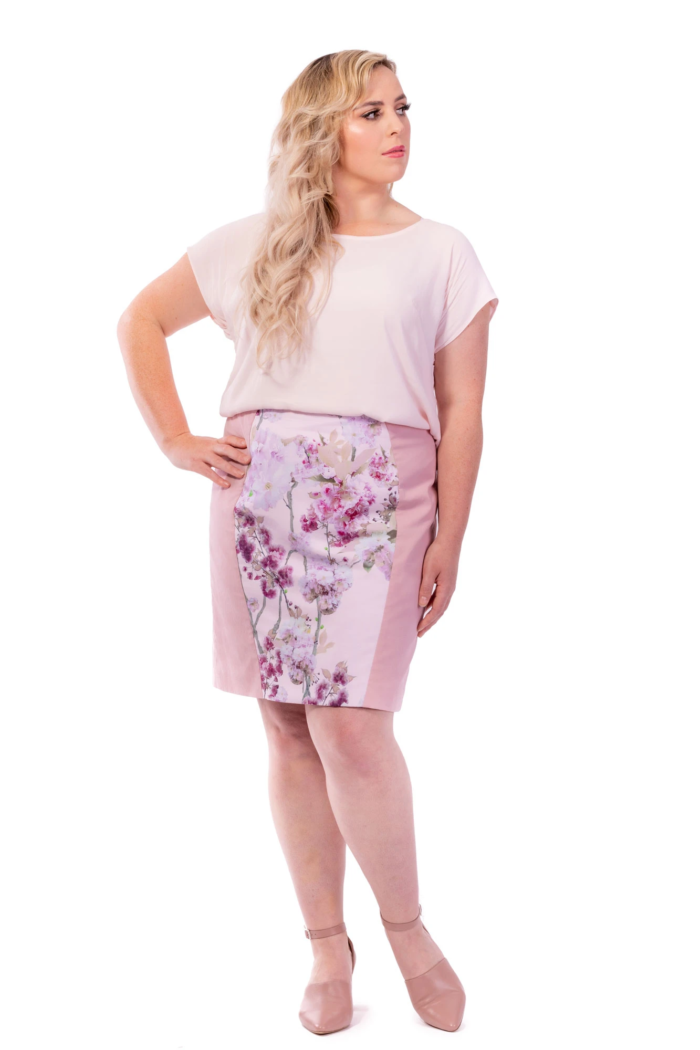 Forget-Me-Not Patterns Sabrina Skirt: This simple, practical skirt has curved panel seams and darts for fitting. It is designed for midweight wovens, and should be able to accommodate most brocades or jacquards. It offers the option of a full lining, which is beneficial if using a fabric with itchy metallic threads.
---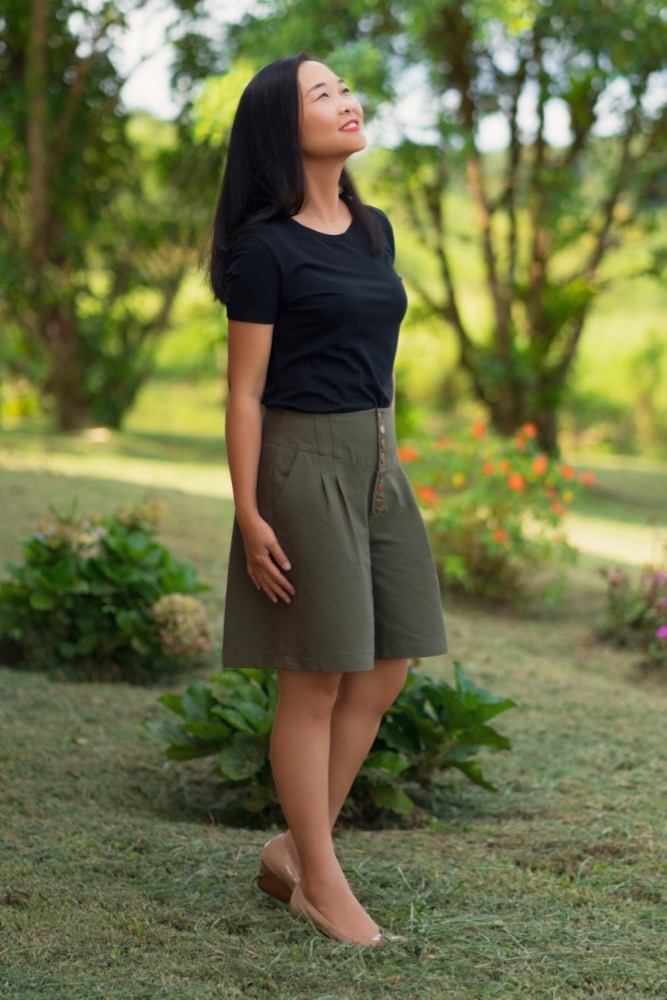 Itch to Stitch Gobi Culottes: These culottes feature wide legs and pleated details. Stitching them from brocade or jacquard will emphasize the silhouette and details. The button-fly front can easily be achieved using these fabrics. The contoured waistband ensures a good fit even in stiffer fabrics.
---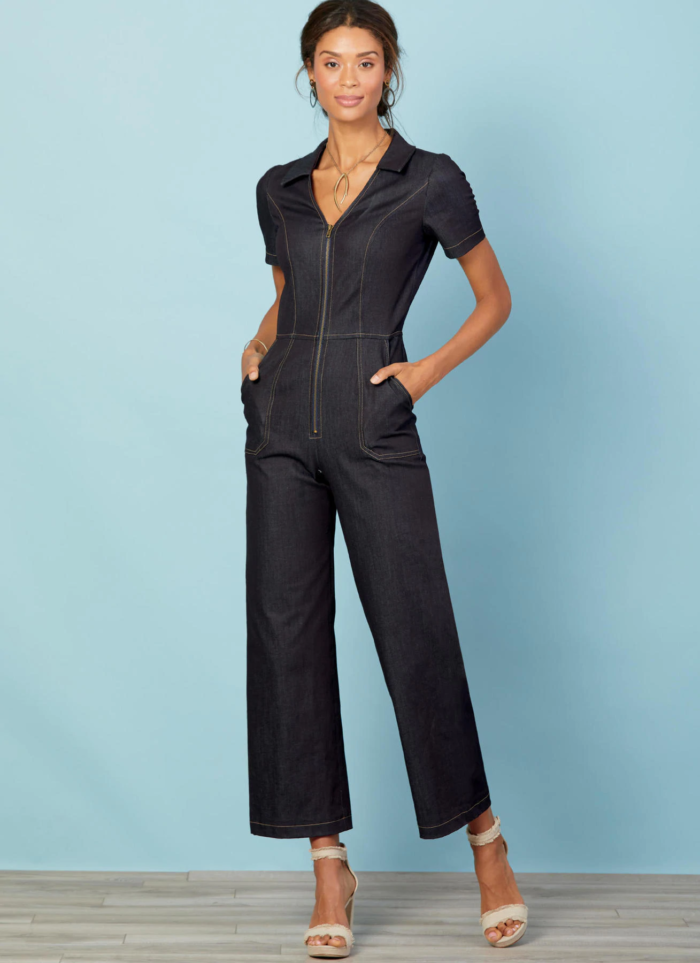 McCall's 7908: This jumpsuit design is fitted, with a front and back princess-seamed bodice, center-front zipper closure, and straight-cut pant legs. Upgrade this utilitarian style with a fancy fabric. Brocade and jacquard are both appropriate for the tailored design and work well with the collar in several views.
---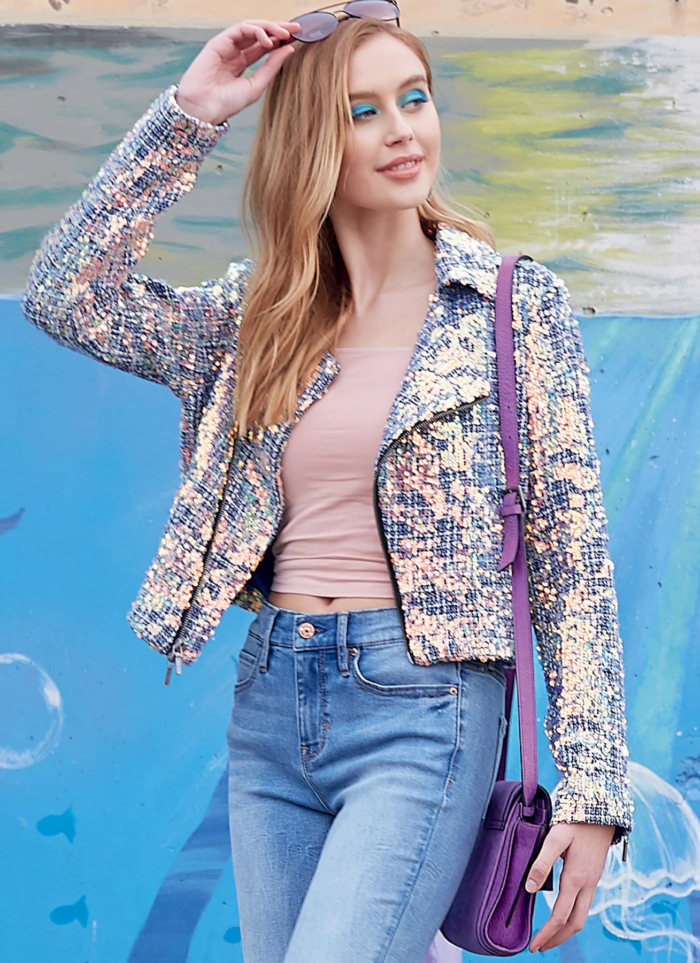 McCall's 8212: Reminiscent of a moto-style jacket, this design is made for "novelty" fabrics, which means you can have a bit of fun. The fitted style and topstitched seams make this a good choice for brocade or jacquard in this structured silhouette. The design is lined, so metallic fabrics will not cause discomfort.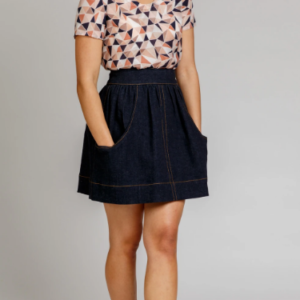 Megan Nielsen Patterns Brumby Skirt: This skirt has a gathered waistband, deep pockets, and simple silhouette. While versions 2 and 3, which have a more gathered waistline, are not appropriate for these fabrics, version 1 would look stunning in brocade or jacquard. The design is meant to be voluminous, so the fabric's hand would not be a drawback.
---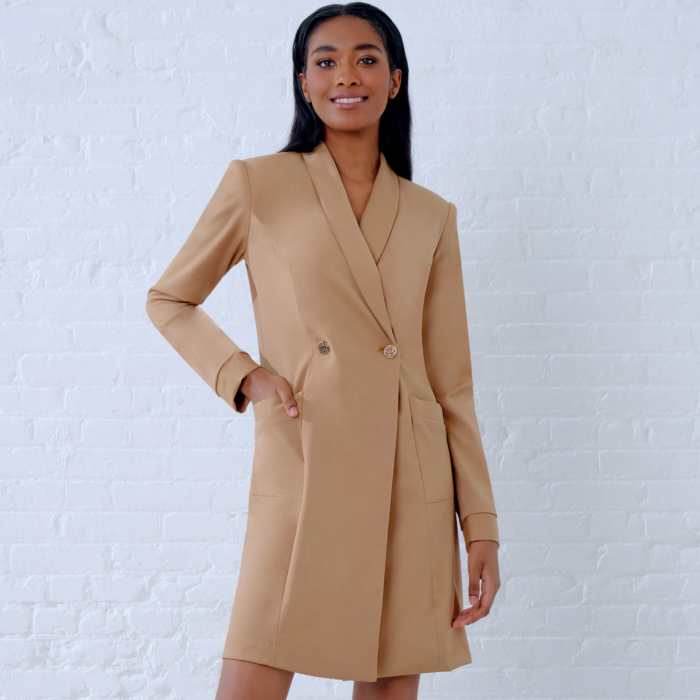 New Look 6636: Designed for jacket-weight fabrics, this blazer-style jacket or dress features a shawl collar and double-breasted or wrap-style front with large patch pockets. Brocade or jacquard work well with these details and will create a lovely, sophisticated look. Use both sides of a jacquard for coordinated color-blocking at the collar, cuffs, and pocket edges.
---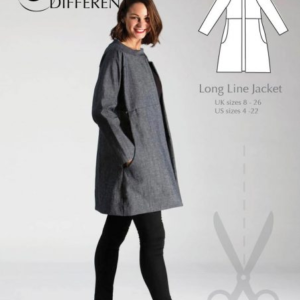 Sew Different Long Line Jacket: This loose, unstructured jacket features raglan sleeves, side-front pockets, and a center-front opening. The simple design lends itself well to being paired with gorgeous fabrics such as brocade or jacquard. Enjoy the eye-catching volume these stiffer textiles impart to fuller silhouettes.
---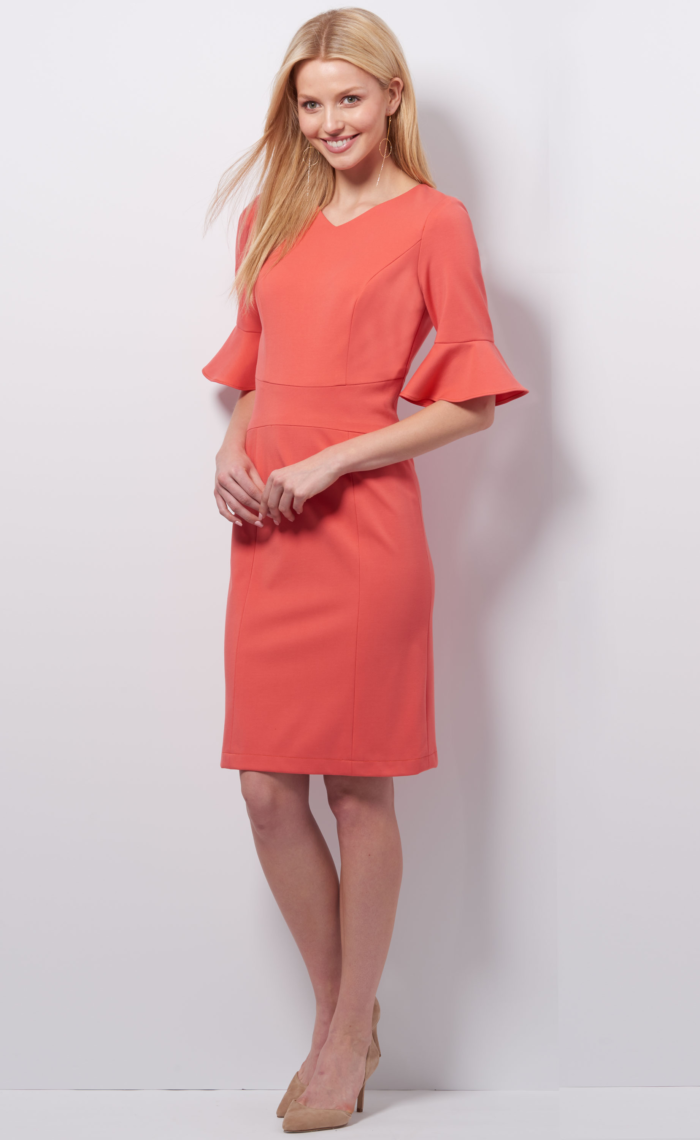 Simplicity 8543: This fitted dress with princess seams and a contoured waistband has several sleeve options. The straight-cut skirt and sleeves are ideal for fabrics with a firm hand. If the sleeve ruffle stands out more in brocade or jacquard than you prefer, opt for the plain short sleeve or sleeveless version that are also included in the pattern.
---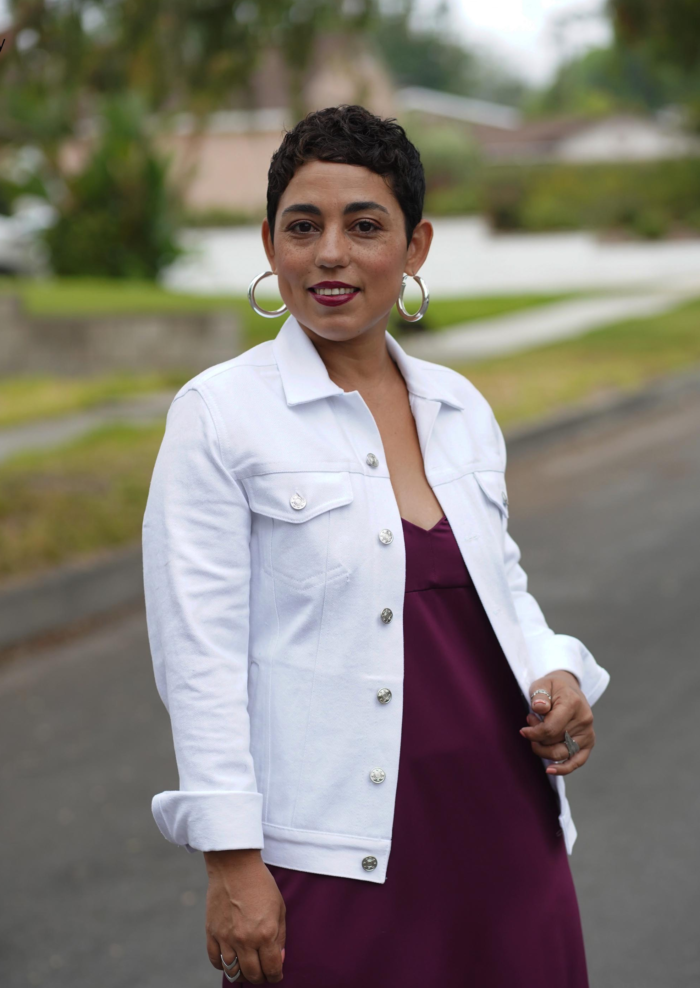 Simplicity 8845: This jeans-style jacket by Mimi G features many traditional jean jacket elements, including front and back yokes, waistband tabs for fitting, and center-front button closure. Designed for denim, this jacket will work well in heavier brocades and jacquards. The topstitching will help control seam allowances to reduce bulk.
---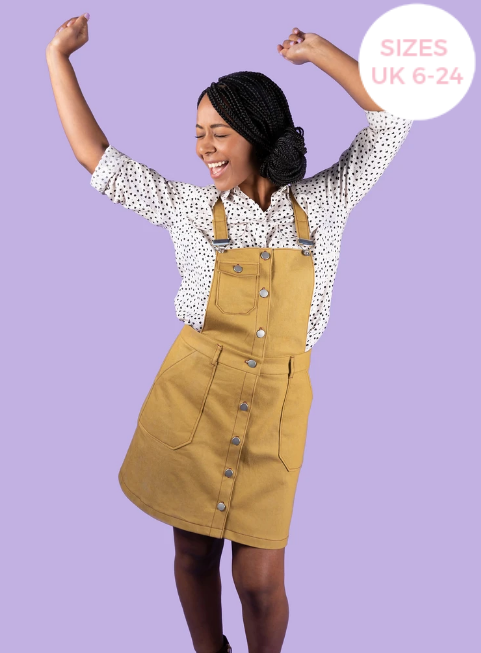 Tilly and the Buttons Bobbi Skirt and Pinafore: This adorable pinafore and skirt pattern has a curved, fitted waistband and a choice of up to three pockets. The skirt back has princess seams for shaping. The pinafore straps cross at the back. Either version would look great in brocade or jacquard, bringing unexpected personality to a traditional look.
---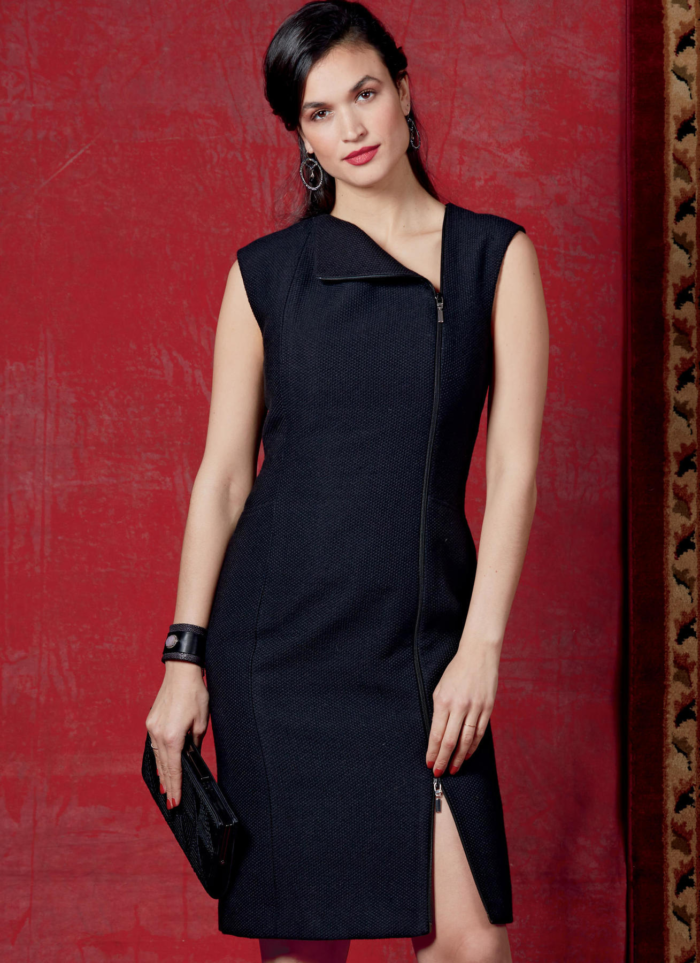 Vogue 1593: This chic sheath dress has an side-front zipper closure in the left princess seam. It is sleeveless, with a slightly extended shoulder. The back and side panels have a waistline seam for shaping, and the back bodice has a center-back seam as well as princess seams. Look for fancy zippers to highlight the closure detail.
---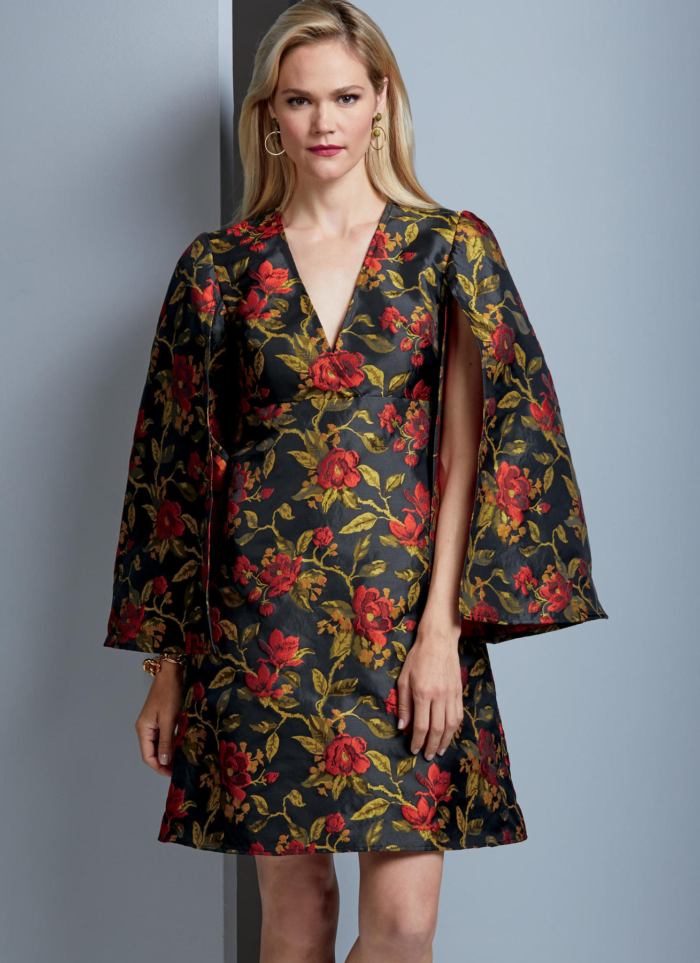 Vogue 9344: This dramatic, A-line dress features two neckline and sleeve options. It has a center-back zipper closure. There are darts at the bust, back neck, and back waist for shaping. The simple silhouette and dramatic sleeve styles would be accented by the fabric's firm hand.